Congrats to all of the cheerleaders who represented their teams at the 2013 Pro Bowl! Every year, Minnesota Vikings Cheerleaders head coach Tami Krause has us create some cute rehearsal costumes for the current Pro Bowl Cheerleader, and this year we worked with six year veteran Melissa! She selected five unique and branded costumes and all the Pro Bowl Cheerleaders received a team identifiable matching outfit.
The first outfit Melissa selected was our 003-168 fringe top and her favorite 507-5 shorts. We love how the yellow pops against her Hawaiian tan!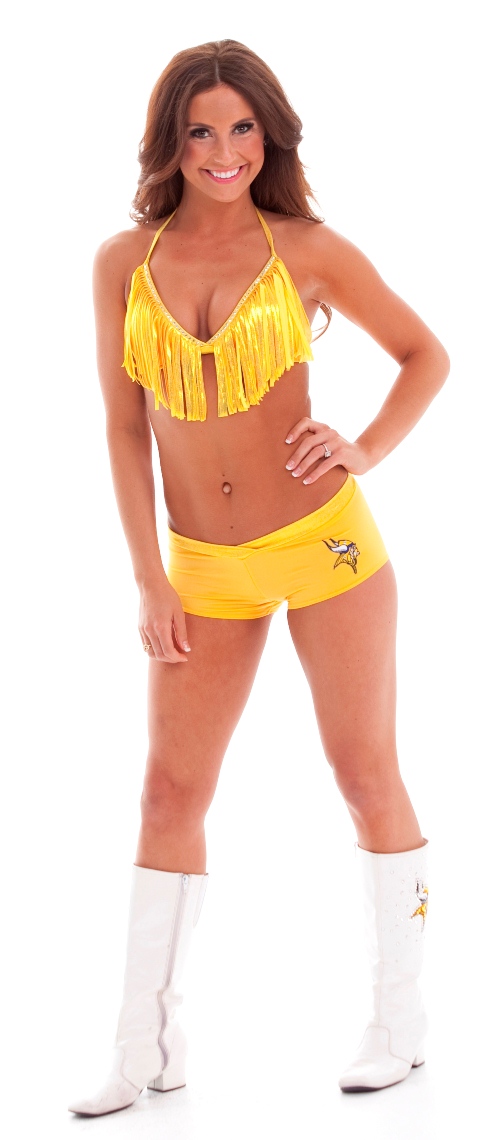 Her next outfit was our 420-194 top and 002-9 briefs with zsa zsa accents. This outfit looked true "Viking"!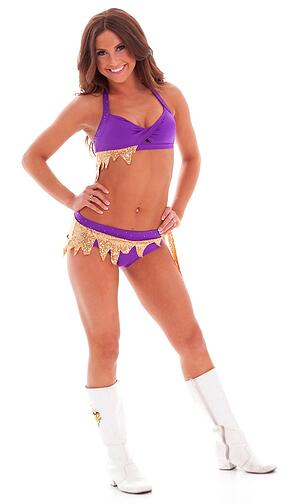 Another one of Melissa's favorites was this white fringe outfit. This outfit is not on our webstore but was a cute custom costume for her trip!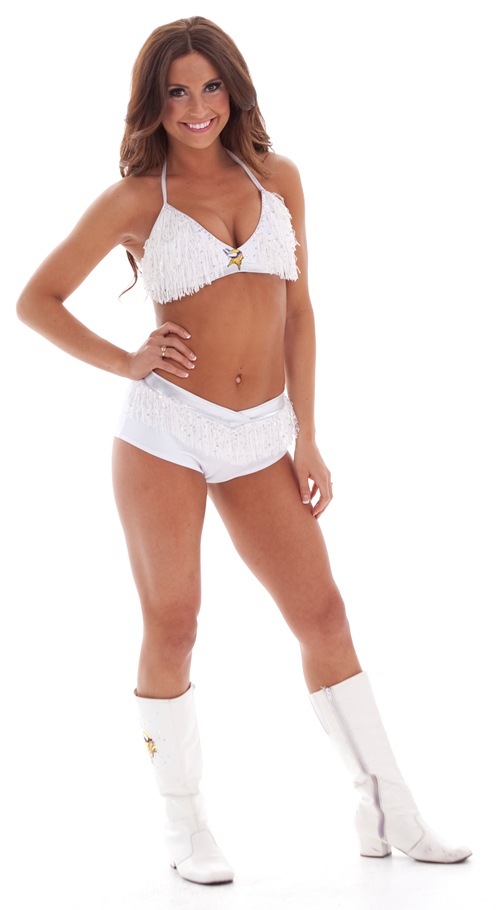 Some more of our new styles for 2013 were used for this rehearsal outfit. We love the 419-146 jersey top with the sublimated Norseman head! She selected our 585-3 Pro shorts to coordinate. Every model at our recent photo shoot (including Melissa) fell in love with these shorts!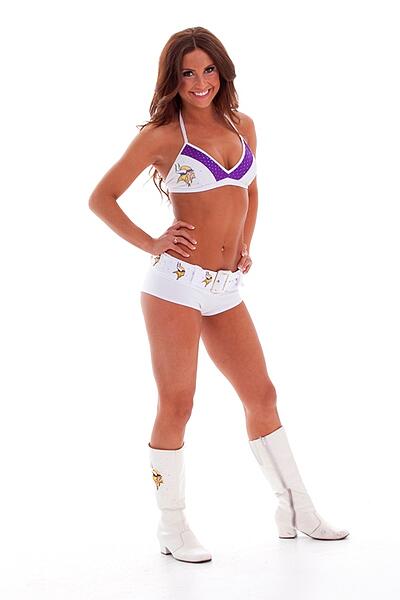 The last outfit Melissa selected was our new 427-12 top with sheer sleeves and our popular briefs, 698-18 Pro. We love the black/silver fog mesh material on this outfit!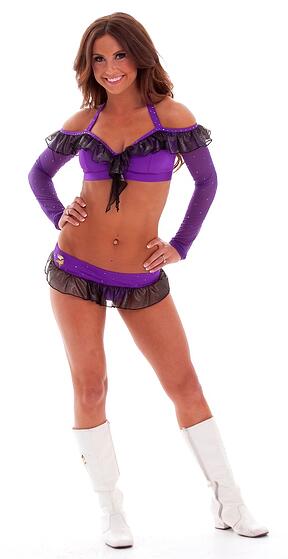 This cute outfit was given to every Pro Bowl Cheerleader. We selected the 419-136 top and 580-34 shorts. This outfit is universally flattering and a great style for a sporty, team identifiable look!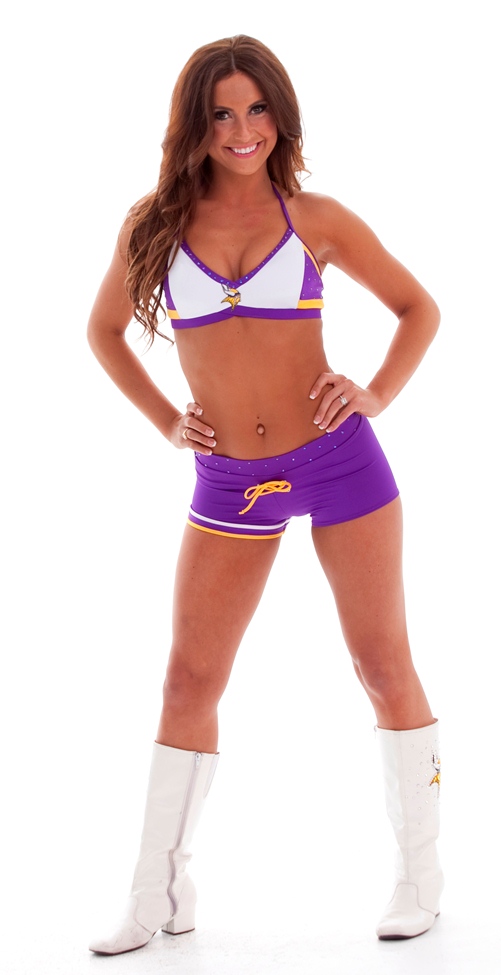 Melissa and the Chiefs Pro Bowl Cheerleader, Ashley, in their cute new rehearsal wear! Ashley is looking gorgeous wearing online top 420-187 with shorts 580-25A.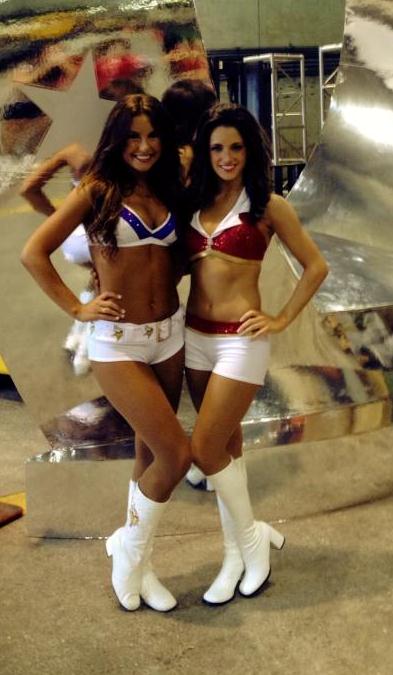 Melissa sent us some photos of the Pro Bowl Cheerleader's receiving their Line Up gifts!
We were also excited to see this photo of a group wearing their Line Up apparel! See many more photos of the Pro Bowl Cheerleaders on our Facebook page.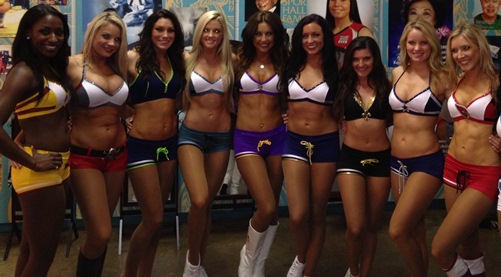 Washington Redskins Pro Bowl Cheerleader, Tecoya, and Melissa were in the same group. We love this cute shot of them together in their signature Line Up uniforms.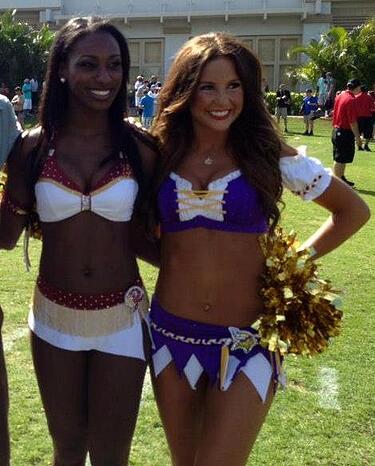 We also love this shot of the Tennessee Titans Pro Bowl Cheerleader, Tiffany, in their new signature uniform.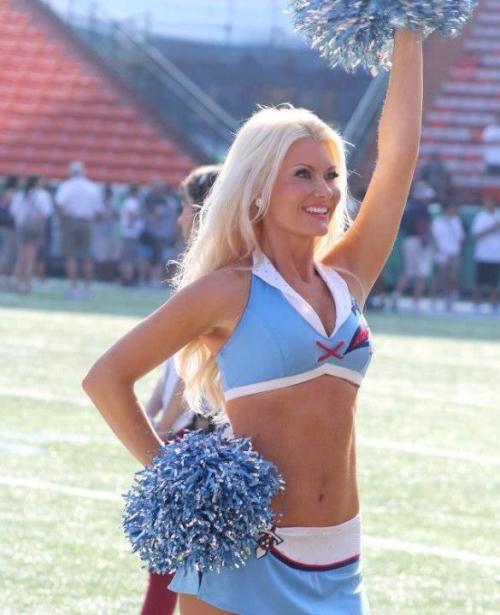 Congrats to all of the Pro Bowl Cheerleaders on a successful week!