As a marketing department, we religiously look for inspiration for new product designs and ideas anywhere and everywhere. This week was New York Fashion Week for the Spring 2015 collections and we couldn't be more excited about the fashion party that hit the runway. From your TLU marketing team, here are a few of our favorite things:

My style motto: "life is too short to wear something boring. Push the limits." And NYFW did NOT disappoint! Two of my favorite trends are the bold shoulder "Power Shoulders" look and "subtle 70s" look . Edgy chic and a retro nod- my kind of style.
I love the subtly of the retro inspiration by adding a few edgy pieces to give the overall look a vintage feel. Wearing the 70s look head-to-toe could go terribly wrong and look like you jumped right out of a time capsule. Remember: just a nod to the past.
The off-the-shoulder look flirts with both the 80s and the elegant glam look. It shows off a ladies' great asset (shoulders, collar bone and décolletage) without being too revealing. Edgy yet sophisticated.

Two of my favorite things about fashion week: seeing how an entire collection works together with colors, fabrics, and pieces to create a story much stronger than once piece alone, and watching trends as they pop up in multiple designers' work. Here were a few of my favorites from this season:
One trend that I couldn't stop noticing was the rising midriff - tops are cropped and waistlines are chasing them! A flattering, feminine look that seems to work best with a long skirt or pants.
The ENTIRE Delpozo collection was genius, but most notable was the dress that capped off the show, below. Dreamy layers of sheer fabric and strategically place floral appliques, in such fresh colors.
I also really loved the color palette and textures from the J. Mendel collection. Bright, edgy, and fun. Would never have thought to put these colors together myself, but it works so well!

I've never followed NY Fashion week, or any fashion show for that matter, with any fervor. Upon looking through the highlights of the week I was pleasantly surprised. I ultimately found solid inspiration in the artistry, creativity, and visions displayed in several lines of the show. I realized quickly that many of the pieces are not meant to be worn in day to day life but instead represent an idea, or a trajectory, the outfits are art, and the designers are the artist. The more I looked, the more I could appreciate the bizarre dangling feathers, bunched up canvas raincoats, and sight-inhibiting sunglasses. Here are a few of my favorites:
Thom Brown's crochet suit. I like the way the whole outfit looks like it has a similar texture, from the leggings to the pants and coat. Really interesting. And next to that is Jeremy Scott's pixelated Shrek sweater. This one brings up ideas of copyright, branding, video games, children's entertainment- again, really interested by this piece.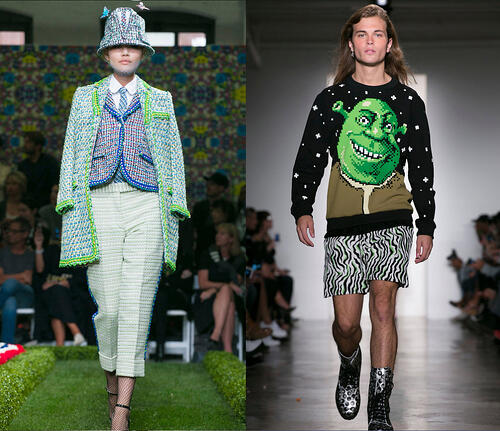 These garment by Billy Reid are on the more functional level: really crisp patterns, some classic color choices and innovative cuts. I like the mix of old and new, classic patterns with a modern tune-up on contemporary over-sized cuts.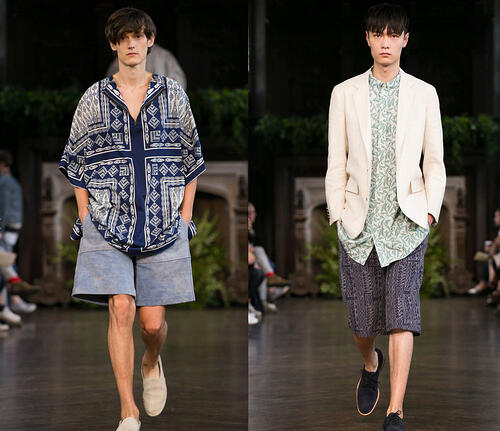 Finding inspiration anywhere and everywhere. Where do you find your inspiration?