The 2015 Midwest & Pacific Coast Synchronized Skating Sectional Championships were right in our back door this year: at Breamar Ice Arena in Eden Prairie, MN. It's not often that we get to see all the gorgeous dresses we produce in action on the ice, especially so close to home, so the events this week were extra special.
We hosted an open house at our office, and many synchro coaches and teams stopped by to see behind the scenes at The Line Up. The Hockettes found one of their old dresses on our sample rack - a Spiderman themed dress from 2004 that was hand airbrushed by our Owner and Creative Director, Deb Erickson! Thankfully, our new sublimation technology has replaced the messy business of airbrushing, and now we can print directly onto fabric, any design you can imagine!

The Hockettes at The Line Up's office and their Spiderman dress from 2004!

Phoenix Synchronized Skating Team at The Line Up's office - in their new warm-up jackets!
Many of you stopped by our booth, and entered into our jacket and legging giveaway. And the luck winner is ..... Abby P. from Rhythm & Blades! Congratulations Abby!! Abby won the Embers Pullover from our new Lifestyle line, which was a favorite amongst visitors. Thanks to everyone that stopped by our office and our booth - you helped make it a special and successful week for us, and we value your input and feedback!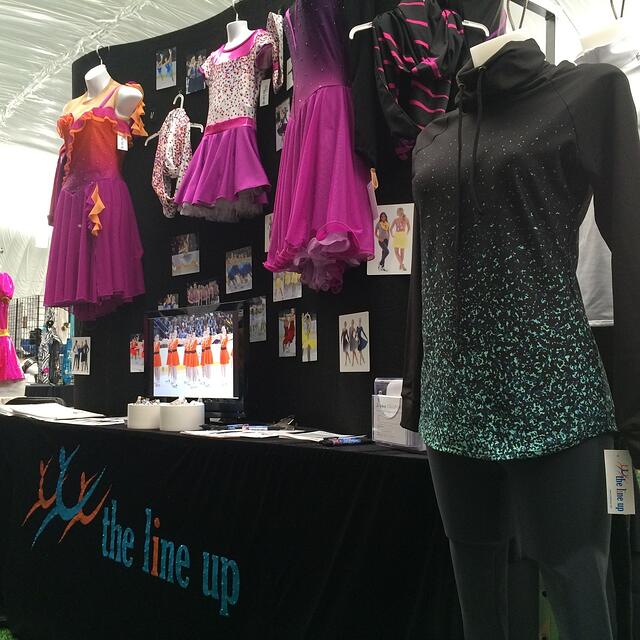 Our booth display at Mids - and the Embers Pullover from our giveaway contest!
Here are a few costume trends from The Line Up that were spotted at the event:
Bright bold colors
It's hard to resist the appeal of bright, bold colors, which really "pop" on the white background of the ice. Bright blues in particular really looked spectacular.
Dye Sublimated Theme Costumes
Theme costumes, especially for the Juvenile and Intermediate teams, were made even more phenomenal this year with the use of Dye Sublimation, which allows you the ability to print any design you want onto fabric. The Lion King, Wizard of Oz, and Aladdin themed dresses below all used dye sublimation to create one of kind fabric prints!
Skirt Slits & Bright Underskirts
We enjoyed seeing bright underskirts peek out through slits during turns, spins, or leg lifts. Skirts that emphasize movement and speed are usually one of the most important aspects of successful synchro dresses.
Black Tights
Black tights made an appearance on many teams, which puts an emphasis on the legs and foot work. It's hard for us to forget Team Canada's black tights at Synchro World's in 2013, where we first saw this bold look.
These were just a few of our favorite trends from Mids - check out more designs on our Facebook gallery!
We can't wait to see more at Nationals!
---