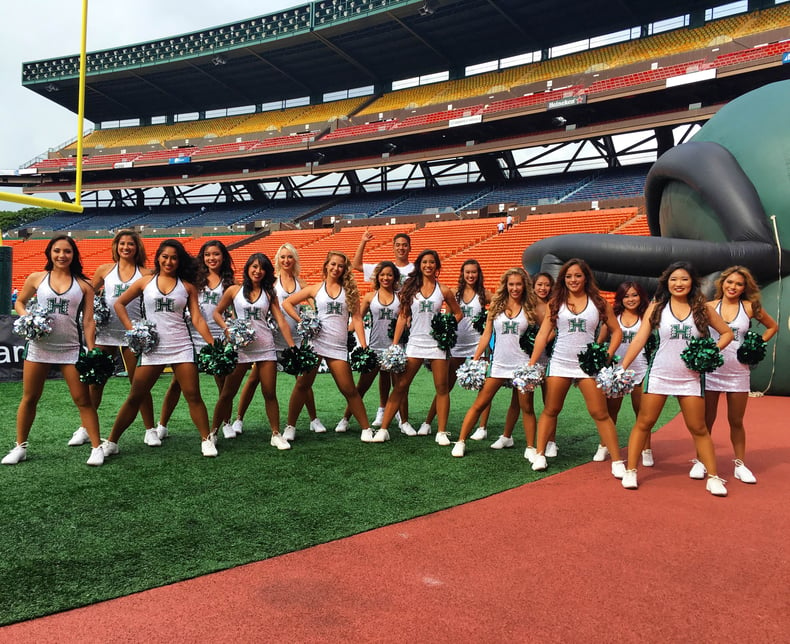 Team: University of Hawaii Rainbow Warrior Dancers
Director/Head Coach: Maryssa Carr
Location: Honolulu, Hawaii
Style: Gameday Cheer
A Bold, Sparkly Statement
The University of Hawaii Rainbow Warriors had one requirement for their new 2016 gameday look: to make a bold, sparkly statement! The Carolina Zsa Zsa Dress - made up of white sequin encrusted zsa zsa fabric – was the perfect choice for that must-have eye catching sparkle!
The Rainbow Warrior Dancers are affiliated with the University of Hawaii's marching band, and perform at a variety of events in addition to the football sidelines: pep rallies, basketball games, and out-of-school appearances, and even compete nationally in the spring. Trained in a variety of dance techniques, these ladies are fluent in hip hop, jazz, cheer, and some members are even training in breaking and Polynesian!
Check out the multi-talented team in action, at their first halftime performance of the season:

Team Spotlight Q & A:
How many routines do you have for this season? We learn about 20 routines by the start our season and continue learning more throughout the year.
What is your teams' favorite song to perform? We love dancing to anything Beyoncé!
What makes your team/group unique? Hawai'i is a 'melting pot' of cultures and ethnicities and even dance styles! We have dancers trained in everything from breaking to Polynesian dance.
What is your favorite fan memory from the past/present year(s)? Every year we look forward our UHRWD kids camp! We hold a workshop for young dancers and invite them to perform with us at a game.
What are you most excited for this season?! We are most excited to return to the USA dance competition in the spring!
---