---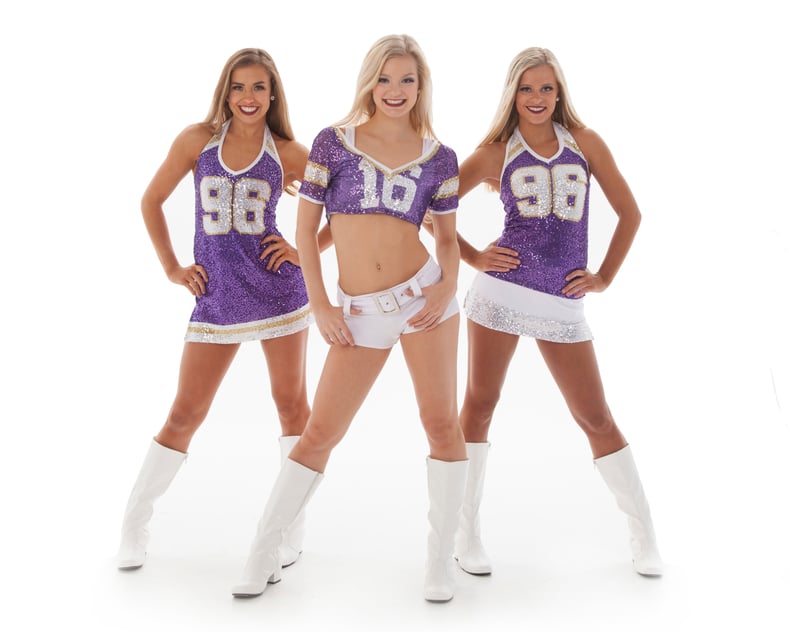 The look of the game day cheer uniform is changing. Already the classic cheer braid look - which will always hold a strong torch - is starting to look a little faded next to the glitz and glam of innovative all star looks. So what does this mean for the 2016-2017 season and your game day looks? Check out our 10 favorite trends for the modern cheer uniforms, that create the perfect mix of classic and innovation!
1. The Sparkle Jersey
Hands down, this is the trend we all can't seem to get enough of! These sequin encrusted jerseys are made by sublimating custom colors and designs onto sequin encrusted fabric called Gaga.
What's sublimation you ask? It's a fancy name for printing your own custom design onto fabric, which means the ultimate versatility in design, logos, and colors for you!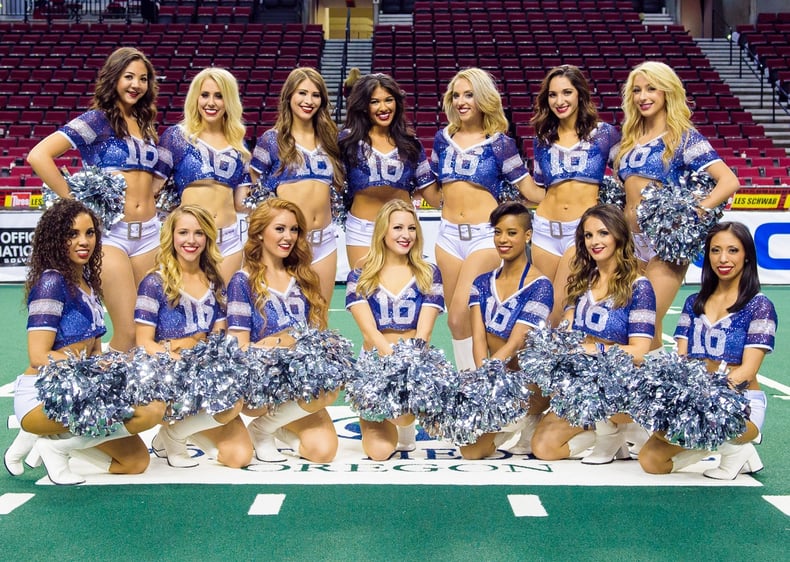 Customer Favorite: TheSparkle Jersey, worn by the Portland Steel Cheerleaders
2. Sheer Meets Sporty
Continuing with the sublimation trend is this sheer and sporty look: sublimated mesh. It's a covered look that hints at something a little more revealing. And it brings a little more fun and adventure to the logo - something different than traditional embroidery!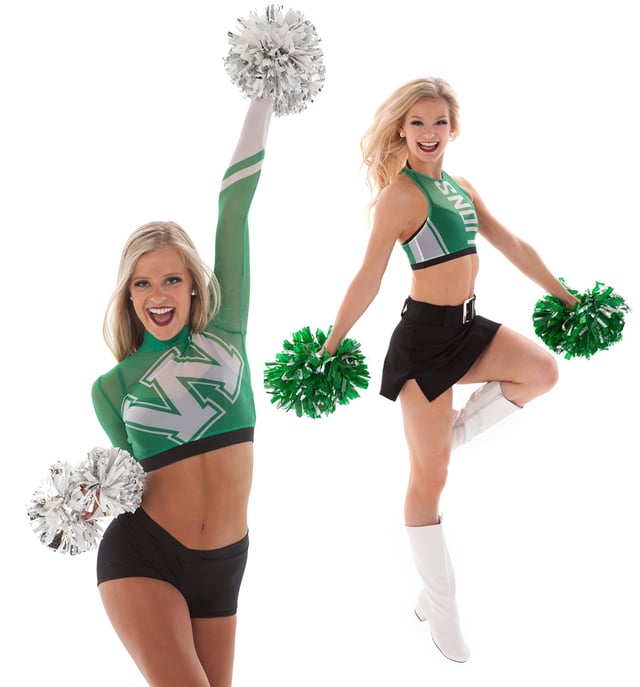 New Stand-Out Designs: Gleason Mesh Sublimated Crop, 202-7 Mesh Sublimated Crop
3. Mesh Insets
Not ready to brave the full mesh uniform? Mesh insets are another way to update a classic cheer look, giving it an instant trendy edge!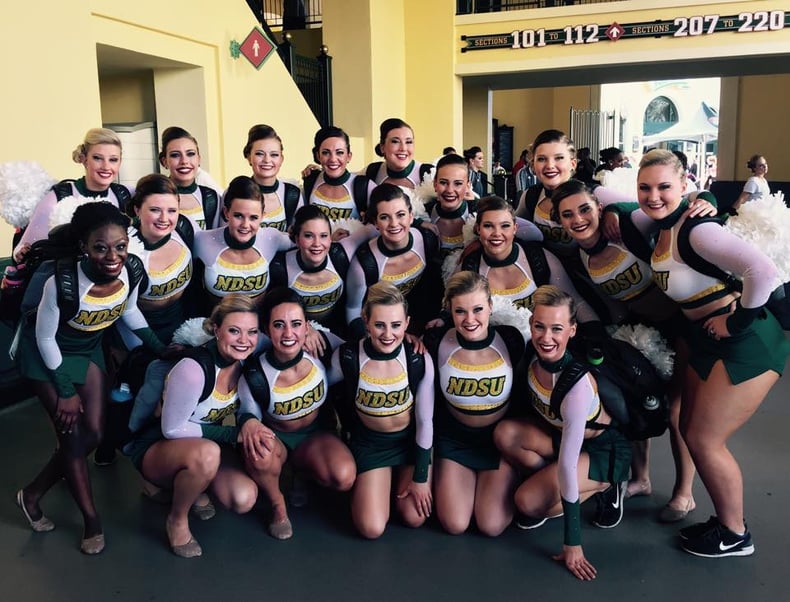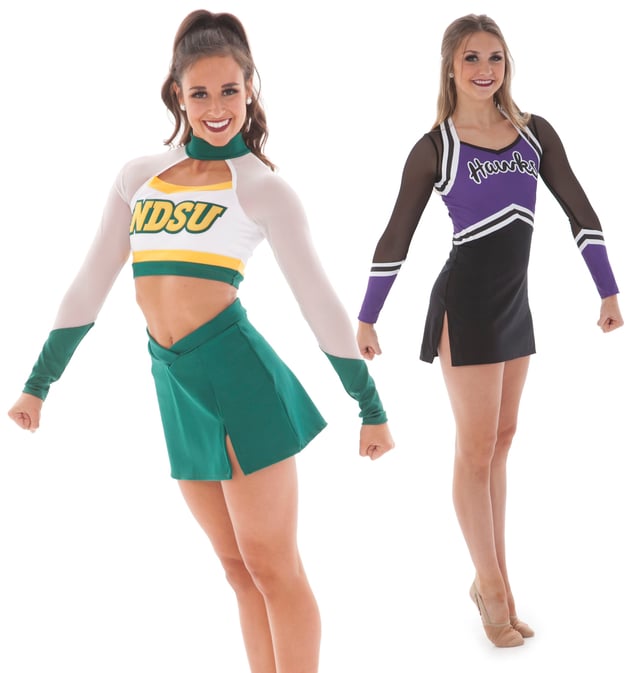 NDSU Dance Team incorporated mesh sleeves into their 2015-2016 custom pom uniform, and the Jackie style rocks a similar sleeve look.
4. Lace & Sequin Lace
Lace has been sneaking its way into cheer uniforms the last couple of years, and as we peer into our crystal ball for the 2016-2017 season, we predict this look is going to take off!
Our favorite application? Charlize lace, which is covered in sequins for that all-important, must-have sparkle.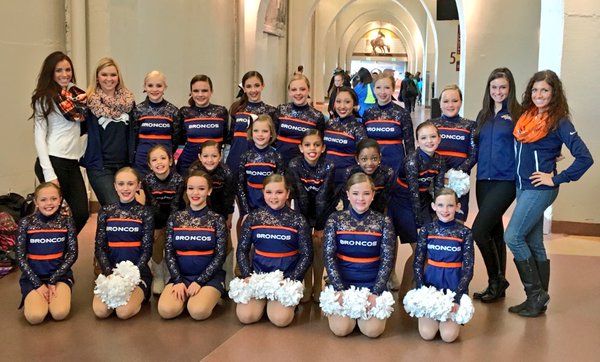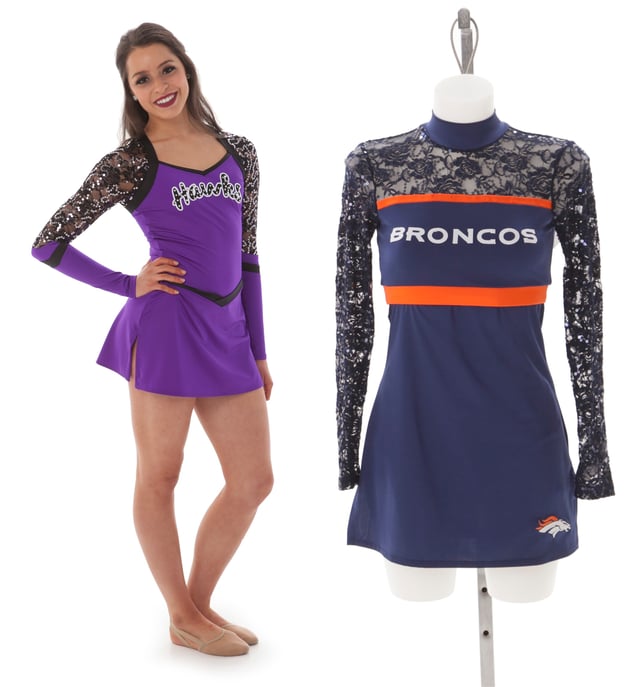 5. Zsa Zsa. Always Zsa Zsa.
What the heck is Zsa Zsa, you ask? Only the most magical and sparkle-intense fabric ever! Even though sparkle and sequin fabrics have been around for a while, but don't see them going away any time soon!
Zsa Zsa has three great characteristics: it has eye catching shimmer, it's lightweight and bulk free, and it has enough stretch to let you move - the perfect combination for cheer uniforms!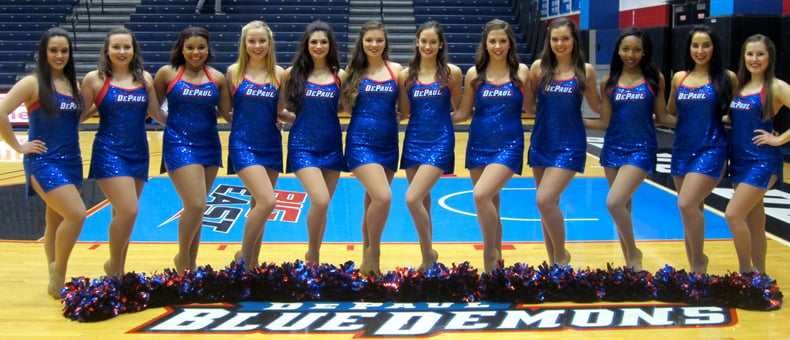 DePaul University sporting a simliar style to our Viriginia Dress made out of Zsa Zsa material.
6. Jerseys, Jerseys, and More Jerseys
We love the sparkle jersey, but we've also been spotting regular jerseys everwhere we look - cheer, team apparel, hip hop, you name it. It's a classic that is easily customizable to your team, expecially for sporting a little team spirit outside of performance.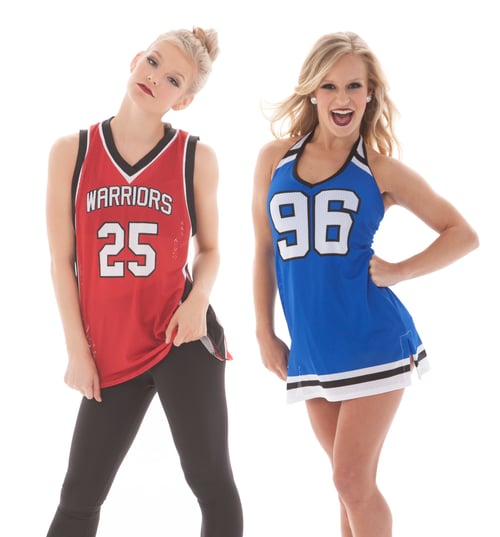 Jersey Rules: Basketball Jersey,Tami Athletic Mesh Dress
7. Bold Leggings
Once again, the sublimation trend rules, and bold and graphic sublimated leggings are gaining popularity. Any color, any logo, and design you can think of is possible, which means branding leggings to your team is easy! Perfect for practice or team apparel!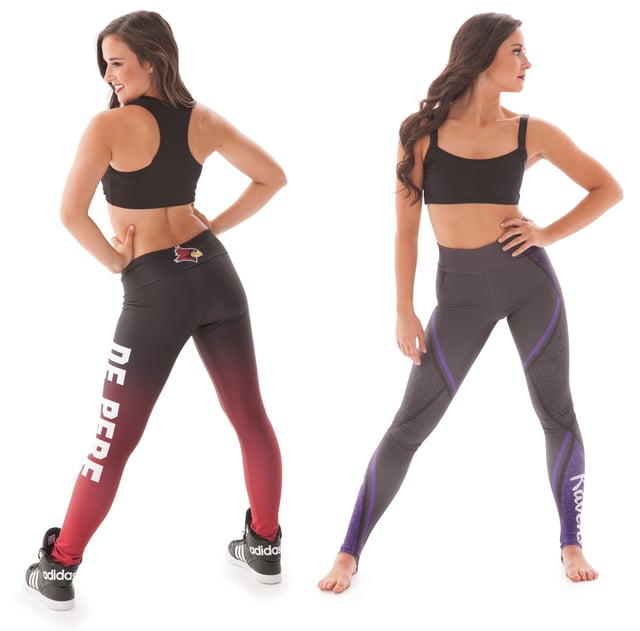 Team Spirit is Always Key: 575-14 Ombre Leggings, 575-14 Henna Leggings
8. High Waist
Lately, when we want to give new life to an old style at The Line Up, we simply pair a crop top with a high waist short or skirt and it instantly looks more up-to-date! Waistlines have been rising for a while now, and the look is in full swing for college game day and pom uniforms this season. Paired with that crop top, and it's the ultimate in figure flattering!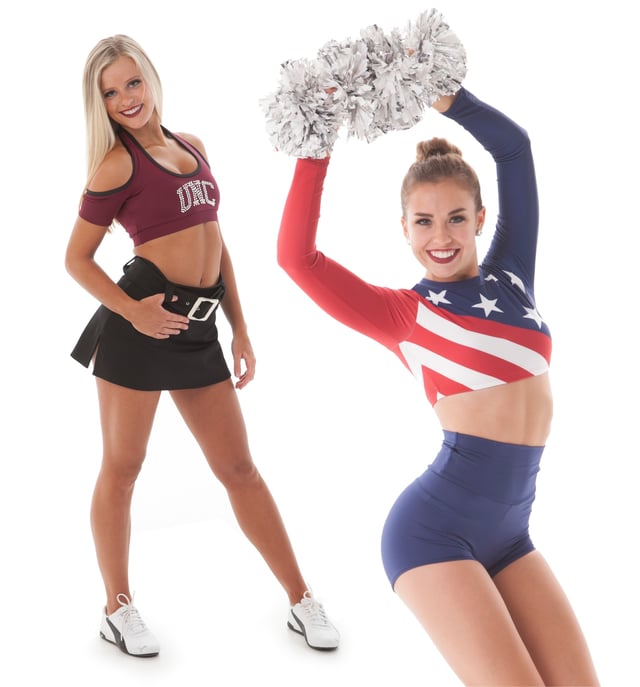 427-1E
Crop paired with a high waist skirt or pair it with a short!
9. The Slim Warm-up Pant
Warm-up pants are a staple of cheer squads probably since the beginning of (cheer) time, but who says we have to continue with the bulky, baggy, and unflattering pants? Enter the slim warm-up pant, city pant, or jogger. Whatever you want to call it, it features two necessary charactersics: it's loose enough to fit over your uniform and hold your phone and keys, while still figure-flattering and fashionable.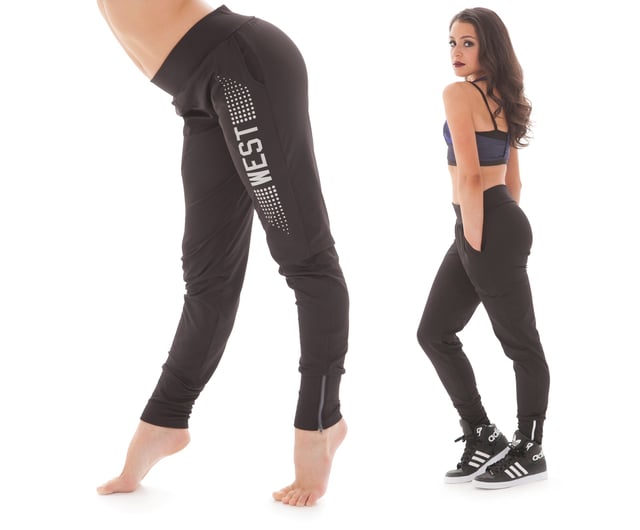 Comfort at another level: City Warm Up Track Pant
10. A Stunning, Open Back
We've seen many teams add instant drama with a wide, open back. It's a stunning surprise that add an instant edge to a more classic pom or cheer uniform!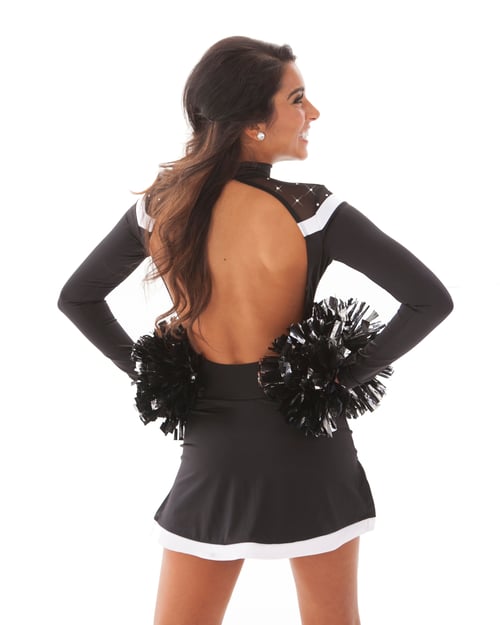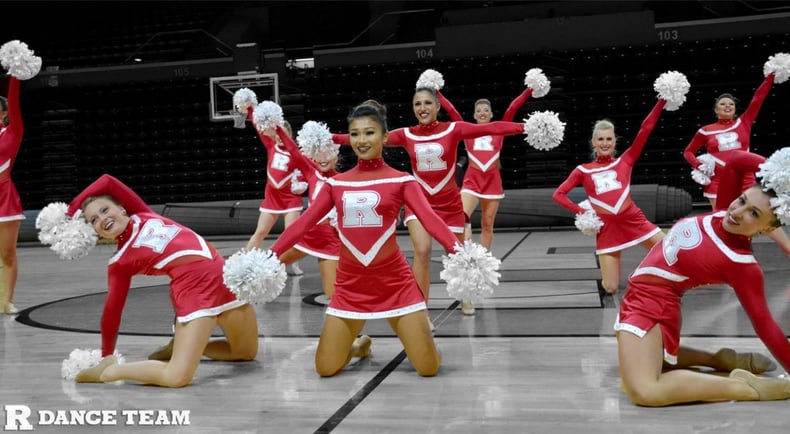 Rutgers University wore the open-backed style, Oksana, in their signature red!
That's our take on cheer uniform trends for the coming 2016-17 season - a great combination of classic cheer and pom styles with just enough edge. And sparkle. Never forget sparkle! What do you think of these new looks - can you envision your team incorperating any of these trends into your new uniform?
---