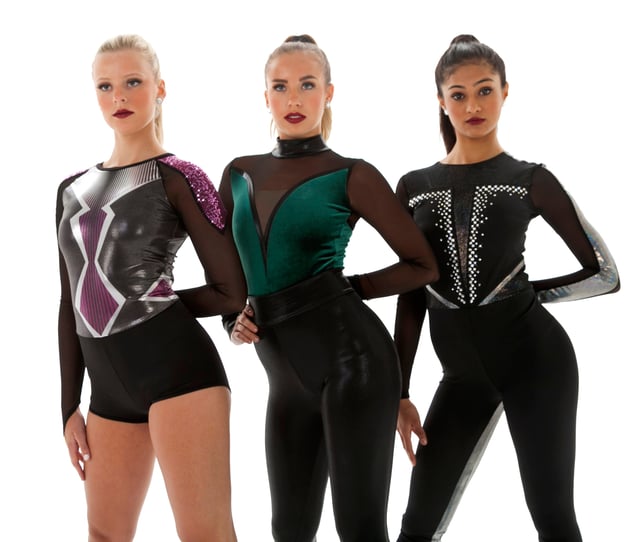 High Kick dance routines are known for their quick movements, sharp lines, and formation changes. So, how do you accentuate this choreography to take your routine to the next level? Color change! Accentuate strong movements and add visual interest by adding a pop of color. Check out 5 unique ways to incorporate color change into your High Kick dance costume this year!
1. Inside Stripe on the Leg or Arm
A contrast in fabric on the inside of the leg or sleeve adds a flash of color when you kick or raise your arm. Inside stripes are great for emphasizing those beautiful, straight lines!


Styles Stilleto and Aveline both incorporate inside stripes for a pop of color


Aitkin Dance Team and St. Charles Dance Team used inside stripes in their custom high kick costumes
2. Front/Back Color Change
Another way to add drama to your high kick costume is to choose contrasting colors for the front and back. It adds visual interest when switching directions, and can highlight formations depending on which direction your dancers faces!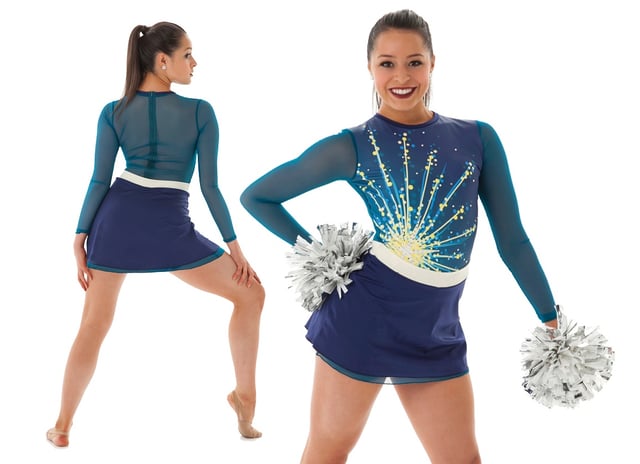 Style Starry Night dress has a burst of color in the front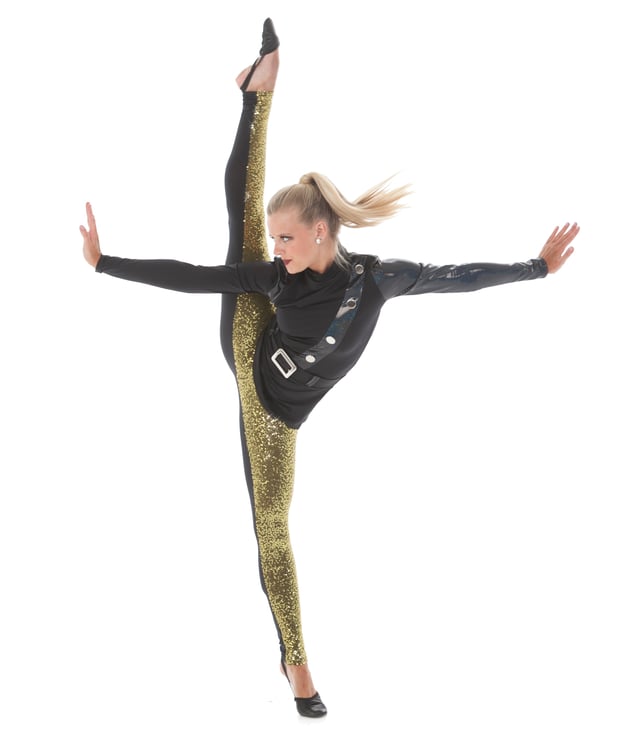 Legging style 575-14 Half Zsa Zsa legging (paired with the Captain top) contrasts both color and sparkle from front to back.

Get creative with it - Hopkins High School Dance Team added a Union Jack design to the back
of their custom High Kick costume for a front/back color change
3. Different Color Legs or Sleeves
This asymmetrical look can be incorporated a variety of ways - whether it's contrasting legs, arms, or both! Different color legs emphasize alternating kicks, and different color arms create an interesting look when linking up.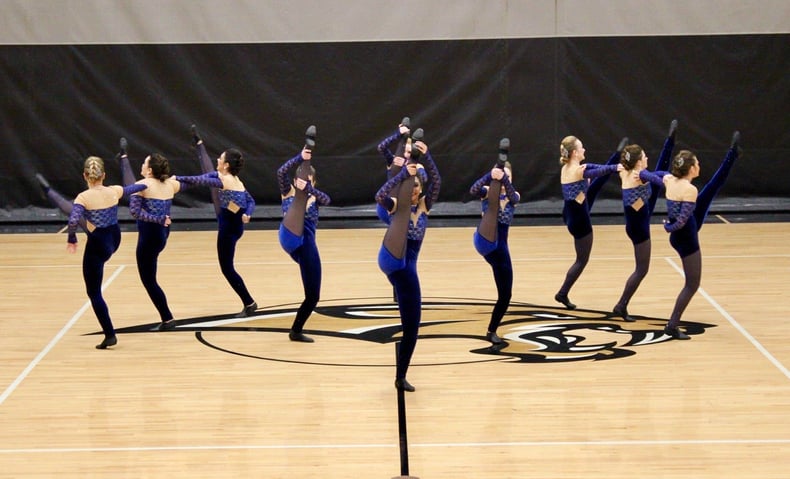 Bismarck Demonettes used one mesh leg and one velvet leg for their custom high kick costume.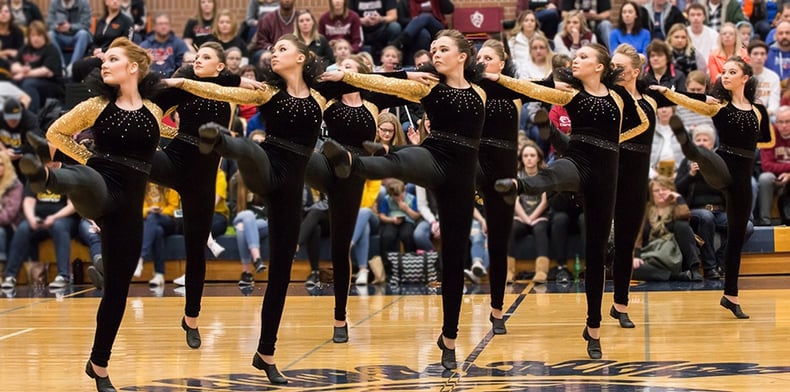 This costume originally created for Fargo South uses for one full Zsa Zsa sleeve and one black sleeve with a sparkly stripe!
Eden Prairie High School Dance Team highlighted their kicks with one red leg
4. Transition Costumes
Everybody loves a good transition dance costume! It adds the perfect "wow"-factor to amp up your High Kick routine. Reveal a pop of color part way through the routine by transitioning a portion of your costume, like turning a sash into a skirt. The perfect moment? During a formation change or right before a big kick sequence! This takes a certain level of coordination and investment, but is always a crowd-pleaser.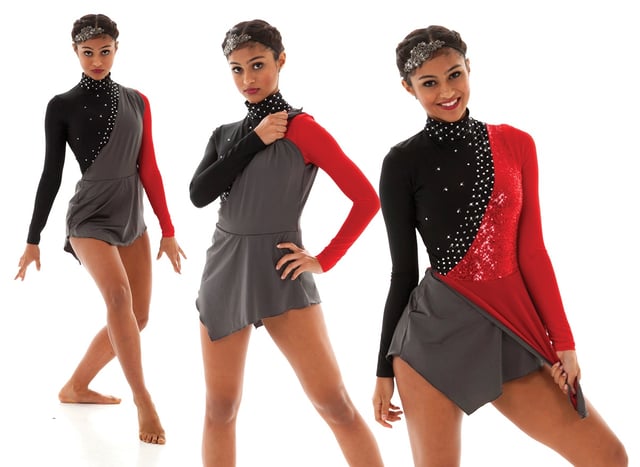 New transition dance costume style, Avatar.
Blaine High School added an element of surprise to their routine when they transformed their all black high kick uniforms and formed a sparkling, colorful rainbow during the song "Somewhere Over the Rainbow".
Chaska High School created a unique transition costume, and was able to highlight formations by transitioning at different times!
5. Multiple Costume Colors
One final way to use color is with multiple color costumes - this is a great way to highlight formations on the floor. The key is a lot of planning with transitions to pull this look off!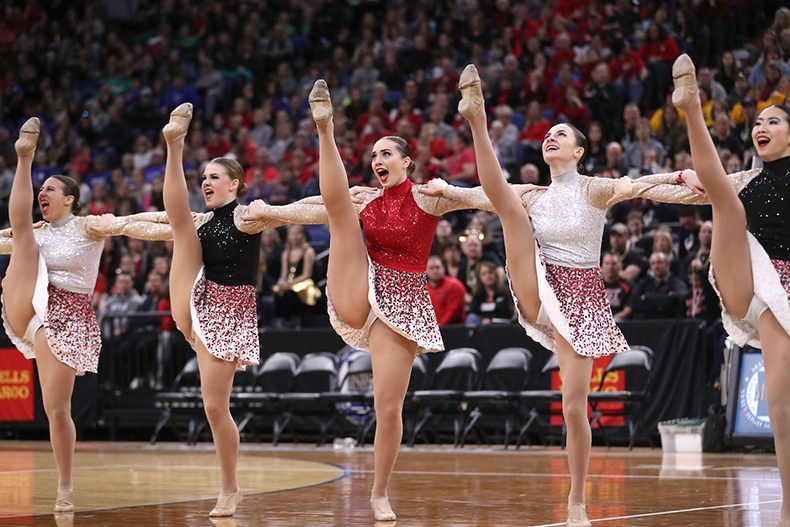 Lakeville North Dance Team Used three different colored tops for their party theme kick routine.
---