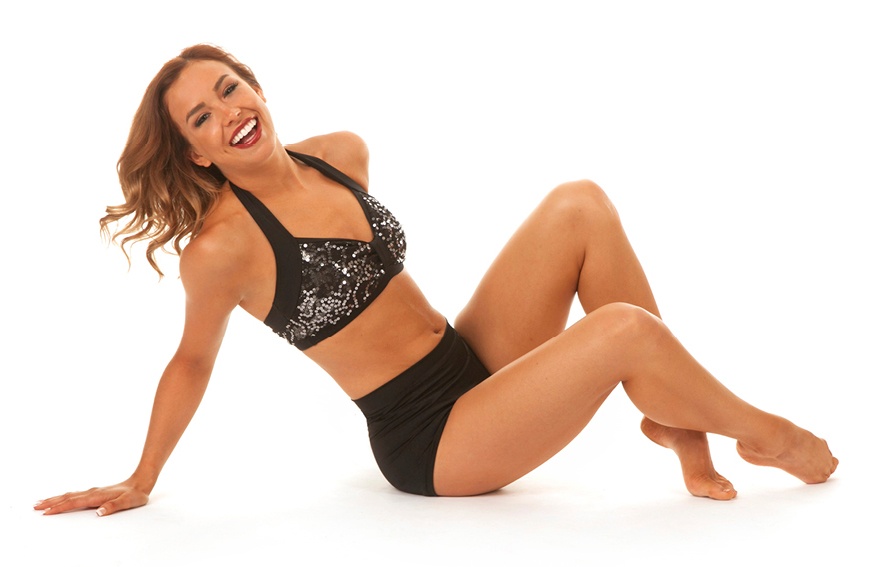 Choosing the right outfit for your college audition can be tricky - you want to stand out while still adhering to the guidelines of your team's audition. Taking a creative approach when deciding what to wear can go a long way in helping you catch the coaches' eyes and feeling confident at auditions!
While every team's guidelines are different, here are a apparel tips every dancer should consider when choosing an outfit for college dance team auditions!
8 Tips for College Dance Team Tryout Apparel
1. Plan Ahead and Prepare
Give yourself time to do your research for your tryout apparel and plan at least 2 months in advance of your tryout date. More preparation means less stress, more time to achieve your goals, and more confidence on the big day!
Know that when you order from a custom audition apparel provider (like at The Line Up), each piece is made-to-order in your color choices. This means lead time is longer than your typical ready-to-wear shops, so plan for at least 10-15 days to receive your order.
2. Do your research: Know your team's dress code and style for auditions
A great way to do this is to look at photos of past auditions on your team's Instagram account or Facebook profile. This will help you get a feel for your team's style and what people have worn in the past. For example: do dancers keep it simple or go all out with rhinestones?
Don't assume you can wear anything to an audition either – be sure to look up the rules and guidelines for your team's auditions. For example, many teams require that dancers wear all black crop tops and booty shorts. Some even prohibit rhinestones!
Which brings us to…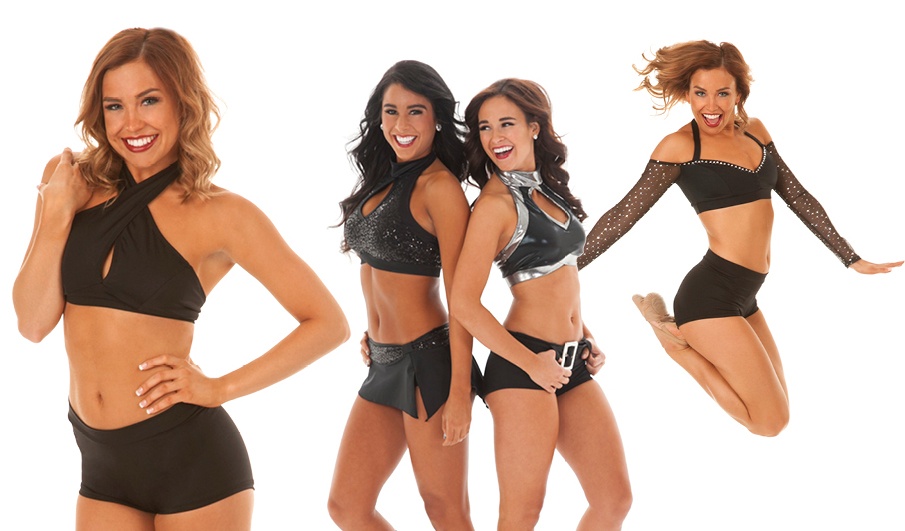 Examples of all black audition outfits that aren't boring: a figure flattering design (left), 2 styles with sparkle and shine (center), and one with mesh sleeves (right). Styles shown: 864-25, 425-5D Zsa Zsa top, 425-5D top, 427-11 top.
3. All Black doesn't have to be boring
If your team requires you to wear all black for an outfit, think outside of the box to show off your own style and stand out. Here are three easy ways to do this:
Think about a unique or figure flattering design: If all else fails (or is not allowed), look for a unique silhouette! There are plenty of options besides the default racer back sports bra and booty short. Look for a halter or strappy top that's figure flattering, or even a short with a belt to add interest!
Add a little sparkle and shine:

Pick a style with sparkly sequin fabric, add rhinestones to a more basic top, or consider a hologram type of fabric (which can give the appearance of a faux leather). Be sure to check that rhinestones or sequins are allowed for your audition - some teams prohibit their use for tryout outfits.
Play with textures and materials:

Think lace or sequin mesh for something feminine, or textured mesh for something sporty and edgy!
4. If you can do color, two of the best color options are:
Team Colors: This is the most common choice for tryout apparel, and some teams even require it! For example, the Minnesota Vikings Cheerleaders require their candidates to wear purple, white, gold, or black to team auditions.
Bright Colors: When in doubt, bright colors always stand out in a crowd and pop against tanned skin. Be sure to coordinate your outfit color with your hair and skin tone as well. Ex, gold or yellow can make someone with fair skin look washed out, but can look fabulous on someone with more of a tan or darker skin tone!
Always limit color combinations to three colors or less: Incorporating four or more colors will be too busy and distracting.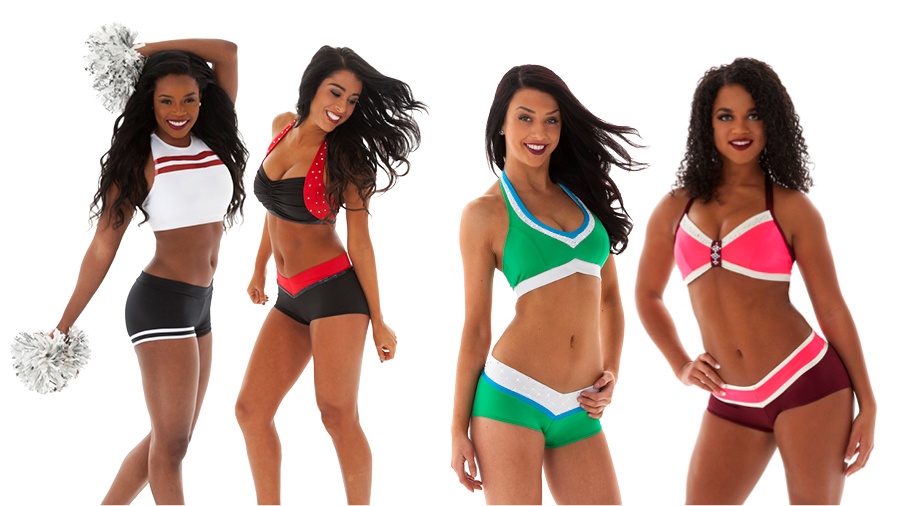 Examples of team colors (left), bright colors (right), as well as coordinated top and bottoms.
Styles shown: 202-10 Sporty top,
259-53F top
,
420-10 B V top
,
and
420-207 top
.
5. Consider coordinating your top and bottoms
Think about matching your top and bottom rather than going all out on top and having a basic black bottom. It'll give you a more polished look, and show you thought more about what you are wearing! Two easy ways to do this:
Match Colors: To balance your outfit, work the colors of your top into your bottom. If your bra band is blue, the waistband of your bottom should be blue. Or, if there's a little pink on your strap, add some pink rhinestones on your bottom as well as the top!
Match the fabrics and textures: To balance styles, think about incorporating the same fabrics on your top and bottom. If you have a mesh cut out on your top, incorporate mesh on your bottom.
6. You may need more than one look
If there are multiple styles of dance at your audition, you may want to dress for each routine rather than using the same look for everything. This doesn't mean you have to have 3 separate outfits though! You can layer and mix and match to make it work. For example, pick an edgy bra top that could be worn with shorts for a jazz combo, and with track pants for a hip hop combo.
7. Don't forget about shoes and accessories
These extra details are often an afterthought, but can be an important part of polishing your look!
Shoes:

It's best to wear shoes that elongate the leg, like nude jazz shoes with nude legs (think one continuous line). You may need a variety of shoes for different dance styles though, so bring extra to be prepared!
Tights: Many teams wear tights, but not all, so check audition photos and guidelines for your team. If you don't wear tights, be sure to pick a style of shorts that will provide coverage and not ride up, to ensure that you are comfortable at auditions!
Earrings: Rivolli rhinestone button earrings are a go-to favorite (and we know you've probably got a pair from your last dance competition!).
Extra Support: Here's a little secret – most pro cheer dancers wear bras underneath their cute bra tops at auditions. While we don't endorse extra cleavage for everyone, we do endorse proper support! Know that just because an audition top is tight fitting, it doesn't mean every style will give you the support you may need. If you do wear a bra under your top, be sure to pin it in so it doesn't pop out.
8. Do a dress rehearsal
This is essential! Do a "trial run" in your full outfit, hair, and makeup, and be sure to go all out! This will ensure you are fully prepared, feeling your best, and everything stays in place. It'll give you time to see if those straps are falling down or shorts are riding up so you can get a fix in place before the audition. You don't want your outfit to be a distraction for the judges or you.
In summary, plan ahead, think it through so you can be confident on your big day. You'll be so happy you did!
---