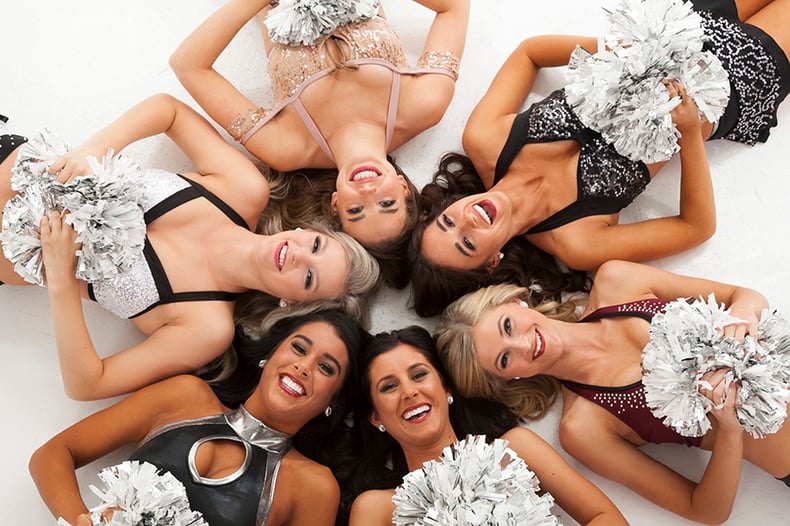 Over the years, the tryout process for NFL cheerleaders and NBA dancers has become increasingly competitive and can feel very intimidating, even to the vet! The key is to be prepared, do your research and be confident!
To help, we've compiled a list of tips for your pro cheer audition outfit, pulled from the many years we've been outfitting pro cheerleaders and dancers! From choosing a style to paying attention to the little details - we want you to help you be 110% confident!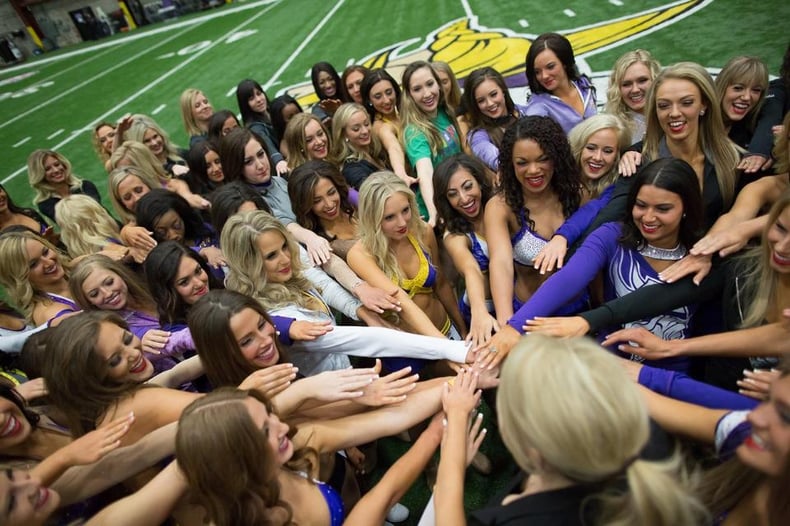 1. Know the Expectations, Criteria and Tryout Process for the Team You Are Auditioning
Make sure you are clear about audition apparel criteria. This will vary depending on the team. Some teams require special attire such as briefs, not shorts. Or pants and a crop. It's common for teams to specify the color of the attire to be worn (typically team colors.) Be sure to:
Visit your team's website to get more information. Get details about clinics, information sessions and audition criteria.
Attend prep clinics and info sessions. These are offered to help you prepare, get to know the expectations of the team, and get a feel for the audition process. The more prepared you feel, the more confident you will feel at opens!
Adhere to the rules - it shows you did your research!
2. Dress the Part ...
Just like a job interview, first impressions are important. Your goal is to be noticed for properly representing the team. Make sure you are an attraction, not a distraction! Get a feel for your team of choice by:
Studying videos and photos of the tryout process from the previous year. If most of the candidates accessorize with rhinestones, be prepared to add bling to your outfit. If most wear shorts instead of briefs, be prepared to do the same.
Consulting a veteran cheerleader/dancer. They have been through it before and can provide you with valuable tips. They might even have a bra top you could borrow for prep classes!
At the end of the day, you want the judges and coaches to say "I couldn't tell if she was a rookie or a vet!"
3. ... But Add Your Own Personal Flair
You want to dress the part, but also let your personality shine through! The style possibilities are endless! Create your own look by simply changing fabrics or mixing and matching tops and bottoms. Navigate the choices by styling true to yourself.
Choose a style that represents you. Are you more girly? Consider a style with lace, sequin, or ruffles. More sporty? Consider a style with athletic mesh, side stripes, or criss-cross ties.
Choose a color combination that you feel confident in! If you aren't a pink girl, don't wear it. If you are, have fun with it! The style and color combos say a lot about your personality. How do you want to be seen?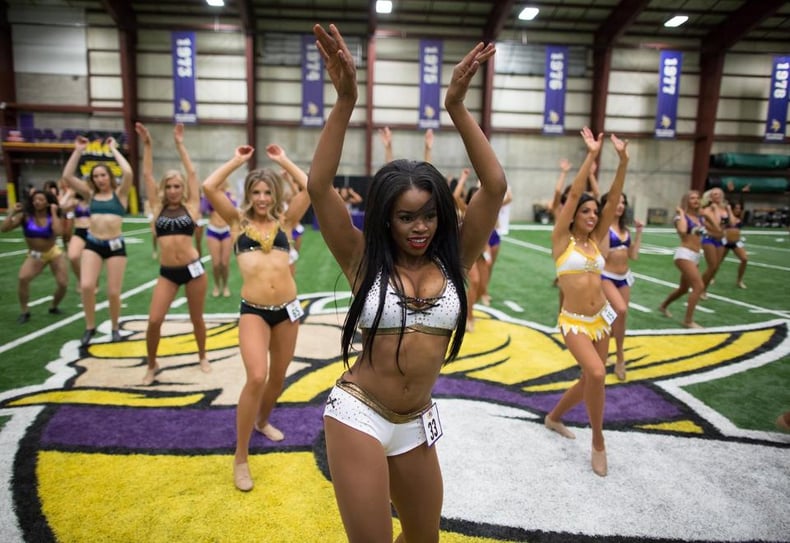 4. Think Beyond the Colors You See Online
If you order an outfit 'as is' (the same style and color combination as seen online) you run the risk of seeing your outfit on someone else. So get creative! Simple color changes or rhinestones can transform any style.
5. Make Sure Your Outfit Is Balanced and Visually Appealing
You can pick the cutest style of top and bottom, but if the fabric selections aren't quite right, even the most flattering garments will fail. Here are some suggestion for what works best:
Limit the color combinations to three colors or less. Trying to incorporate 4 or more colors can become busy and distracting.
Balance the colors of your top and bottom. To do this, make sure the colors of your top are incorporated into your bottom. If your bra band is blue, the waistband of your bottom should be blue. Or, if there's a little pink on your strap, add some pink rhinestones on your bottom as well as the top!
6. Fit Is Fashion
Proper fit is essential. If your garment does not fit properly, the focus will be on your flaws and not your flattering features. No one wants their skills to be ignored because a bra is peaking out!
Check the size chart before ordering. Check your measurements against the manufacturer's size chart in order to determine the right size. You might find your size varies from one company's website to another!
If you are between sizes, go up a size! A garment that is too large can easily be taken in. A garment that is too small is hard to let out. Also, pieces that are too small run the risk of pushing in in all the wrong places.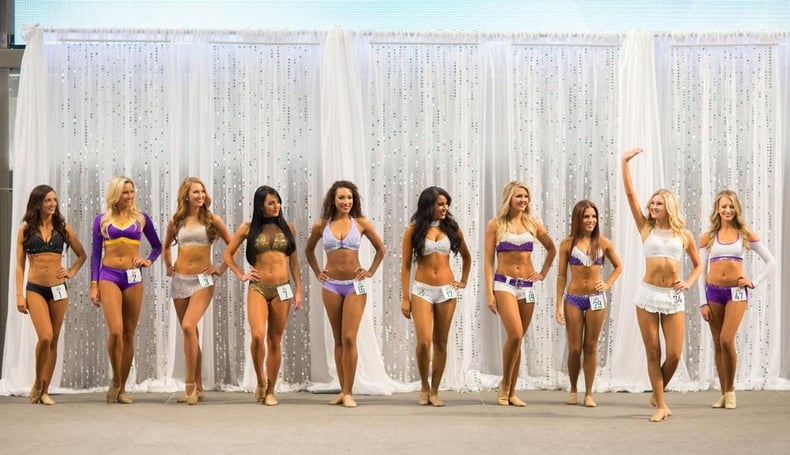 7. Wear Shoes that Elongate Your Leg
Research the required footwear for your team, or bring options. Many teams require tan jazz shoes. However, if they do let you choose your own, avoid dark or heavy footwear. It will look heavy and will distract from your form. A few flattering shoe choices include:
Nude jazz shoes - These are usually best, and will blend in and add length to your legs.
White boots - If these are allowed, choose a boot with a medium size heel you can dance in. This heel will also add length.
8. Tights Are Common, but Not Always Required
Pro cheerleaders usually wear tights for performance, but they not always required for auditions. So wear whatever feels comfortable for you! One rule of thumb though: only wear tights that match your skin tone. No colors that are too dark or too light like white or black.
Peavy is a well respected brand of tights, used by a lot of pro teams. They come in a variety of skin tones, and are low rise. Nude fishnets are another fun option!
9. Consider Extra Support
Here's a little secret: most pro cheerleaders wear a bra underneath their cute bra tops. It'll give you a little extra lift if you need it! But be sure to select the proper bra: no lines, supportive, and stays hidden in place beneath your outfit.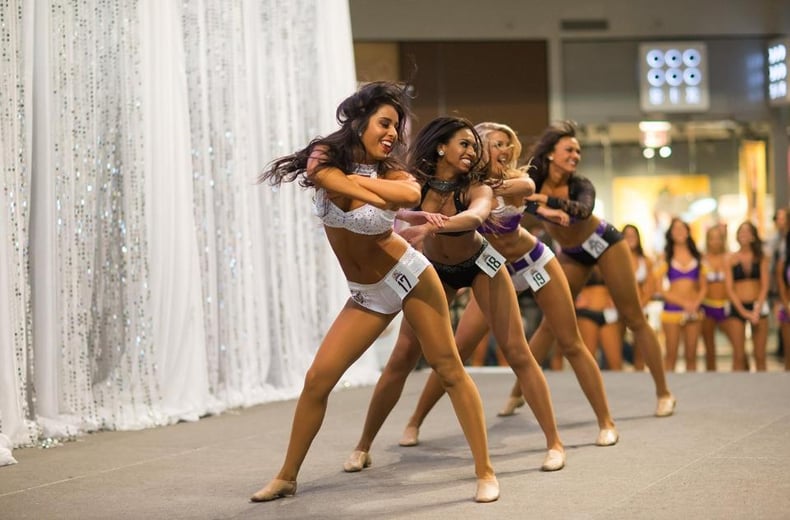 10. Pin It In
Pin your bra to your top to ensure your bra straps or band doesn't show. Even the clear straps! Clear means clear, not invisible. We also know of a lot of ladies that pin their tights so they don't peek out too!
11. Let's Be Honest, Bra Pads Are Your Friend
Here's another little secret: take a peek at our models in the pro section of the store, and most of them are wearing Bravo pads. They're that secret accessory that will enhance your figure and fill out your tryout top.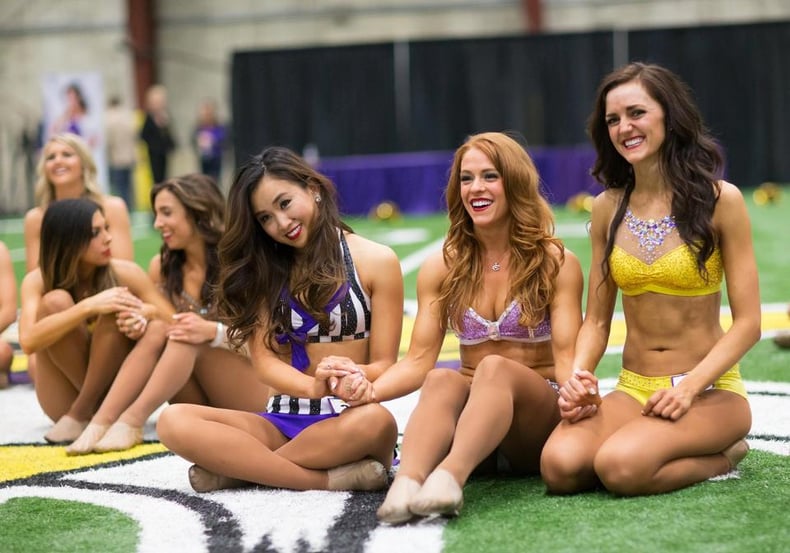 12. Add Sparkle as a Finishing Touch
Sparkle is popular for one very good reason: it's eye catching! It can also completely transform your outfit, and make a simple style more interesting. A few ways to add sparkle:
Rhinestones: They'll give you the greatest amount of shine the greatest at a distance. Check out our How To Rhinestone Video Tutorial!
Sequin Encrusted Fabric: Try using zsa zsa (sequin fabric) in place of rhinestones. It creates an all-over sparkle and can be a more economical alternative to rhinestones!

Beaded Fringe:

We've seen a few trend setting cheerleaders add their own fringe to their tops, for a little extra movement and flair!
13. Accessorize Appropriately!
Accessorize and add the finishing touches to show that you've thought through EVERYTHING. Literally head to toe, you are ready to be on this team. But whatever you do, don't let it fall off!

Rhinestone earrings - to add sparkle and frame your greatest asset: your smile!
A Cute belt - either as apart of your shorts, or tacked and pined in place!
Avoid anything distracting or that will get in your way while dancing though! Avoid a lot of jewelry or things that will move around.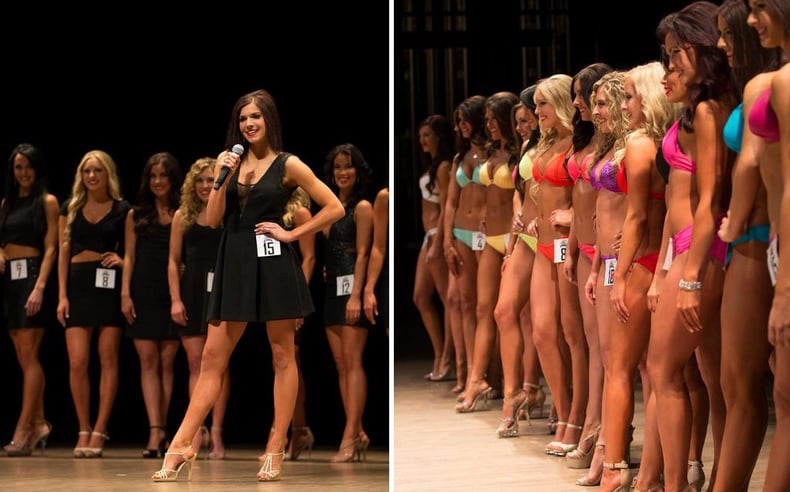 14. You May Need More Than One Look
For many NFL and NBA dance teams there are multiple rounds of auditions, and many dancers like to wear different looks for each. Don't worry about this breaking your budget though! Consult your other tryout friends or alumni, and borrow a top or organize an outfit swap. Save your special outfit for semi-finals or finals!
If you do make it to finals, you might need additional outfits! Some teams have swimsuit or little black dress rounds.
15. Do a "Dress Rehearsal"
Do a "trial run" in your full outfit, hair, and makeup to ensure you are fully prepared, feeling your best, and everything stays in place. It'll give you time to see if those straps are falling down or shorts are riding up so you can get a fix in place! You don't want your outfit to be a distraction for the judges or you.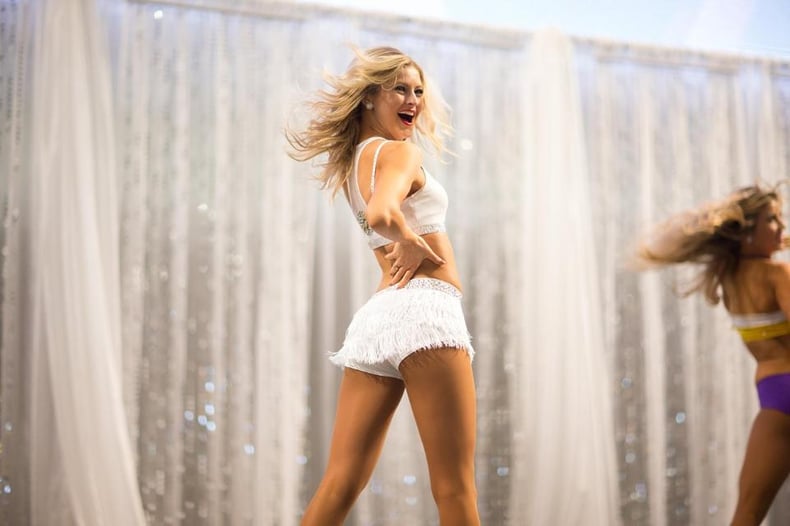 And most importantly, our best tip is CONFIDENCE. The more prepared you feel, the more confident you will feel at opens! Be proud of yourself for all you did to prep. Just showing up and putting yourself out there is impressive.
Have more audition tips to share? Let us know in the comments below!