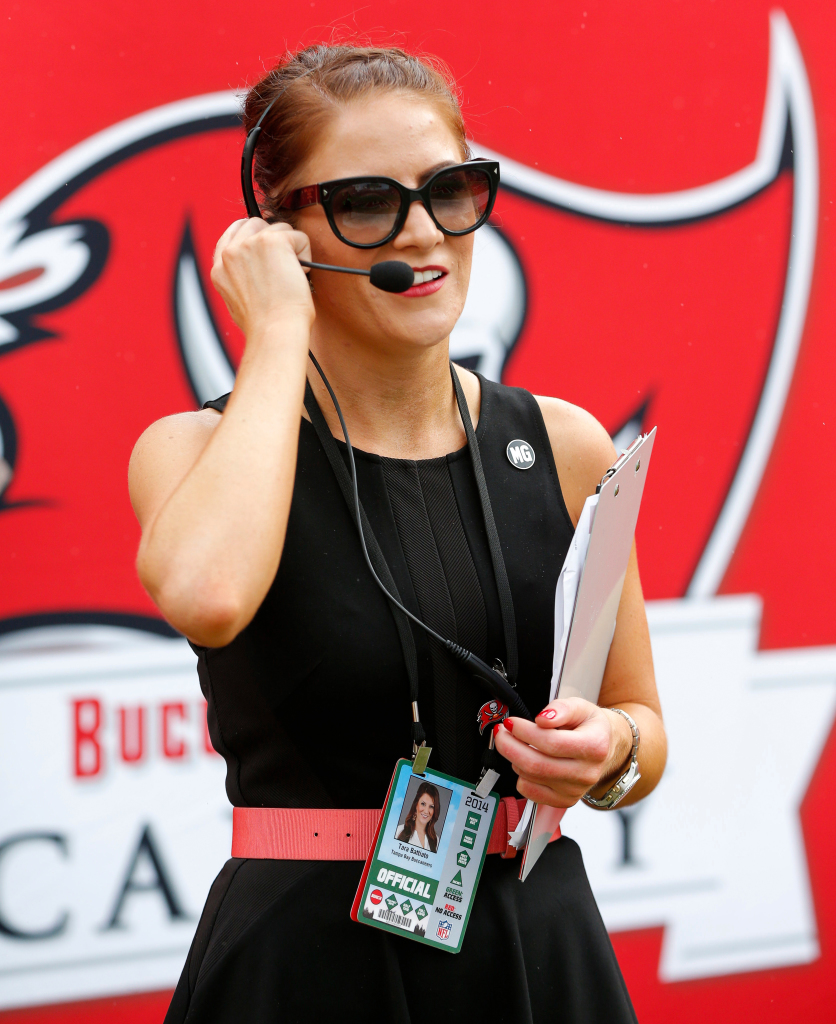 "The Line Up Saved Me"
Tara started working for the Buccaneers as Cheerleader Manager in March of 2014 where she had little time to get acclimated. She had 4 months to put a team together. The long list of to do's included: organizing tryouts, hiring cheerleaders, pitching design ideas, submitting prototypes, getting new uniforms made and the team photo-shoot completed prior to the first pre-season game.
Determining the best look for the new signature uniform was one of her most challenging hurdles. Tara had chosen two designs to move to the prototype phase and while these selections were fantastic, The Line Up took a chance by making a 3rd prototype for consideration. The Line Up design team understood her vision and surprised her with an exclusive prototype that was sure to wow. "The Line Up saved me!" stated Tara after the process was complete. Tara's top pick was the uniform that The Line Up had surprised her with.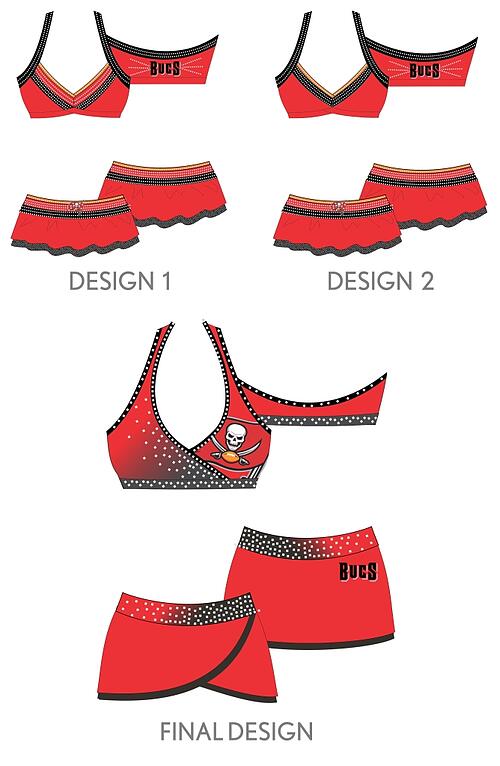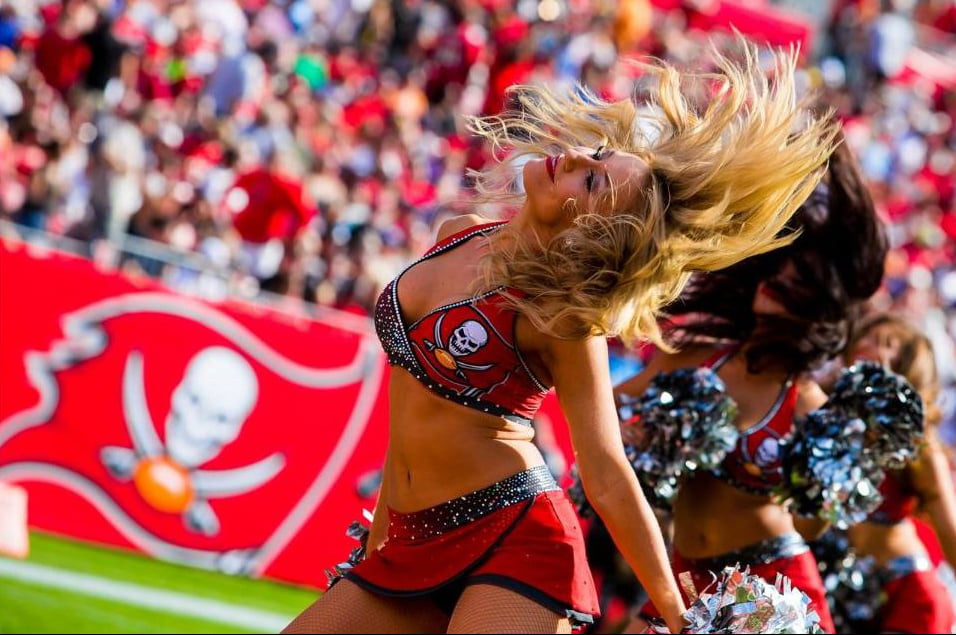 New Season, New Uniform
The Buccaneer's uniform was made using The Line Up's signature dye sublimated process which allows for detailed logo work and custom colors. Rhinestones and heat transfer sequins finished the look just in time for the team photo shoot.
Detail of the sublimation and embellishment on the Tampa Buccaneer Cheerleaders Signature Costume. The tops shown here are laid out for final inspection at The Line Up's office before packing.
The tools for the signature costume's bling: rhinestones and metal applicator.
Passion and Commitment = Success
After working with Tara through the process it became obvious that her passion, enthusiasm and commitment has led to her success. Her warm, positive attitude puts you at ease, and she has a way of making you feel like anything is possible. Tara understands the thrill and commitment of cheering for a successful NFL team. Perseverance and tenacity were a key part of landing her a position on the Denver Bronco's cheer team prior to her position with the Buccaneers. She was relentless, trying out 3 times before making the team. She was a Denver Bronco Cheerleader for 5 years and also danced one year in the NBA as a Rockets Power Dancer. Teresa Shear, Bronco's Cheerleading Coach, was an inspiration and mentor to Tara. She attributes her success to the people that have encouraged and supported her over the years. As her first year as a coach ends, Tara reflected on here transition from a dancer to coach.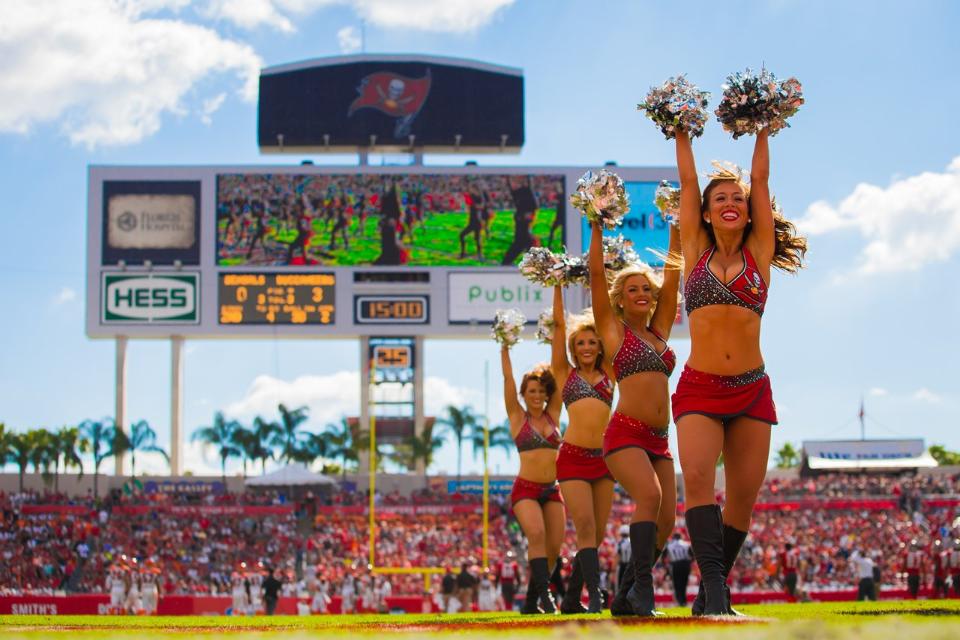 New Responsibilities
"I am now invested in 38 women!" She admits this is a huge responsibility, one she did not completely understand when she cheered for the Denver Broncos. She confesses, I had a short sided view of what it takes to coach a team." As a cheerleader, it was more about her "team and teammates". As a coach now, she is accountable to more than just the cheerleaders. Owner and fan input was essential as she acclimated to her new position, especially as when it came to establishing a new look for the team.
The skirts in production, stacked on trays by size after being sewn. Next step: Rhinestones!
All of the rhinestones on the trim were applied by hand! A shot of our production staff working diligently on the rhinestone application.
What's Next?
As the season comes to a close, Tara looks forward to meeting many of the other NFL Cheerleading Directors in February. She will be going to her first NFL Cheerleading Coaches Conventions, hosted by Denise Garvey of The New York Jets. Tara is in awe, getting advice and collaborating with those she has admired for years is a 'dream come true'.
We'll be there to greet her with hugs and thank her for entrusting us to make the new uniforms. What's next Tara? We cannot wait to start working on next season's great ideas.
---