Over the years, the tryout process has become increasingly competitive and can feel very intimidating, even to the vet! The more confident you are, the better your chances for making the team.
We've compiled a list of helpful tips and tricks for tryouts, from choosing your audition outfit to paying attention to the little details- we want you to help you be 101% confident!
For over 25 years, The Line Up has been making performance apparel for professional, semi pro and collegiate teams across the country. We understand the team selection process and know what coaches are looking for. Once you make the team, there is a good chance you will be wearing a uniform made by us!

1. Know the expectations, criteria and tryout process for the team you are auditioning for.
This will vary depending on the team. To be clear about expectations, we suggest you do the following:
Visit the team's website to get more information and details about clinics, information sessions and audition criteria. Whenever possible, attend clinics and information sessions offered to help you prepare. The more prepared you feel, the more confident you will feel at opens.
Make sure you are clear about dress criteria. Some teams require special attire such as briefs, not shorts. Or pants and a crop. It is not unusual for teams to specify the color of the attire to be worn (typically team colors.) Adhere to the rules- it shows you did your research!
2. Dress the part.
Just like a job interview, first impressions are important. Your goal is to be noticed for properly representing the team. Make sure you are an attraction, not a distraction! Get a feel for your team of choice by:
Consulting a veteran cheerleader/dancer. They have been through it before and can provide you with valuable tips. Their opinions and advice are valuable.
Studying videos and photos of the tryout process from the previous year. If most of the candidates accessorize with rhinestones, be prepared to add bling to your outfit. If most wear shorts instead of briefs, be prepared to do the same.
At the end of the day, you want the judges and coaches to say "I couldn't tell if she was a rookie or a vet!"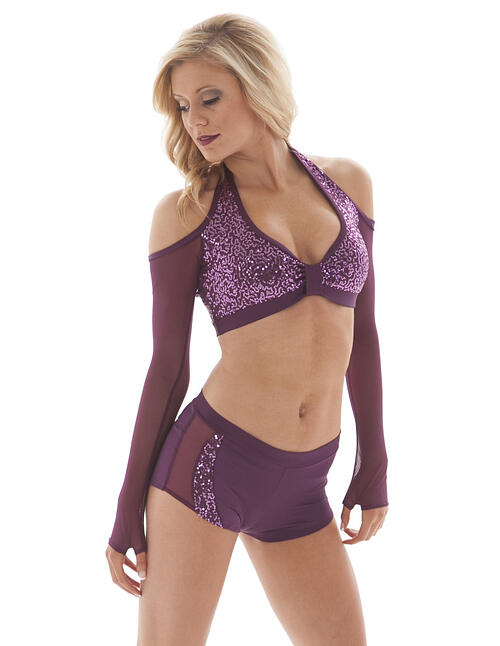 3. Create a distinctive look that is YOU
The style possibilities are endless. By changing fabrics and mixing and matching pieces, it is easy to create a look of your own. Navigate the choices by styling true to yourself:
Choose a color combination that you feel confident in! If you aren't a pink girl, don't wear it. If you are, have fun with it! The style and color combos say a lot about your personality. How do you want to be seen?
Be creative! If you order an outfit 'as is' (same style and color combination as seen online) you run the risk of seeing your outfit on someone else.
Do you prefer tonal look or something bright that stands out? Different color and pattern combinations can create distinct looks!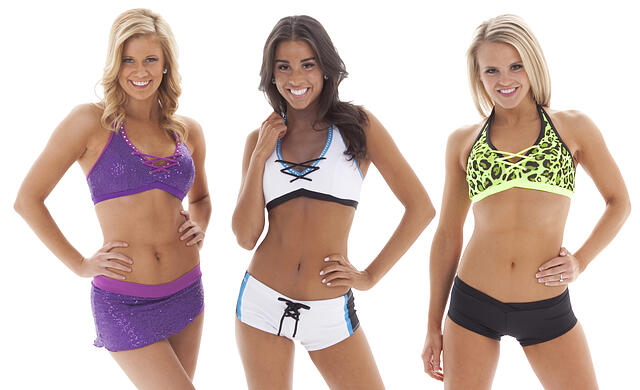 4. Make sure the outfit is balanced and visually appealing.
You can pick the cutest style of top and bottom, but if the fabric selections aren't quite right, even the most flattering garments will fail. Suggestion for what works best with fabrics include:
Limit the color combinations to three colors. Trying to incorporate 4 or more colors could become busy and distracting.
Balance the colors of your top and bottom. To do this, make sure the colors of your top are incorporated into your bottom. If your bra band is blue, the waistband of your bottom should be blue. Or, if there's a little pink on your strap, add some pink rhinestones on your bottom as well as the top!
Limit the fabric types to two types of fabrics to - any more will look too busy!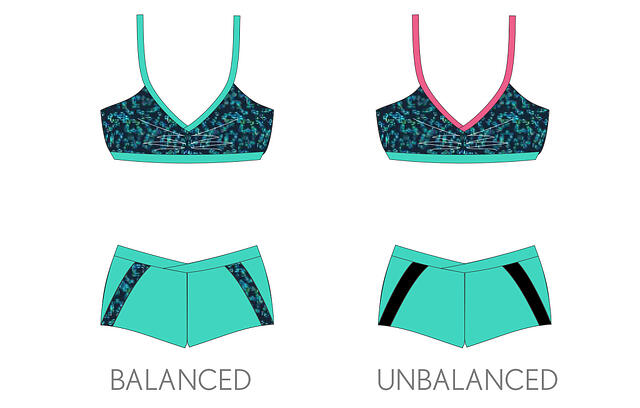 5. Fit is Fashion
Proper fit is essential. If your garment does not fit properly, the focus will be on your flaws and your flattering features will not be noticed. No one wants their skills to be ignored because a bra is peaking out!
Make sure the garment fits properly. Check your measurements against the measurement chart in order to determine the right size. If you are between sizes, go up a size! A garment that is too large can be altered. If it is too small, you run the risk of it not working for you and pushing in in all the wrong places.
Select the proper undergarments to wear with your outfit. No lines! If you need to wear a bra, make sure it is supportive and stays in place.
Pin your bra to your top to ensure your bra straps do not show. Even the clear straps- clear means clear, not invisible.
Do a "trial run" in your full outfit, hair, and makeup to ensure you are fully prepared, feeling your best, and everything stays where you want it to stay. If straps are falling down or shorts are riding up, this is distraction for you and the judges.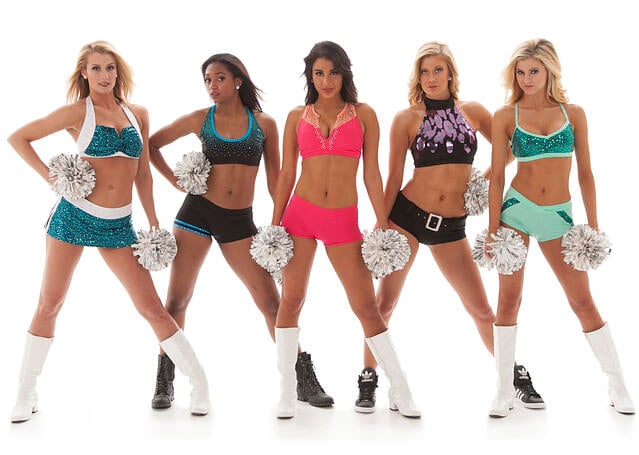 6. Add sparkle as a finishing touch
Adding sparkle with rhinestones, spangles or sequin fabric can can completely transform your outfit, and make it feel complete. A few ways to add sparkle:
Rhinestones: The most classic way to add sparkle, which chines the greatest at a distance. Do it yourself, or let us stone it for you! If you want your garment rhinestoned by us, look for it under the rhinestoned garment section. If you do not see it, then don't hesitate to call us for pricing!
Spangles: We now have new styles with spangles (threadless sequin). A great way to way to add sparkle and bling on a budget. And this requires not extra work on your part.
Zsa Zsa: Try using zsa zsa (sequin fabric) in place of rhinestones. It creates an all-over sparkle and like spangles, is less work and more economical!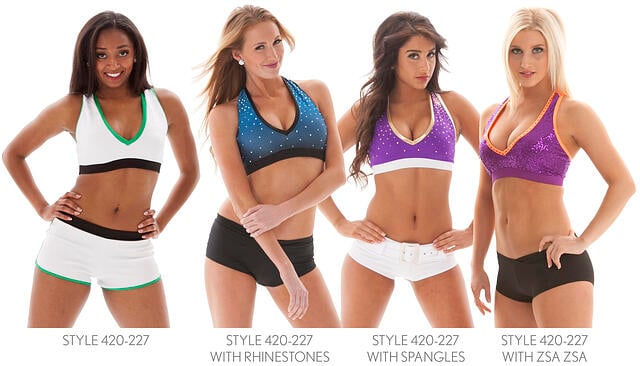 7. Accessorize Appropriately!
Accessorize and add the finishing touches to show that you've thought through EVERYTHING. Literally head to toe, you are ready to be on this team.
Wear additional support such as Bravo bra pads to enhance your figure and fill out your tryout top.
Wear coordinating earrings to add sparkle and frame your greatest asset: your smile!
Be sure to research the correct footwear. Many teams require tan jazz shoes. However, if they do let you choose your own, know that dark or heavy footwear looks clunky and will distract from your form. As a general rule of thumb, your legs will look longer when you wear a nude jazz shoe or. If you can wear boots, a medium size heeled boot you can dance in will also add length.
Our level 1, 2, 3 packages are convenient. No need to search all over for the necessities to complete your tryout look. The packages include stones, tights, glue, Bravo pads and/or fabric wash.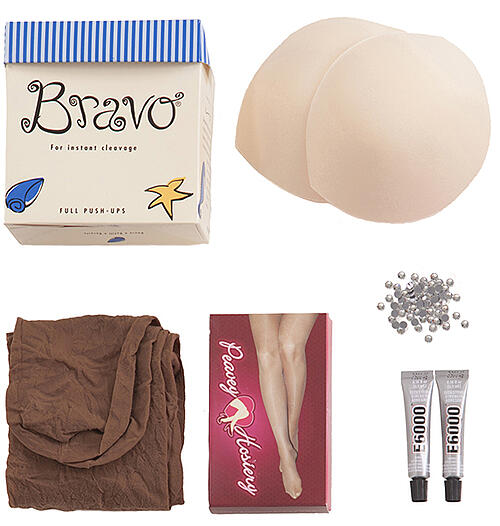 And most importantly, your best accessory is CONFIDENCE. Be proud of yourself for all you did to prepare. Just showing up and putting yourself out there is impressive. Congrats on all you've already accomplished!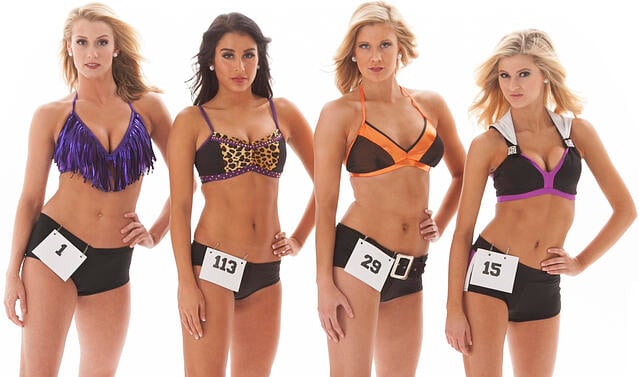 We hope that these tips answered some of your questions or concerns to help you feel confident!
Start your shopping now or don't hesitate to give us a call with any questions!
How to order from The Line Up:
Order online: Visit our web store at www.thelineupstore.com. If you have questions during the ordering process, please do not hesitate to call 952.829.7819 from 8-5pm, Monday –Friday. You will need to place your order online, however, we are more than happy assist you through that process. Feel free to make any additional notes or concerns in the comments box.
Plan ahead: Place your order in plenty of time to add rhinestones and ensure proper fit. It takes roughly 2 weeks for us to create and make your garments then add 1-4 business days for shipping. If you want us to stone your garment for you, allow an additional 5 business days. If you need it expedited, call us first to make sure we can accommodate.
Schedule an appointment if you are a Minnesota Resident: As a local customer, you can come into our office to try on the style of top and bottom you are interested in. This will help you pick the best fit. Please remember, we do not have a retail store; therefore, call ahead for a 30 minute appointment. We want to make sure we have someone available to help you, and that we have the styles you want to see ready! If you come without an appointment, we regretfully might not have the staff readily available to assist you at that moment.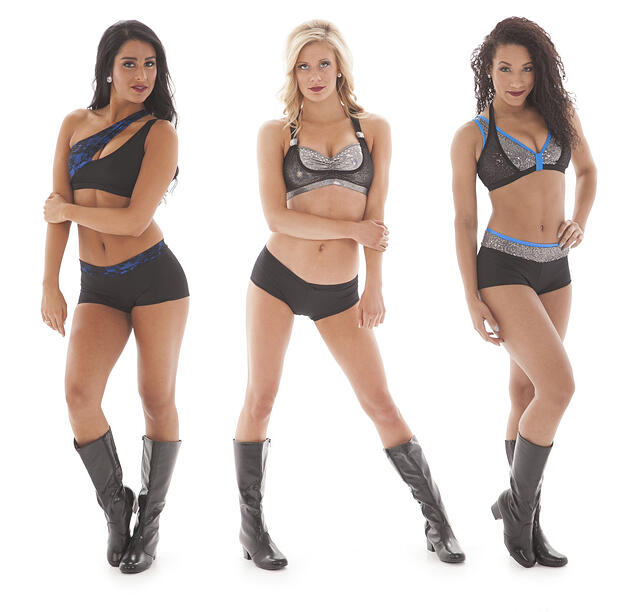 ---