In celebration of our 25th Anniversary, we were proud to launch our office dance party video last week! Three months of meticulous coordination - everything from choreography and costumes to transitions and placement - led up to only ONE day of rehearsal and filming. 125 dancers, 40 staff, and one giant dance party...in ONE-TAKE. Boom. Wondering how it all came about? Here's a look behind the scenes of that day!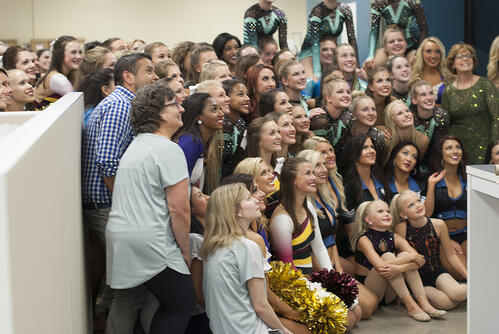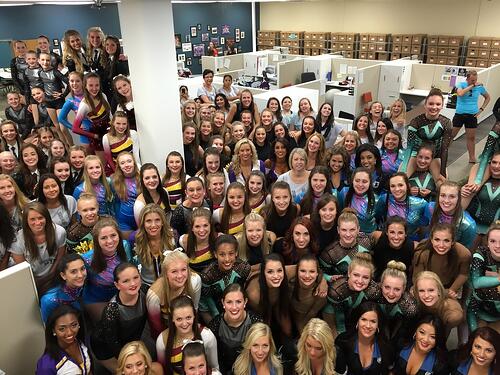 ---
Choreography & Planning
The planning began 3 months prior to the shoot - teams, costumes, choreography, transitions, and placement in the office all had to be carefully thought through. To help with the effort, we enlisted the University of St. Thomas Dance Team (USTDT). The month prior to the video shoot, USTDT got together and divided up the dance, with pairs coordinating the choreography and spacing for each team. They filmed the choreography in our office space after hours and sent a YouTube link to each team so they could practice off-site.
---
Rehearsal
The morning of the shoot, teams arrived bright and early, ready to rehearse. Only one day for practice and filming meant we had to move fast! Each team had 15 minutes practice in the space with music, working with Pam and Jackie, the directors of the shoot, and their UST dancer to perfect their part. The groups worked with our videographer, Maribeth, to coordinate the angle of the camera as it moved throughout the office, ensuring all teams would be seen and flow together. While this planning was going on, there was a lot of waiting for rehearsal, where teams hung out together next door.
The Ashwaubenon Dance Team, getting direction from Jackie, rocked their awesome new warm ups for the season during rehearsal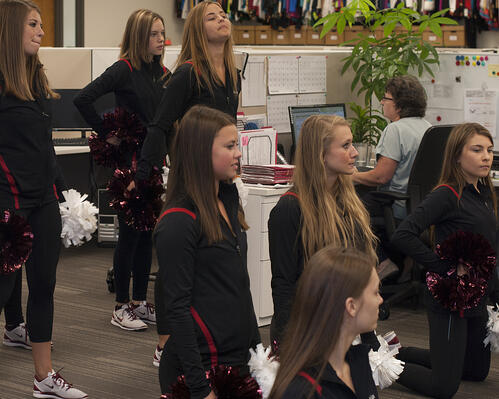 Business as usual - employees continued to work during the chaos that day! Production manager Rozi concentrates as practice continues with Prescott Dance Team.
Isabella and Adrianna Crawford practice their front walkovers while production members continue to sew costumes.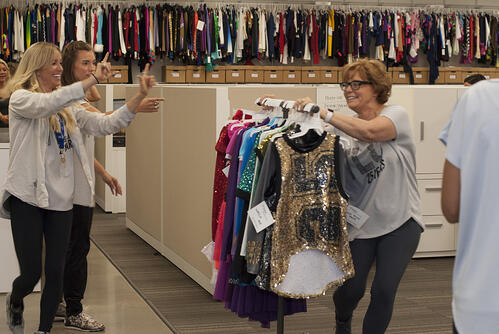 Pam and Jackie direct The Line Up Owner Deb Erickson for her garment rack transition.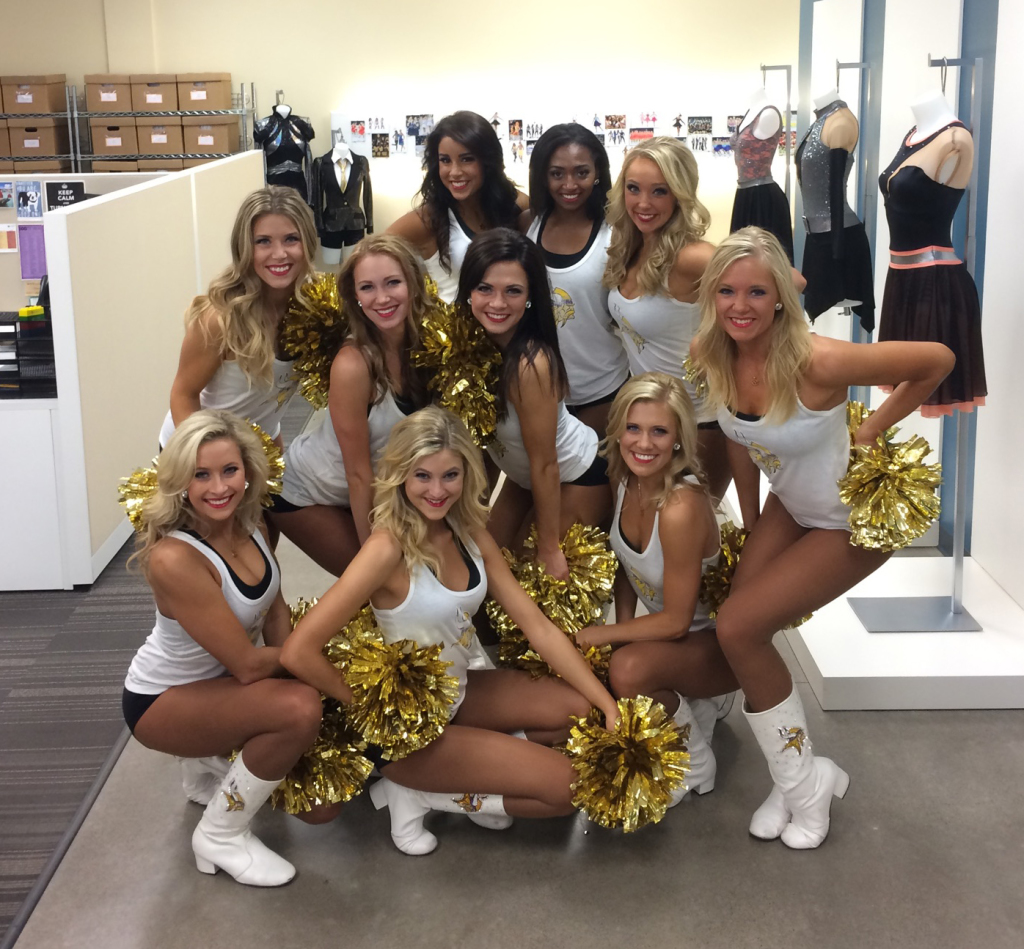 The Minnesota Vikings Cheerleaders stopped to snap a quick photo during rehearsal.
Prescott Dance Team with Krista and Hailey from the St. Thomas Dance Team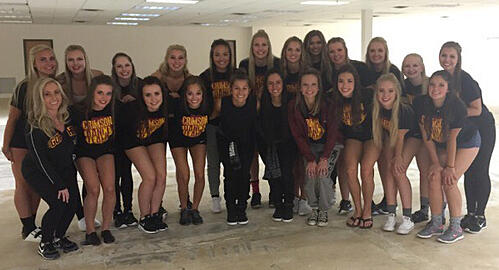 Maple Grove Dance Team with Alex and Maddi from the St. Thomas Dance Team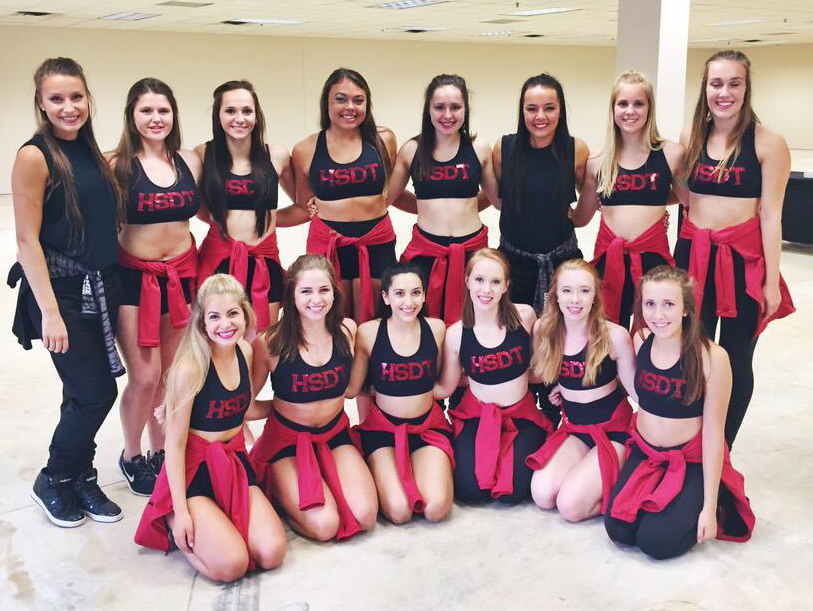 Henry Sibley Dance Team with Kenzie and Morgan from St. Thomas Dance Team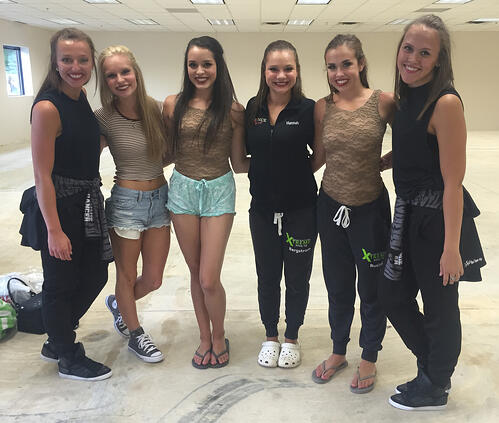 Xtreme Team Dancers from Dance Arts Centre with Mikayla and Sydni from the St. Thomas Dance Team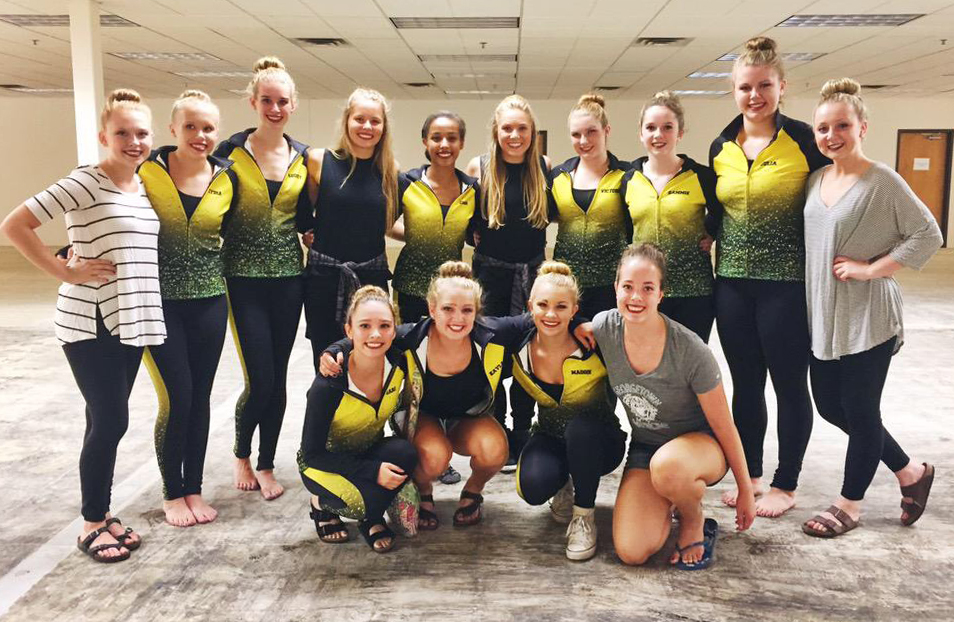 Ashwaubenon Dance Team with Drew and Megan from the St. Thomas Dance Team
---
Filming
With a break for lunch and costume change, it was time to shoot! Maribeth from "Hello Sunshine Films" is the creative genius behind the filming and videography. With every take, the creative red-head added some great revisions and finishing touches to help bring the video to life! For filming, Maribeth had a harness strapped to her torso as she walked backwards through the office, holding her camera steady in front of her. Choreographer Jackie lead her through the office with a hand on her back, making sure she didn't bump into anything and that the timing was just right. After 3 hours and 7 takes, we finally had the perfect cut!
Ashwaubenon Dance Team waiting in the "portal" (the hallway between our front office and the production floor) where they are featured.

University of St. Thomas Dance Team hangs out in their spotlight location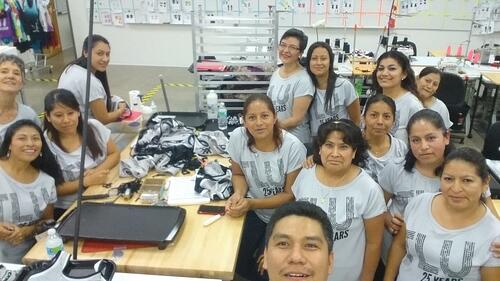 Our staff rockin' their TLU Vista tee's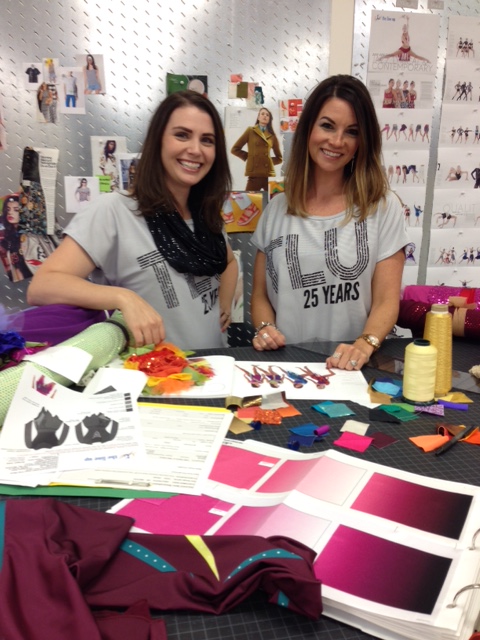 Our sales team, Katie and Randi, are looking fabulous at the collaboration table, posing at the beginning of the video!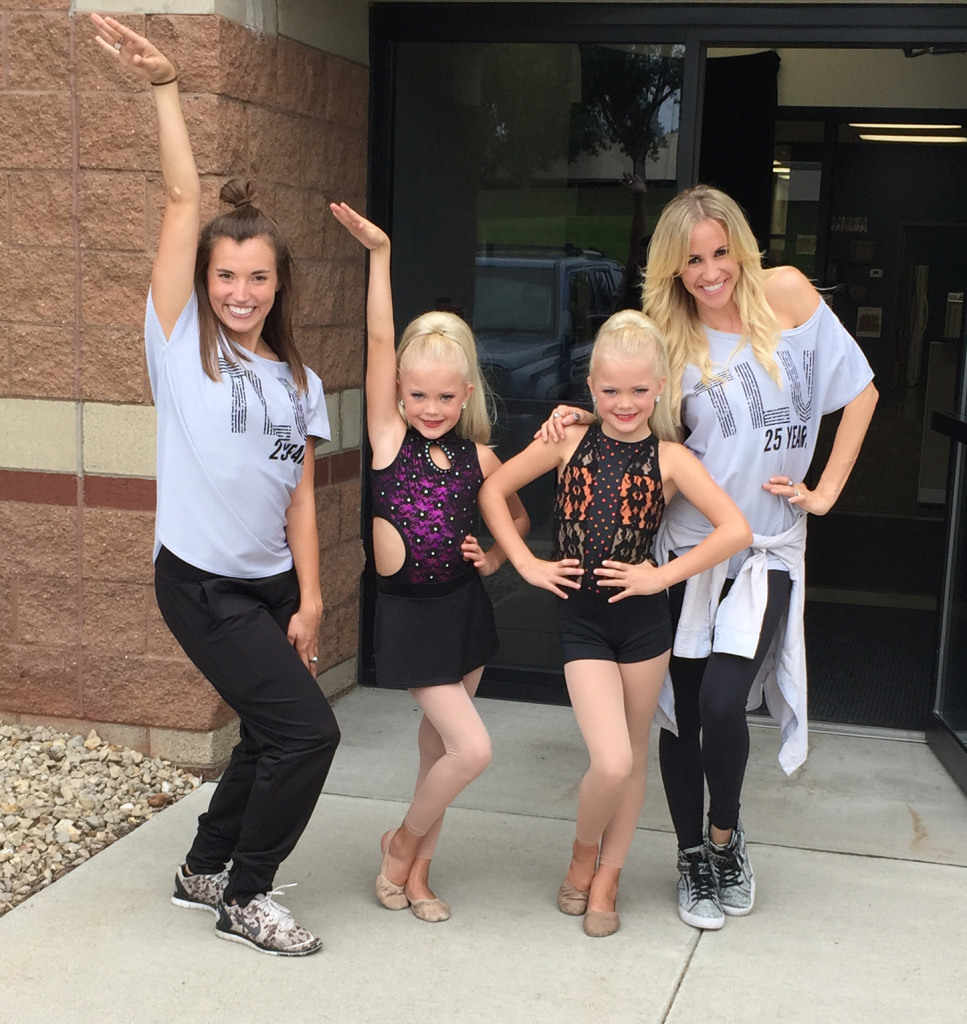 The Crawford Twins look beyond adorable in their TLU lace costumes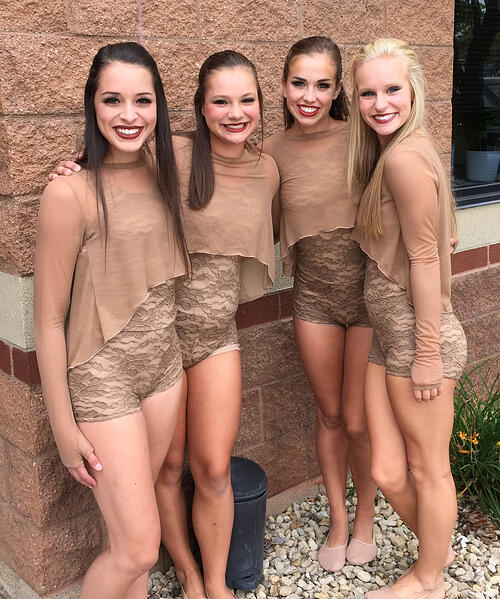 Dance Arts Centre dancers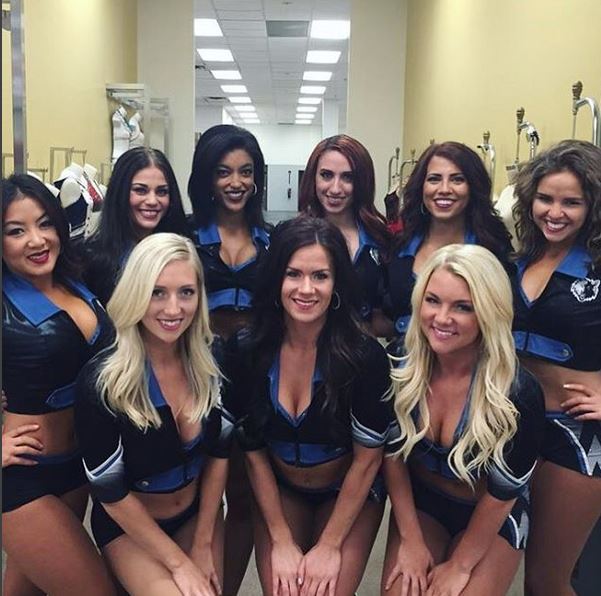 The Wolves Dancers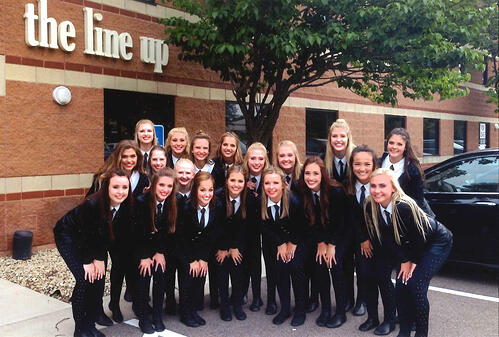 Maple Grove Dance Team in their "Work" costumes.
---
Thank you to everyone who was involved with the day- we are so excited about the final product!
We would love to celebrate our past 25 years with YOU. Share your favorite dance memory from the past 25 years, and tag us with #TLU25!