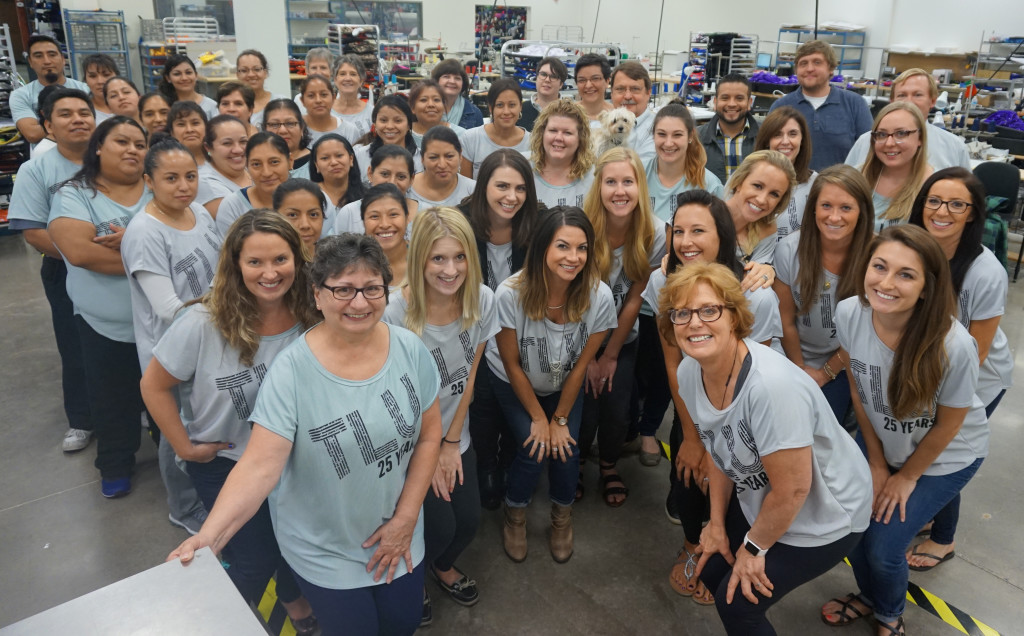 When I tell people that I own a custom costume company, often the reaction is "Wow! That must be so fun!" And while there is a lot of creativity and sparkle on the surface, what lies beneath is an amazing team of people that really feel like my extended family. I've tried hard over the last 25 years to make this a genuinely great place to work - a place where each person can find a place to be successful and do work that doesn't feel like work! A place that you can continually learn and invest in yourself!
We have over 40 extraordinary individuals at our Minnesota facility, and we are always looking for more talent! One thing that makes The Line Up unique? We're like no other apparel business in that we do everything in house - from customer service to catalog creation to product design and manufacturing. There's an intimacy here that you can't always find in big business.
WANTED: Talented individuals seeking a collaborative work environment, in a growing and improving community!
If this is you, read further. Not only do we have some great new job opportunities , but our staff wants to share our company values - the 6 reasons why they love working at The Line Up:
1. We genuinely care.

We genuinely care about our customers and each other. In other words, we have each other's back. Striving to do what is in the best interest of our customers and coworkers always comes first.
"Being a coach and dancer myself, I love being able to relate to our clients and provide quality service. It is incredibly rewarding to see their end product and know that I helped them through that process!" - Karen Christie, Account Manager

Deb, Owner and Creative Director with Karen, Account Manager
2. We take ownership down to the last detail.
Accountability makes things happen! Everyone succeeds when we understand the overall goal, and the part we each play in making it happen.
"Our company culture is like no other office I've worked in. I can rely on my team and know that the job is going to get done. I've never met a more supportive or caring group. We genuinely care about each other and want to see each other succeed." - Katie Famakinwa, Director of Client Services and Sales
Katie, Director of Client Services and Sales
3. Innovation is our fuel.
We are always evolving, problem solving and improving! Whether it is discovering a technology solution, finding a fun new fabric, reveling in a customer's cutting edge choreography, or creating a better way to sew something, we're driven by innovation.
"I love working at The Line Up! Having been a dancer for many years, I really enjoy getting to see the process from ideation to creation of the garments. It's been a very positive experience getting to combine my passions for graphic design and dance while contributing as a member of the Marketing team." - Stephanie Smith, Graphic Designer

Stephanie, Graphic Designer, with Gloria, Production Staff, dressed up to perfection on Halloween last fall!
4. We stand behind our products.
The goal is to get it right, and deliver the quality our customers want and expect. That's why 100% of the products we produce are made in our Minnesota facility. It is the best way for us to ensure the highest quality apparel for our customers.
"I love working at TLU because every day you're doing something different. There's such a variety of styles, themes & fit that really allow you to be creative & to learn new things every day. We have such an amazing collaborative team that works really hard to make sure our product is of the highest quality for our customers." - Michelle Danielson, Product Designer
Michelle, Product Designer
5. We'll always work together.
Teamwork. It's about doing something greater than you could do on your own. Each of us has unique skills, talents and passions. We value and respect each others difference's, and know that collaborating builds a more powerful team.
"I like working here because the work environment is like family, you have the opportunity to learn different things and improve everyday." - Vanessa Torres, Scheduling and Buying Coordinator

Joana and Gloria, Sisters and Production team members
6. We do what we say.
Honesty is the best policy! Integrity is essential, and we do what is in the best interest of our customers, colleagues and company. This means standing behind our word and doing the right thing. When we make a mistake, we own it. After all, it's an opportunity for self-improvement.
"I really believe that having a business is not just running a business, it's being responsible to a community and the people around you." - Deb Erickson, Owner & Creative Director

Janeth, Production Stitcher, with Deb, Owner and Creative Director, getting silly while making headbands.

The Line Up Staff on Hip Hop Day last summer, in honor of our Hip Hop Catalog launch.
---
Do your share our passion and commitment? Do you want to be a part of a high performing team?
Submit your resume to hr@thelineup.net and tell us why you believe you'll love coming to work at The Line Up.