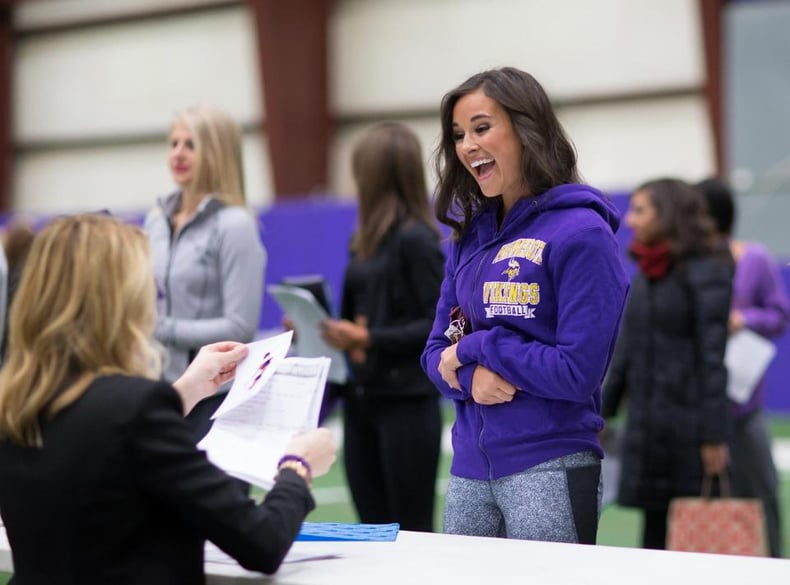 Photo via Minnesota Vikings Cheerleaders
So you're a dancer and you're about to graduate high school ... now what!?! There are so many options to further your passion, but we know the possibilities can seem daunting. It takes guts and confidence to make that bold move into the next phase of your dance life!
Joining a college dance team or majoring in dance are common paths, but there are other options for dance careers as well. We've asked some of our friends in the industry how they've stayed connected in the dance world into their adult life. Find inspiration in their stories!!

Dance Theater Major
Hannah Johnson: Student at the American Musical Dramatics Academy and Dance Arts Centre Alumni
Staying involved in dance with college can be done in so many ways, you just have to know what you want to do and start looking. My name is Hannah Johnson, I am 19 years old and am now a dance theatre major at the American Musical Dramatic Academy in Los Angeles.
Like I said earlier there are multiple ways to keep dancing once you graduate. When I became serious about dance in 10th grade I knew that I wanted to become a professional dancer, so I looked for a program that allowed me to major in Dance, as opposed to a dance team or dance club.
All are great options and they all have one thing in common: research. Look up everything about the school and the program, take notes, ask questions, follow them on Instagram and Facebook. The more you know, the better. Also… Start Early! You don't want to find the perfect program and then not be able to get in because you missed the admission or audition deadline.
Once you get to the program or team of your choice, embrace everything; new, old, same, different, unusual. You can learn from every situation, teacher and peer at your school. Dancing outside of the walls of your home studio or high school can be a bit intimidating at first, but just know that things will settle and it will become your second home.
I am in my second semester at The American Musical Dramatic Academy and I could not be happier even though life is hard, I'm tired, sore (especially after midterms this week) and doing things I've never done before like acting and singing. A life with dance is a good life, so I encourage everyone to keep dancing!!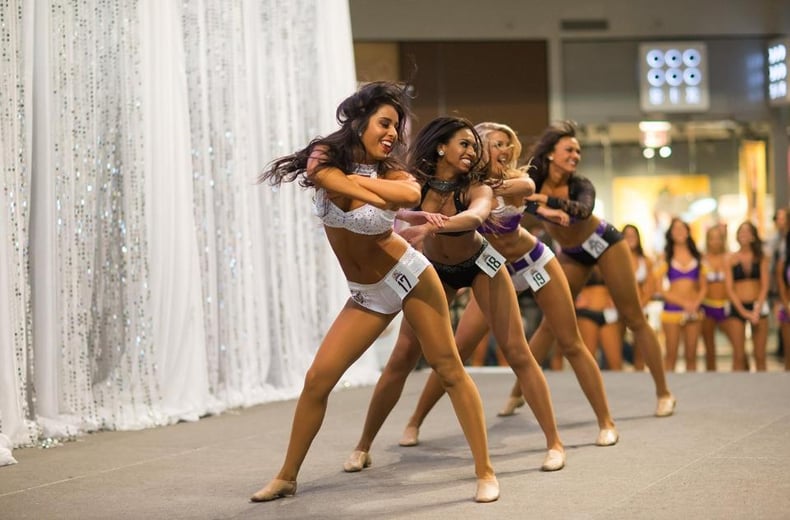 Professional Cheerleader
Taylor: MSU Mankato Dance Team Alumni, Former High School Danceline Coach, and Cheerleader for the Minnesota Vikings Cheerleaders
After High School I couldn't imagine my life without dancing. What are my options? I thought about majoring in dance in college, but I had other passions I wanted to pursue as well. I decided to audition for the dance team at MSU Mankato and I made it. I danced in college for 2 years while coaching the fall dance team at the high school I attended.
I then decided to pursue my life-long dream of being a professional dancer. I auditioned for the Minnesota Vikings Cheerleaders and was on their training program for 1 year and have been an MVC for 3 years!
My advice to those who are passionate about dance is to make it a part of your life. It's not just a sport, it has defined me and the way I live my life. Put yourself out there, make yourself known. It is a scary step to audition for a team but I promise you will never regret it :) It was the best decision I have ever made!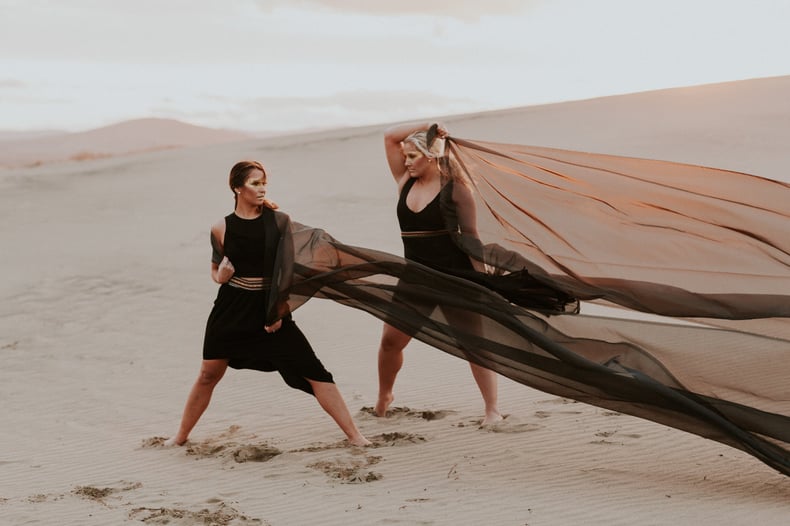 Choreographers & Small Business Owners
Carsen Rowe: Professional Dancer and Co-Founder of TRIBE99
Dancers tend to think that the only option to stay involved in dance after high school is to dance in college. This is the route that I specifically went, but there are many different options including professional dancing, where you can audition and book jobs, or dance professionally for a pro sports team. After high school you can also enter into the world of choreography, consulting, coaching or even advertising/apparel for dance teams.
I specifically have stayed involved in dance after high school by dancing in college, choreographing for high school and college dance teams, hosting dance team related events through TRIBE 99, coaching, and now by being a professional dancer.
We are so lucky as dancers because as the year go by, more and more doors open for us to continue doing what we love. It's important to realize that some doors might open, some might close, and some might temporarily close but open up later.
The important thing is that we HAVE so many opportunities to stay involved in dance. It took my coaching "door" to shut, for me to have the courage and time to start pursuing my professional dance career.
I am lucky enough now to be in a place where I can pursue my choreography but also able to pursue my professional dance career as well. We have so many options, so its just finding the one's that make you the most happy and then putting all that you have into it.
Anna Miller: Seton Dance Team Coach, University of Cincinnati Dance Team Alumni, and Co-Founder of TRIBE 99
As a high school senior, I was burnt out right after NDTC. Looking at what my next step was scary. Do I keep dancing? Do I give up the one thing I was super passionate about? So many questions ran through my mind constantly and I am grateful to have had GREAT mentors to guide me throughout my high school years.
Leading up to my senior year, it was either going to college and dancing or dancing professionally in LA. After talking to Tabitha and Napoleon D'umo (NappyTabs) I knew that going to college and finishing school was the path I wanted to take. I chose ONE school, the University of Tennessee. I stalked them, I loved them and I knew I wanted to be a Tennessee VOL. That path didn't work out as anticipated and I was thankfully redirected to the University of Cincinnati. I spent all my years at UC and loved being a Bearcat.
Dancing in college was an experience like no other. But there are SO many other options. Dancing professionally, going on tour, booking commercial jobs, trying out for a TV show like SYTYCD or World of Dance, dancing for a company, being a pro dancer/cheerleader, etc are all such great experiences as well. With dancing professionally, I would always recommend whoever is going that path to go FULL FORCE. Don't wait a year or two before really going for it!
Another option is to be a teacher, choreographer or coach. The educational side of teaching and/or coaching dance can be such a rewarding job and is a great way to stay involved in the dance world!
There is always the business side of the dance world that I think some people forget about. There are some great sales, marketing, social media, brand reps, public relations, fashion merchandising, etc jobs available with dance companies, dance wear companies (like The Line Up!), convention companies and competition companies. This is a great option for dancers who don't want to continue physically dancing but would like to stay in the dance world!
My biggest advice is don't pigeon hole yourself into one option. Keep your mind and heart open. Start looking as a Sophomore and Junior in high school. Don't wait! Go visit LA or NYC and check out what a professional audition is like. Visit universities and see what their dance team or dance program entails. Look into fashion merchandising or business if you want to work for a dance company.
And come to our Combine event this May to understand the college dance team world and what tryouts and what being on a college dance team looks like :) Don't shy away from going for your dreams because you fear failure or rejection. STAND TALL and GO FOR IT!
---
Looking for more inspiration? Next week we'll have stories from a fitness instructor, dance rep, and two studio teachers and choreographers!
In the meantime, check out the TRIBE99 Dance Combine - a unique opportunity for high school dancers to learn how to prepare for college auditions! For more information, download the information packet here or register via the link below!