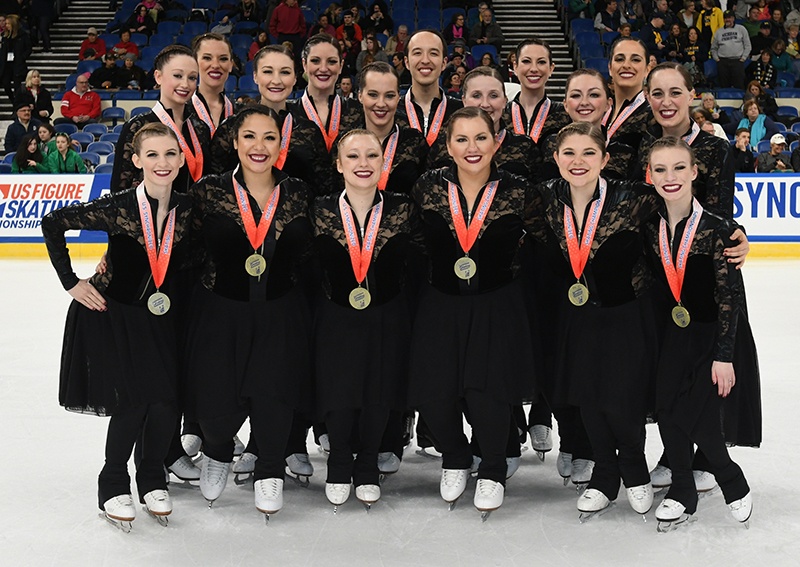 Team: Esprit de Corps
Coaches: Deirdre Driscoll, Dede Wilson, and Erika Hoffman
Location: Lexington, Massachusetts
Style: Synchronized Skating
Espirit De Corps Adult & Masters Teams Deliver a Magical Performance!
Merriam-Webster's defines esprit de corps as a French term meaning "the common spirit existing in the members of a group and inspiring enthusiasm, devotion, and strong regard for the honor of the group." That spirit is alive in and well in the team we're highlighting this week: Esprit de Corps! The team turned in a great performance at this year's U.S. Synchronized Skating Championships, finishing third in the Adult category and 6th in the Masters category!
"Our theme this year was "Black Magic," said Chris Brunner, secretary for Esprit de Corps. "For us, "black magic" means to be beautiful, skate powerfully, and simply be magical – that is, accomplish and make possible what at first seems impossible". The outfit for the Adult team was a modified version of the Borderline Leotard, and edgy look with a two-layered cascade skirt that helped to accentuate movement.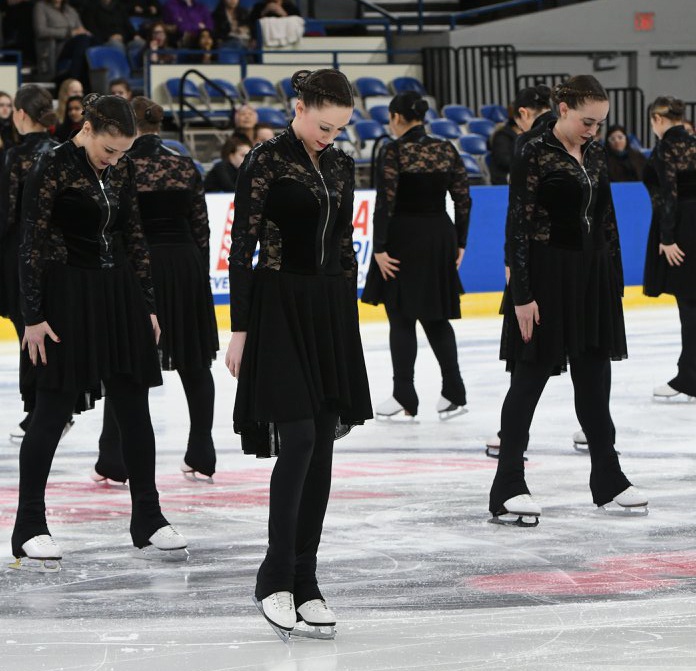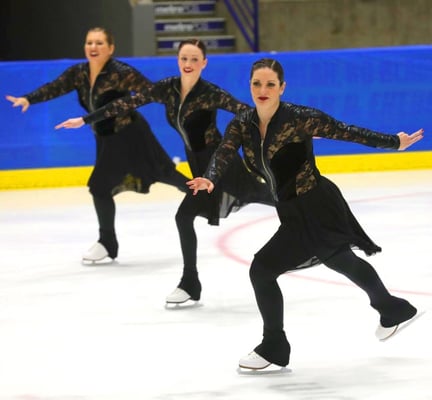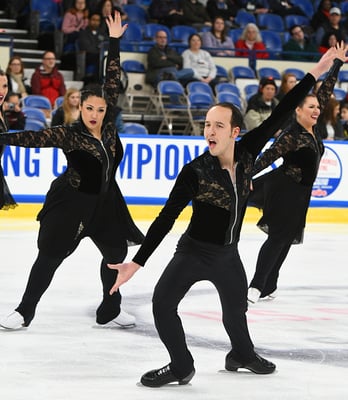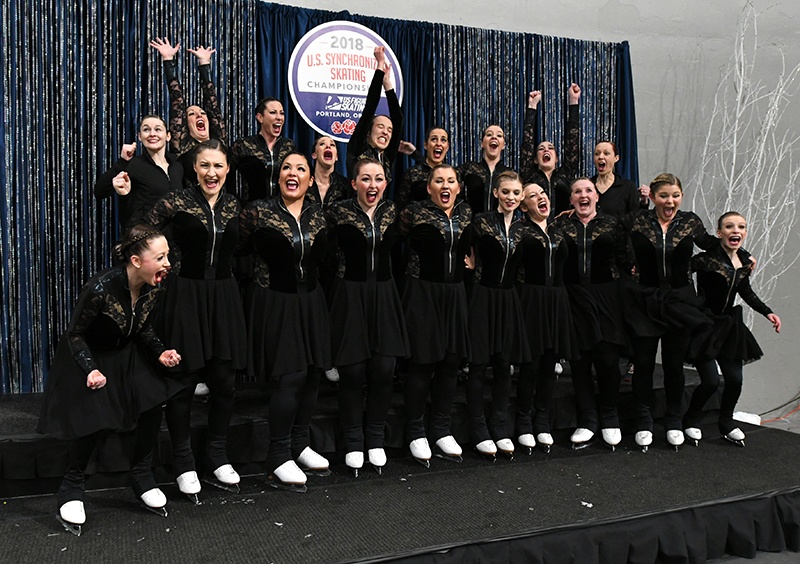 For their Masters routine, their theme was "Evita", a musical about the life of former Argentinian First Lady Eva Perón. With the help of their product designer Margo, they were able to come up with a look helped to set them apart from the competition and express their theme. "For our costume, we had a design that was elegant, powerful, and different - all characteristics that we tried to portray in our program," said Brunner.
With some amazing performances, Esprit de Corps displayed these characteristics and more, showcasing the common spirit they share and bringing home some medals to prove it!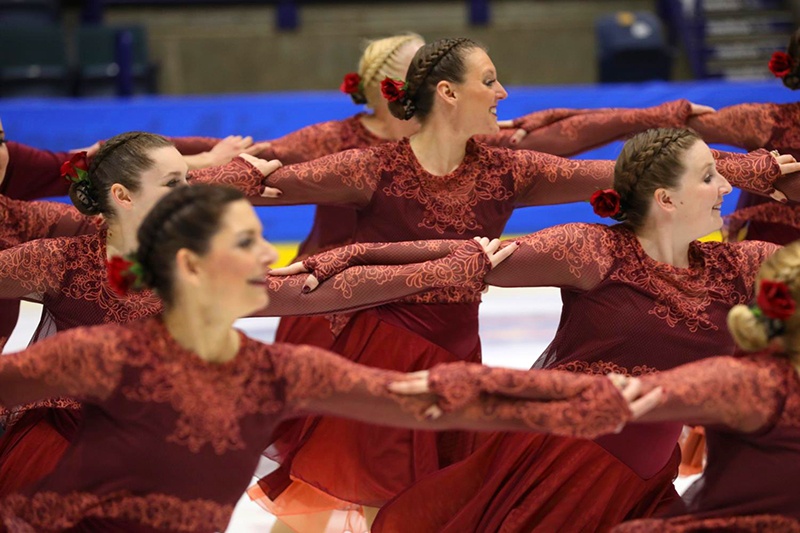 Team Spotlight Q & A
What is your team's favorite song to perform?
For our black magic theme, we skated to a medley of the pieces:
"Black Magic Woman" by Lila Downs

"I Put a Spell on You" by Jeff Beck ft. Joss Stone

"Magic" by Olivia Newton John (Peachy and Murphy Mix)
For our Evita theme, we skated to selections from the musical.
What makes your team/group unique?
Our team doesn't have a set mascot. Instead, every year we choose something different that we feel represents our team. For this past year, we chose a pineapple - strong on the outside, sweet on the inside, and always standing tall, proudly wearing a crown.
What is your favorite fan memory, or what are you most excited for this season?
For the Adult category, our favorite memory this season has to be our performance at the 2018 US Synchronized Skating Championships. Our performance was the culmination of months of hard work and dedication with many run-throughs, and we felt amazing putting out our best performance of the season to close out nationals!
For Masters, one of our favorite memories this season was choreographing the program. Evita was such a fun piece of music to skate to, and we loved adding bits of flair and pizzazz to bring the music to life.
What was your team's biggest challenge/opportunity this season?
Our team had some bad luck with injuries this season - especially as our Masters team neared the national championships! We were so impressed by our teammates and how they worked hard to get back on the ice when they were ready and jump right back in line.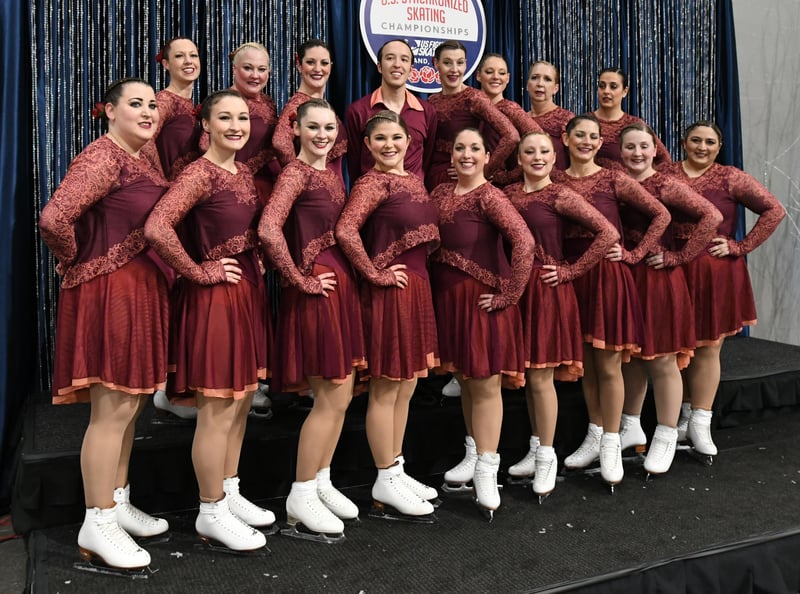 ---