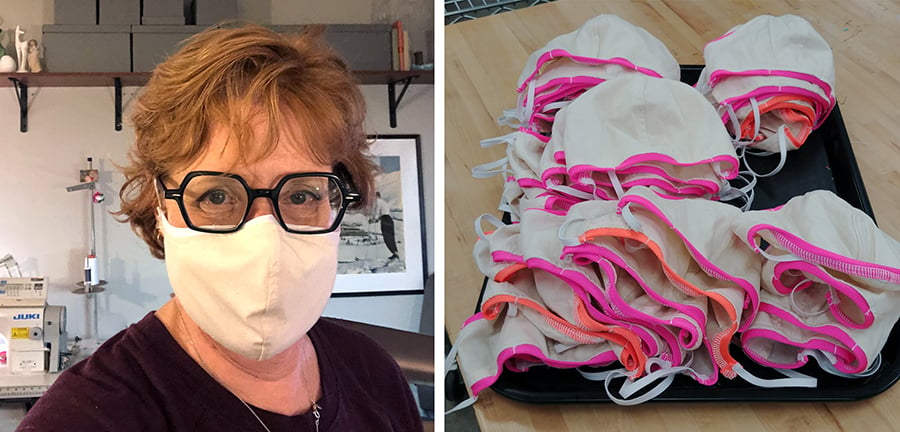 This post is written by our owner, Deb Erickson, in conjunction with her daughter, Trista Erickson. We post this not as medical professionals, but as a small apparel manufacturer looking to help our community in any way in the fight against the COVID-19 crisis. Click through the links below to reference all original articles for further reading.
Why We Decided to Help
During these trying times, like many of you, I have been looking at ways to support our medical providers.
I'm sure you've also heard all the stories we have about shortages of medical personal protective equipment (PPE).
Heart-wrenching stories from an Italian doctor who says "we cry every day." Stories about how the number of N95 Masks needed in a year (35 billion) far exceeds the amount in the government stockpile (12 million). Stories of doctors and nurses rationing and reusing masks. Stories of the CDC proposing the use of bandannas in a crisis situation when medical masks run out. Doctors and nurses taking to Twitter with #GetMePPE.
But we've also heard plenty of amazing stories of people taking action to help! Famous fashion designers creating masks. Distilleries and perfume factories making hand sanitizer. Our local healthcare provider, Allina, holding a face mask drive. And legions of home sewers (our favorite kind of people) chipping in and making hundreds of homemade fabric masks across the country.
Needless to say, this is a crisis situation and has only fueled our desperate desire to help. We have the equipment and skills to make PPE - we had to do something.
It's been quite a journey in one short week, and we wanted to share what we have learned through the process of making fabric face masks, in hopes it may help you in some small way.
What We've Been Making
With the supplies that we were able to obtain quickly on our own, we decided to create a reusable mask made out of cotton fabric. As a clothing manufacturer, sewing textiles is what we do best.
On Monday we created a pattern and prototype for a mask, based on the Olson Mask Design from Unity Point Health in Iowa. Over the next couple of days, we went through 4 revisions, tweaking the fabric and fit based on valuable feedback from community members.
What we came up with is shown in the picture above. The mask includes two layers of cotton muslin, with a stretch fabric trim to hold the mask closer to the face. There's also a channel to add a flexible piece of metal that will mold the mask around the bridge of the nose. The internal lining has a pocket for a removable third layer of filtering material. The mask ties are elastic, providing a secure and tight fit.
We were able to test this pattern, and by Friday we made as many as we could - about 150 masks - for local hospitals and our staff. This was before we had to close our production facility per Minnesota's recent "stay at home" restrictions.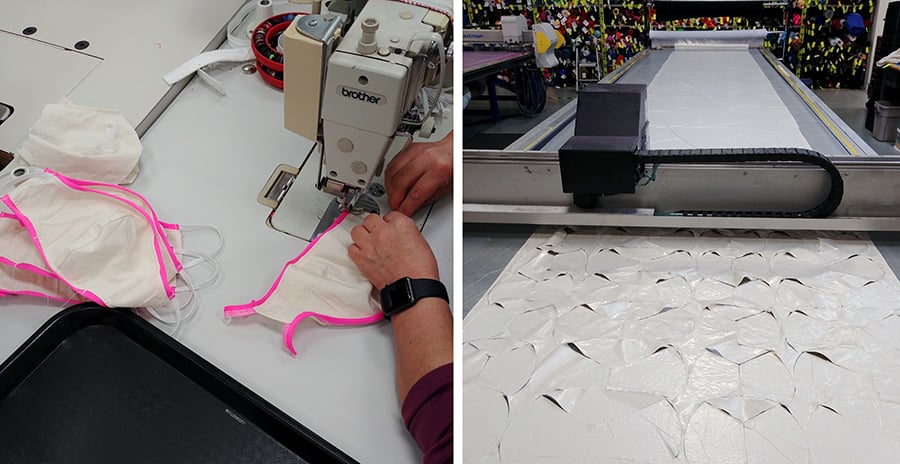 Masks getting sewn and cut on our production floor
What We've Learned About Fabric Face Masks
We've learned a lot during this week-long process by reading every article we could find online, getting feedback from community members, and reaching out to our network for resources. This task has been far more difficult and confusing than we had anticipated! Here are our three biggest takeaways:
Takeaway 1: For small business manufacturers like ourselves, it's harder to make medical-grade masks than you'd think.
First, sewing is the easy part! Although we have the equipment to make face masks (not respirators), two key hurdles are sourcing materials and FDA regulations.
With masks in such short supply, so are the medical grade materials to make them. Without centralized guidelines or knowledge in the industry, it's not an easy process to figure out for those that are not familiar, and often these types of materials require large minimums for orders.
On a positive note, the FDA recently lifted restrictions on masks and respirators during the COVID-19 public health crisis, in an effort to get more PPE to those that need them. But surgical masks must still meet fluid and flammability tests in order to be used for medical purposes. Simply put: the fabric face masks we can currently produce cannot be used for a medical purpose according to FDA guidelines. They could, however, be used for general or industrial use.
Takeaway 2: Fabric masks are not a replacement for the medical-grade N95 respirators and surgical masks.
The production of both masks and respirators are regulated by the federal government, and often follow strict sanitary and technical guidelines. But even FDA approved surgical masks can't protect you from the virus. It's the N95 respirators that do protect doctors, and those are in desperate need.
To clarify, there's a significant difference between a respirator and a medical-grade surgical face mask, which this infographic from the CDC helps explain further. Simply put, N95 respirators filter out 95% of airborne particles - including the coronavirus. Surgical masks are intended more to prevent the transfer of spit droplets from one person to another, and their loose fit doesn't protect against airborne viruses. Cloth face masks are not a replacement for the N95 respirators used by a medical professional to prevent the transmission of COVID-19.
Takeaway 3: Even though fabric face masks are not medical grade, there's still a place for them.
For lower-risk situations, it's better than nothing.
This story from Minnesota Public Radio summarizes it better than we could:
"And Strike, the incident commander for Allina, said homemade masks aren't suitable for intensive care units, or for staff directly involved in treating COVID-19 cases. But they still can serve an important purpose.

'These are masks that folks can wear when they're doing … simple tasks around patients who are not in isolation,' Strike said. 'Patients who need to wear a mask when they're traveling, for droplet precautions, can use those masks, so they'll have a very specific place in the hospital for us to use them.'
Given this information, our next question was: what is the efficacy of fabric face masks?
This academic article from researchers at Cambridge University tested different household materials used in homemade masks. The conclusion of their research is that homemade fabric face masks "should only be considered as a last resort to prevent droplet transmission from infected individuals, but it would be better than no protection."
Even the CDC also admits that fabric masks - though their capability is unknown - could be considered as a backup option for doctors during this crisis situation when other supplies are not available. And no protection because of a lack of PPE is a risk many health care providers and the general public are currently faced with.
For medical workers, fabric masks can extend the life of N95 respirators
As stock of N95 respirators dwindle, many doctors and nurses are forced to reuse a mask for multiple days or weeks, when normally these masks are disposable and single use. Wearing a fabric mask over the respirators can help extend the life of the respirator by protecting it from soiling.
Use a fabric face mask to simply remind yourself not to touch your face.
You may have already seen this video from Dr. David Price of Weill Cornell Medical Center. He outlines tips on how you can protect yourself and your family.
Our biggest takeaway from Dr. Price's advise was this: in most cases, the coronavirus is transmitted by an infected hand touching the face (rather than airborne pathogens). So, the easiest and most simple preventative measures are to clean your hands and not touch your face. His tip for face masks: use face masks to teach yourself not to touch your face, even if the filtration level is not medical grade.
What you can do next:
In the meantime, we realize that you may want to give back or do your part to keep you and your family safe. Here are four simple things we recommend:
1. Watch This Video: Empowering and Protecting Your Family During the COVID-19 Pandemic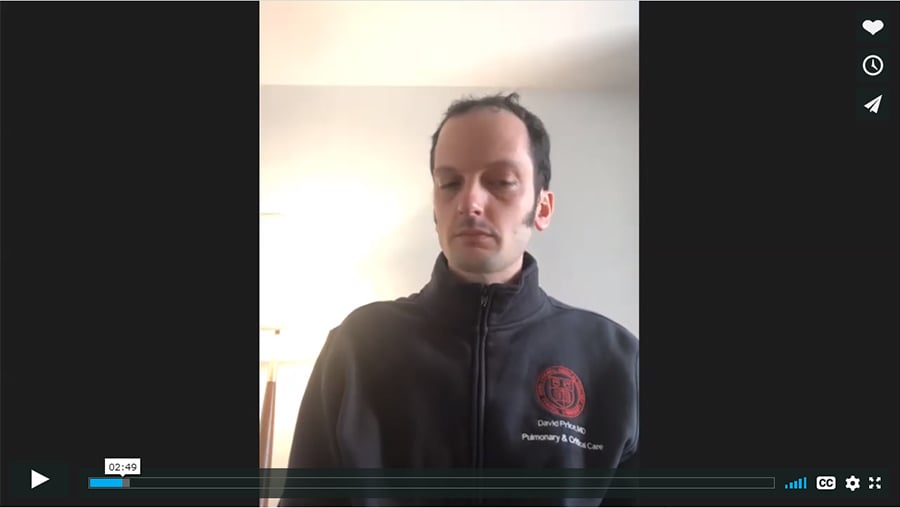 As we mentioned earlier, this has the best advice we've received so far for the general public. It is informative and empowering.
2. Donate any medical-grade PPE you may have
Medical facilities across the county are currently seeking donations for personal protective equipment (PPE) like masks, protective goggles, gloves, face shields, and disinfectants. They're faced with critical shortages, and they're the ones that need them most. Make yourself a fabric face mask instead!
The best website we have found so far is #GetUsPPE, which is dedicated to connecting those seeking PPE and those donating PPE. It allows you to search your local area for donation sites, and see what types of equipment sites are accepting.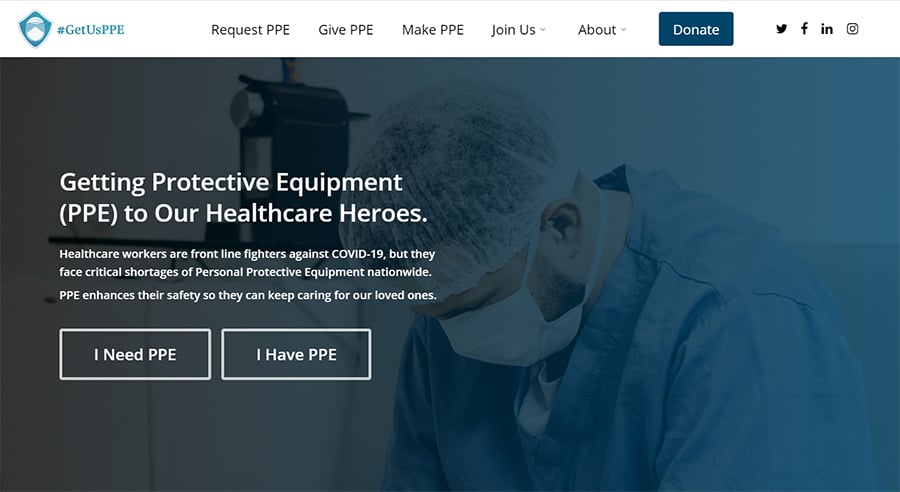 3. Make your own face mask
If you have a sewing machine, we found two great tutorials, below, using materials you may have around the house. This will keep you busy as you hang out at home!
For more information on making face masks, check out the #GetUsPPE website in the makers section.
Here's what you'll need:
Sewing machine with appropriate supplies
Fabric -

If you love understanding the science, check out this article:

What Are The Best Materials for Making DIY Masks? It summarized research completed by Cambridge University on household materials you can use for a mask. We've found a cotton fiber content is best because it is breathable and doesn't hold moisture.
Filter material - anything with a .3 micron filtration level. We've heard of people using vacuum cleaner bags and furnace filter materials.
Metal nose bridge - you could use materials like pipe cleaners, paper clips, or bag ties.
Elastic - a hair binder works well, but fabric trim will also work well.
Face Mask with Filter Pocket Tutorial
Click here to view the instructions & pattern >
This is our preferred tutorial, because it incorporates an interior filter pocket.
Simple Face Mask with Elastic Loops Tutorial
Click here to view PDF instructions from Allina Health >
This option is easier and more simple to make!
4. Donate Blood
Blood drives continue to be canceled because of coronavirus concerns, but the need for blood is still crucial. If you haven't been exposed to COVID-19, help by donating!
Memorial Blood Centers Information >
---
What We're doing next
If you've made it this far in this lengthy and rambling article, thank you for listening. :) It's been quite a journey in the span of one short week.
If you have resources to share or are in need of non-medical grade masks, please contact us! We'd like to help in any way we can!!
We will keep you posted on our progress!
Stay home and happy sewing!
XOXO, Deb
*UPDATE 4/13/2020:
We recently launched our 10 for 10 Face Mask Project - for every 10 pack of masks sold for personal use, $10 will go towards funding mask donations for those in need.
---
Further reading:
Here are a few of the other businesses that we know of that are contributing to the mission. Check out their website for more information: