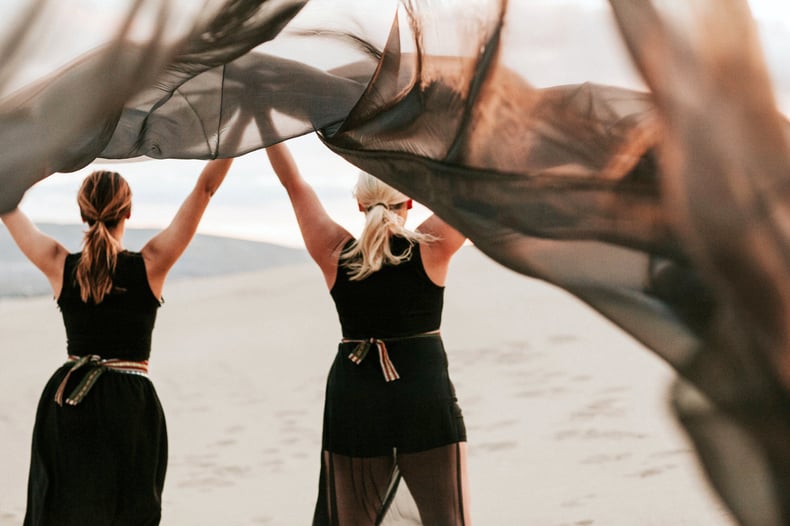 Have you ever wondered what it's like to choreograph for some of the top dance teams in the nation? We asked our friends Anna and Carsen from TRIBE 99 to tell us more about how they got started with their careers in dance! Check out our Q&A with these talented ladies for a behind the scenes peek!
How did you get into the dance choreography business?
We started by teaching classes at our studios when we were 14. This forced us to create combos/routines weekly, and therefore work on our craft constantly. After that we started choreographing for local high school teams in the area. We tried to grow and learn something new each time we choreographed. From there we moved up to the national level and eventually started choreographing for colleges and universities.
What makes Tribe 99 unique?
The relationships that we have with coaches/teams is what makes our company really unique. We are HIGHLY involved with our TRIBE from the time we get hired to choreograph till after they compete and they are in their "post season". As choreographers people think we simply go in, choreograph, leave, and then show up at nationals. But what people don't know is how involved we like be in the entire process.
Our involvement can include helping coaches with tryout material, giving skills/progression exercises for the team to do in the off-season, hours of music design/editing, 2-3 days of choreography all day, costume consultation starting during our choreography session, video consultations throughout the entire season, 1-2 trips back to work with the team, sending inspirational videos, constant communication with the coaching staff on how practices are going and then attending nationals and being the biggest supporters of our teams.
People often ask us why we get so attached to our teams. The answer is because with TRIBE, we don't want to give just choreography. We don't want to give a piece of our work and walk away and hope for the best. We want to give our teams an experience and feel like they can trust and depend on us to be there throughout the season. Which is why attending Nationals is such a rewarding experience for us.
How do you find inspiration or choose the song/theme for a team when you first begin working with them?
Honestly, our inspiration comes from very different places. Sometimes it starts with a "look" of a costume, sometimes we are in love with a song and we use it to build a concept or theme. Sometimes we start by looking at the team itself and talk about their strengths and weaknesses. Other times we are driving in the car, see a sign, and a theme will pop up into our head. Some concepts can be very random and easy, and others require hours of research behind it.
How do you keep things fresh and new when working with many teams?
We are VERY purposeful in the concepts/themes/routines we pick for our teams. We make sure the routines specifically match the team and highlights their strengths. Each team and coach is VERY different. TRIBE intently tries to give equal time, love & support to each team but every team needs that in different ways. I think we keep things fresh buy treating each job like a new experience. Each teams have their specific needs so each job is different. This keeps things exciting for us too =]
What's your best advice for an aspiring choreographer?
If you are an aspiring choreographer the biggest advice we have is to NETWORK with coaches and STAY CURRENT by constantly educating yourself on the newest trends. The dance world is all based on recommendations! Almost 100% all of our jobs started by a recommendation from a coach who's team we have worked with or choreographed for. The first big Nationals level job that we ever got was from a coach who recommended the two of us. From there, it just took off.
Take each job seriously and professionally and do your best, because you never know where its going to lead. As a choreographer, communicate with your clients and don't put responding on the back burner. Come in prepared and give 150% of yourself. Stay current in the trends in the dance world by attending master classes, intensives, conventions, and educational classes. Watch youtube videos for inspiration but ALWAYS stay away from copying material. Being up to date on current trends in the dance team world will help you build your brand.
Describe an average work day or work week?
TRIBE 99 choreography has become our full time jobs so we are blessed to be able to work from the comfort of our homes. A normal workday can run be anywhere from 5-8 hours of work where we are answering emails, talking to coaches, video consulting, creating documents, developing/strategizing for future events etc.
Being a choreography company, we really use social media to promote and expand our brand. Social media is an all day job and creating our fun posts can take up to a couple hours. Our work is spread out throughout the day because we create our own hours. So it's definitely not a 9-5 job. There are many days where we will work a full day and once 10pm rolls around we are on FaceTime talking about work, what we need to get done the next day or who responded to a certain email/project. The work is constant but we love what we do so it never feels like a "job". TRIBE is such a big part of our life and we couldn't thank our TRIBE enough for allowing us to have this incredible opportunity.
What is the most rewarding part of your job?
The most rewarding part is the opportunity to inspire others and help unlock the potential they sometimes never knew they had. We were beyond BLESSED to have Teri Rowe [Carsen's mom], who is an incredible mentor and was our coach growing up. We try really hard to give the dance community what Teri Rowe gave us growing up, which was knowledge, motivation, and how to take our experiences in dance to make us be better people in the real world. We take what she gave to us and want to pay it forward. We focus on inspiring dancers in and outside of the dance world. We thrive on helping dancers reach their fullest potential as dancers and as human beings.
Anything else you'd like to add?
You can see Carsen in Pitch Perfect 3 as a new Bella! =]
---