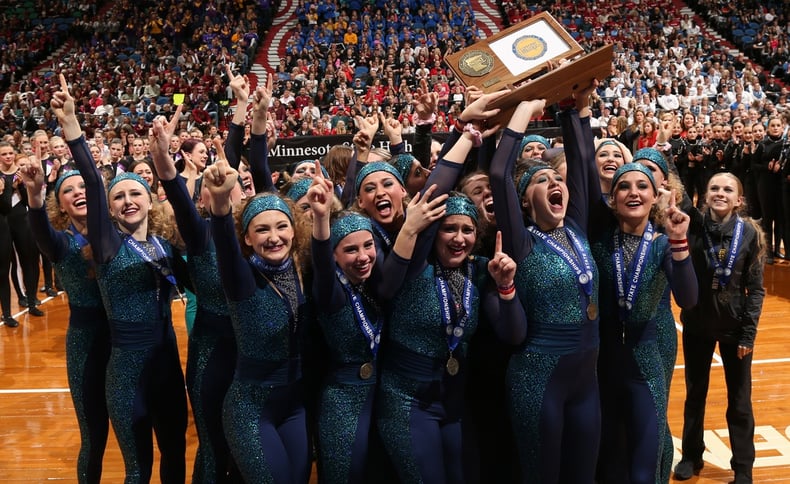 Totino Grace Dance Team in a custom costume at the 2016 MSHSL Dance Tournament
Come on... admit it... you are already starting to plan for next year's Winter Dance Team Season! Coaches and dancers alike are gearing up for summer camps and clinics, but thoughts of the Winter Season are always looming as teams brainstorm ideas for the upcoming year.
The check list of items for the competition season is a long one. One major item on every team's list? Costumes, of course! Wondering how to navigate the sea of rules and regulations as they apply to your dance costume design? Here's a summary of the Minnesota State High School League (MSHSL) Dance costume official rules.

Updated costume guidelines now allow for opaque nude fabrics!
New Rules
A few costume rule changes have come from theMSHSL last year in 2015, which allow a bit more freedom with costume design:
Flesh-colored (white, peach, pink, nude, etc) opaque fabric is now acceptable on costumes as a body fabric, as long as it is not see-though on the trunk. Transparent arms and legs are allowed, and sheer fabric can be any color on the arms and legs.
Key-hole backs are now allowed, but must be small enough to completely cover shoulder blades and any bra straps
What does this mean for you? You can save money by eliminating a back zipper closure, and use a less expensive keyhole neck closure instead! Or if you want to be really bold, the ever trending all-over nude look (above) is now a possibility!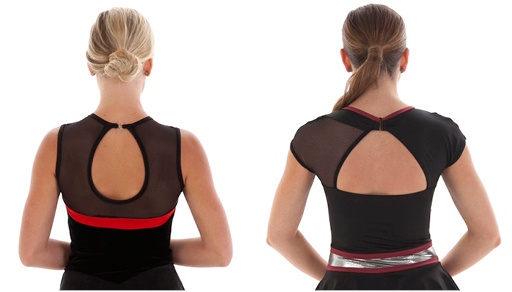 Example of a keyhole opening that is rule compliant (left), and one that is a rule violation (right) because shoulder blades show
Rules Still in Place
Some things haven't changed for costumes, so keep these key things in mind as you plan for the 2017 Winter Season:
Tights are not required, but highly encouraged
Shoulders, shoulder blades, torsos, and brief areas need to be covered by opaque fabric
Sheer fabrics are still allowed on arms and skirts and over opaque fabrics
Sports bras are a must but cannot be built into the costume, and cannot be visible in any way
Shoes must cover the entire sole of the foot
Necklines must not be lower than 2" below the sternal notch
All parts of the uniform and accessories must stay attached
Jewelry is not allowed, but accessories like arm bands an chokers that are a part of your costume are allowed
Logos, names, or trademarks are not allowed, but interpretations of these can be used as related to a theme. An example given in the rule book: A school's jersey could be worn as a football theme, but a Minnesota Vikings jersey could not be worn.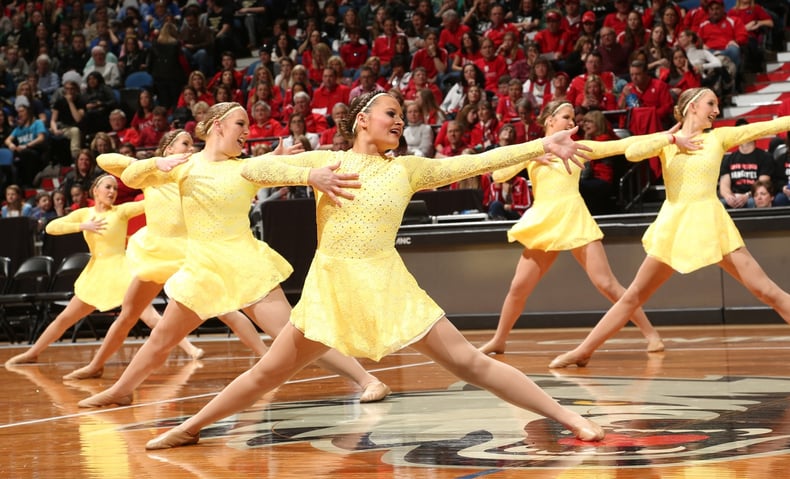 Chaska Dance Team in a custom costume
at the 2016 MSHSL Dance Tournament
Penalties and Deductions
We are glad to hear there will no longer be point deductions for minor costume violations, but flagrant violators will not be allowed to perform until their costume is fixed. So make sure that you know the rules before making costume decisions! Want to read the rules for yourself? Check out this un-official posting on Minnesota High School Dance Team Online!
What are you thinking about for your upcoming dance season? Maybe a new biketard for jazz, or a unitard for high kick with some built-in color changes? Or are you looking to freshen up last year's favorite costume?
If you not sure what to do, leave it to an experienced designer to sketch out some ideas, including a few color and silhouette concepts. A good designer will ask the right questions about your vision while making sure your custom dance costume follows competition rules, whether it is for MSHSL or any other regulating organization.