Employee Spotlight: Katie, Customer Service Manager
What do you do at the Line Up?
I am the Customer Service Manager at The Line Up. I get to lead an awesome group of customer service members! I have the privilege of sharing their successes, challenges, and growth opportunities every day. Occasionally I get to work directly with a team on their project and put my Account Manager hat on again. I am also part of the Marketing team by contributing to the direction of our sales, promotions and marketing ideas. I also manage our sponsorship relationships like Tribe 99 Choreography and our VIPs!


Why do you love working at The Line Up?
The reason why I love working here is because I was a competition dancer growing up and I feel like being here I get to continue to be a small part of teams' success. Whether it's skating or dancing, or any sort of other performance, I get to be a small part of that.


What do you like doing outside of work?
Some things I like to do outside of the office are to play with my two small boys. They love to play hide and seek! I also love taking a dance class when I can and just working out.


What are three words you would use to describe The Line Up?
Family. Fun. Evolution.


What did you want to be when you grew up?
When I was in college I was determined to be an editor of a fashion magazine, like Vogue. I loved journalism and fashion. I was the features editor of the school paper and wrote a lot of fashion articles. I did an internship at Dance Spirit Magazine my senior year to get a taste for what it was like. I loved it, but I much more prefer the career path I took to get me to The Line Up.


What is your dream vacation?
I would love to go to Paris. I studied French in school and have never used it. My husband and I's 10 year anniversary is next year. Hopefully we can make the dream vacation come true! ;)


What #LineUpLook is your favorite and why?
The Tribal Mesh Leo! I remember when I saw the inspiration for this look on J. Lo at the American Music Awards. I was like "We have to do that!" It's so unique and different than what you can get anywhere else.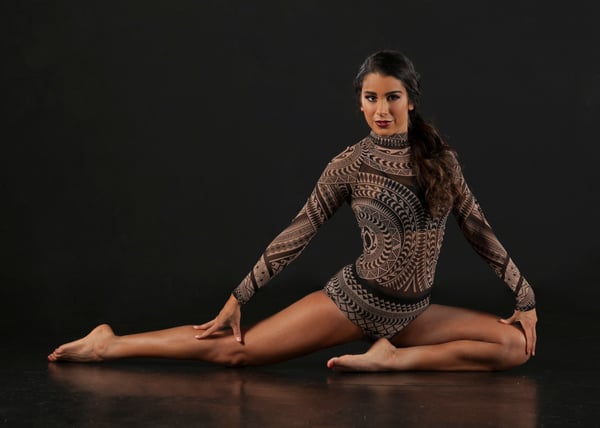 ---