Employee Spotlight: Megan, Account Manager.
What do you do at the Line Up?
I am an Account Manager with The Line Up, so I work with customers to help assess and address their performance apparel needs! I am the liaison between our Product Designers and our customers throughout the design and production process, so keeping track of all the details is very important. It is so fun to work with a wide variety of teams – high school, college, skating, and professional – every project is different!
Why do you love working at The Line Up?
Seeing costumes evolve from the initial design phase, whether we get an inspiration image or a hand drawing from our customers, and following it through the production process is so rewarding! Watching costumes come to life on the ice, on the dance floor, and even on T.V. is really the most exciting part of my job and why I love to work here.
What do you like doing outside of work?
I enjoy being active, whether it's running or being outside with my family. Or cheering on the MN Vikings! I live for football :)
What's your favorite food?
Bush's Baked Beans! This has been my favorite food forever – I can't get enough.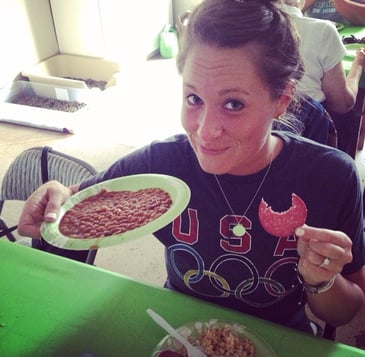 What's your favorite book?
If you could have any super power, what would it be and why?
Tough choice…I'd either want to teleport, so I could go on a mini vacation whenever I want. Or, being invisible would be super fun = prime prank potential!