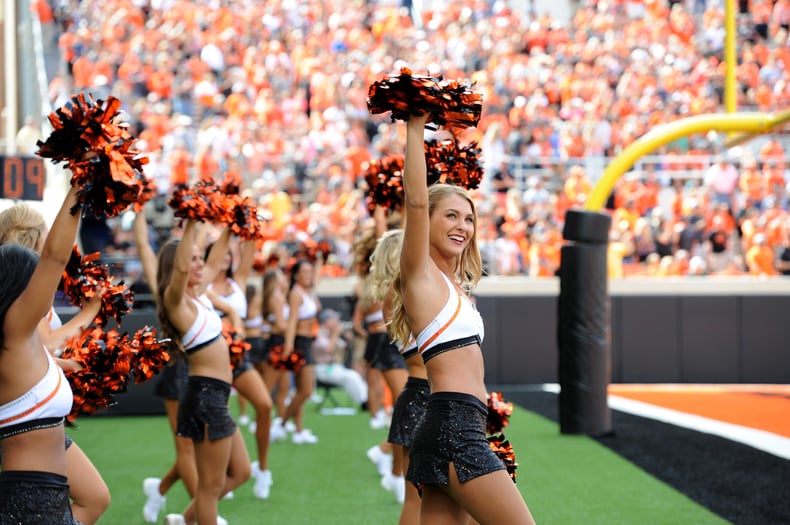 Team: Oklahoma State University Pom Squad
Director/Head Coach: Beki Johnson
Location: Stillwater, Oklahoma
Style: Gameday Pom Squad
Oklahoma State University Pom Squad's Custom Cheer Uniforms: Classy, Athletic, & A Lot of Sparkle!
Take one peek at the Oklahoma State University Pom Squad's Instagram feed, and it's obvious the team and their fellow Cowboys fans are a spirited group - their pictures bleed orange!
With such a vibrant school color, the Pom squad is able to make a bold statement on the field, "I love being able to showcase our school colors with a vibrant uniform," Coach Beki Johnson said. "Orange is a beautiful contrast to a green football field."
The Pom Squad achieved their branded look with quite a few different custom cheer uniforms, many in eye-catching orange and sequin fabric. "Our goal is to look classy, athletic, and have a lot of sparkle," Johnson said. Our favorite piece in the dancers' wardrobes? The ladies added a little flair to their wardrobe with custom OSU cowboy boots, befitting their Cowboy name!
The Pom Squad combines their gameday efforts with OSU's Coed Cheer Squad to form the OSU Spirit Group, and performs at football, wrestling, basketball, and baseball games throughout the year. It's a full schedule of dance performances for the Pom squad, in addition to various community service opportunities!
Check out the team's look and more Q&A from Coach Johnson below!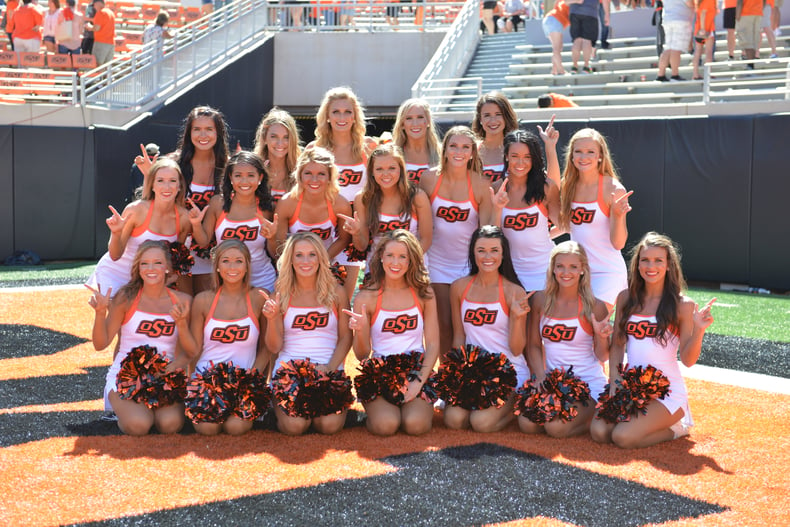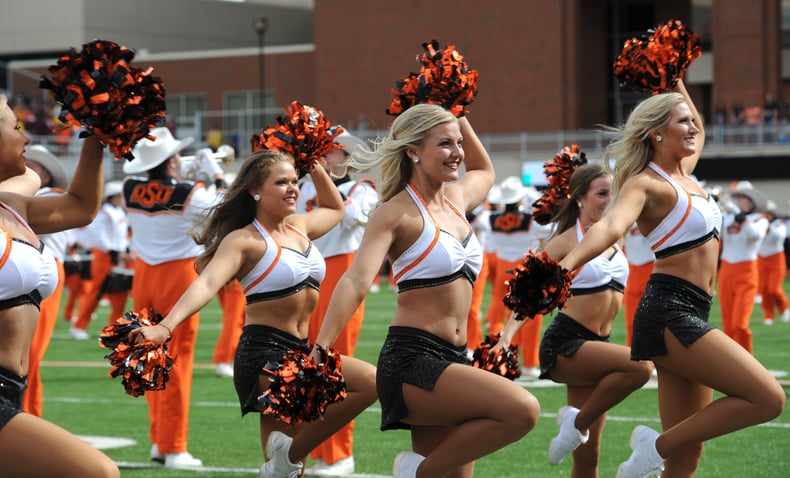 TLU Spotlight Q & A:
How many routines do you have for this season? We have 7 dances ready for football season!
What is your teams' favorite song to perform? It is hard to choose our favorite! We love Missy Elliot's "Pep Rally" and Fitz and the Tatrums' "Hand Clap".
What makes your team/group unique? We are a group of 19 extremely talented dancers. These girls come from studios or drill teams that are very competitive. So our talent level is very high. However, we do not compete. This makes for a wonderful working environment and more time to focus on cheering, dancing, and community service.
We also take school very seriously. Generally, the girls have a GPA higher than 3.0. Currently, Miss OSU, Julia Benbrook, is a senior member of the Pom squad and we have had a Top Ten Freshman and a current Top Twenty Freshman! They are a well-rounded group of young woman.
What is your favorite fan memory? We loved storming the field in 2011 with our excited fans when we won the Big 12 Football Championship. We also love being a part of Coaches vs. Cancer and being able to connect with our young fans fighting a difficult battle with cancer. There are so many opportunities to get out and be with people that love OSU and we are so grateful for that time.
What are you most excited for this season?! We are looking forward to an exciting football and basketball season. We have a new men's basketball coach and look forward cheering on the Cowboys! We also have the privilege of cheering on OSU wrestling, women's basketball, and baseball teams. We are always busy, but it is extremely fun!

---
Planning for your team's next performance and custom cheer uniform?
Organize all your thoughts in one location with The Imagination Kit!