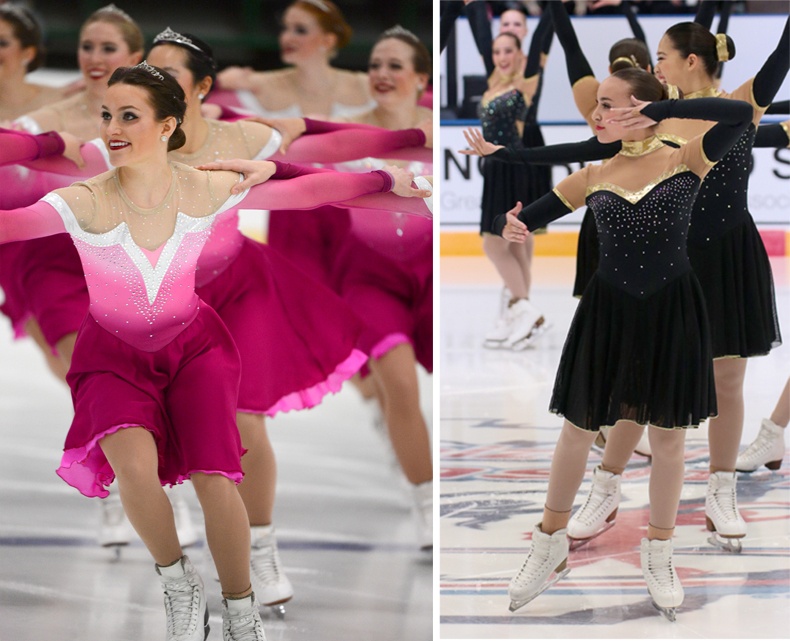 Hockettes Junior (left) and Team Delaware Junior (right) teams went all out on rhinestones for their custom skate dresses - something only Junior, Senior, and Collegiate teams can do!
Last November 2015, the USFSA updated the official Synchronized Skating costume guidelines. If you've taken a look at the guidelines, you know that they tend to be vague. For good reason too - it allows for artistic interpretations by teams based on their region and performance choices. Here's guiding principle:
"The costumes of the competitors must be modest, dignified and appropriate for athletic competition, not garish or theatrical in design. Costumes may, however, reflect character of the music chosen."
We know with this vague statement, other guiding rules can get a bit confusing, especially since Junior, Senior, and Collegiate levels are excluded from many.

So a

s you start to design for your next synchronized skating dress, here's a look at a few different costume elements, and what the guidelines dictate about each!
Guideline Summary
A Nude Look
The costume guidelines state, "The clothing must not give the effect of excessive nudity inappropriate for the discipline." So what exactly does this mean? Many have interpreted it as 50% of a skater's torso must not be nude or illusion fabric, which seems like a safe direction. Nude sleeves and necklines are allowed, but an all over nude bodice look should be avoided.
Level Exceptions: None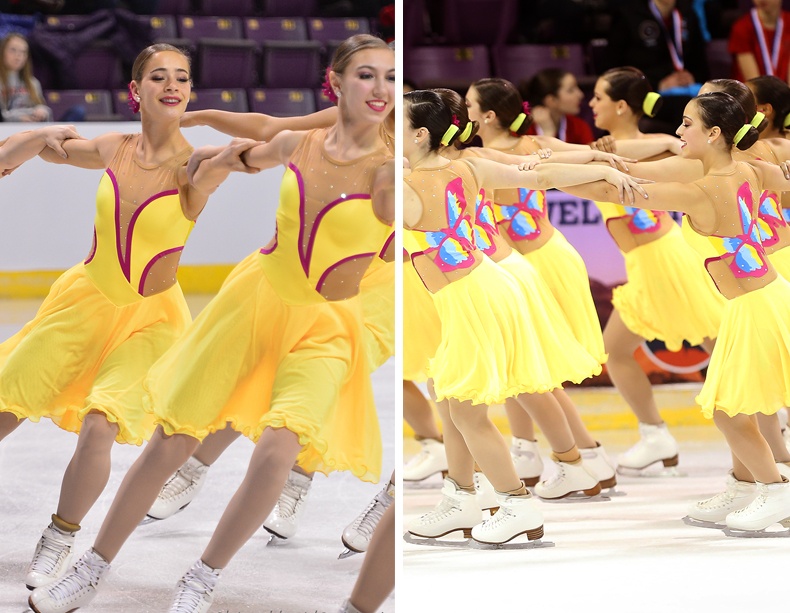 Team Delaware's Junior Short butterfly theme dress feature a lot of nude illusion, but falls within costume regulations.
Skirts vs Pants
It used to be that female skaters were not allowed to wear pants, and skirts were a required standard. This rule has been replaced in recent years, and skaters can now wear trousers or "body-suits" . We saw this daring look on Team Russia at worlds last year- and we loved their idea! What do you think - is your team ready to adventure into the no-skirt territory?
Team Level Exceptions: None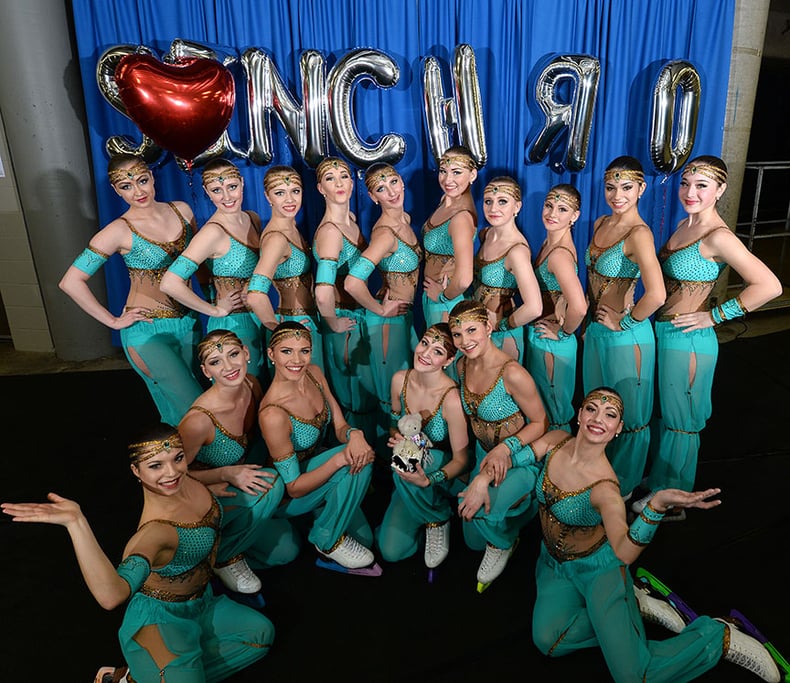 Skirt Length
There's no longer an official rule dictating skirt length, but in the past guidelines regulated that skirt lengths must not go farther than just below the knee. This length is recommended for safety and practical reasons. The last thing you want is to trip over your skirt, especially when leaning forward or kneeling!
Team Level Exceptions: None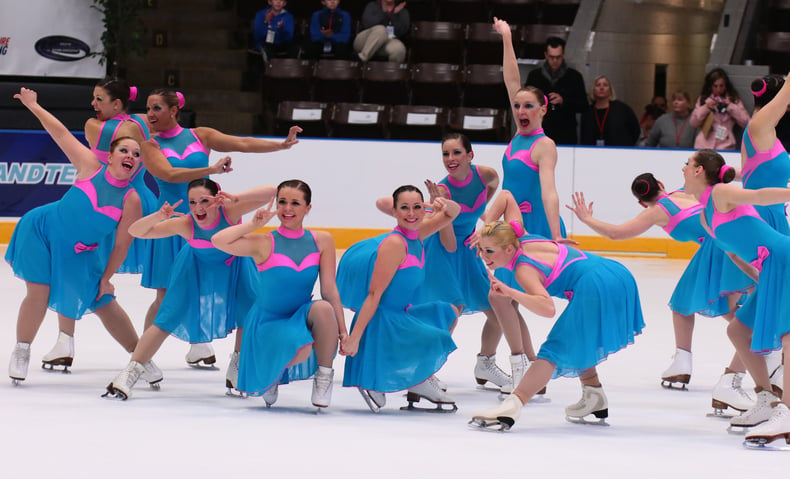 Team Delaware's Adult Team didn't worry about their skirts grazing the ice while posing during their Romy and Michelle themed routine.
Rhinestones & Sequins
The guidelines on rhinestones are clear: they aren't allowed for most team levels. When it comes to sequins, they are allowed depending on how they are attached to your dress. Sequins on solid or mesh fabrics must be "machine burned". In other words, the fabric must come with factory applied heat set sequins. Sequins that are stitched on with thread are prohibited.
Team Level Exceptions: Rhinestones and sequins can be used in moderation on Senior, Junior, and Collegiate teams, and must be on the bodice only. Sleeves and skirts must be completely free of adornment.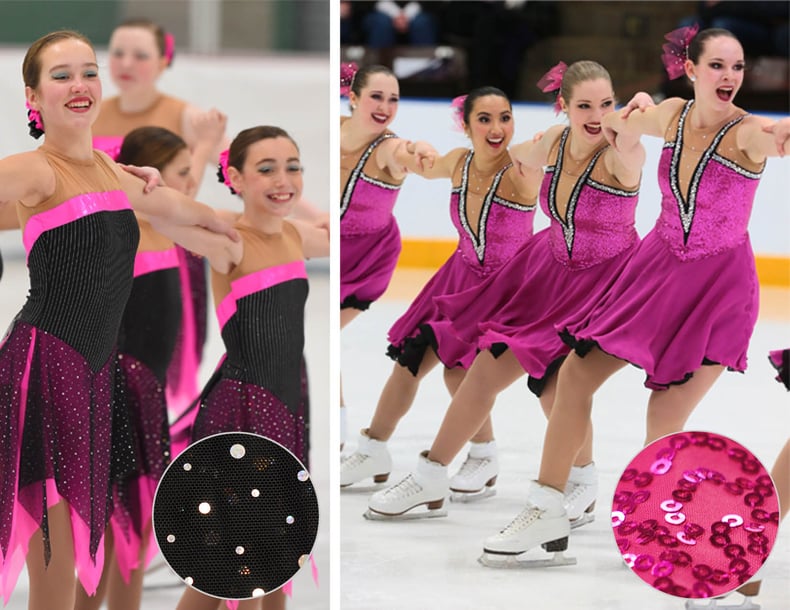 Left: The skirt of Synchro Panache's Pre-Juv dress shows an example of "machine burned" sequins, which fall within the USFSA guidelines.
Right: The bodice of Fond du Lac Blades Junior Team's dress show an example of sequins that are stitched with thread to the fabric - only allowed for Junior, Senior, and Collegiate teams.
Hair Pieces & Jewelry
Did you know hair pieces are allowed, but cannot have sequins, beads or rhinestones? And earrings and bobby pins are also not allowed. These items could "fall off and present a hazard on the ice". So avoid the glitz when accessorizing your team's next look!
Team Level Exceptions: Once again, Senior, Junior, and Collegiate teams are allowed to wear barrettes with rhinestone or other adornment, as well as earrings.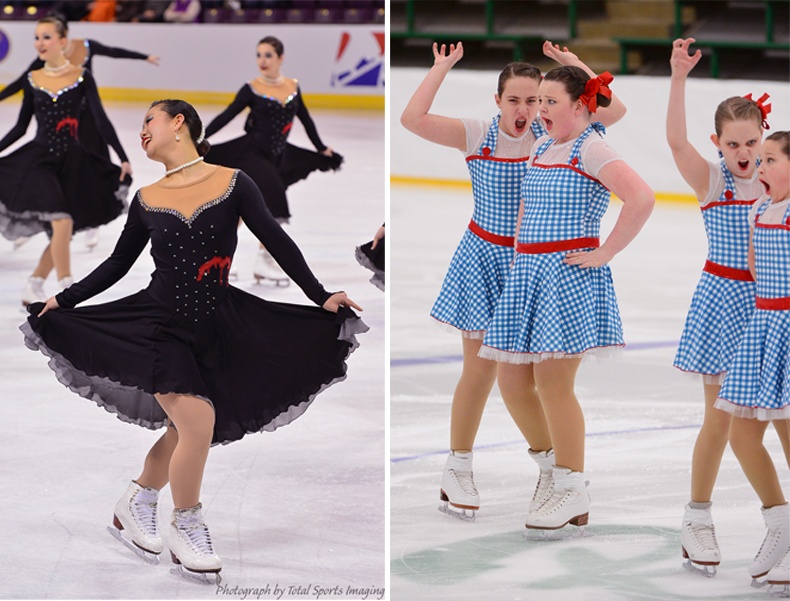 Left: The Hockettes Junior Free costume included a pearl necklace and earrings - items that can only be worn my Junior, Senior, or Collegiate teams.
Right: Chicago Radiance's Juvenile team sports a cute red hair bow, very fitting for their Wizard of Oz Dorothy costume.
Buttons & Buckles
Buttons and buckles aren't allowed on the ice, but we've figured out a way to hack this rule: appliques! Appliques are pieces of fabric in the shape of a button or buckle, and then stitched onto your garment. They'll give you the same look at a distance while still falling within costume rules!
Team Level Exceptions: None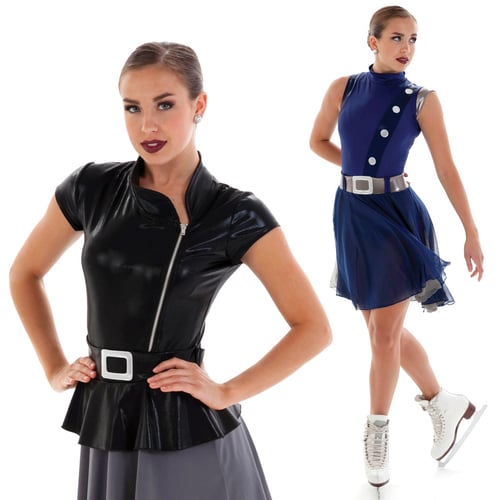 Styles Augustana and Captain, above, both feature applique "buckles."
Fringe & Feathers
These delicate items are likely to fall off onto the ice, and are prohibited for all team levels. One way to get a fringe look without getting penalized? Try fabric that is cut to look like fringe. The "fringe" is part of the skirt fabric rather than sewn on. It will give the same shimmery look from a distance, while still following costume guidelines.
Team Level Exceptions: None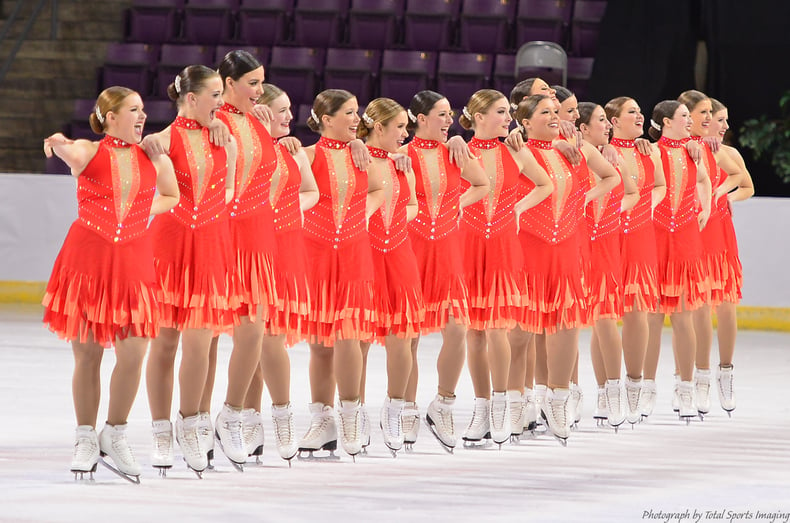 St. Louis Synergy's Junior Short dress featured a cut fabric fringe hem, which looked sensational during spins.
Boot Covers
Boot covers are allowed, but be aware that a referee could deem them unfit if they are loose or ill-fitting. A judge may also find them distracting while scoring ... so exercise with caution!
Team Level Exceptions: None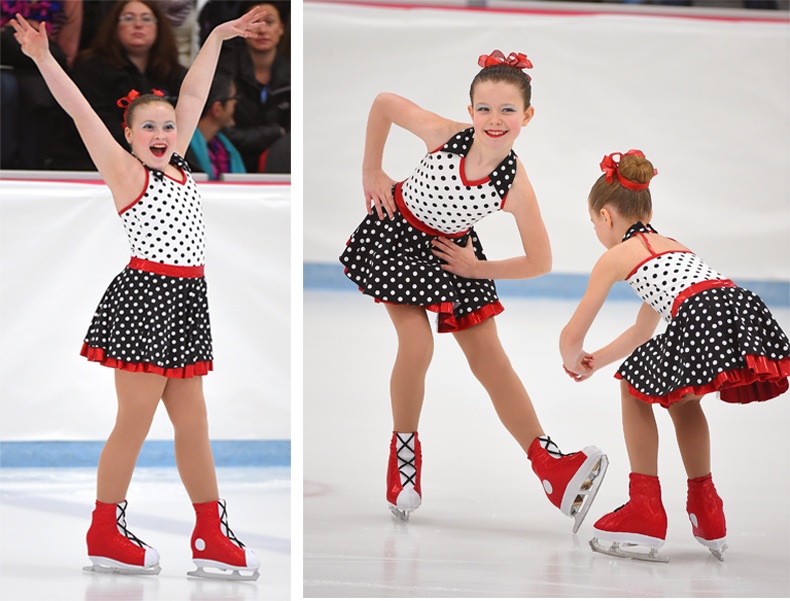 St. Louis Synergy's Preliminary Team added the perfect finishing touch with these Converse -like sneaker boot covers!
Men's Pants
The one rule regarding men's costumes state that men must wear trousers - tights are not permitted. There is some freedom in your choice of color for pants , however.
Team Level Exceptions: None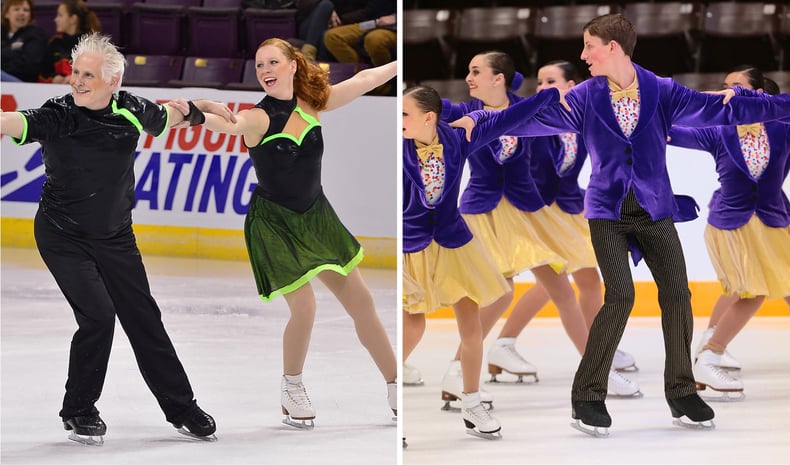 Left: Men's costume for Team Delaware Masters' Team
Right: Denver Synchronicity Intermediate's Willy Wonka Theme skate costume
---
Penalties & Violations
What happens if your skate dress doesn't comply with these guidelines? There a couple of repercussions:
You'll be asked to change

. Event referees do have the ability to interpret the rules and enforce them, which means they can ask your team to change before performing . If you can't change in a certain amount of time, your team risks disqualification.

Point Deductions. If your team doesn't comply with any of the costumes rules, or if "any part of the costume or decoration falls on the ice during a competition", there will be a point deduction. Keep that in mind, Junior, Senior and Collegiate teams as you add adornment like rhinestones!
---
Hopefully this helps clarify costume rules as you design your next custom skate dress. If you're looking to read and interpret the guidelines for yourself, check out them out on the USFSA Synchronized Skating technical information page. Happy designing!