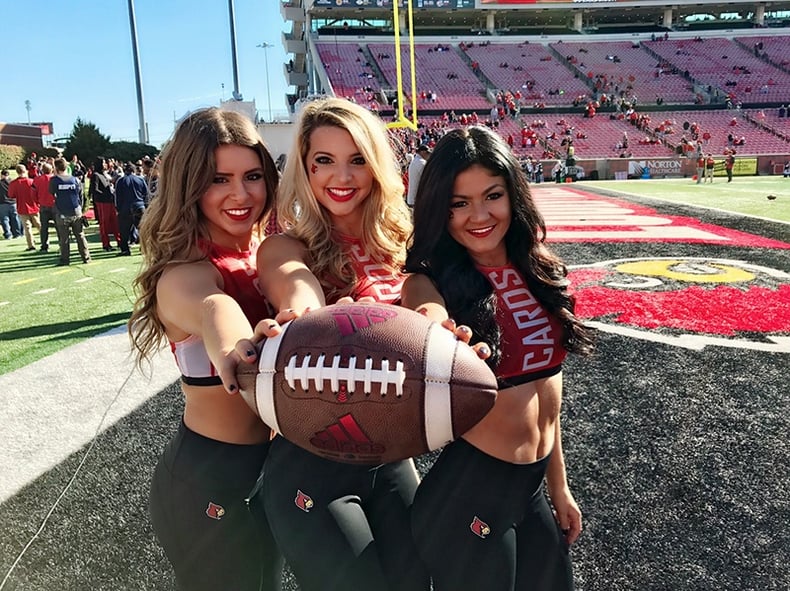 The Louisville Ladybirds this past fall on gameday in the 202-7 Mesh Sublimated Top.
Louisville Ladybird Dance Team- National Champs!
It's hard to deny the Louisville Ladybird Dance Team's presence. The team has won 9 out of the last 10 national titles at the NDA Collegiate Cheer & Dance Championship, and has 14 national titles overall. Walking into competition, their reputation precedes them!
Their team dynamic is unique because they have quite a large team, are co-ed, and have a very strong work ethic. "They don't stop until they have mastered their choreography and skills. They don't settle or rest for good enough, they are always pushing to be better," said TRIBE 99. So it's no surprise this hard work pays off at competition.
Led by Cheryl Knight and Todd Sharp, the team performs at football games in addition to competing in the Dance Team Performance and Hip Hop 1A division this past spring at NDA. You can also catch Todd Sharp and the team on their new show "So Sharp," premiering July 26 on Lifetime! Here's a peek at the team's performance and dance costumes this past season!

An Athletic and Entertaining Hip Hop Routine
This year the Ladybird's Dance Hip Hop routine was was designed to play up their strengths: athleticism and entertainment. "We decided to do a "travel" concept for them because it could show a variety of styles while being uber creative on how to go from style to style," said TRIBE 99, who choreographed their routine.
This routine wasn't without some impressive, crowd pleasing moments, too. "One of our favorite parts from this year was the 'YAAS Queen' moment into the death drop [at 0:49 seconds on the video below]. The crowd went nuts on that and seeing that vision come to life (while getting a major crowd response) is always rewarding!" TRIBE 99 commented. "When they hit their rubber band sequence near the end [at 1:13 on the video below], we were so proud of them! The routine definitely was a hard one to execute, but they did AND they put on a SHOW at NDA College Nationals! "
To complete their routine, the team wore a sporty crop top with white harem pants from The Line Up. The pants have become something of a staple for them the last couple of years - a classic, collegiate hip hop look!
A Chic & Elegant Team Performance Unitard
For their Team Perfomance costume, the team wore an elegant black lace unitard. With a chic sweetheart decolletage trimmed in Ladybird Red rhinestones, the custom unitard was inspired by a dress worn by Miss Kentucky.
Gloves and a choker added an edgier look to harden the softer lace. Topped off with a open back for a sexier look, it's hard to deny this simple and chic ensemble was one of our favorites from the competition!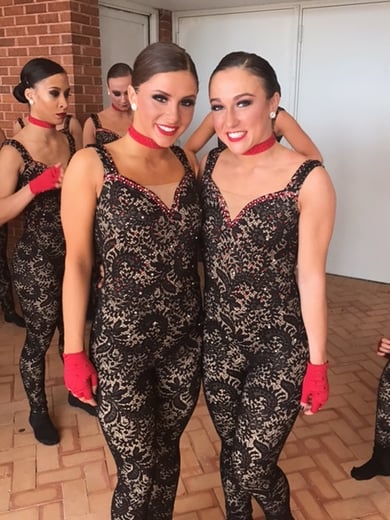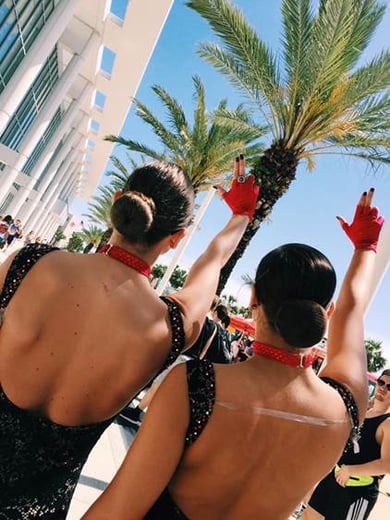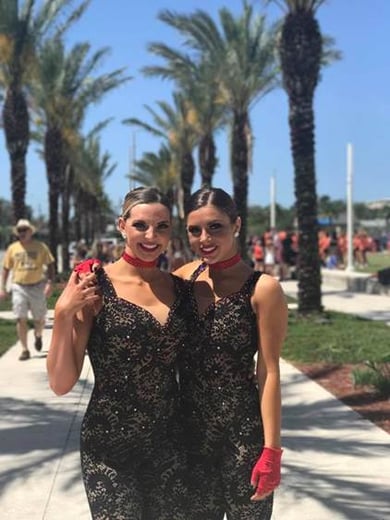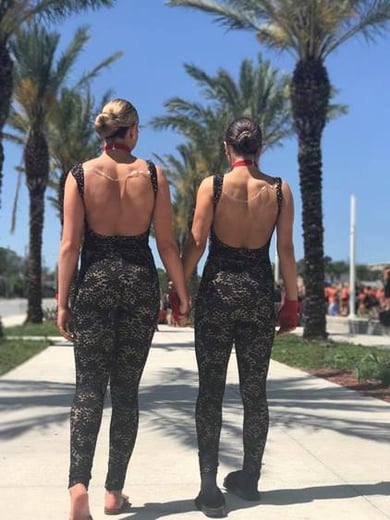 ---