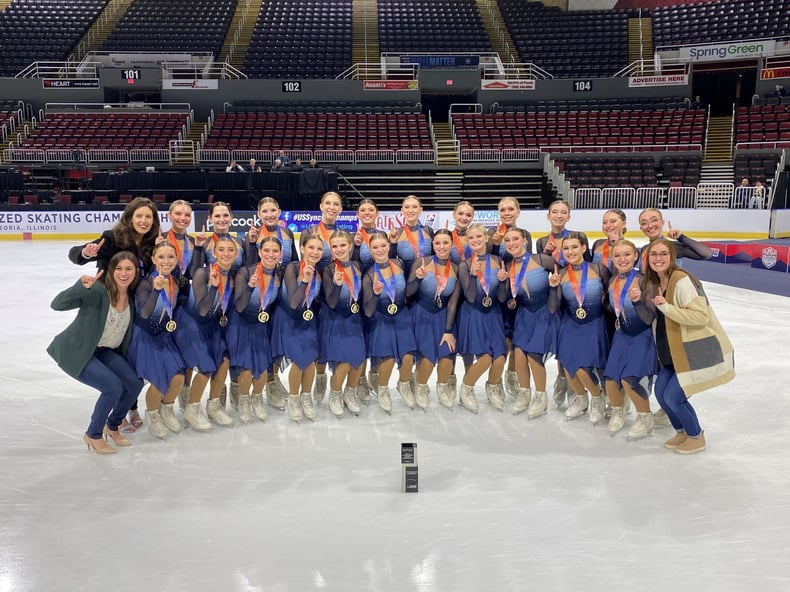 Team: Capital Ice Synchronized Skating
Head Coach: Becky Gallion
Location: Bismarck, ND
Style: Synchronized Skating
National Champions Capital Ice Chips & Their Custom Skating Dresses
We recently had the opportunity to connect with Bismarck Figure Skating Club's intermediate synchronized skating team, Capital Ice Chips, about their season. This was the team's first National Championship win at the U.S. National Synchronized Skating Championships, where they outperformed 12 competing teams. In our conversation with this talented and hard-working team, we learned about their journey to victory as well as the stunning custom costumes they designed for the season.
We loved their custom-made blue ombre skating dresses and were eager to learn more about the inspiration behind their routine. Coach Becky Gallion gave us some insight:
"Our inspiration this year was different for us...normally we pick several pieces of music and have a theme that tells us a story through those pieces. This year the team wanted to do something different - just one song. They brought the music to me and I really loved it and could imagine a program to it.

The song is a remix/redone version of the song "Crazy". We tell the story of someone struggling mentally and we even have a part where the person falls back as if to give up but her teammates are there to pick her back up, in the end, she is strong and ends in a powerful stance showing she has overcome all of the hurdles that were once before her...the team really had to work hard to hit the nuances in the music to really get the story and feel of the music across. I love the last 30 seconds as it just builds and builds and you can feel and see the team getting stronger and faster as they work together."
Congrats on this major success. Check out more Q&A with the Capital Ice Chips Synchronized Skating team below!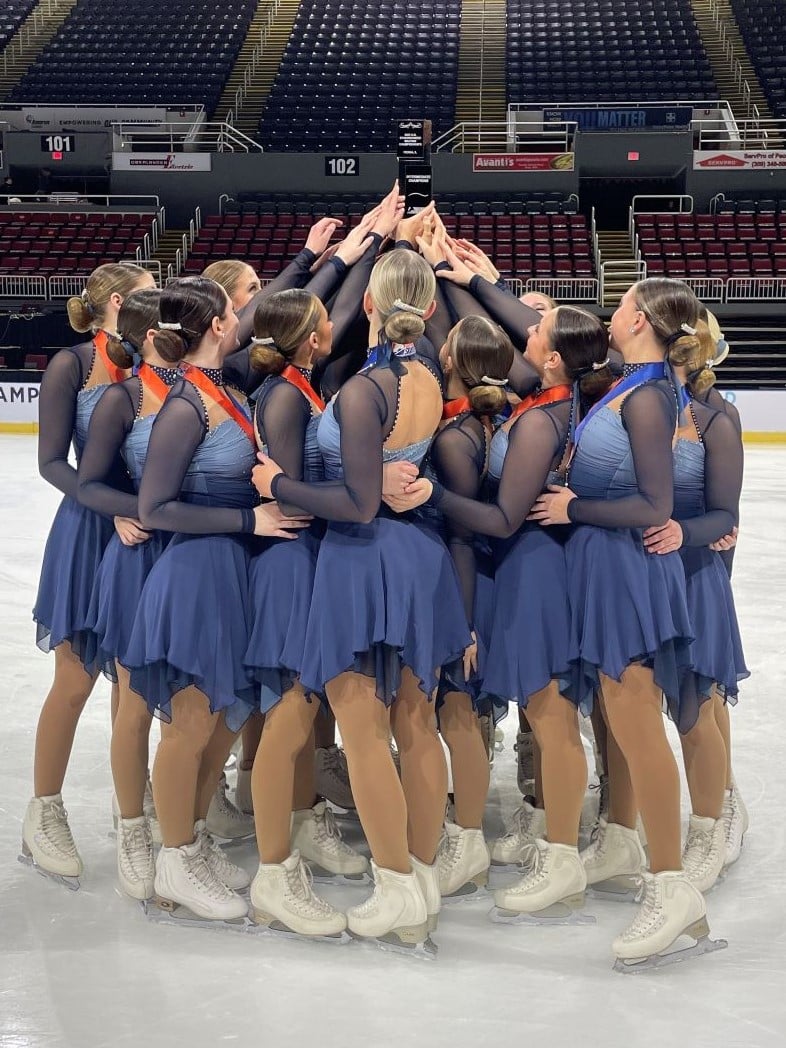 What makes your team/group unique?
I think one of the things that makes our team unique is the fact that most of our skaters have been on a team together since they were very young. They go to school together, skate individual sessions together, and are great friends outside of the rink. I think it has helped us create a strong level of trust and family!

What does teamwork mean to you?
Teamwork is a group of people coming together to reach a common goal! With great teamwork any goal you set is possible!

We rally in a variety of ways...we actually hashtag the phrase #werally quite a bit. Some things that help motivate us are listening to good pump music, watching higher-level teams for inspiration, and cheering each other on at practice during the program or from the sidelines if we are struggling with an element.

What was your favorite memory from the season?
Well, my favorite memory was the kiss and cry at nationals this past season! Even though I knew the team was skating very well and had a clean skate I wasn't quite expecting us to get that high of a score and break a record! It was also very special to me personally as my daughter is a senior on the team so to win nationals for the first time in her senior year meant a lot to me as a mom and coach.
What was your team's biggest challenge/opportunity this season?
Our biggest challenge was getting to our competitions!!!!! We had the WORST weather and luck with the weather. From blizzards to fog, to major snow....trying to travel was a nightmare! We ended up missing our favorite competition of the season in Minneapolis and almost missed our competition in Boston. It was terrible!! The skaters were such troopers; jumping on the ice whenever we got to rinks, putting skates on in the bus, eating cold feed after schedules were changed, diverted, and sitting in an airport in Rapid City, SD for 7 hours our theme was "crazy" and that word definitely fits our travel experiences this year.
eImages courtesy of the Capital Ice Chips
---