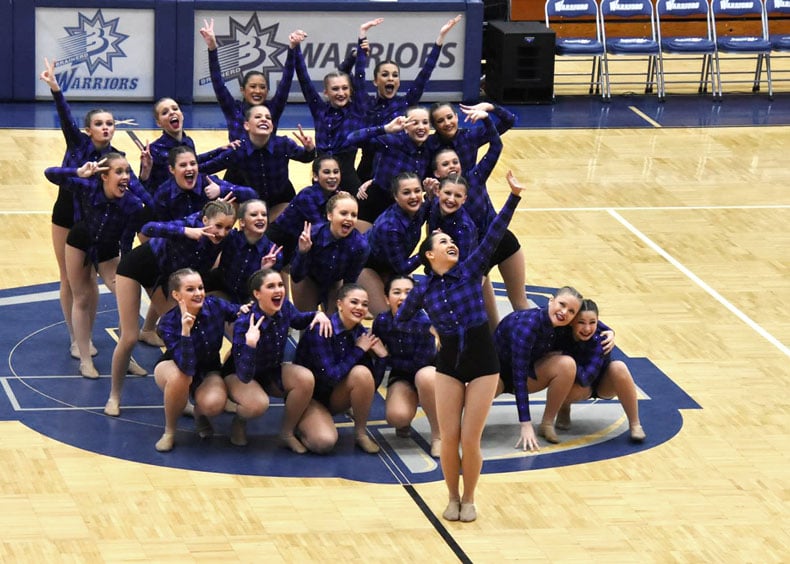 Team: Chaska High School Dance Team
Coaches: Kris Rydland, Tara Lindemeier, Tracy Standahl, Lindsay Danielson
Location: Chaska, MN
Style: High School Dance Team, Jazz and Kick
I'll admit – this writer feels a special connection to our latest Team Spotlight, the Chaska Dance Team. Growing up in the district, I don't remember many of the sports teams winning titles, but the Dance Team was different: a consistent force with conference titles and trips to state.
I have a distinct memory of sitting in Coach Kris Rydland's class (also known as my 9th grade French teacher), and a group of girls from the dance team teasing her through the door window, the day after they took home the state title for Kick. Her connection to the team was evident on her brightened face.
Fast forward to the present day – the team has one of the most successful athletic programs in their district over the past 20+ years, despite their relatively smaller size among the larger teams in their AAA division! Take one look at their Instagram account and their passion, purpose, and eye for design resonates throughout.
A lot of their success can be contributed to their consistent leadership. Head Coach Kris Rydland started the program in 1994, and was recently inducted into the Chaska High School Hall of Fame - a tremendous accolade to the program's continued accomplishments!
Assistant coach Tara Lindemeier, an alumna of the team, takes the lead with their costume design. Tara has consistently worked with the team over the years despite her demanding career as a fashion designer. Her couture bridal label ,Tara Latour, is a local design house with a national presence. Assistant coach Ali Morrisey rounds out the program.
One of the notable things about working with Kris and Tara is that they always have a clear vision and concept, which permeates every aspect of their routine: from inspiration to choreography, music, and costuming.
Tara gave us the scoop on their season so far and the story behind their custom dance costumes. Their Minnesota themed kick routine – complete with tributes to the Vikings and local attractions - is a fan favorite. Their "I Can't Keep Quiet" jazz routine is all about female empowerment, celebrating strong female leaders throughout history, and lifting each other up.
Check out more in the Q&A with Tara below!
Chaska Dance Team's Minnesota Theme High Kick Costumes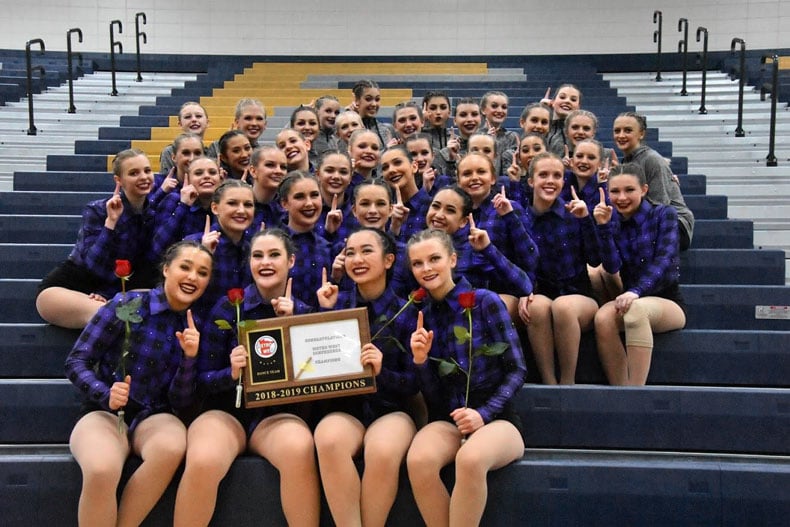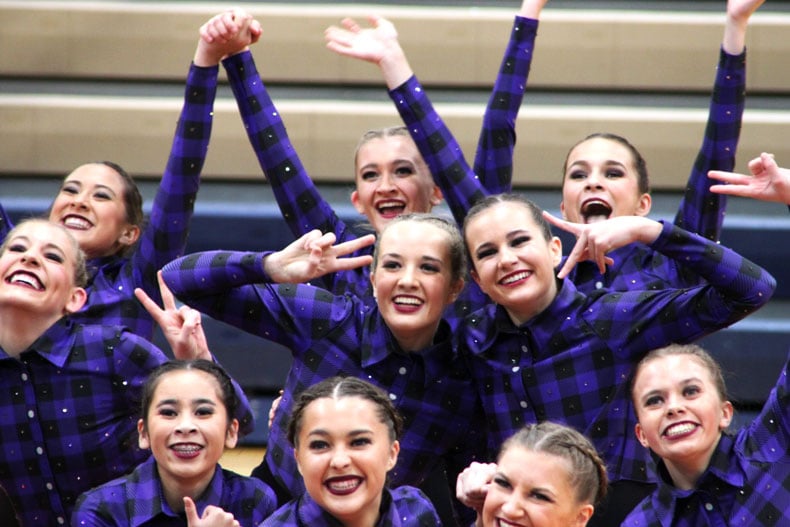 Q&A With Coach Tara
What was your inspiration/concept and how was it incorporated into your costume, choreography and music?
The concept of our jazz routine this year is something very special to us. We are dancing to a song called "I Can't Keep Quiet" by MLCK. The song is about the empowerment of women to speak up. In order to explore this, each of our dancers researched and took on the role of particular women from history that have changed our world into what it is today. We have all learned a lot through this process. It has been very powerful!!!
When we were creating costumes for jazz, we wanted to have something that was both a nod to the time of the suffrage movement combined with something modern. We were drawn to the blouse's women were wearing around the turn of the century. We incorporated that into the sleeve and the neckline, while keeping the cut of the leotard modern and clean. We also opted for no rhinestones, to keep the costume more in line with that ideology. We landed on the color pink because visually it is the ultimate reference to female.
For our kick concept, it all started out with the bold north, narrowing in on our Minnesota pride. We kept the concept really broad, and drew from all things Minnesota. It is heaps of fun, and there is something that all Minnesota can connect and relate to. Our song is a compilation that relates to MN, such as MN sports teams, Prince, the state fair, fishing, and cold winters, just to a name a few. We even do a little duck duck grey duck.
For our costuming, we wanted something that was going to give you a general Minnesota feel. We settled on a buffalo plaid shirt that The Line Up produced with black shorts, in our hometown color of purple.
What makes your team unique?
I believe there are a several things that makes our team unique. But one of the things that is unique about this program is its tenacity. We are one of the smallest schools in AAA, and are in, arguably, the toughest section in the state with teams that have the largest populations in the state. Most of the schools in our section are double or triple the size of our school. Having the numbers and talent to keep up with our competitors often feels like an impossible feat, but year after year, these girls have a fight and determination so fierce that it continues to be a successful program. In fact, we are the most successful high school athletic program in our district.
With all that said, we have a very special program. "There is something in the water at Chaska" is a common phrase that is said by the dancers, parents and coaches that have been part of this program. The pure connection these girls have to this team is truly incredible and that connection continues every year with every team. This is a place that the girls call home, where coaches and teammates alike are there for each other. Once a Hawk, Always a Hawk.
What does teamwork mean to you? How do you rally your team?
Teamwork, to us, is everything. Both on and off the floor. One of our key components for teamwork is trust. We work a lot on building that trust and focusing on friendship outside of the gym. These girls become best friends that they keep for years to come. That trust and friendship creates a place that they want to work for each other.
What is your favorite memory from this season so far?
So far this season we have had some really amazing moments, for both our routines.
At Brainerd's invite we had a real breakthrough moment for our jazz team. All things started coming together and we had a magical performance. Some other highlight jazz moments came when we got to spend time and dance alongside our alumni at Best of the Best, having a practice with Michelle Larkin to help prepare for sections, and going to see the movie "On the Basis of Sex" together.
In kick we also had so many wonderful moments. One of the best has to be after our first competition. Our school posted a clip of our dance where the Minneapolis Miracle is mentioned in our routine. The Minnesota Vikings ended up retweeting it and the video went viral. However, it is also awesome to see how many dads have been enjoying our dance. At every single meet, dance dads from other teams stop our dancers and tell them how much they love the routine. That connection to so many is really cool.
Hey @Vikings @stefondiggs check out our @ChaskaDanceTeam Kick routine "Minnesota", includes tribute to "Minneapolis Miracle"! #SoarHawks pic.twitter.com/yKu5vtGar1

— Chaska High School (@ChaskaHawks) November 21, 2018
What's your team's biggest challenge/opportunity/goals this season?
This season, we started out with some big challenges and goals. One of them was coming together as a team. Our team is very fresh and young, with over half of them new to our team. Learning to dance alike, alone, has been a challenge. But with a very fresh team, comes new opportunity to build a new ideology, and we are taking advantage of that.
Our other challenges, or goals rather, were set by our jazz team. They want the whole state to see the message they are making with their dance. They are using their voice through this dance. It has been amazing to watch these girls invest into ideas of empowering women and what that means to them. Their message is lifting each other up and celebrating the women of history that have changed the way we see the world.
An Uplifting & Empowering Jazz Dance Inspired by Women in History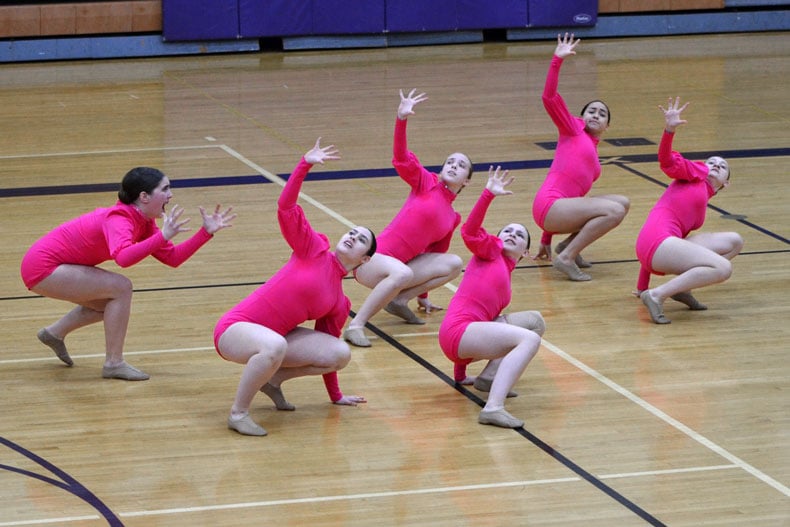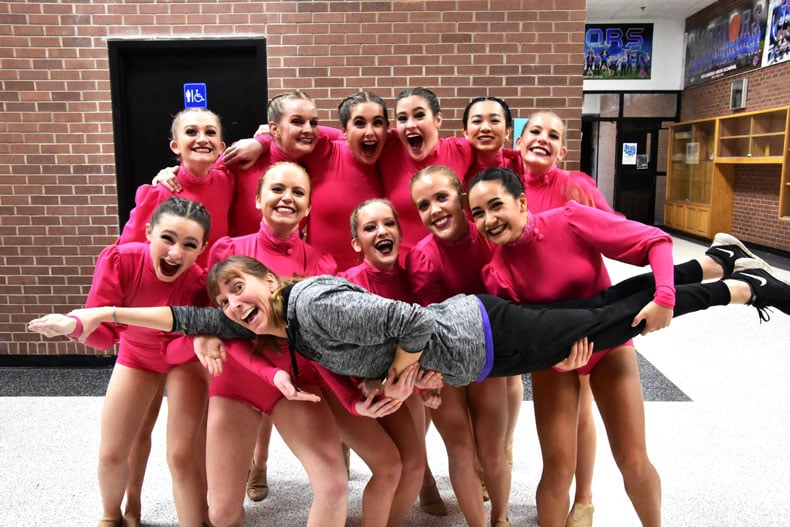 Head Coach Kris and the Jazz team
---