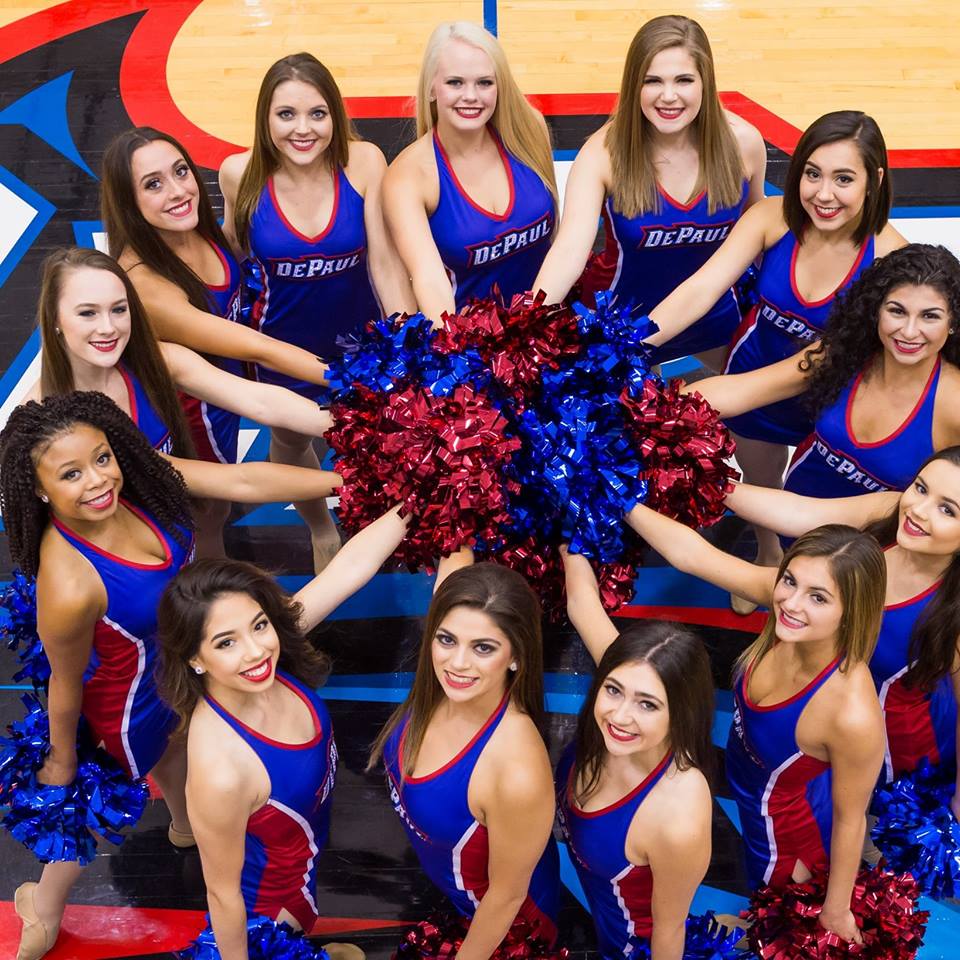 Team: DePaul University
Director/Head Coach: Shanon Lersch
Location: Chicago, IL
Style: Collegiate Dance Team
DePaul University Dance Team's Collegiate Game Day Uniforms
The DePaul University Dance Team are busy ladies - performing at all men's and women's home basketball games as well as many other university and community events. 2018 is also this team's third appearance at NDA College Nationals!
We're feeling pretty obsessed with this team's game day looks: the team sports the Carolina, but also added a new look to their wardrobe this season. We asked Coach Shanon Lersch about the inspiration behind the new look:
"DePaul Blue, Red, and White! We're always looking for new ways to feature our school's colors while maintaining a collegiate style. Incorporating sparkle while still showcasing Blue Demon Pride is something that allows us to perform in a uniform that demonstrates our unique take on the traditional DePaul colors."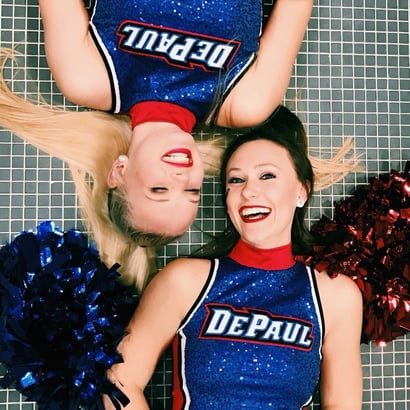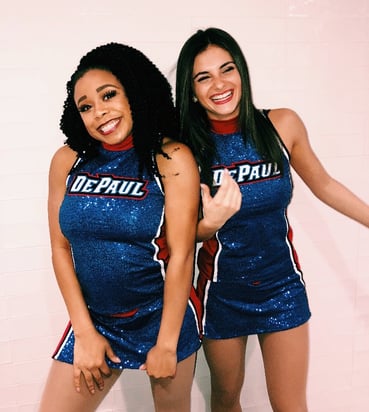 For their new look, the team customized a basic mock neck tank and cheer skirt by adding stripes down the sides and the De Paul logo. We love the way they glammed up this tank and skirt combo by adding sparkly sequin fabric. It coordinates perfectly with their existing wardrobe to create a cohesive collegiate look, showing off their Blue Demon pride!
Check out a video of one of their game day performances and more Q & A with Coach Shanon below!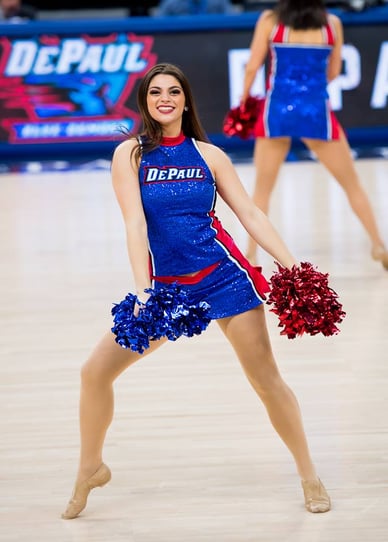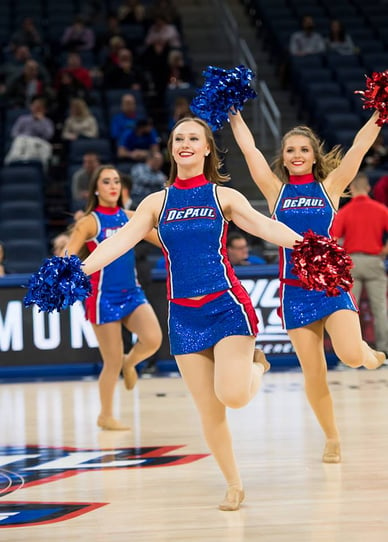 What is your team's favorite song to perform?
We love performing to the Hey Song on game day. Our team performs a combined routine with our Cheer squad, and we all work together to get the crowd on their feet and cheering on our basketball teams. We perform this at every game, and it's become an important game day tradition for us.
What makes your team/group unique?
Our team has a unique history. We started as a club sport that has worked our way into the Athletics Program at DePaul. We take great pride in the accomplishments of our program throughout the years. Starting as a small student-run organization, we've now evolved into a university-funded program, and we are excited about what the future holds for us still.
What is your favorite fan memory, or what are you most excited for this season?
We are excited to host the Women's Basketball Big East Conference at our beautiful, new home arena - the Wintrust Arena - this year. We can't wait to host teams from our conference. It's always fun to see other dance teams, especially on our home court, and we look forward to showcasing our new uniforms at the tournament. We're also very excited to travel to Daytona Beach, Florida in April for our third appearance at NDA Nationals
What was your team's biggest challenge/opportunity this season?
This year our team consisted of mostly new members, which meant learning all of our game day material from scratch. It was a lot of hard work in the beginning, but now our team has everything down and is even adding new material into the rotation. Our team has grown very close through the process!
---