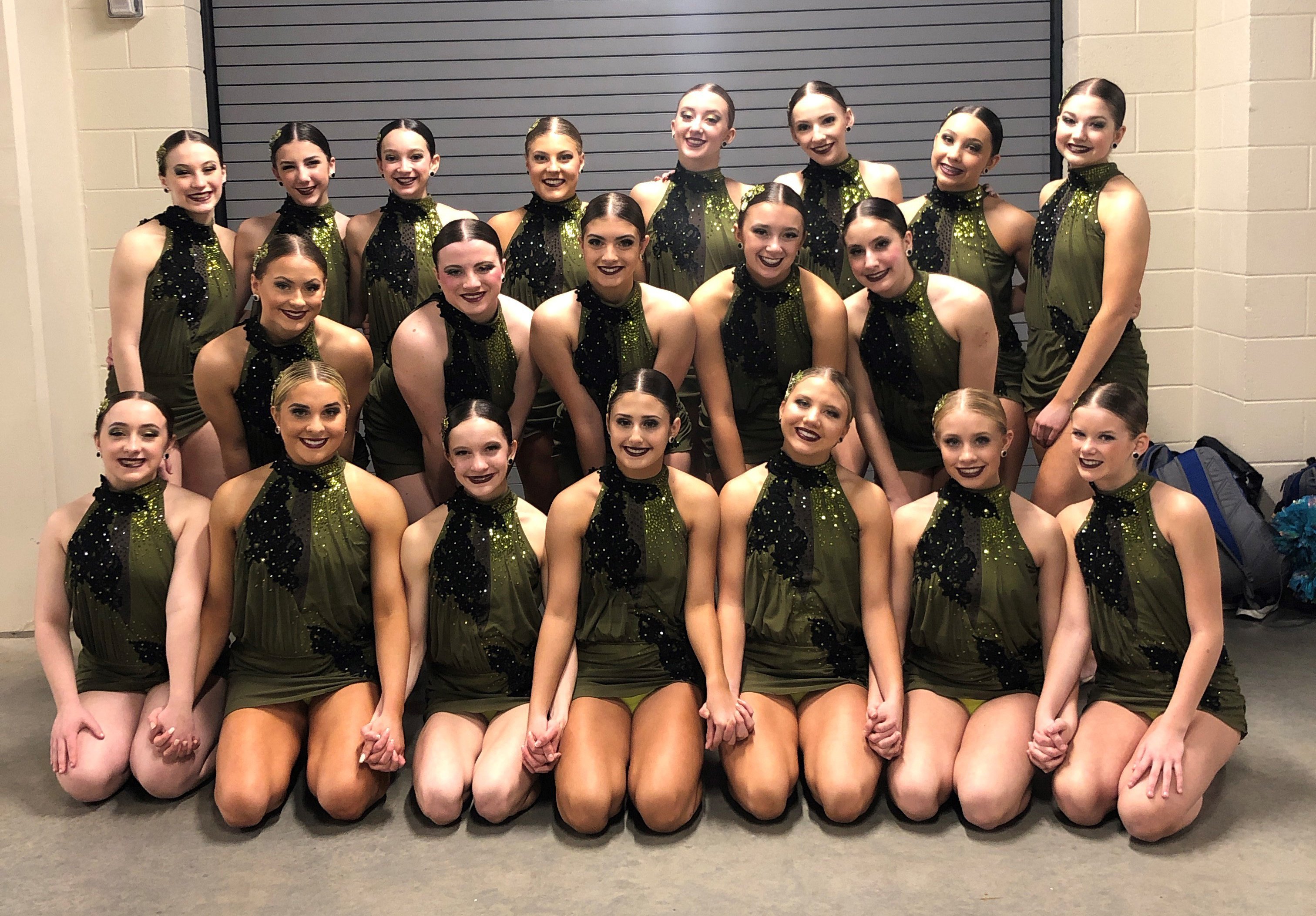 Team: Eisenhower JV Dance Team
Coach: Kristie Schmid
Location: Shelby Township, MI
Style: High School JV Dance Team
Eisenhower JV Dance Team Performs to "Ain't No Sunshine"
The Eisenhower Junior Varsity Dance Team's theme this year was "No Limits", which is fitting for a team pushing the envelope for JV. It's not every day you see a JV competing nationally, but Eisenhower did just that! From competing locally in their home state of Michigan, to regionally in Chicago, and finally at a national level at UDA, the team had quite a determined year!
"The girls really lived up to [the theme] this season," said Coach Kristie Schmid. "Their performances at UDA Nationals were nothing short of amazing and technically the most difficult that I have ever seen in the 9 years I have coached the JV category."
For their jazz routine Eisenhower danced to "Ain't No Sunshine" by J2 and drew inspiration for their costumes in the meaning of their song. Dark olive and black colors represented "the feeling of loneliness when the one you love is gone," and a pop of yellow represented the sunshine.
"Kristie came in with a specific idea, which helped the design process go quickly," said Megan, their Account Manager at The Line Up. The end result was a dramatic and feminine custom dress. We loved the draping details on the bodice and skirt, paired with an open and strappy back - very on trend! The added appliques and rhinestones took the costume to the next level. The team even won an award for Best Costume at a UDA Regional competition!
See more of the Eisenhower JV Dance Team and their Q&A below!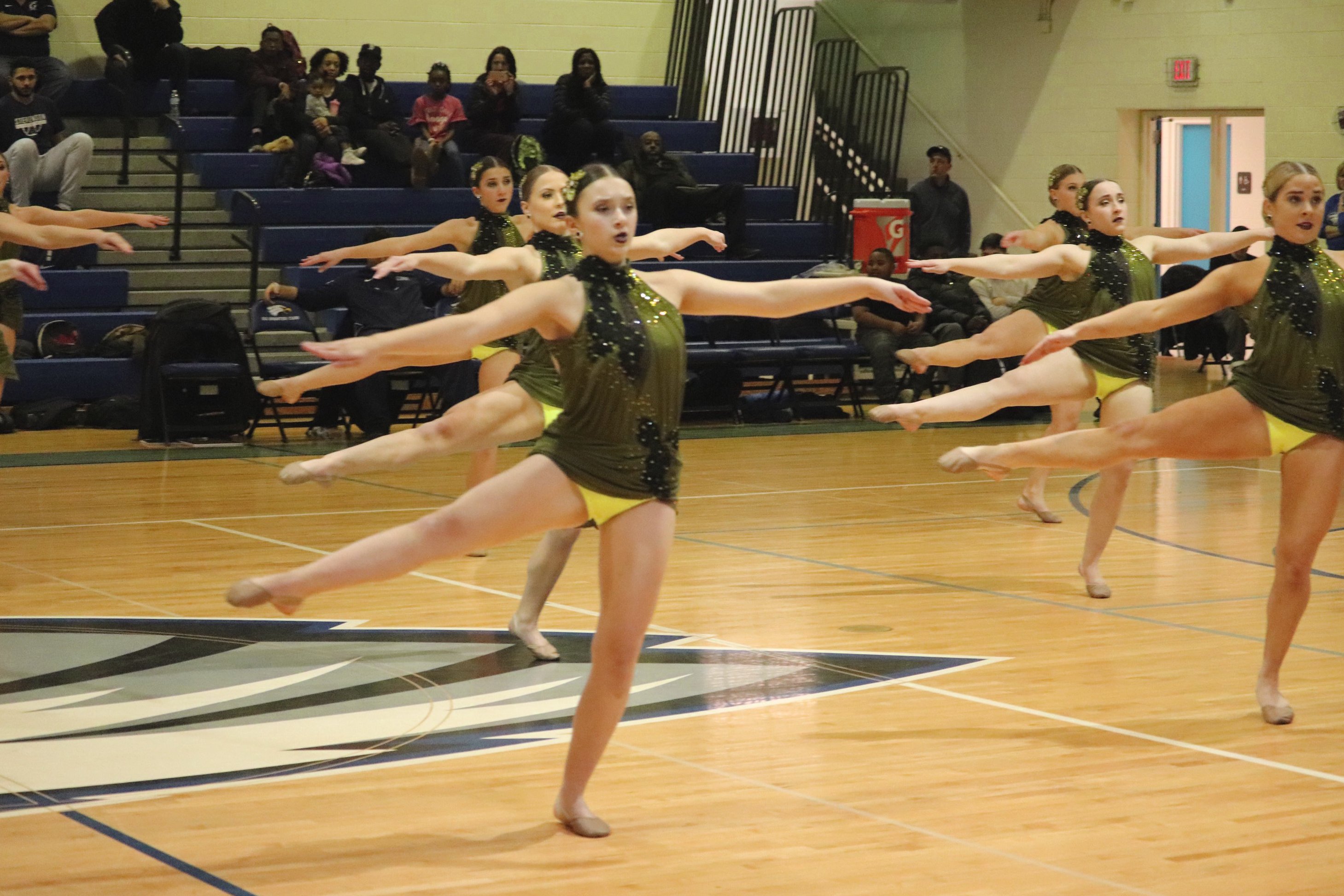 Eisenhower JV's Custom Ombre Pom Leggings
Q&A with Eisenhower JV Dance Team
What makes your team unique?
What makes our team unique is their willingness to try new skills, tricks and technique this year. This team really pushes the envelope in terms of the Junior Varsity category. Our theme was No Limits and the girls really lived up to that this season. Their performances at UDA Nationals were nothing short of amazing and technically the most difficult that I have ever seen in the 9 years I have coached the JV category. Something else that made this team unique was their ability to inspire their coach. The girls would come up with ideas and we would find some way to incorporate them into our routines to really wow the audience.


What does teamwork mean to you? How do you rally your team?
Teamwork means encouraging your fellow teammates first and foremost. We are all in this together, and you are only as strong as your weakest link. We didn't have a weak link this year because the determination of this team just would not allow it. We had girls who were brand new to the entire dance team program who ended up looking like they have been here for years. The girls were always working with each other and sending videos to each other and Coach to help themselves get better. With a team of 21 girls, it is not easy to always give each person the attention they need while at practice, so this helped out when it came to individual corrections and overall improvement.
We usually rally the team with words of encouragement, coming up with new crazy ideas and pushing them to their limits. Most of all we rally them by showing them how much they improve throughout the season. I record them while doing their routines then have them watch it to give themselves and the team corrections. This keeps everyone accountable and motivated and a way for the girls to rally their teammates themselves!
What was your inspiration/concept and how was it incorporated into your costume, choreography, and music?
Our inspiration for our costume this year was our song itself, "Ain't No Sunshine" by J2. Coach has always loved the color neon yellow and to have that little pop of it incorporated into our costume to represent the sun was pretty cool. The dark green and black represented that when there isn't sunshine, the world is dark and lonely when the person you love is gone. The Line Up helped create this vision so seamlessly, and the costume really did make the song come to life. We won best costume at a UDA Regional with it!
With pom, we wanted to step outside the box on a traditional pom top and skirt. Coach always loved how pants look and decided to take it one step further and add a blue ombre on the sides. At our first competition, some of the feedback we got was odd, but then as more people saw how we looked on stage it became a favorite of a lot of the parents, family and friends by the end of the season! Don't be afraid to be different!


What is your favorite memory from this season? What are you most excited for this upcoming season?
This year we traveled to Chicago for a competition that was out of our home state of Michigan to compete against different teams to prepare for Nationals. While we were there we managed to fit ALMOST the entire team of 20 girls into the elevator at the hotel! There was one girl who stayed off and went to the next floor to make sure we made it safely, but that was definitely a team favorite for funniest memories!
Next year we are so motivated to get going again and pick out a new team at tryouts and share ideas for next season with them. We end our season right after UDA Nationals at the beginning of February and have tryouts for the next season in May. That time off is refreshing but mostly makes me eager to get started again as a coach. I love getting to know new members and watching my vets grow and move on to the Varsity team and to bigger things after the dance team!


What's your team's biggest challenge/opportunity this season?
Our biggest opportunity this season is to top our performances at Nationals and be better than we were this past season. These girls were so special and extremely talented. I am sad that I will not have the same team, but I challenge myself to become a better coach and mentor every year for them.

---