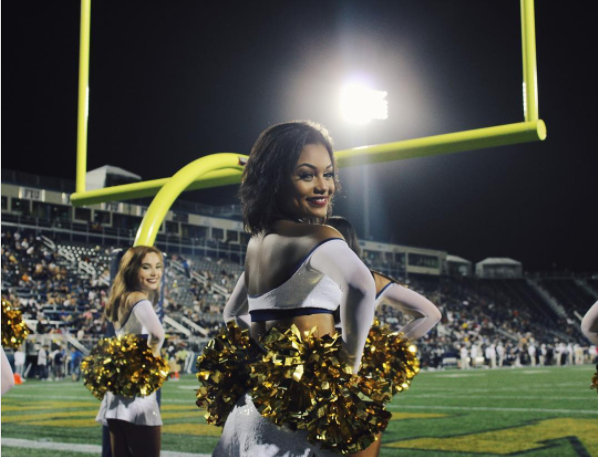 Team:
Florida International University Dazzlers
Coaches

:
David Nunez and Roxy Saud-Nunez

Location:
Miami, Florida
Style:
Collegiate Dance Team
The FIU Dazzlers - A Dance Team Full of Spirit
The Florida International University (FIU) Spirit Squad got their season off to a strong start at NDA/NCA College Camp this summer! The Dazzlers, the spirit squad's dance team, was voted "Most Improved," and both the cheer and the dance team were voted " Most Spirited" at camp!
The FIU Dazzlers, of course, dazzled in their new cheer uniforms, which were updated to reflect changes within their organization. "For this year's uniform we wanted something new and fresh for the field, something that would pop and stand out to the crowd," assistant coach Roxy explained. "We revamped the Dazzler look to go along with the spirit of the new coach and football team!"
We certainly think the team looks fresh in their new cheer uniforms - with crisp, white cold shoulder tops for game day, and sporty crop tops perfectly paired with harem pants for the Pro Action Dance convention!
The dance team brought home plenty of fresh routines from NDA Camp and ProAction Dance too. They have 21 routines this year, and we can't wait to catch them in action on game day!
Check out more Q & A with the FIU Dazzlers below!
FIU Dazzlers Dance team in their 427-13 tops at NDA College Camp
FIU Dazzlers Dance team on Game Day!
Dazzlers in the 419-133 dance top at Pro Action Dance
FIU Spirit Program Presents NCA/NDA College Camp 2017
TLU Spotlight Q&A:
How many routines do you have for the season?
So far we have about 21 routines lined up for the season! We had the privilege of attending Pro Action Dance in Las Vegas and NDA College Camp in South Carolina and we were able to learn some great material from the choreographers, so we're excited to bring the routines to our home field and perform for the Panther fans.

What is your team's favorite song to perform?
One of the team's favorite songs to perform will be Humble by Kendrick Lamar! Its one of the routines we learned at Pro Action Dance in Las Vegas, and when we taught it to the team they were ecstatic to find out they would perform one of today's top hits! We can't wait to perform it on the field this upcoming football and basketball season, so be on the lookout for that routine!
What makes your team/group unique?
What makes our team unique is definitely our style and personality. Our team is diverse and each girl brings her own style to the table, which helps us create our own personality! Since we all come from different backgrounds, we all bring our Miami flavor to everything we do: in our dancing, our uniforms, and even in our school spirit!
What is your favorite fan memory?
Our favorite fan memory was last season when Ryan Magee, senior writer from ESPN, wrote that we had college football's best dance team! Our team was so excited when we heard the he had written about our team on the ESPN website, and we were so humbled to receive that recognition. We hope to carry that through this season with our new routines and look!

What was your team's biggest challenge/opportunity this season?
We are so excited to finally be competing at NDA nationals in Daytona! It's been 10 years since our dance team has attended this competition, and this year at camp we received a Gold Bid which gives our team amazing benefits for nationals! We can not wait to start this legacy at FIU for our dance team!


---