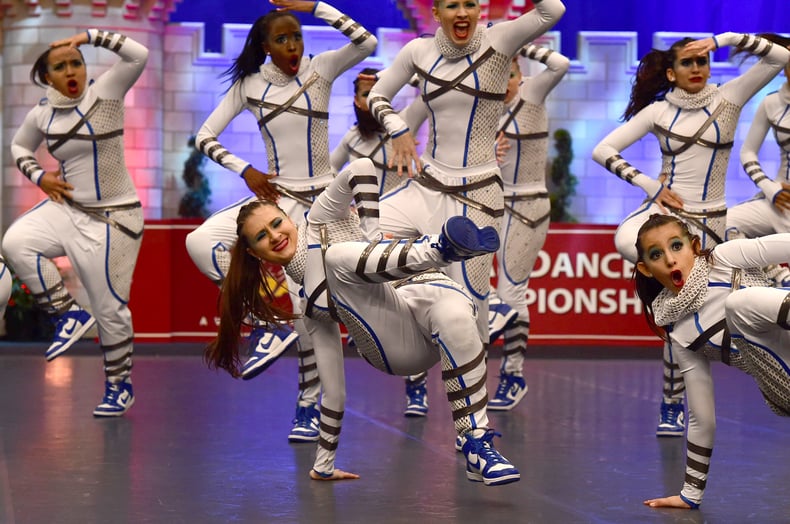 Team: Academy of Holy Angels Dance Team
Director/Head Coach: Jenny Sweet
Location: Demarest, New Jersey
Style: High School Dance Team - Hip Hop
3 Time National Hip Hop Champs - Holy Angels Dance Team!
The Academy of Holy Angels Dance Team took home first place in Small Varsity Hip Hop at the UDA National Dance Team Championships this past February - for their THIRD YEAR IN A ROW! Their unique routine dazzled everyone - take a look at their performance below!
A Unique Custom Dance Costume for Hip Hop
We sat down with coach Jenny Sweet to get the inside scoop on the Holy Angels Dance Team's unique hip hop routine and costume.
"We are always looking to keep it fresh, new and unexpected when it comes to costuming," coach Jenny said. Their final look - a refined, futuristic white hip hop costume - was definitely an unexpected look for hip hop!
Taking a step back from the mostly black, street wear inspired hip hop looks most commonly seen at competition, Holy Angles instead chose white as the primary color for their custom dance costume. "We make bold choices and this year in particular, looked to change things up using all white as the dominate color," Jenny said. Their all white costume incorporated strong lines, hints of blue, and accents of textured mesh. It was a bold look they pulled off beautifully!
"The design was important to them and there was a lot of detail to get right," explained Emily, the costume designer. The trickiest part? Getting that perfect drape to the collar! "It took a few times to get it right, but in the end it turned out exactly like the sketch," Emily said.
Not only was the costume bold, but it also provided a lot of versatility for their strong choreography. "The costume is body conscious, clean, powerful and allows for versatility as we transition from dance style to dance style within the 2 minute routine," Jenny told us.
Check out their costume design, more photos, plus Q & A below!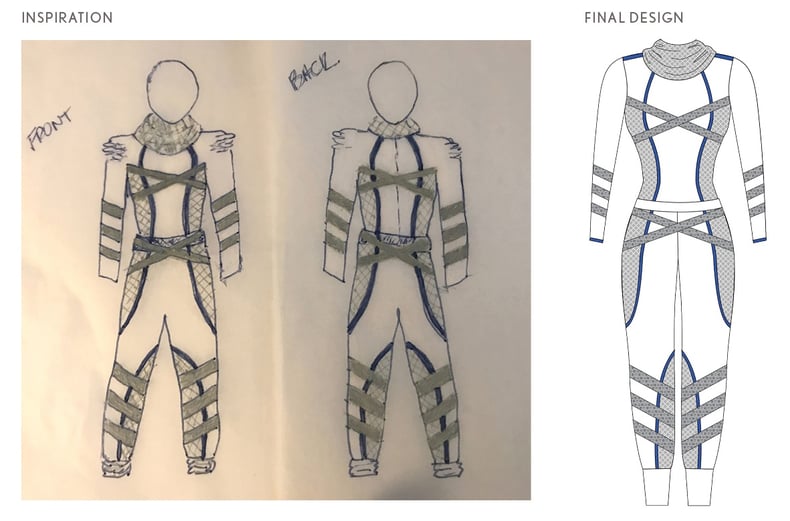 Initial sketch from the team (left) and the final design illustration (right)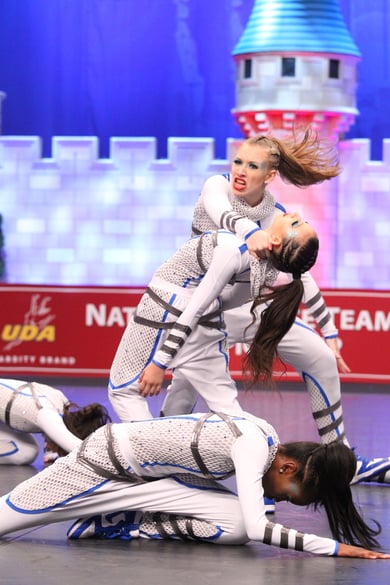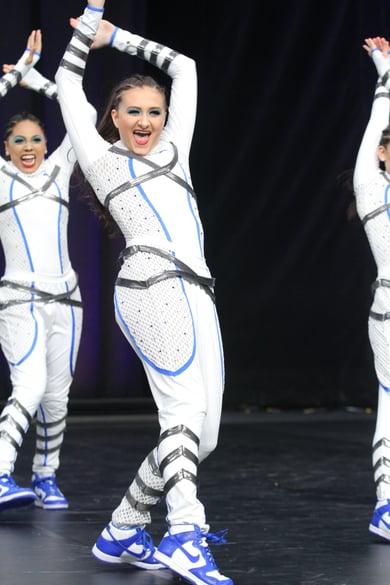 What was your competition music?
We perform to a variety of songs in our Hip Hop mix that compliment the different styles of hip hop in our routine. We loved performing the Good Vibrations section of our routine because we incorporated some old school moves with breaking to highlight the musical accents. That section not only challenged our stamina and endurance, but also our musicality. We like to take our audience on a 2 minute journey and pride ourselves on performing vocabulary that is authentically hip hop. For us, it is way bigger than just a competition routine; we want our audience to be entertained and get lost in the experience.
What makes your team/group unique?
We take risks. When we started, we really wanted to honor hip hop styles, the choreography, and dancing. We've developed a style that reflects who we are, what we do, and what we love.
What is your favorite fan memory, or what are you most excited for this season?
Choreography week is always a fun and memorable time for us. We are always excited to see how the routine will develop and look forward to our choreographers challenging us to be more dynamic than the previous year. It's a long week for us filled with lots of hard work, tons of laughs, and memorable team bonding moments.
What was your team's biggest challenge/opportunity this season?
Being national champions has opened the door for so many other performance opportunities. We have showcased our routine on some of the biggest performance stages in the world: at Madison Square Garden and Barclays for both Knicks and Nets Basketball Games. The dancers received national exposure on American Idol and got to meet Ryan Seacrest.
---