Team: Saskatchewan Roughriders
Team Coach: Vanessa Borges
Location: Regina, Saskatchewan
Style: CFL Professional Cheer
Saskatchewan Roughriders'
Multi-Talented Cheer Team
The Saskatchewan Roughriders Cheer Team is a multi-talented group of dancers, cheerleaders, gymnasts, and even a baton twirler! As a member of the Canadian Football League (CFL), the team is currently gearing up for the Grey Cup in November.
At the Grey Cup Festival, they'll attend and perform at the "Cheer Extravaganza" showcase. Fun fact: this showcase was created by Dianne Greenough, who is the former coach of Vanessa Borges, the current coach of the Saskatchewan Roughriders Cheer Team!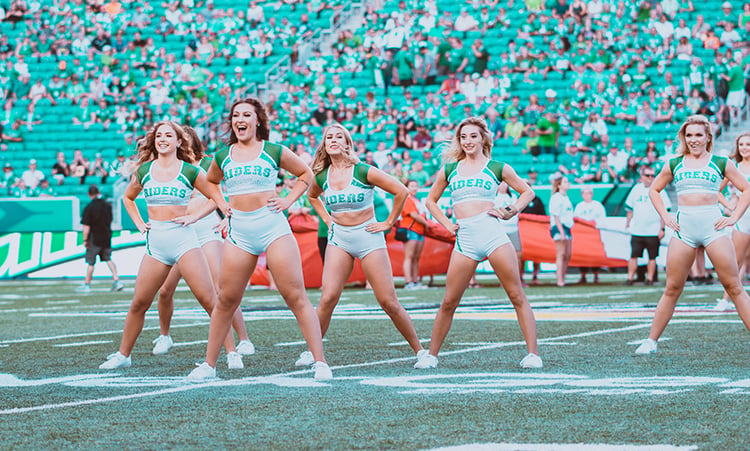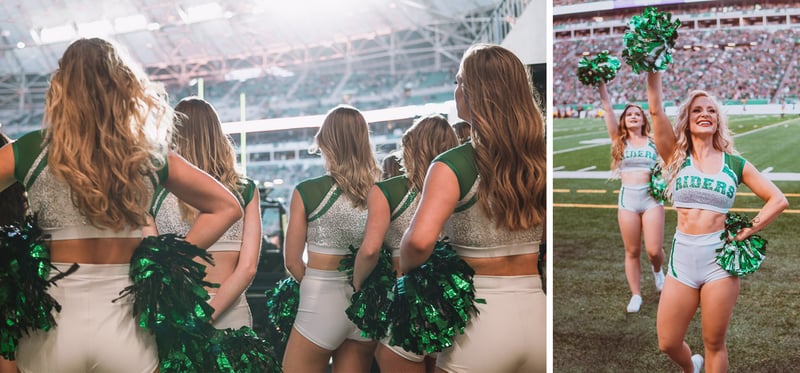 Roughriders fans are known to be ride or die! "This makes dancing at Roughrider games absolutely electric," said Vanessa. "You know that each and every fan in the stadium truly cares about the team, and by extension the Cheer Team."
To make sure the cheer team stood out from the fans who primarily wear green and on the green field, they chose sparkly all-white custom uniforms with pops of the team's signature green for their latest look.
A lot of thought went into picking out their custom cheer uniforms. "In addition to the variety of skill sets, we also have girls of all body types on our team, which I think is very important. It sends a message that beauty comes in all shapes and sizes, and gives younger girls role models that look like them!" exclaimed Vanessa. With this approach in mind, the team landed on a stunning sporty yet sparkly top and high waisted short.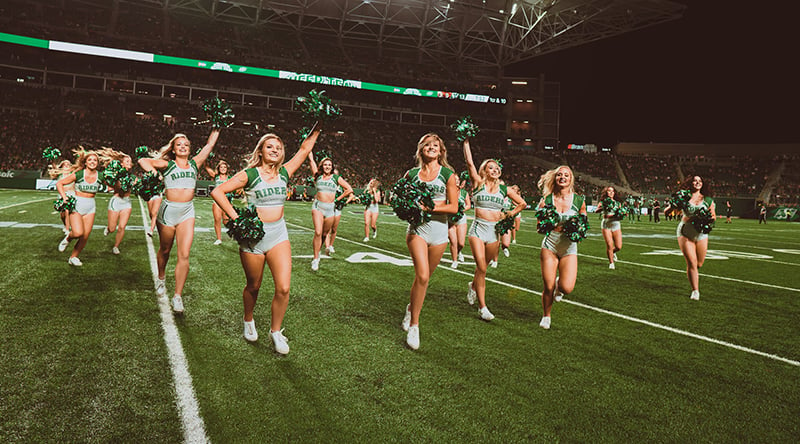 The team also has two other looks to round out their wardrobe, all online styles customized for their team! One is their sparkly game day dress. Starting with the Kamden Dress, they swapped in a white zsa zsa fabric for the body, opened up the neckline and back by removing the mesh and added custom lettering.
Finally, their crop top and legging combo started with the 450-174 Pro top and 575-14 Moto legging. These were customized by adding logos and their team colors.
These easy swaps and addition on multiple pieces allowed the team to create a cohesive and on-brand wardrobe!
See more of the Saskatchewan Roughriders Cheer Team and their Q&A, below.
Q&A with Saskatchewan Roughriders Cheer Team
What makes your team unique?
Our team is unique because of where we're located, and our fan base. We dance for a Canadian Football League Team called the Saskatchewan Roughriders and are located in a city called Regina, in the province of Saskatchewan. Our city has a population of about 230,000 people, and the Roughriders are the only professional sports organization in town. This has created a fan base that absolutely lives and dies for our team. Similar to how some consider the Cowboys "America's Team", the Saskatchewan Roughriders are considered "Canada's Team" because of our fans. No matter where you are in Canada, you are bound to find a Roughrider fan repping the province of Saskatchewan and sporting their Green! This makes dancing at Roughrider games absolutely electric. You know that each and every fan in the stadium truly cares about the team, and by extension the Cheer Team.
Another aspect that makes our team unique is our varying skill sets. We have many high level dancers, as well as gymnasts, cheerleaders and even a world class baton twirler. When we hosted open auditions, we were asking for highly skilled dancers. However, when girls with these varying skill sets showed up, I was mesmerized by their abilities and decided to utilize them in addition to our incredible dancers.
What does teamwork mean to you? How do you rally your team?
Teamwork to me is being surrounded by a group of people that pull the best out of each other. I rally my team by setting high but clear expectations, and encouraging them to rely on each other to meet these expectations. It's truly amazing what you can come up with when you work as a team.
I am always learning, and find that I learn so much more from the girls on my team than I think they will ever learn from me. Because of this belief, I decided to give every dancer the opportunity to submit choreography to be considered for performance at a game. I was given this opportunity as a younger dancer, and was always so grateful for the chance. It made me realize how much I loved choreographing, and led me to pursue the position I am in now.
I also am always so pleasantly surprised at the amazing routines that my team members come up with! It also helps to build camaraderie among the team when they can learn from one another!
What was your inspiration/concept and how was it incorporated into your costume, choreography, and music?
I draw my inspiration from the athletes I have on my team. We have girls from a wide variety of performance backgrounds; dance, cheer, gymnastics and even baton twirling! It's challenging to create routines that compliment all of these skills, but it has been a super fun challenge! This has made our team's style very diverse. My goal with every routine is to surprise our audience, and make them wonder what we'll do next!
In addition to the variety of skill sets, we also have girls of all body types on our team, which I think is very important. It sends a message that beauty comes in all shapes and sizes, and gives younger girls role models that look like them! I kept that in mind when selecting our team's uniforms, and strive to find styles that complimented all of our girls.
When choosing our uniforms, I knew I wanted sparkle, and white! Our team's colors are green and white, and our fans all wear primarily green. So I went with white uniforms with green accents to make sure that our team really stood out among the fans, and the green field that we dance on. I had to have some sparkle as well, because I love the way it shines in the sun during the day, and under the stadium lights at night. The Line Up's Zsa Zsa fabric is just perfect for that! I also love the look of an open back, and The Line Up staff were so awesome with modifying one of their existing dress styles to make it open back and I absolutely love how it turned out!
What are you most excited for this upcoming season?
I am most looking forward to taking our team to the Grey Cup Festival in November! The Grey Cup is the 'Superbowl' of the Canadian Football league, and all 9 of the League's cheer teams make a trip to the host city every year. It is a four day long festival full of events, all culminating with the Championship game on Sunday. A unique and amazing thing about the Canadian Football League is an event at the Grey Cup Festival called 'Cheer Extravaganza'. Created by my former coach, Dianne Greenough, this is an event where all CFL Cheer Teams come together and perform a set that showcases their team's best skills and style. It is an amazing way to build community amongst all of the league's cheer teams and to support each others various strengths!
What's your team's biggest challenge/opportunity this season?
Our team went through a complete overhaul this season. Previously, the team was primarily an all-star cheer style stunt team. Our football club brought in a new Director of Game Entertainment, and he decided to switch the team to have more of a dance focus. I was hired to come in and make this transition happen. Because of the switch in styles, three quarters of the team are rookies who have never cheered at a football game before! They have all been so awesome and worked extremely hard to transition their studio and stage training to perform with the precision and power that is required of a professional team that performs in a 33 thousand seat football stadium.
It was also my first year as the head coach of a team of this level, and I have been learning so much about which routines and music are most effective for our audience! Additionally, creating and implementing a culture of hard work and striving for excellence has been something I prioritized. I moved about 7 hours from home to take this coaching position, and told myself that I would only do that if I was confident I could create an excellent, world class dance team. These high expectations have been challenging for myself, and the members of my team have felt this pressure. Being on this team definitely has not been easy, but the improvement I have seen from each of my girls has been truly spectacular. This is only year one for me and I am already so proud of my team. I can't wait to see how much we can improve in the seasons to come!
---