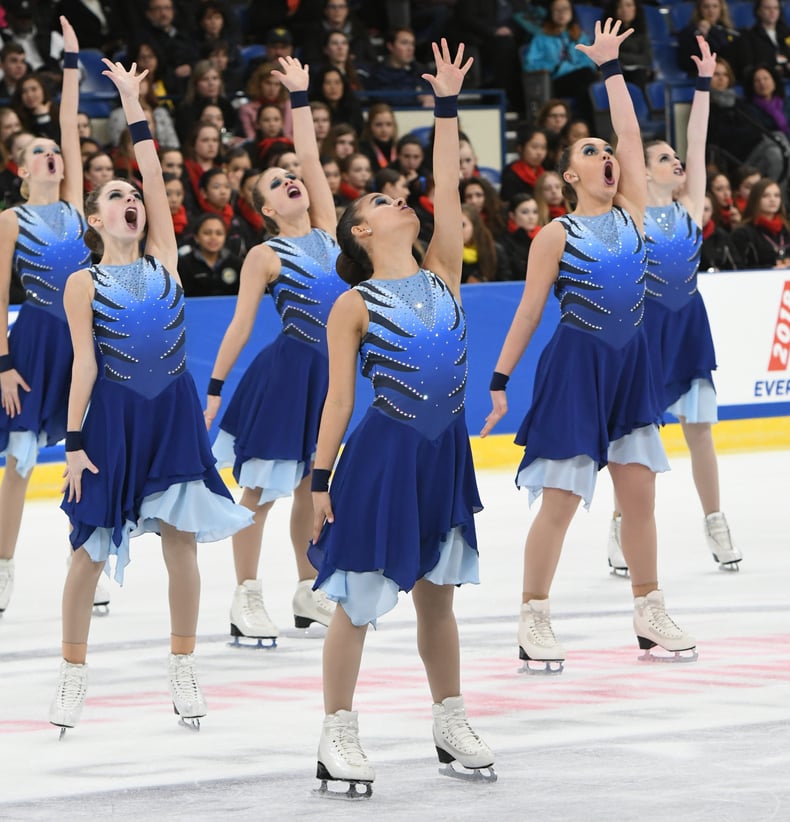 Team: Team Delaware - Junior
Coach: Megan O'Donnell
Location: Newark, Delaware
Style: Synchronized Skating Team
Team Delaware Junior Team's Avatar Themed Custom Skating Dresses
Team Delaware's Junior Synchronized SkatingTeam just wrapped up a wonderful season, finishing 7th at the 2018 Synchronized Skating Championship this past February. We couldn't be more proud to have outfitted them with their #LineUpLook. We sat down with the team's account manager Lindsey and designer Michelle at The Line Up to get the inside scoop on their Pandora, The World of Avatar themed synchronized skating dresses!
Team Delaware has been creating unique synchronized skating dresses with The Line Up for 8 years, and one thing Coach Megan O'Donnell does that makes the design process ideal is always starting early with a clear concept in mind! Starting early allows for more time for their dress design to evolve so their final look perfectly fits their concept. "Team Delaware has a clear vision of their theme for the season very early, and any ideas or changes along the way just evolve the costume into something even more spectacular than what we started with," Lindsey explained.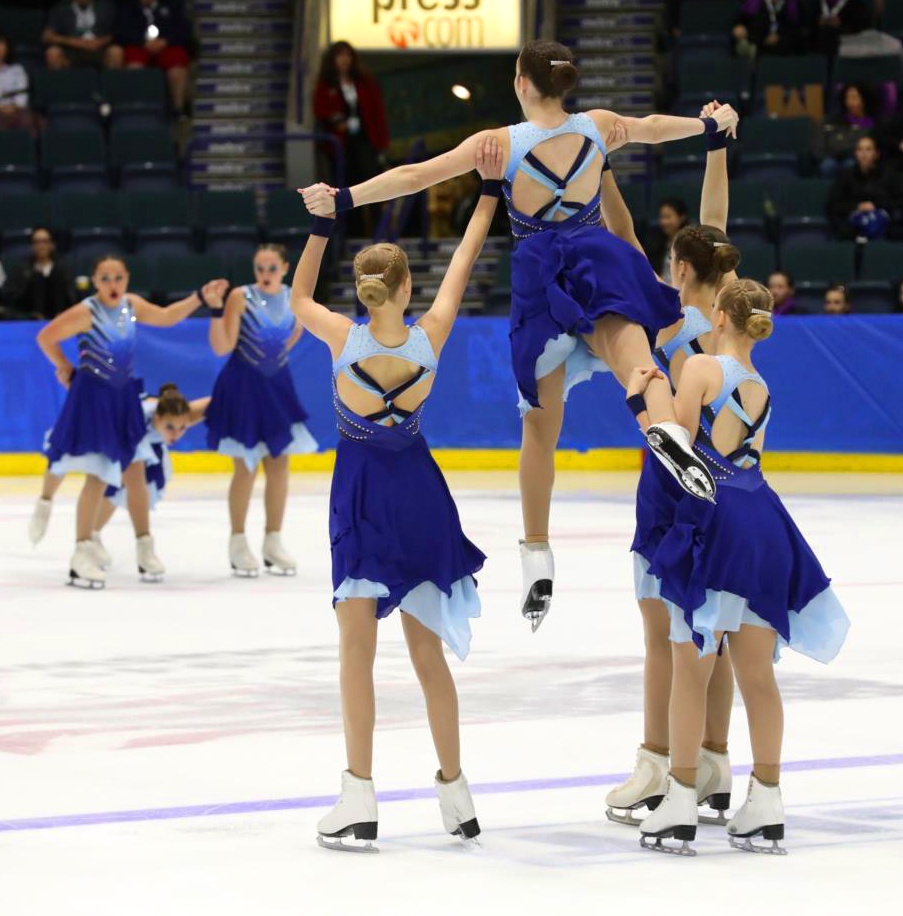 To achieve this year's Avatar themed dress for the Free Skate routine, coach Megan sent inspiration sketches and photos from the movie Avatar. The team actually created more than one design to get their final look, tweaking a few details from their initial concept to the second prototype.
One of the most important design elements was the bodice: a custom blue pattern and ombre was created to reference the unique skin tones of the Avatar movie characters. The colors and patterns of the bodice evolved from the first prototype to the final design. "Over time, we added more tiger lines to make the costume pop and have more of that Avatar theme," Lindsey said. The rhinestone placement and colors were also carefully designed to further pull the theme together.
In order to get the illusion of more speed and movement on the ice, the team modified the original skirt design from mesh to a more elegant silk georgette fabric. This delicate and light fabric allowed the skirt to flow better on the ice during those lifts and twizzles!
The team also made a bold design choice with their wide, open back. "The back twists on this dress are a really unique design element that we love," designed Michelle said. "It's a great way to incorporate both shades of blue on this dress on the back of the costume."
Check out the process below and see how the design evolved to truly become an Avatar themed dress!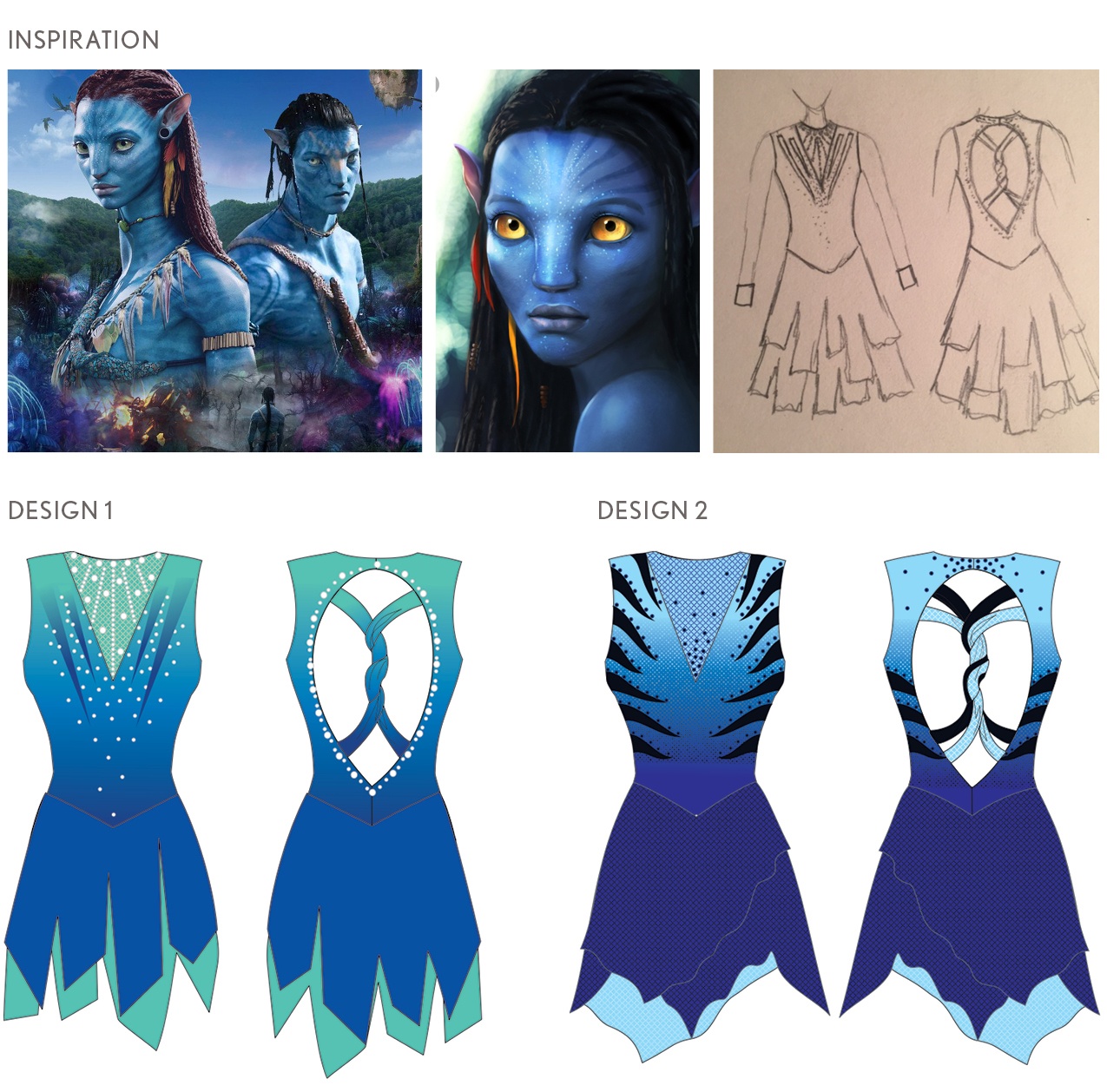 Inspiration photos and sketches (top), the team's initial design (bottom left), and the team's final design (bottom right).
Avatar image (top left)
via
DeeperBlue.com