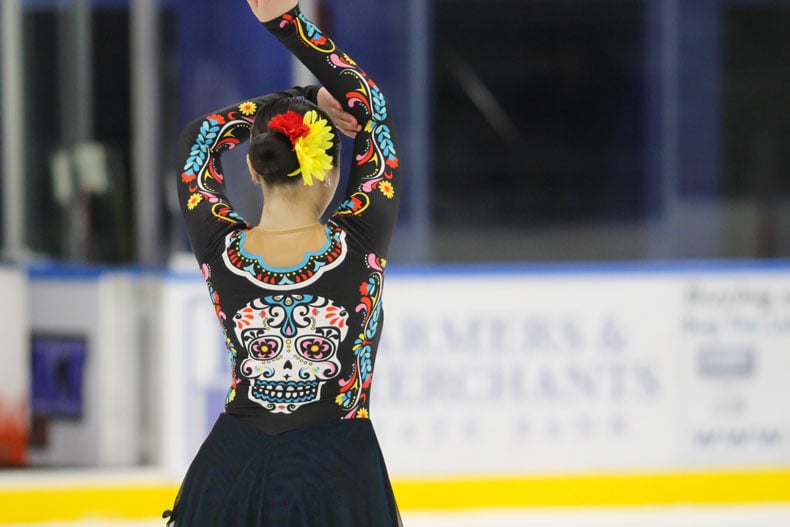 Team:

Trine University Varsity Synchronized Skating Team




Head Coach

: Rachel Franchock
Location: Angola, Indiana
Style:

Synchronized Skating
Trine University Varsity Synchronized Skating Team's Día de los Muertos Inspired Dress!
Trine University Synchronized Skating Team recently sent us some amazing photos from one of their first performances this season, and we couldn't resist featuring them in honor of the Mexican holiday, Día de Los Muertos (Day of the Dead)!
This collegiate level synchronized skating team is lucky enough to be one of the first three teams in the nation to be recognized and fully funded as a varsity sport by their university! What an amazing support and investment, especially for a small private university out of Angola, Indiana. We hope this speaks to the future of the sport!
We got a chance to speak to the head coach, Rachel Franchock, about the inspiration behind their Día de Los Muertos routine:
"I knew I wanted to choreograph a very fun and upbeat program this season – something that would be super fun to perform at hockey games so I was originally thinking just a typical Latin themed program but then I decided I wanted to make something more creative to help us stand out at competition and one day it just dawned on me that I had never seen a Día de Los Muertos themed program before so I knew that was what we had to skate to this year. So, I started searching for music and found a couple of traditional mariachi band pieces and mixed that with a popular song by Cardi B to make it appeal to our skaters and crowd a little more but still portray the traditional Día de Los Muertos vibe we were going for. Our incredible dress was the last piece to finish our theme this year and we could not be more in love with them. It is such a fun design and really looks great on the ice. It just gives us that extra bit of confidence to put on a great show for our audience."
Rachel started the design process by finding inspiration photos that fit the theme, and sketching out her ideas (shown below).
The Day of the Dead look came together with a few key design elements: a scalloped neckline, a layered skirt with a side slit, and bold graphics! A sugar skull and colorful flowers, symbols of the holiday, were printed onto fabric of the bodice using a technique called dye sublimation. What a dynamic, one-of-a-kind look!
Check out the rest of the interview with Rachel and photos from their first performance below!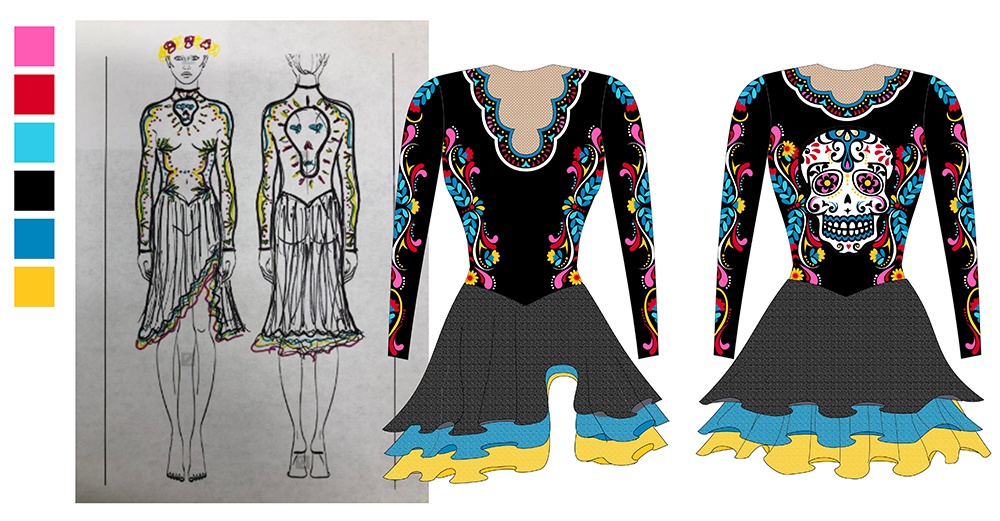 Rachel's initial sketch (left), and the final design illustration (right)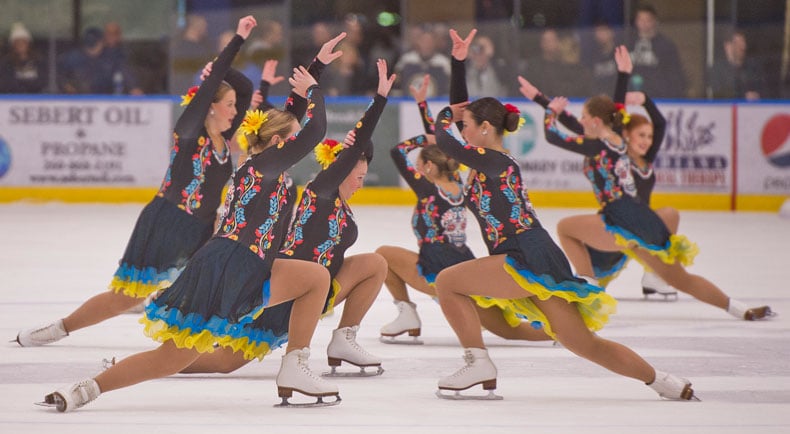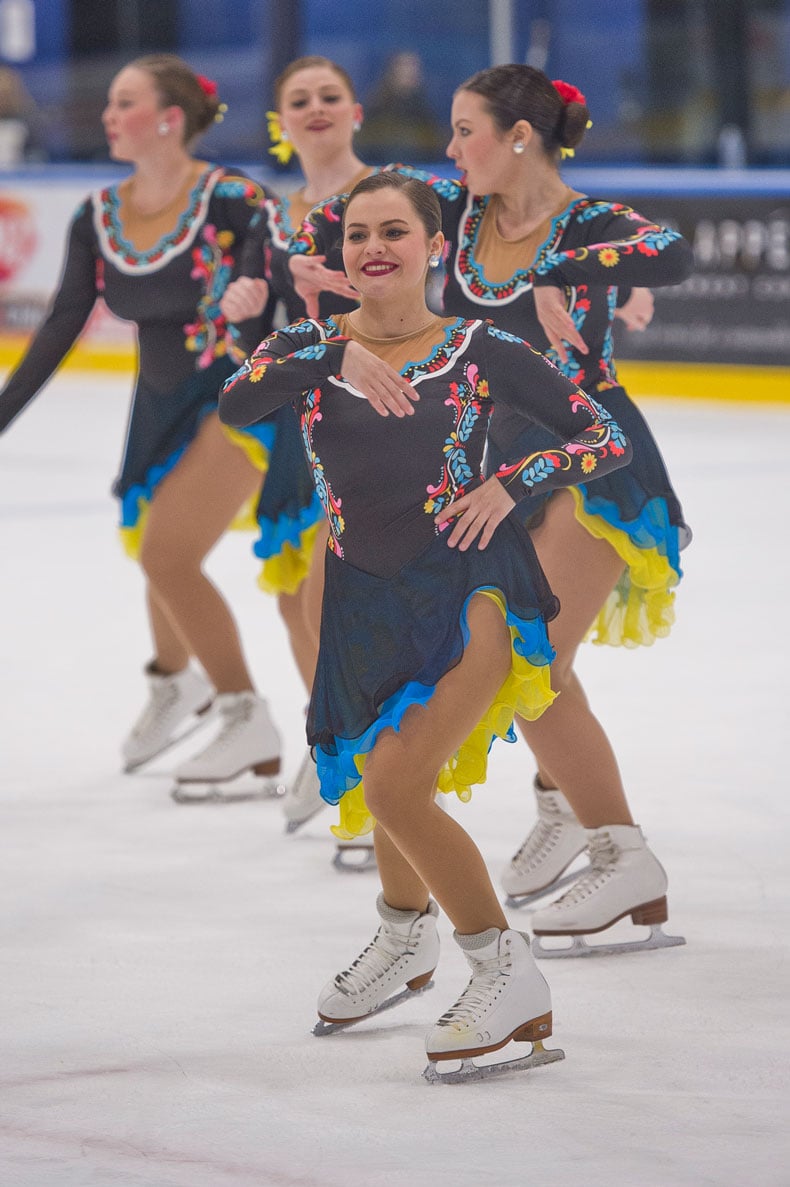 Team Spotlight Q & A
What makes your team unique?
I think our team is unique for a few reasons… Our team is very diverse! We have athletes coming to us from the East Coast, Midwest and West Coast and half of our team has never done synchro before! It's fun to see skaters from so many different backgrounds and experience levels come together and find a common thread through their passion for skating. We are the 3rd fully funded Varsity Synchronized skating team in the country and 2nd fully funded Varsity Intercollegiate team (individual figure skating). It's so great to skate for a University that fully supports our sport and we hope more colleges invest in skaters around the country. Our program also focuses on developing our athletes off the ice so we regularly discuss ways to improve our communication, conflict management and leadership skills.
What does teamwork mean to you? How do you rally your team?
In synchronized skating, teamwork is critical. Besides physically needing to work together to achieve a unified program on the ice, our team needs to be mentally and emotionally in tune with each other. We focus a lot on checking in with each other, showing compassion and encouraging each other to push through and keep going. Snacks, music and skating a strong program to get off the ice a little early are great motivators for our team.
What is your favorite memory, or what are you most excited for this upcoming season?
So many memories already! From the first practice we had together to taking a team Target trip instead of off-ice practice one day, to celebrating our first Homecoming as a team. It has been so fun to watch our athletes bond and we are all very excited to start competition season in just a few weeks! I asked our skaters what they are most excited for this season and they all said they can't wait to travel as a team to competition as a team and perform their program they have worked so hard on. They absolutely LOVE their dresses which always helps get the team excited to perform and compete!
What's your team's biggest challenge/opportunity this season?
Our biggest opportunity and challenge this season is that we're a first year program working to leave our mark on the collegiate skating world. We are so proud to be able to offer another opportunity for skaters to keep doing what they love in college but it is a lot of work to build a program from scratch. Luckily, our athletes are up for the challenge and while it hasn't been easy, they continue to impress me with their commitment to bettering themselves and each other. The sky is truly the limit for this team. And as we keep attracting skaters who are ambitious, driven to improve and are excited to build their legacy with us, the possibilities are endless.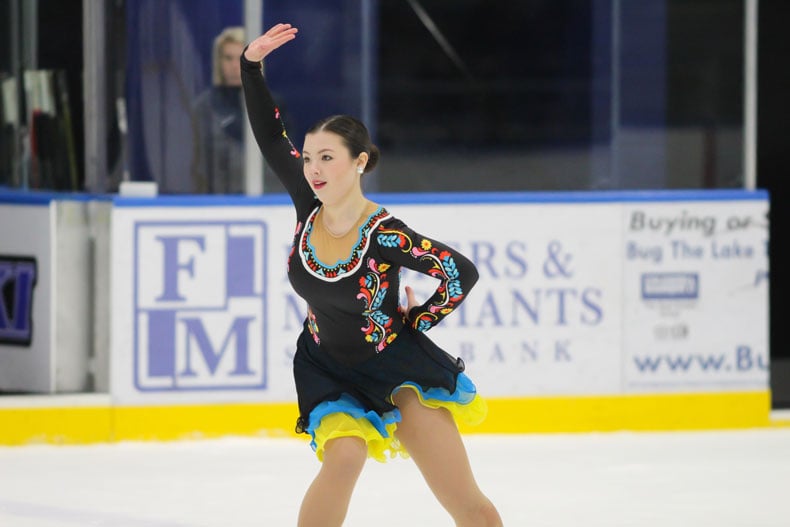 ---