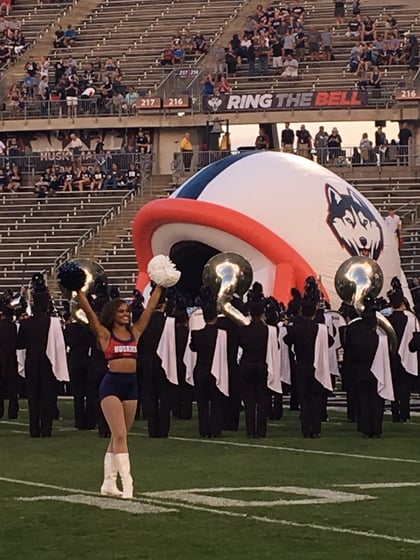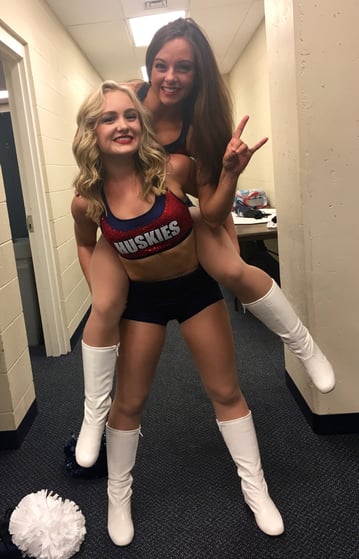 Go Huskies!
Out of Connecticut, the UConn Dance Team both supports their school as well as competes for their own glory! At school, they rally the crowd at the University of Connecticut for the Huskie fans at football and basketball games.
On the dance competition floor, the team brings out their more technical side at the NDA National Championships. Most years, the team competes with two different routines, and in 2015 the team placed 5th at the NDA College Nationals with an amazing hip hop routine!

Spicing Things Up A Bit
This year, the team decided to change up their gameday look by adding some new color to their custom cheer uniforms. "We wanted a new uniform that would stand out and complement our classic blue and white uniforms" Coach Amy Thees explains. The team did just that, with an updated crop top silhouette in red and blue, with custom lettering. The sparkly fabric elevated the uniform as a whole, and also complimented the team's existing uniforms and colors.
When asked about their upcoming season, the team's coach said, "We are most excited about wearing our new red uniforms at all the football and basketball games this season!!" With this new and improved look, the UConn dancers are ready to get the fans pumped!

New and Renewed Team Members
The UConn dance team members, both new and old, are loyal team members. Currently the team is made up of mostly fresh faces, but they are not alone though! Many alumni stay involved with the team to help choreograph and support the team from year-to-year. "We loved performing a hip hop timeout dance to the Missy Elliot song, "Pep Rally," choreographed by one of our beloved alumni" says Coach Thees.
The team thrives from this support, especially with such a diverse group of new dancers. Earlier this year, the team was cheered on by two of their alumni members, making this one of their most unforgettable moments of their season so far. Coach Thees says, "they were cheering us on from the front row and helped make the game even more memorable!" The alumni are both keeping the spirit of the team alive and are the team's number one fans!
Have a great season athletes and alumni!
---
Check out more of their gameday uniforms from previous years, below: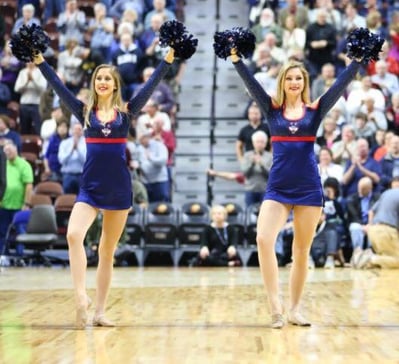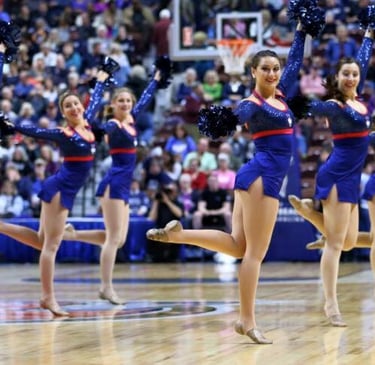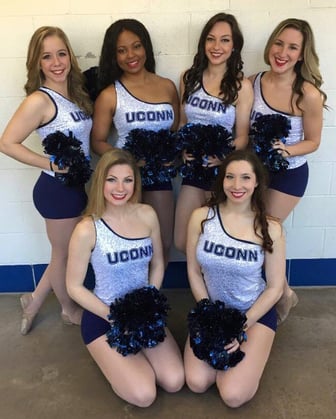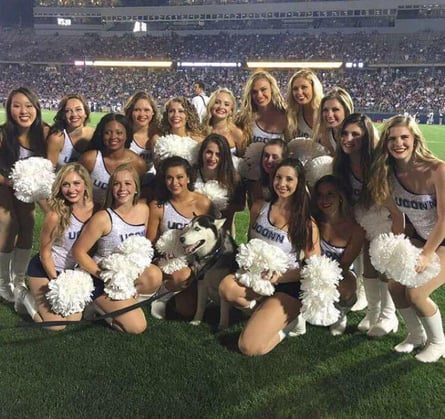 The Huskies on the basketball court (top) in the Zanna Zsa Zsa dress, and on the football field (below) in the 166-81 Zsa Zsa tank.
Photo credit: Uconn Dance Team
---
Planning for your next performance? Get all your ideas organized with this free download - The Imagination Kit: A Costume Planner!