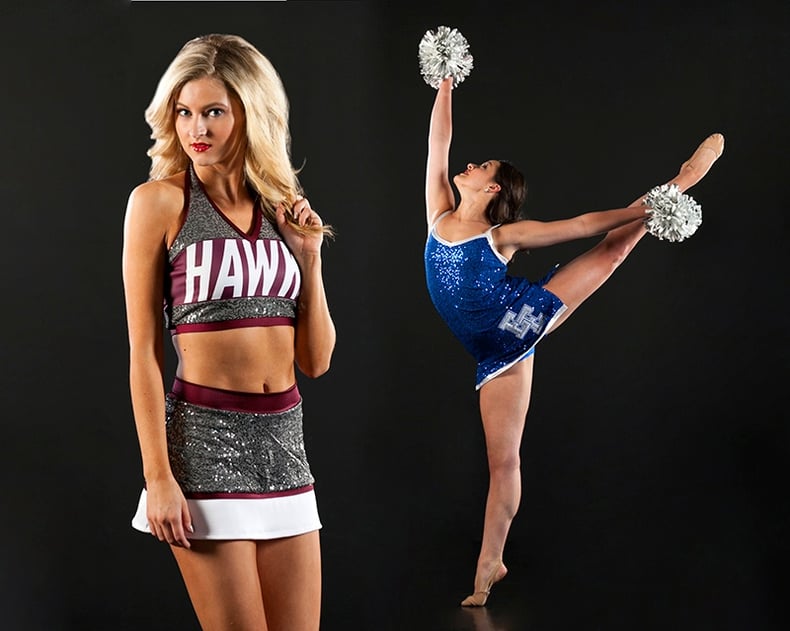 The look of the game day cheer uniform is changing! The classic cheer look - which will always hold a strong torch - is starting to look a little faded next to the glitz and glam of innovative all star looks. So what does this mean for new trends for your fall 2017 game day looks? Check out our 10 favorite trends for the modern cheer uniforms, that create the perfect mix of classic and innovation!
1. Sheer Meets Sporty - MESH
Continuing with the sublimation trend is this sheer and sporty look: sublimated mesh. It's a covered look that hints at something a little more revealing. And it brings a little more fun and adventure to the logo - something different than traditional embroidery!
Not ready to brave the full mesh uniform? Mesh insets are another way to update a classic cheer look, giving it an instant edge!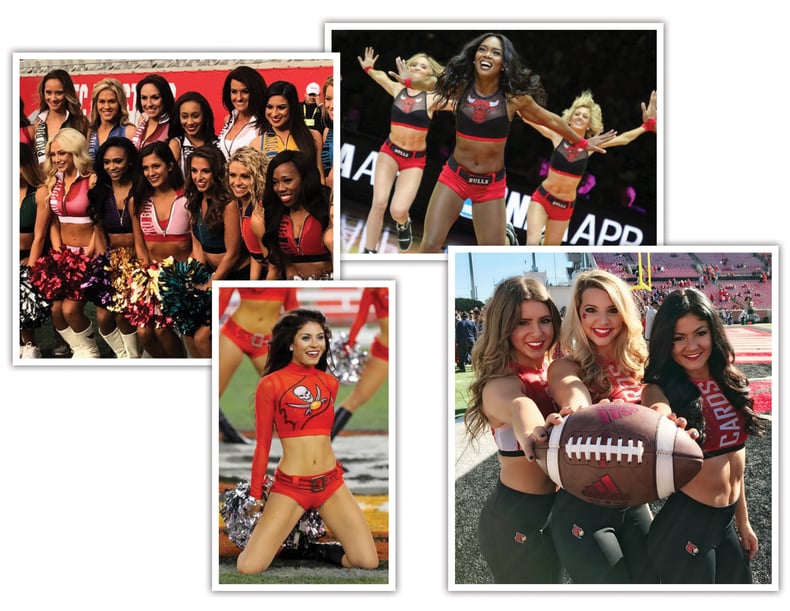 Clockwise from top left: the NFL's Pro Bowl Cheerleaders, Chicago Luvabulls, Louisville Ladybirds, and the Tampa Bay Buccaneers Cheerleaders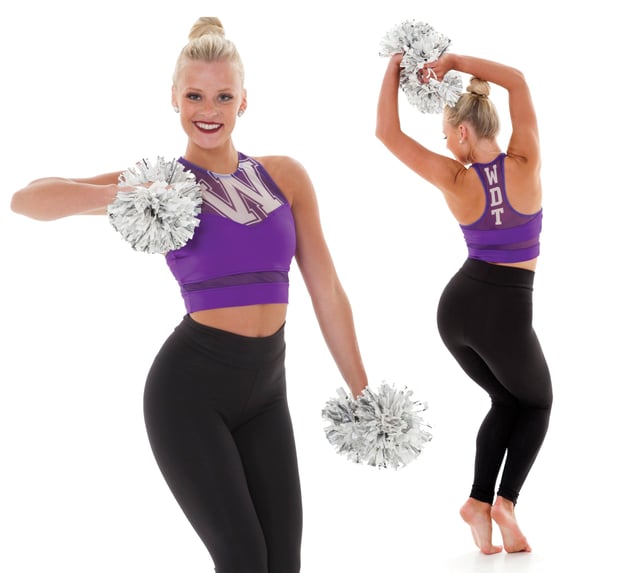 Style 202-9 Long Line Crop Lettering
2. Game Day Hip Hop
We spotted a lot of our college dance team friends at the Pro Action Dance convention last summer, and we loved seeing all the hip hop choreography pop up in our Instagram feed for gameday last fall!
Hip hop routines on gameday poses one minor dilemma - what to wear? One great solution we saw over and over again: restyle a cheer top with warm-up or harem pants for a more appropriate look. It's a simple swap that's budget friendly, and still allows you to rep your team.
Or for a true NBA Dancer look, go all all out with an edgy mesh jersey leo, our favorite of the season!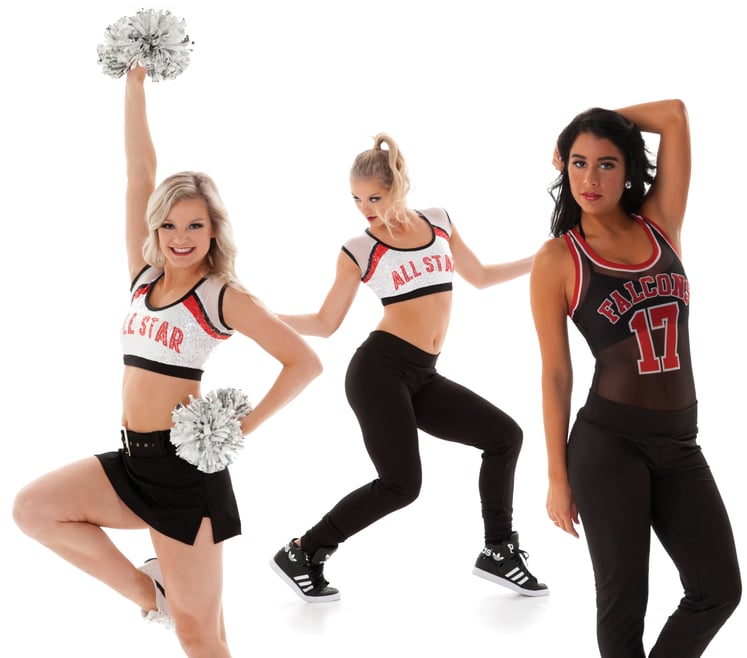 3. Cold Shoulder
Dubbed one of springs "most pervasive trend," this is a look we know is probably sitting in your closet right now. The cold shoulder trend consists of exposed, cut out shoulders, and it's something that looks good on almost anyone. Work this look into your gameday routine with a crop that's embellished with your team logo.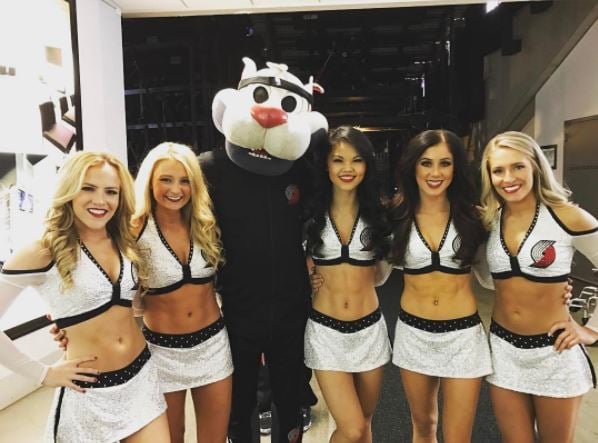 Trail Blazers Stunt Team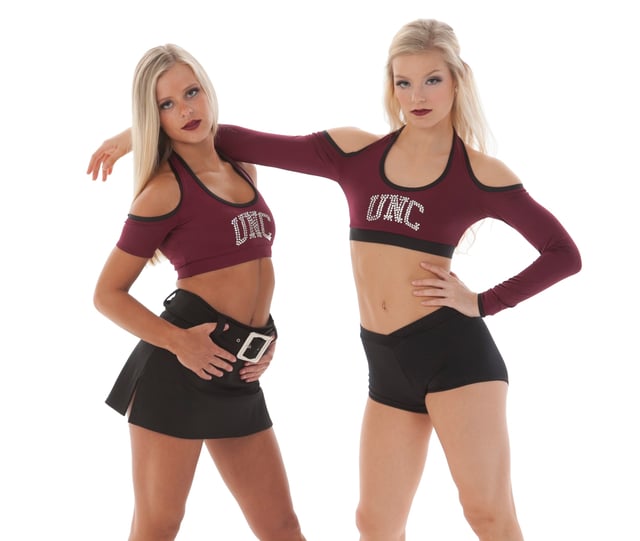 4. Oversized logos
Logos and lettering are essential to cheer and pom uniforms, and a fresh take is oversized! Blown up, tilted, and cut off, these logos are dynamic and bold from a distance!

Thunder Girls, Chicago Luvabulls, and VCU Gold Rush Dancers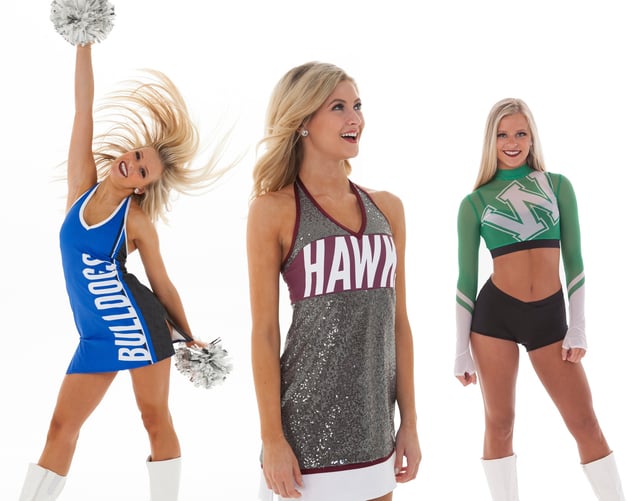 5. The Sparkle Jersey
We first saw the sparkle jersey last year, and this trend keeps going strong! These sequin encrusted jerseys are made by printing custom colors and designs onto sequin encrusted fabric called Gaga. This custom printing, called sublimation, allows for the ultimate versatility in design, logos, and colors for your team!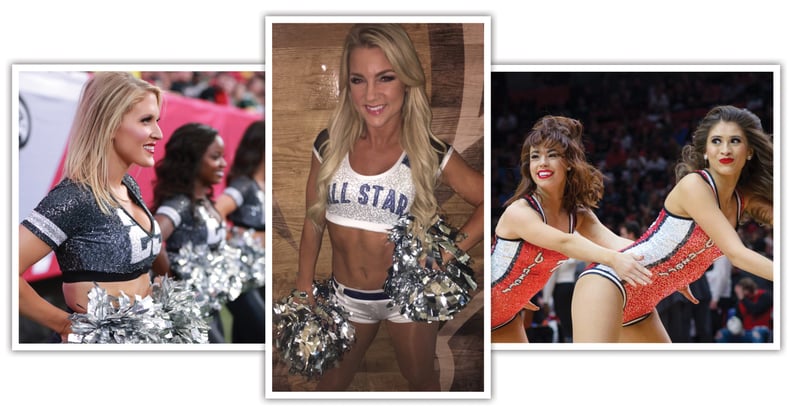 The Atlanta Falcons Cheerleaders, Timberwolves All Star Cheerleader Demi, and the Portland BlazerDancers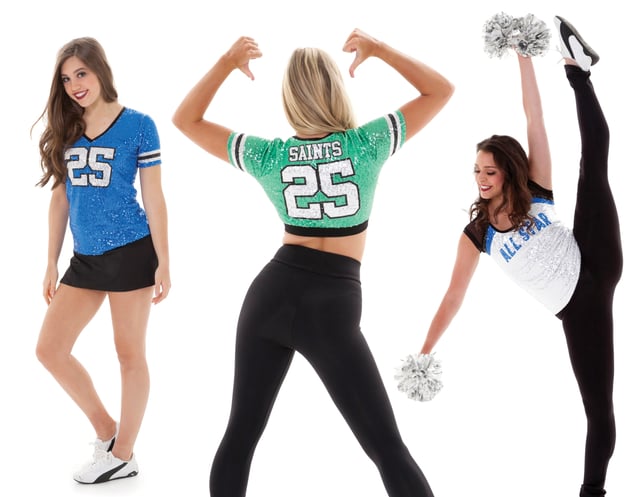 Jersey Top Gaga, Jersey Crop Gaga, Mercedes Long Top
6. The Choker Look
Last year we had a feeling chokers were making a comeback, and we are excited to say they're finally trending. Instead of the velvet ribbon with dangle stone choker of my 90's middle school days, the new choker is simple and bold. A mock collar in a contrasting color is the perfect way to incorporate this look into your cheer uniform!

North Dakota State University Dance Team, and the Assumption College Dance Team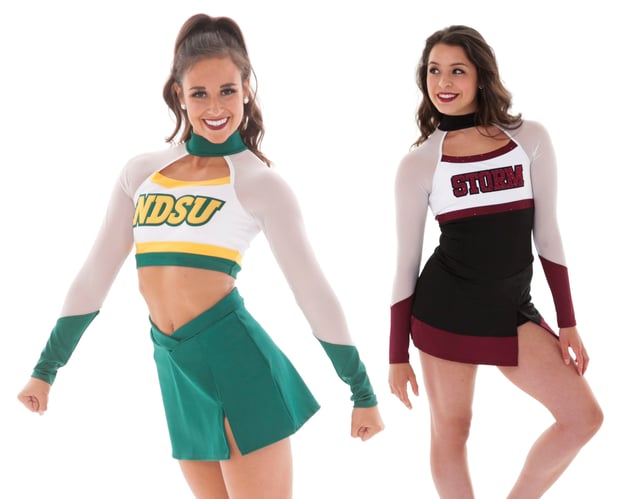 NDSU Dance Team incorporated the choker look into their 2015-2016 custom pom uniform, and the Lisbon style rocks a similar neckline.
7. Lace & Sequin Lace
Lace has been sneaking its way into cheer uniforms the last couple of years. Our favorite application? Charlize lace, which is covered in sequins for that all-important, must-have sparkle.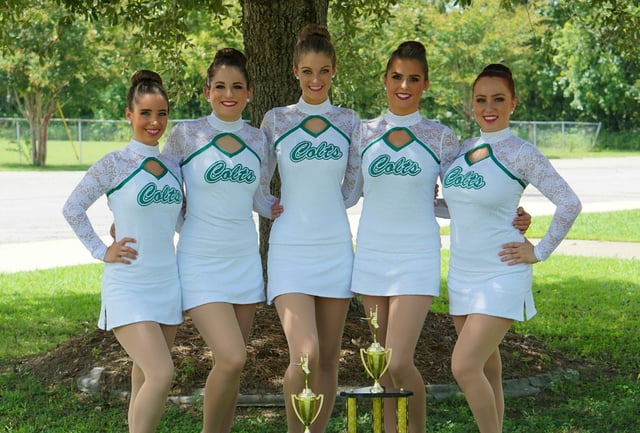 Hooper Academy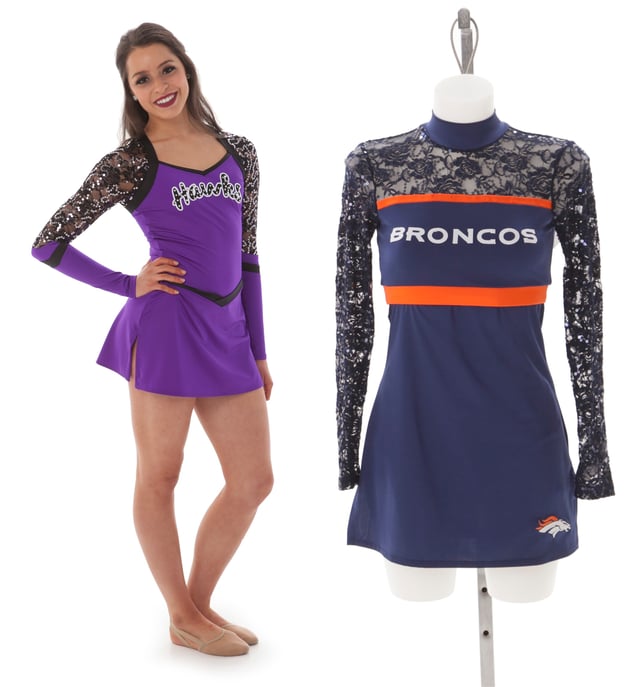 8. Super Bling
Sparkle dominated at nationals this past year. Whether it was a touch of rhinestones or all-over sequin fabric, there was hardly a pom uniform without some form of bling. If you're on a budget, we recommend Zsa Zsa, the most magical and sparkle-intense option! It's sequin encrusted fabric that's also lightweight and stretchy so you can MOVE.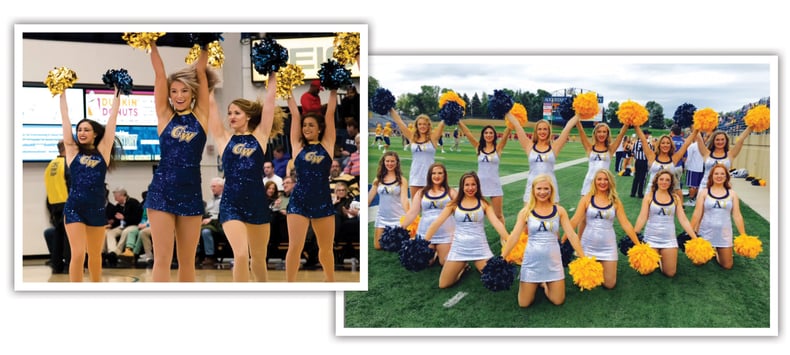 George Washington University's First Ladies Dance Team ,and Augustana University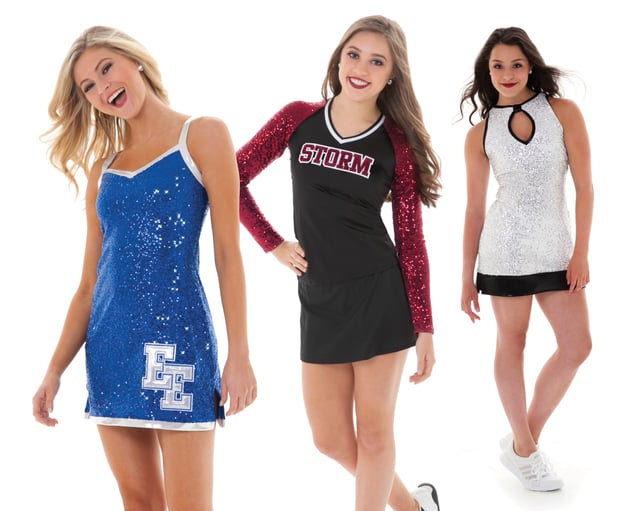 Styles Ellison, Prep Top, and Opulence
9. Pants for Pom
We know you've rocked pants with a crop top for gameday, but what about for your pom competition uniform? We loved Endicott Dance Team's look at UDA this year, and it's an easy way to reuse a gameday top and save with your team's wardrobe budget!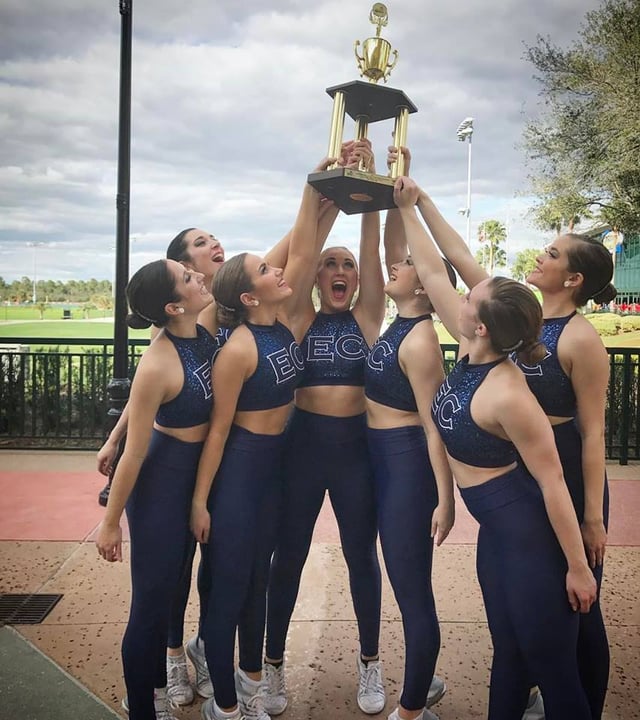 Endicott College Dance Team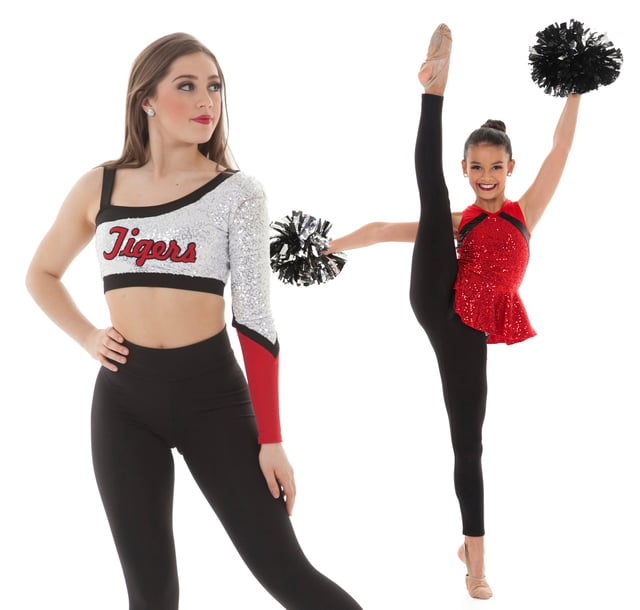 10. A Stunning, Open Back
We've seen many teams add instant drama with a wide, open back. It's a stunning surprise that adds an instant edge to a more classic pom or cheer uniform! Our favorite version adds a strap across the back to conceal the support you need.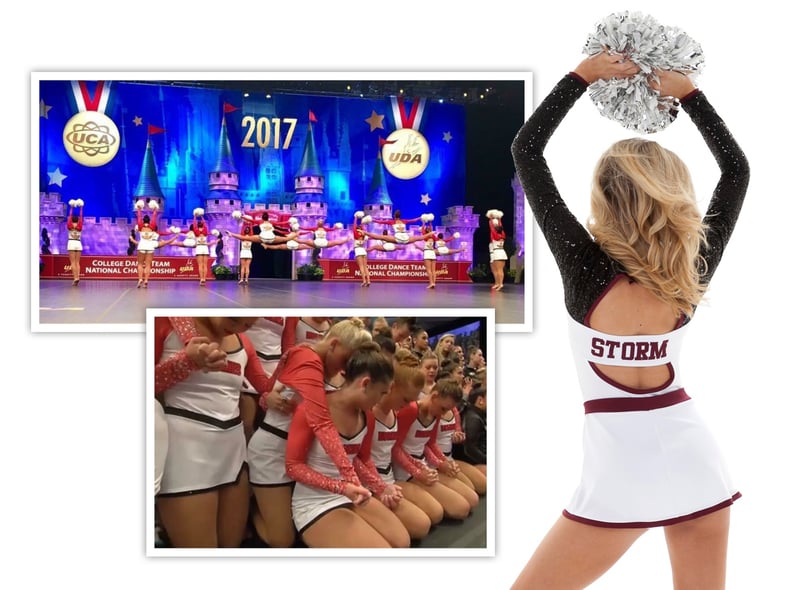 St. Cloud State University Dance Team and the St. Cloud style
So what do you think of these trends - can you envision your team incorporating any into your new cheer uniforms this year?
---