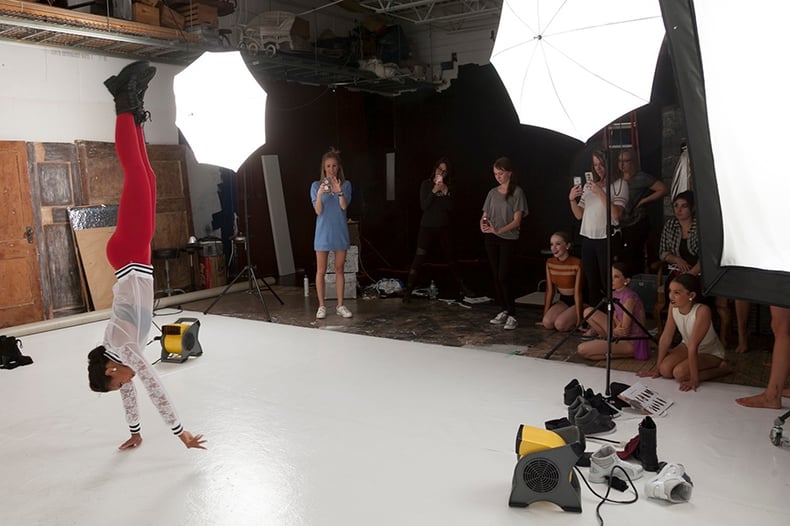 Behind the scenes at one of our recent photo shoots at Steve Lucas Photography
Once fall rolls around, we know the first thing on the to-do list as a newly formed dance team is pictures! When it comes to photoshoots, TLU has definitely had lots of practice. With over 8 photoshoots a year, we've got things down to a science!
And we don't do it alone either! With a little help from the experts below, we've compiled some of our best tips for getting your best photos as a dance team. Read on to hear what the experts have to say.
Pam Gleason - Our photoshoot choreographer, Pam, is a master at creative posing! When not working at The Line Up, she's also an instructor at Dance Arts Centre and co-founder of Matrixx Pro.
Steve Lucas - We've been working with Steve Lucas Photography for over 10 years, and with his 20+ years of experience, he has perfected the art of capturing the perfect dance action shot!
Dawn Ruschmeyer - Our resident photo editor and Photoshop Wizard, Dawn is also Steve Lucas's assistant and photo editor.
1. Plan for Your End Goal & Overshoot
"All teams and studios have different needs for their photos, whether it's marketing, display, yearbook, etc. Keeping this in mind ahead of time and knowing what your end goal is can be extremely helpful for the photographer to know what to shoot!" Steve explained. Some end uses to consider for your photos:
Year book
Memory Book
Team Poster
Marketing needs like advertising for tryouts or birthday posts on social
Personal photos for each dancer
Also, over shoot since you're there and have everyone. "It's easier to shoot it and not need it than not shoot it and wish you had it later!" Dawn elaborated. You never know what you may need, and the more you shoot, the more you can do with it! Think about these types of shots:
Entire dance team
Captains photo
Each grade as a separate group
Individual photos - both head shots as well as fun action pictures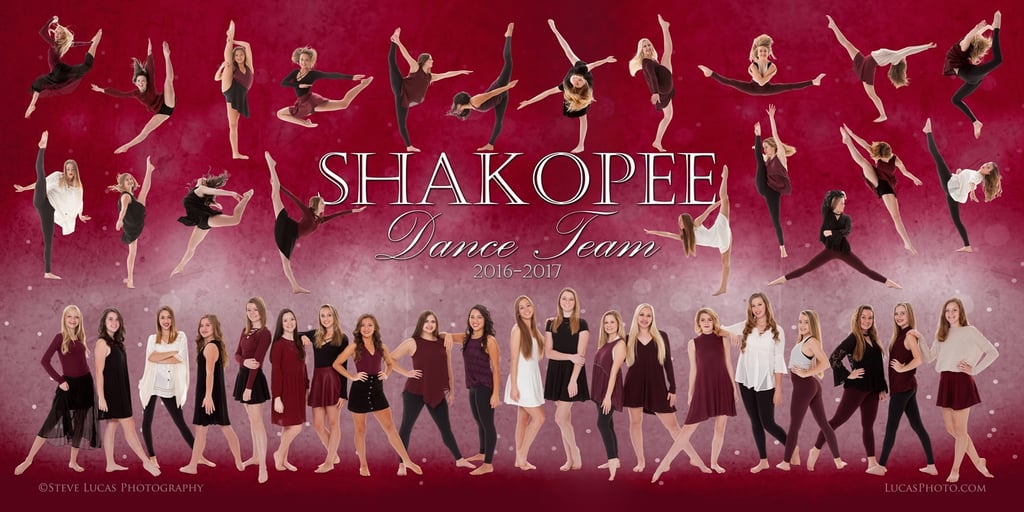 Example of a poster Steve Lucas Photography created for Shakopee Dance Team
2. Coordinate Your Outfits Ahead of Time
Think about what you'll be wearing and what looks good on camera, BEFORE you get to the photo shoot.
Bring each one of your costumes plus a trend outfit for a one-and-done photo shoot! A trend outfit is a cute way to show each dancer's unique personality, within a framework like color. Coordinate beforehand, so everyone shows up looking consistent! Pick 2-3 outfits from the following categories:

POM
Jazz
High Kick
Practice Wear
Warm Ups
Trend outfit
Avoid wearing loud patterns, as they tend to overpower other things going on in the picture - like your cute hair and makeup, or the crazy cool leg lift you're doing!
Wear nude and strapless undergarments that won't show through your costumes. It'll save your photo editor a lot of work in the post-production process.
Don't forget about appropriate footwear!

Bring a variety, and match your shoes to your costumes.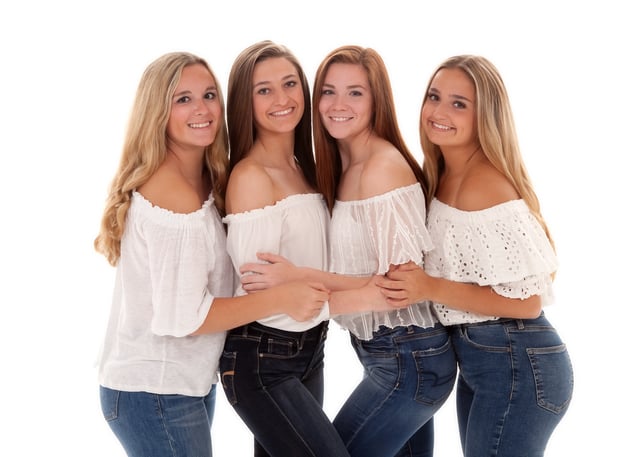 Dancers from the Eden Prairie POM Squad in cute, coordinated trend outfits
3. More is More with Make Up and Hair
We can't say this enough - think big with makeup! Some tips include:
Get spray tans and wear more makeup than you think you should. The flash of the camera tends to wash people out, and can completely change the way makeup looks in a photo. Add more makeup than your every day look. For tips on doing your own makeup, Buzzfeed's

Makeup for Pictures Tutorial

is great!
Match your hair to your costume! If you would wear your hair up in a bun with your costume, wear it up in a bun for your picture. It'll complete the whole look.
Wear fake eyelashes. Wearing fake eyelashes can create a bold, dynamic look, and will give anyone an instant face lift!
Nude nails are an added bonus.

Crazy nail colors, designs, or even false nails can throw off a picture if they're too distracting or clash with your outfit.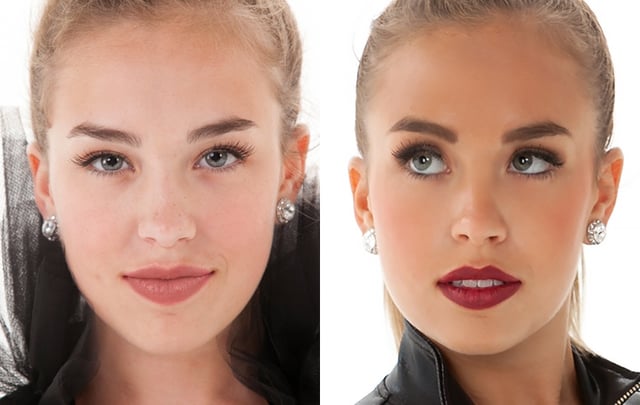 Example of "Everyday" makeup on the left, compared to "Photo Ready" makeup on the right.
4. Have a Technical Expert Touch up Your Photos
"There's A LOT that happens to your photos AFTER a photoshoot in post production, which most people don't realize," said Dawn, who is no stranger to touching up photos. Once selected, your photos get edited so YOU can look your best. A good photographer will color correct and touch up your photos to remove:
Flaws in the background

Bruises and blemishes

Uneven spray tans or tan lines

Smeared makeup or lipstick on the teeth
Stray hairs
Undergarments peaking out
Bulges and wrinkles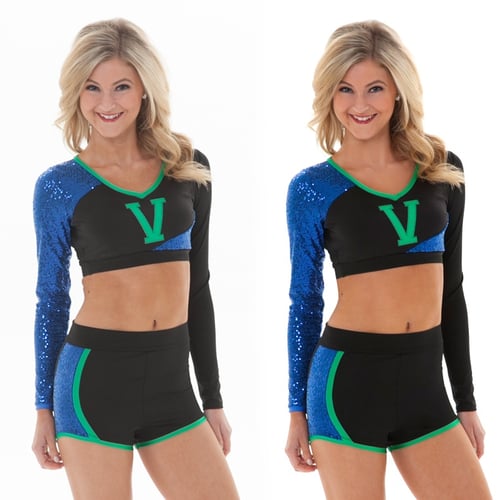 The same photo BEFORE photo editing (left), and AFTER photo editing (right)
5. Add Drama with Props and Wind
Hands down, our favorite prop at photoshoots is our high powered fan! A little wind can add a lot of drama and instant energy when applied to hair and flowing skirts. If you don't have a fan, a simple hair toss will also do the trick!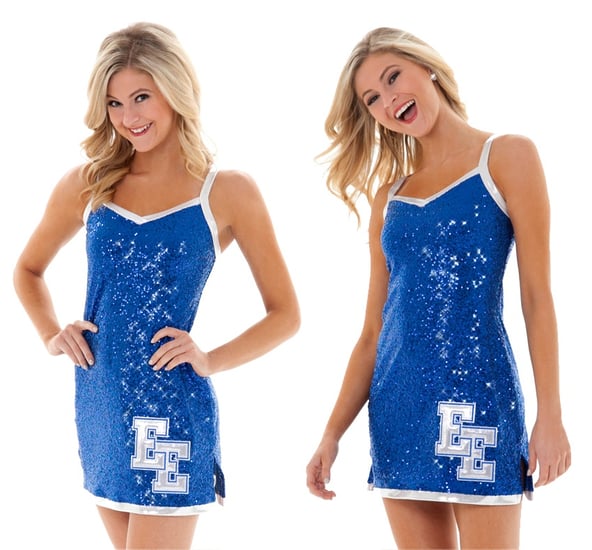 Example of hair without movement (left) and with movement (right)
6. Think About the S Curve When Posing
Facing the camera straight on might feel natural, but it tends to be the most unflattering angle for most people. The trick is to arch your back and angle yourself to the camera to create an "S-curve" with your body. It can be really flattering! A great photographer will know how to adjust you into this pose, but here's how to do it on your own:
Shift your hips and shoulders

so they are at an angle to th

e camera.
Tighten and engage your abs while arching to prevent the illusion of a tummy sticking out.
SHOULDERS can make it or break it. "When you're nervous or thinking TOO hard about posing, a lot of dancers' shoulders start to lift which causes the look of being tense or stiff," said Pam. "I always say "Take a breath, roll the shoulders back and press down. It also elongates the neck!"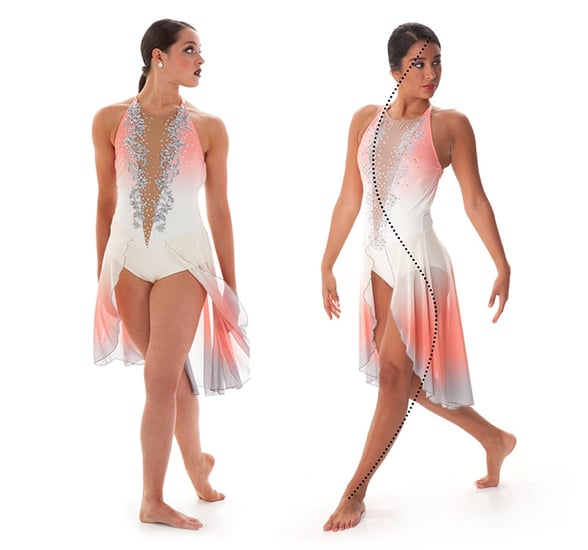 The image on the right shows how creating an "S-curve" and an angled body can be a more flattering pose
7. Elongate the Legs and Arms
Choose poses, angles, and accessories that elongating legs and arms for a more flattering look. Here are some ways to think about long lines:
Relevé is everyone's friend. "Going up on the toes lengthens and flexes the leg muscles, which looks much better than a stumpy leg!" said Pam.
Wear shoes that elongate the leg. We never wear black shoes in our photos with a white background - it's too much of a distraction! Your eyes go right to the shoes. Wear nude turners or jazz shoes with bare legs, or match the color of your shoes to the photo backdrop so they easily blend in.
Leaps or poses going to the side tend to look better in photos. "Any jumps that have the legs straight to the camera won't look as impressive because it will be difficult to see the flexibility of the dancer," our choreographer Pam said. So pose your dancer in profile for a more flattering approach.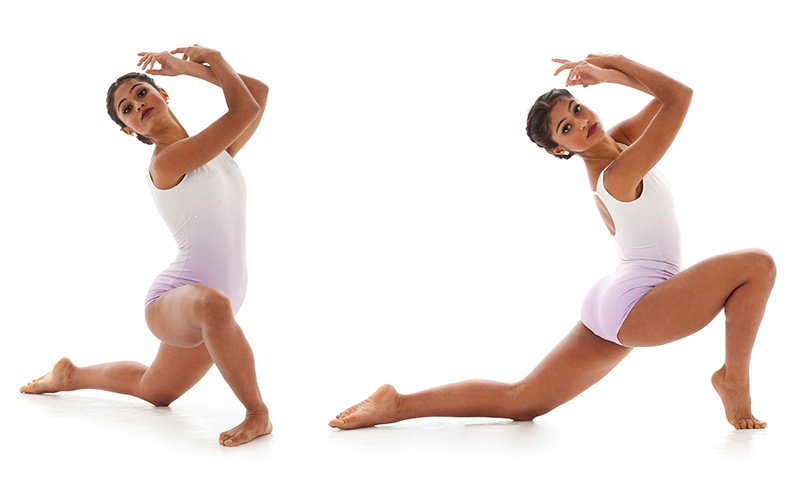 This photo is the same pose, taken from different angles, and the right image is more flattering because the toes are up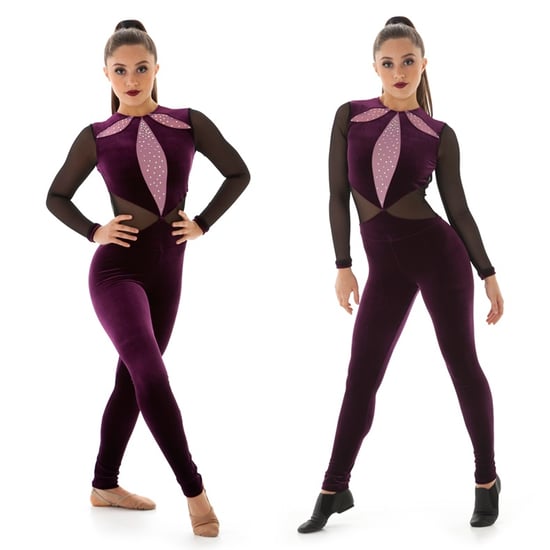 These images show the difference between a flat foot with mismatched shoes (left), versus relevé with matching shoes (right)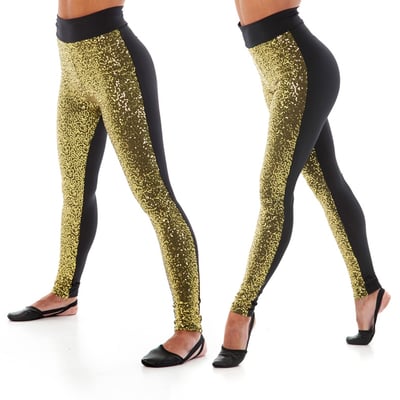 8. Have a Designated Choreographer to Assist with Action Shots
"We always time the shot with the dancer," said Steve, who is no stranger to a well executed action shot. A great photographer will be able to time their shutter to the skill, but we know from a lot of practice that it always takes multiple tries, even with the most skilled photographers like Steve. Don't expect to get it right on the first try!
To assist the photographer, designate a choreographer that can direct the dancer with some prepared poses (in addition to the dancer's personal favorites!) and count them in with 5-6-7-8-1! "The preparation should be on 8 to make sure to hit the peak of the skill on 1," said Pam. "Flowy or graceful moves can make it difficult to capture the jump, skill, etc. when it hits. Think 'pop' vs smooth."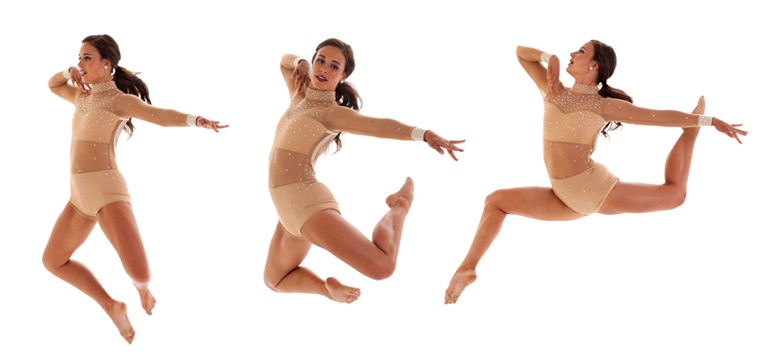 Our talented model, Eve, performs a jump, which took 3 tries to get the timing and angle perfect!
9. Don't Forget About the Face
Sometimes it's easy to focus on the legs and arms in an action shot, but don't forget to think about your face too! Make it look effortless.
When in doubt, a nice smile is best and can disguise any effort in the face.
There's an art to the perfect serious face. Careful not to purse your lips together. Separate the lips just slightly and breathe out.

Chin out and down!

Think "happy, bright eyes" to avoid the scowl or mad look.
Move your head slightly with every click of the camera

- tilt, rotate right or left, move the chin down etc. "This will keep your head from looking stiff, as well as give you plenty of options to find the best angle for your face. Even the smallest change can make a big impact!" said Pam.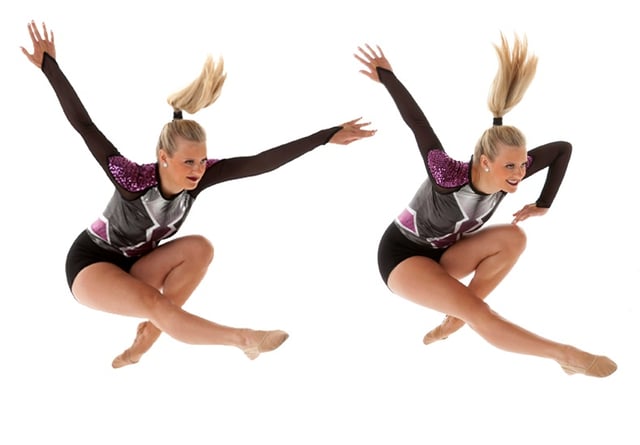 Facial expressions and a simple arm adjustment can change the look of a photo!
10. Dramatic Lighting + Dramatic Poses = Stunning Images
"A photographer is an artist of light," is how our photo editor Dawn likes to phrase it - and stunning images are always a combination of dramatic lighting and dramatic poses. Chat about some some ideas ahead of time with your photographer to set the look and feel for your photos. Consider the following:

Be bold and daring with your poses! No one will ever look back after their photoshoot and wish they didn't do their most impressive pose for the camera.
Think about the backdrop and setting.

Is it in a studio with a white or black background? Or is it outdoors with an urban street look? The poses, outfits, makeup, and setting can completely change based on the setting, so plan ahead!
What kind of lighting do you prefer? Outdoors and natural lighting? Or in a studio with highly stylized and focused lighting?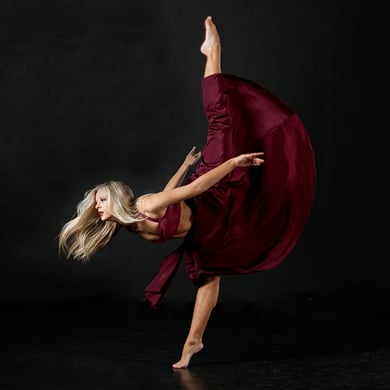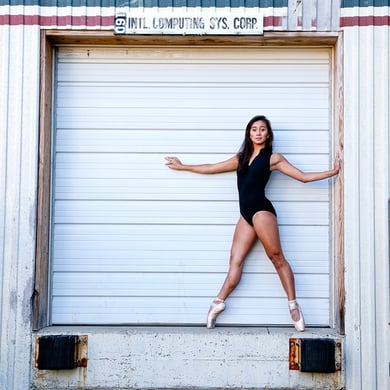 Example of a photo with dramatic lighting in a studio setting (left), and a photo with natural lighting in an urban, outdoor setting (right)
All photography shown in this post is by Steve Lucas Photography.
---