One logo created with 5 different techniques.
Price will vary depending on logo size and exclude base garment price - shown here at 7.25" high.
Most teams brand their cheer and dance uniforms with logo and lettering, but you may not realize that there are many different options available! "Which logo and lettering option is best for me?", you might ask. The answer is that it depends! Some factors that affect which option is best for your dance or cheer uniform are:
Your overall budget
Level of detail in your team logo
Fit of your uniform or location of logo
Below, we summarize 5 ways you can add your logo to a cheer uniform - embroidery, vinyl, sublimation, spangles and rhinestones - and the pros and cons of each!
1. Appliques & Embroidery

What is it? Cut pieces of fabric (appliques) used in combination with thread and stitch techniques (embroidery) to create lettering, designs, or logos.
Why choose embroidery? If you're looking for a more traditional look, embroidery is what you want! If you would like to add some glam to your game day look with hologram/foil lettering (seen on the Ellison dress, above), this is a great option available with appliques. Another reason to choose embroidery is the quality and durability - many prefer the higher quality look and better wear of embroidery.
Downsides:

Appliques and embroidery will not

stretch easily because of the backing added during the production process. This can be problematic on form fitting areas like the bust. Complicated logos need to be simplified oftentimes with embroidery - you will have to take some detail out or it gets expensive to keep in. For example, you will not be able to create an ombre effect or other fine details, like whiskers on a tiger.
2. Vinyl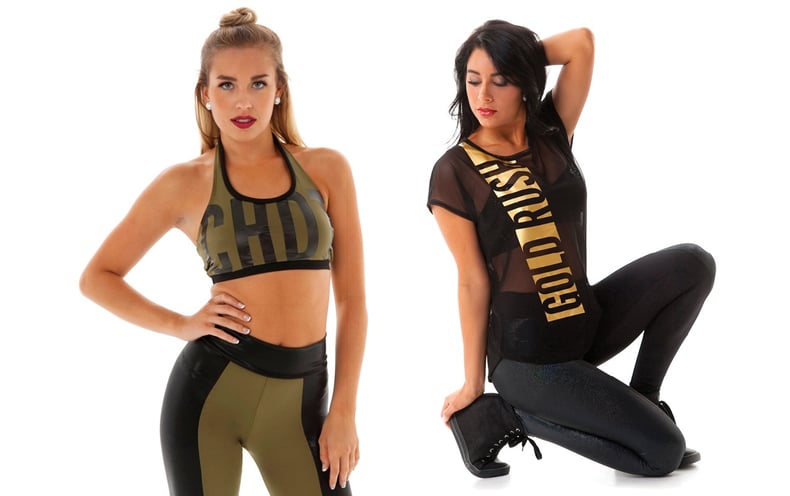 What is it?

Heat transfer vinyl is an alternative to embroidery for lettering and logos! This soft applique is made of a stretchable, plastic-like material and can easily be applied to most fabrics.
Why choose vinyl? Vinyl is a cost effective option and it's also better for form fitting uniforms where you'll need some stretch.
Downsides:

There are not

as many color options, so it's likely the vinyl color won't match the rest of your costume exactly (but it will blend well). It's also hard to incorporate more than one color of vinyl, making one color logos the most common. Fine detailed logos are hard to cut out of vinyl, so its best used with simple logos and large block lettering.
3. Sublimation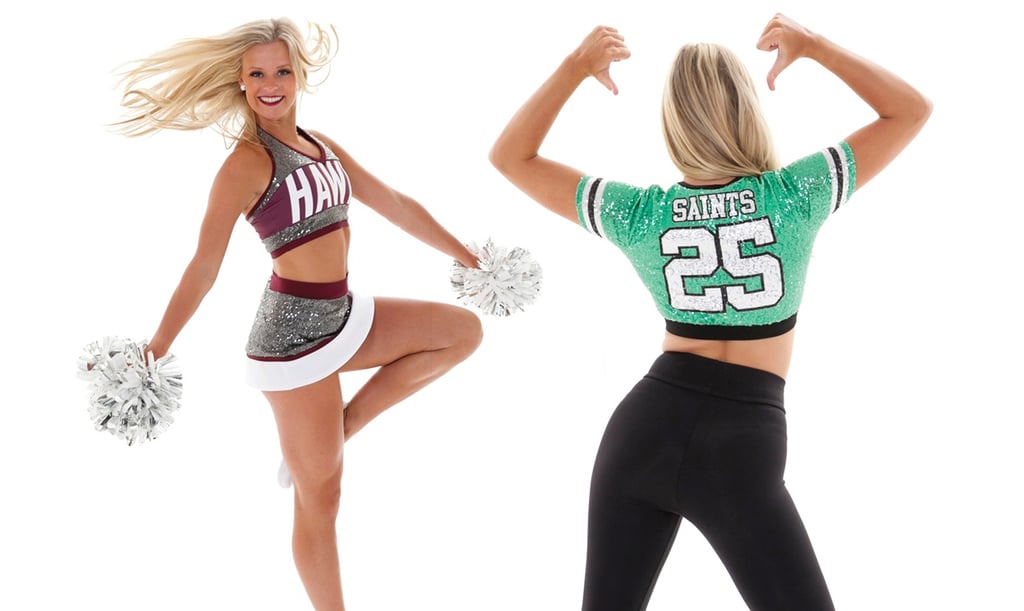 Two styles that incorporate sublimated lettering: The 420-144 Stripe Zsa Zsa top has a blocked panel of sublimated lettering,
while the Jersey Crop Gaga top is fully sublimated onto sequin fabric.
What is it? Create your own graphic look by transferring colors, patterns and designs, or logos directly to fabric! Graphics are printed on a special paper with unique dye inks. The design is then transferred from the paper onto a white polyester fabric using heat and pressure, infusing the color directly to the fiber!
Why choose sublimation? It's great for creating a graphic look and allows for a lot of customization. Sublimation is your most versatile option, design-wise! It can be used to create a logo patch, large graphic lettering, or even to cover an entire garment! There is also a wide range of colors available when using dye sublimation for your garment - so there are endless possibilities.
Downsides: While there are a wide range of colors available for dye sublimation, it is hard to exactly match other non-sublimated colored fabrics, though colors can blend well. For this reason, we recommend either sublimating your entire garment, or using contrasting colors or fabric textures. There are also minor imperfections, blemishes, and color variances that can occur with the printing process, which can be easily disguised with graphic patterns, and often aren't noticeable at a distance.
4. Sequin or Spangles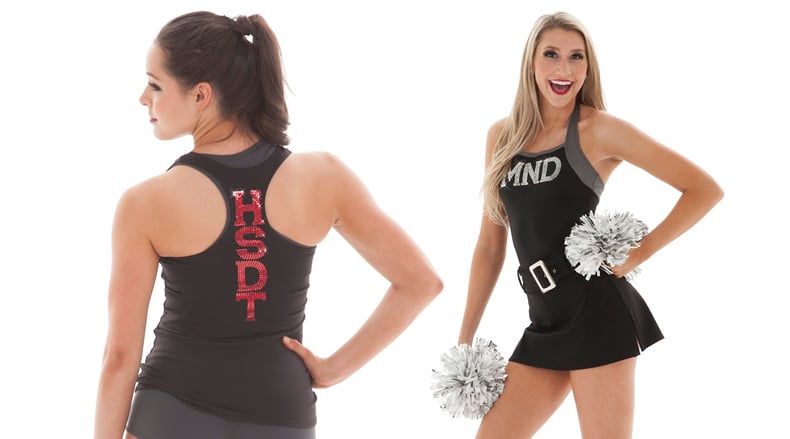 What are they? Create one-of-a-kind bling designs with Spangles: threadless sequins that are heat-set to your garment. Spangles are different from typical sequins trims because you are able to punch out your logo and lettering into a spangled design!
Why choose spangles? Great for sparkle on a budget! Spangles are a cost effective alternative to rhinestones.
Downsides: Because a spangle design is punched out into circles, you can't do fine detailed logos with spangles as they give a more "pixelated" look. They are better for bolder lettering over 2" tall, rather than small lettering. Spanglea will fall off after wear, and t

here are limited color options available.
5. Rhinestones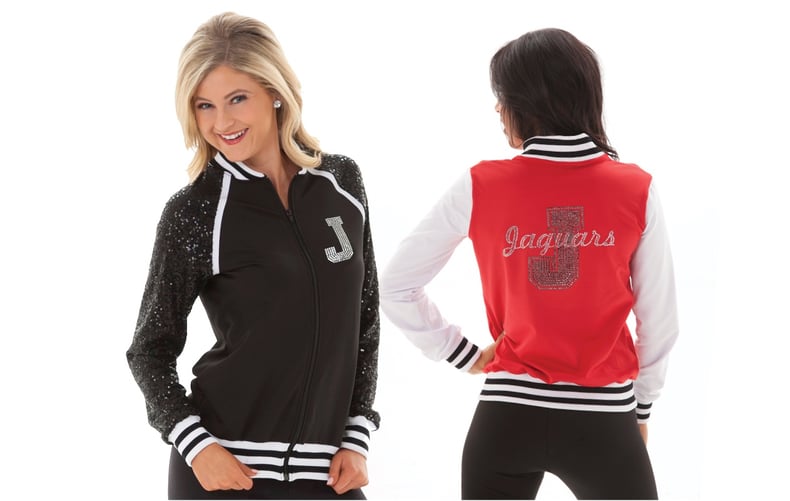 What are they? Add maximum brilliance at a distance with rhinestones: faceted pieces of crystal that sparkle brightly under light!
Why choose rhinestones? Sparkle, of course! Rhinestones will give you the most amount of sparkle at a distance.

You c

an make logos and lettering out of a variety of stone sizes and colors.
Downsides: Rhinestones are expensive! The highest quality rhinestones (which give you the most sparkle) add up quickly, especially with very dense lettering. Consider using fewer stones, or a less expensive/lower quality type of stone. Oftentimes rhinestoning an entire logo will be too costly for teams, so combining a few accent stones with embroidery is another option. Similar to spangles, rhinestoned designs can have a "pixelated" look, so it's best to avoid detailed logos.
So there you have it - there are a variety of logo and lettering options available, and your choice really depends on your team logo or desired look! Choosing a type of logo and lettering involves a lot of personal preference, but if you're questioning which type is best for you, send your logo as a vectorized file to your costume company! They can recommend which technique will work best for your logo or lettering based on your budget, complexity of your logo, and uniform fit.
---
Recommended Blogs:
---