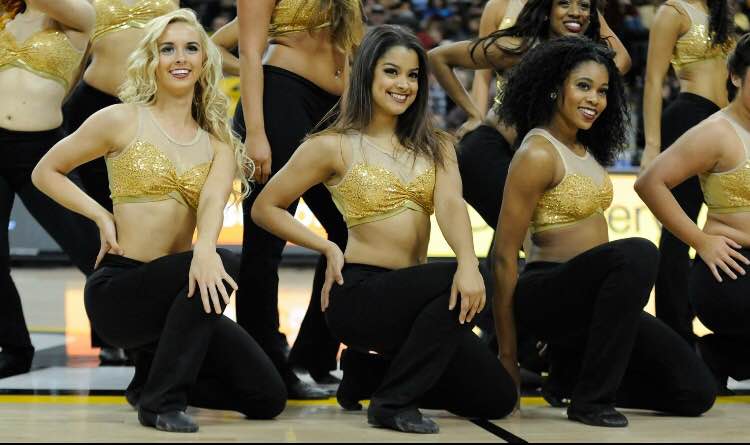 One of the greatest benefits of working in the dancewear business is the opportunity to work with amazing teams and watch them grow and change over the years. And that's certainly true when it comes to Virginia Commonwealth University (VCU) Gold Rush Dance Team. What's especially great about this team is that these girls know what they want – and what did they want this year? Eye-catching sparkle!
The VCU Gold Rush Dance Team have school colors that are wonderful to work with: black, gold and white. What's not to love about that classic combination? This year, Coaching Assistant Christian request was for 2 new dance tops to update their look.
It was actually a very straight-forward process because they had their eye on 2 designs from our web store:
For the first top (above), they wanted the 400-22 online style as is: a halter-design with flattering straps that highlighted their school colors. This piece also included some subtle rhinestone work for that long-distance sparkle on the court.
For the second top, they went all out on the sparkle, selecting online style 400-48. This sweetheart style crop top is made of zsa zsa material, a sequin fabric that looks just as stunning as it sounds.
Both tops were originally designed with professional cheerleaders in mind, so we raised the neckline a bit to make them more fitting and modest for the Gold Rush girls.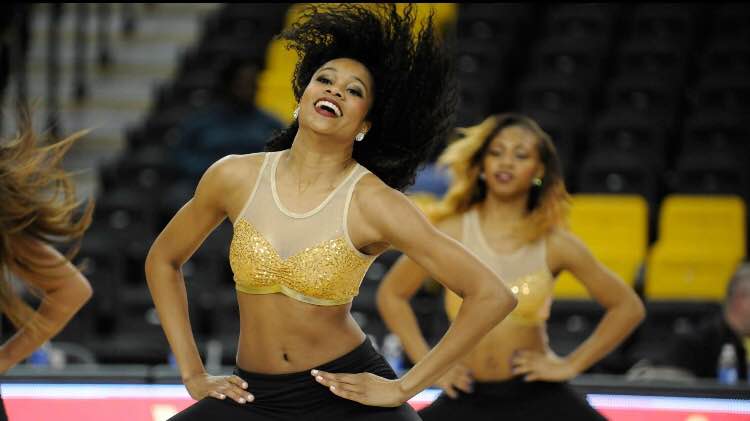 Armed with a new look to cheer on their basketball teams, we wish the VCU Gold Rush Dance Team a great season and can't wait to see how they sport their new style!
---