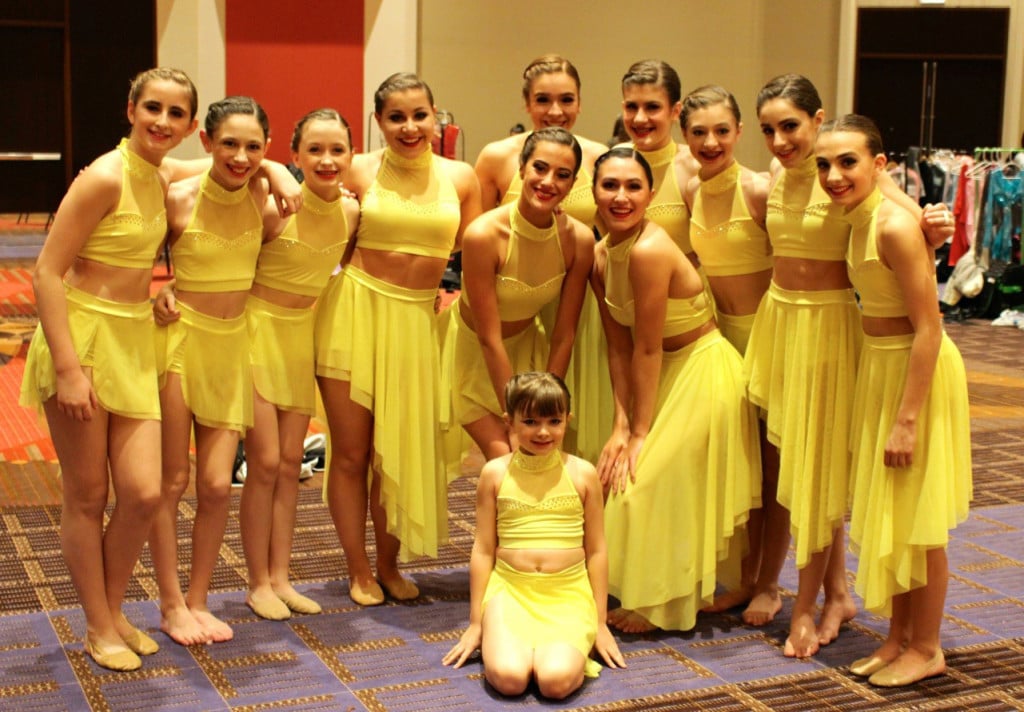 All About Dance (AAD) is proud to be a part of Chicago's thriving dance community, and is a studio passionate about what they do. They focus on hard work, but above all they strive to create a warm and loving community for their dancers. They are a family, first and foremost. And we, at The Line Up, were honored to have the opportunity to work with them for the first time this year.
AAD came to us from Jen Kopka, the Company Director. Jen had worked with us before at her previous studio, and when she moved to AAD we were excited to hear she wanted to continue working with us! We asked her a few questions about her new studio and the costume process and loved what she had to say! Take a look:
---
TLU: What makes your studio unique?
Jen: At All About Dance, or AAD as we call it, is so hard to describe if you haven't experienced it… it's truly hard to put into words how special this place is. We train hard and are passionate about what we do but it's so much more than that… we are a family and it never ceases to amaze me what we will do for each other and how we've supported each other. We really pride ourselves on doing everything with love and creating not just great dancers, but good human beings. Additionally, we are so fortunate to be located in Chicago with such a thriving, supportive dance community. Our dancers get to see first hand where dance can take them! Ultimately, AAD is a wonderful community working together through dance, love, and hard work!
TLU: Were there any stories behind the costumes you chose? Which was your favorite?
Jen: It was so fun seeing our visions come to life!! We loved being able to take something The Line Up had designed, sharing our own perspectives and tweaks and ending up with the absolute perfect costumes. One of our teachers this season had a vision for an uplifting piece and was looking everywhere for yellow costumes… I had my doubts about yellow but after working with The Line Up, they turned out absolutely beautiful and are one of my favorite costumes of the season! [Pictured above, the Henrie top paired with the High Low Skirt and the Avery Skirt]
I was also thrilled about all of the jazz costumes I ordered… they are so unique and we've been getting compliments at competitions from other studios and from the judges. There is one particular costume that I took so long to design (I wanted it to be perfect!!) and you all were so helpful and patient. I knew I wanted red for my jazz dance, "Emergency", and had a vision of pattern changes and blocking…. something that would stand out! The Line Up nailed it… we ended up with a mature, distinguished costume that really shines on stage.
TLU: What brought you to The Line Up this year?
Jen: I had used TLU with another studio I worked at previously and knew that you had quality costumes. When I took on the position of Company Director at All About Dance, I knew I wanted to continue using TLU. I love that you can get that custom look without the custom prices. TLU has such great quality costumes at reasonable prices. That really stood out to me. It always shocked me how much some studios spend on costumes. I was also so appreciate of the patience my sales rep had with me and my co teachers… especially when we got down to crunch time!
---
AAD Designs
Jen needed quite a few competition costumes this season and knew we were up for the challenge. AAD chose many of our web designs and customized them with their own personal touch. Simple modifications like changing fabrics, switching out components like skirts, and mixing and matching pieces allowed them to create truly unique looks! We hope the season keeps shining brightly for AAD! Here's a sneak peek at some of their groups:
Roxy
AAD took this flapper theme dress and made it their own. They changed the zsa zsa sequin fabric to purple and altered the neckline to create a more modest look. For the perfect finishing touch, gold sequin trim was added to give the appearance of a sparkling necklace!

Senior Jazz in a modified Wednesday style
For their jazz routine "Emergency", Jen had a very specific design in mind, and started with the Wednesday unitard as a base. She altered the style by switching the skirt to a peplum style, shortening the arms to cap sleeves, and changing the unitard into a biketard. I think we might like the bold red look even better than our original design!
Glamour Jazz in online style Beyonce
This edgy lace leotard is one of our favorite designs this year. With lace sleeves and a peplum skirt, it's hard not to miss the Beyonce reference in this leotard!

Mini Jazz in a modified Betsy Style
This Betsy style has been in our store for quite a while - and AAD made this look fresh by switching out the sleeve fabric to pop mesh. So cute and edgy!
Solo - in a modified Leanne style
The oversize blue bow was the perfect addition to this solo costume!
---