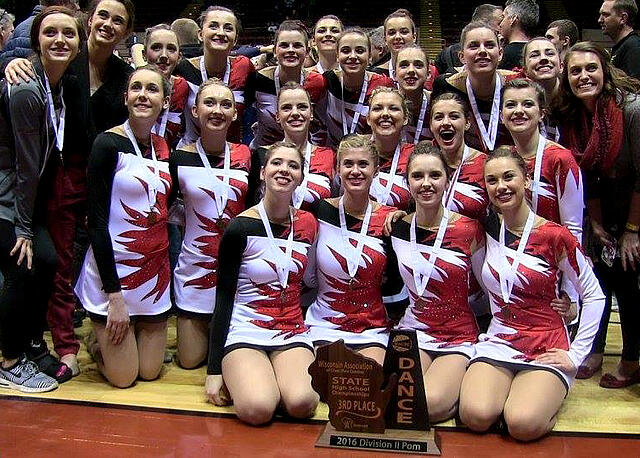 It's been a year full of surprises for Wisconsin's Hortonville High School Dance Team! And we at The Line Up were thrilled and excited that Coach Kiara asked us to be a part of their journey this season, equipping the team with some fiery new pom uniforms for their state competition!
Coach Kiara also took some time to tell us a little more about her team: "This team is full of energy, spunk and fire. The amount of passion, heart and energy that this team displays while performing is so fun to watch." This year, the team chose "Girl on Fire" by Alicia Keys for their song. This song highlighted the team's passion so well that it inspired a new team motto: "This Team is on Fire"!
The Design Vision: Fire and Intensity
Hortonville's school colors are red and black, which coordinated with their theme and new team motto perfectly. Coach Kiara said, "I knew I needed to design a uniform that matched the fire and intensity that they practice and perform with every day!" Working with The Line Up, she came up with a beautiful design that "made the flames stand out and sparkle!" A custom red flame design was printed onto the black and white garment with sublimation, and rhinestones were added for that extra flair.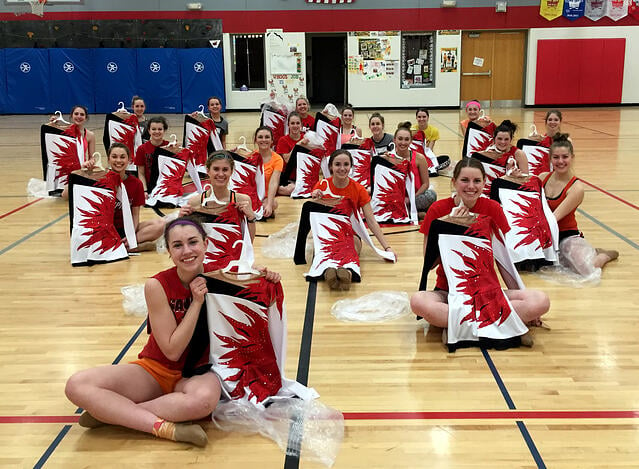 Surprise! The Big Reveal!
This isn't the first time Coach Kiara has surprised the team with new uniforms, but this was the first time she was cutting it close with the timeline – right before State! Pulling off a successful surprise wasn't a small task and it was most definitely a risky move, especially when it came to sizes. Coach Kiara was the only one to try on the prototype of the pom uniforms. She had to guesstimate sizes for 22 girls herself – talk about nerve-racking! It all worked out, of course! We worked closely with Coach Kiara and together we met the deadline with a day to spare!
Here's Coach Kiara on how she surprised the girls:
"We had a Homecoming pep assembly the day before State and I wanted to make sure that everything fit and that the uniforms looked as great on the floor as they did in the box! After a couple really hard weeks of practice I sent the girls out in the hallway to have a team talk and motivate each other for the last run through before State.

While they were out in the hallway, I laid out the uniforms in their first formation. As they walked back into the gym, it took them a while to figure out what they were but once they did, the screams started and the tears began! Girls were hugging each other and you could see the look of complete shock on their faces. The video [below] shows their reactions and makes me tear up every time I watch it! The best part was that the video only captured their reaction with the dresses still in the bags, I think they were too in shock to touch them! Once I took them out of the bag the screaming and crying continued!

They were SO excited and it was the perfect boost of confidence they needed heading into the biggest weekend of the year! We tried to keep the uniforms a surprise from our parents and it was so fun to see the reaction of the parents as the girls took the floor at the pep assembly the next day! I was blown away by how beautiful the dresses were and how much they sparkled under the gym lights. Thank you for taking my vision and turning it into reality!"
Check out the video of the uniform surprise reveal:
[video width="480" height="276" mp4="http://blog.thelineup.net/wp-content/uploads/trim.249FF118-441A-4789-9DC1-557F195FB1551.mp4"][/video]
Onward to State
The girls were super excited to show off their new uniforms at the Wisconsin State Dance Competition. They looked amazing and, most importantly, on fire! Coach Kiara reported: "We received so many compliments throughout the day! They sparkled and dazzled on the State floor and really brought our entire routine together!" It's no wonder they rocked their performance and finished 3rd in Division 2 Pom! Big congratulations to the team and Coach Kiara!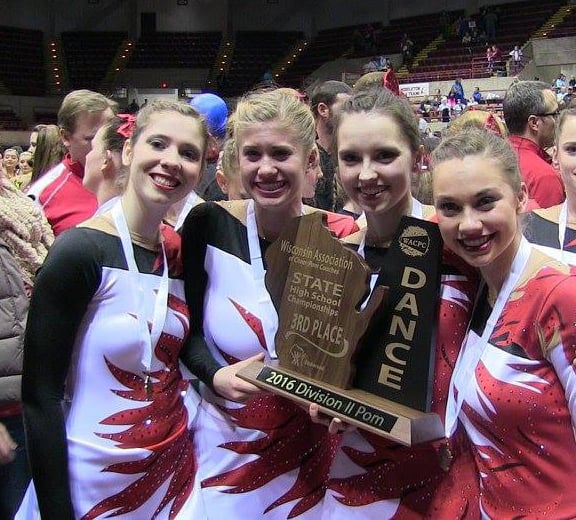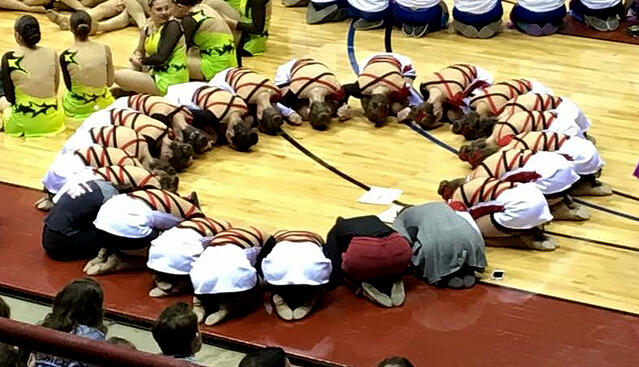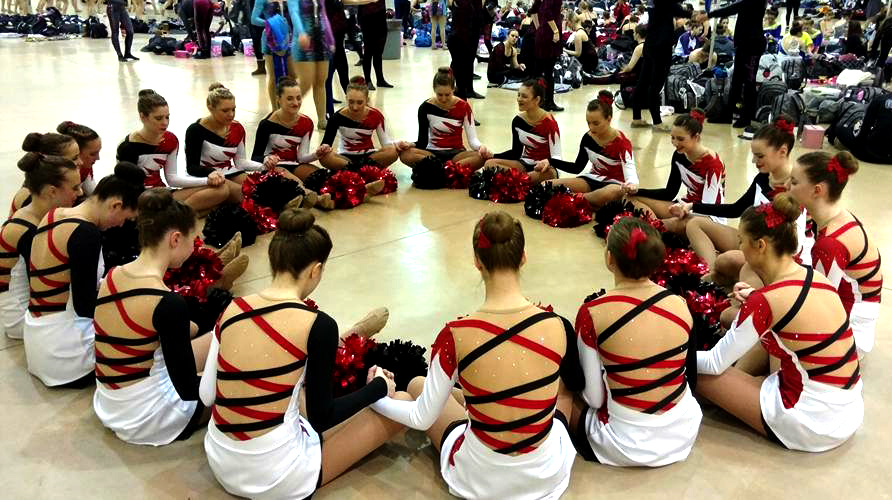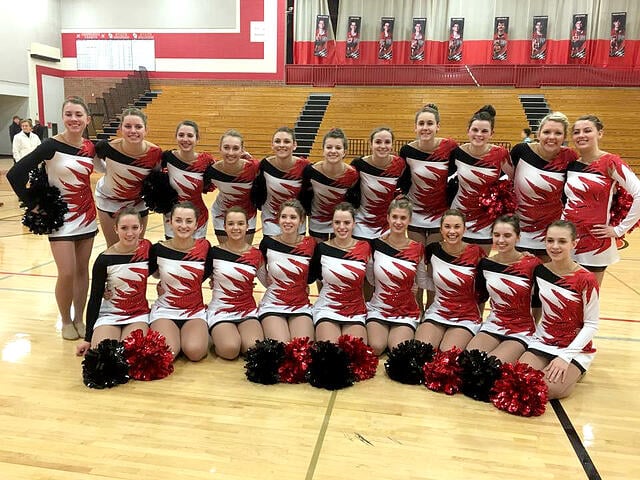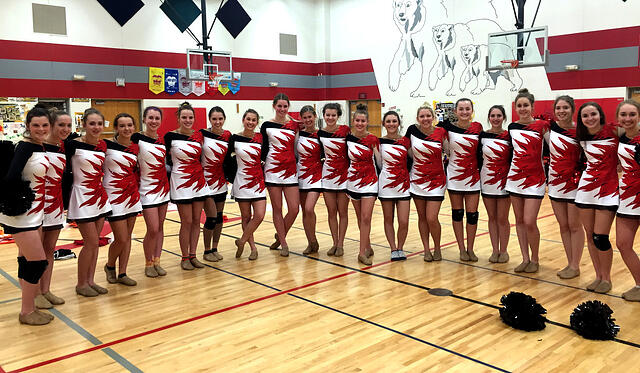 Check out a video of their performance at state:
Q&A with Coach Kiara:
What makes your team unique?
I may be a little biased but I coach remarkable girls! They are so hard-working, dedicated, determined and have such fun personalities! Their commitment to this team and to each other is truly amazing. They have trusted my crazy ideas and they challenge me to be a better coach every day. No matter how hard practices can be, what places we end up with or what challenges we are given, I absolutely love coaching this team and these 22 beautiful and talented dancers!
Biggest challenge?
We have a running joke on our team that Murphy's law follows us everywhere! From illnesses to injuries to snow days and buses, anything that can go wrong will go wrong and this year was no exception. We were hit HARD with illnesses and injuries throughout the month of December and we just couldn't kick the bug. It kept hitting our team which meant many practices with girls missing and several changes to routines and formations. It also hit me hard the week of State and I lost my voice! Hard to yell without it but I have a feeling, the girls didn't mind. ;) Luckily, we have a lot of practice with overcoming obstacles, making changes and preserving. Our team is ready for anything that is thrown at us and my girls always find a way to come together and make things happen!
Favorite memory from the season?
My favorite memory of the year was watching the girls perform their pom routine at State. They left their hearts on that floor and it was so fun to watch them rock their routine as a team! I always said the day they nailed the routine was the day I gave them a standing ovation. If you ever get a chance to watch the video, you will see that it was a jumping ovation! I was so incredibly proud of them and as always, so incredibly proud to be their coach!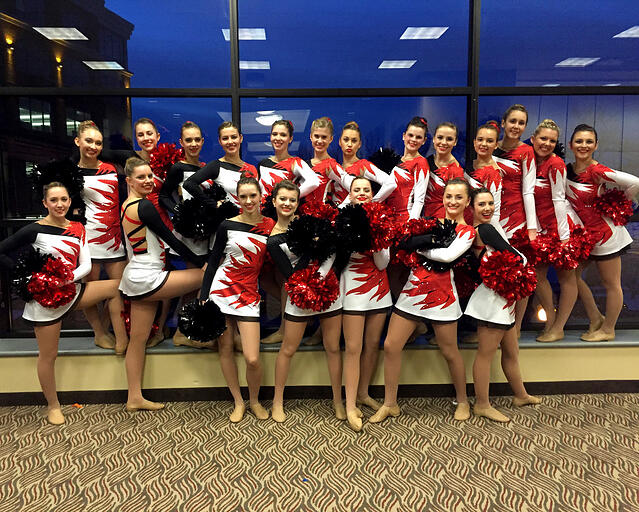 ---