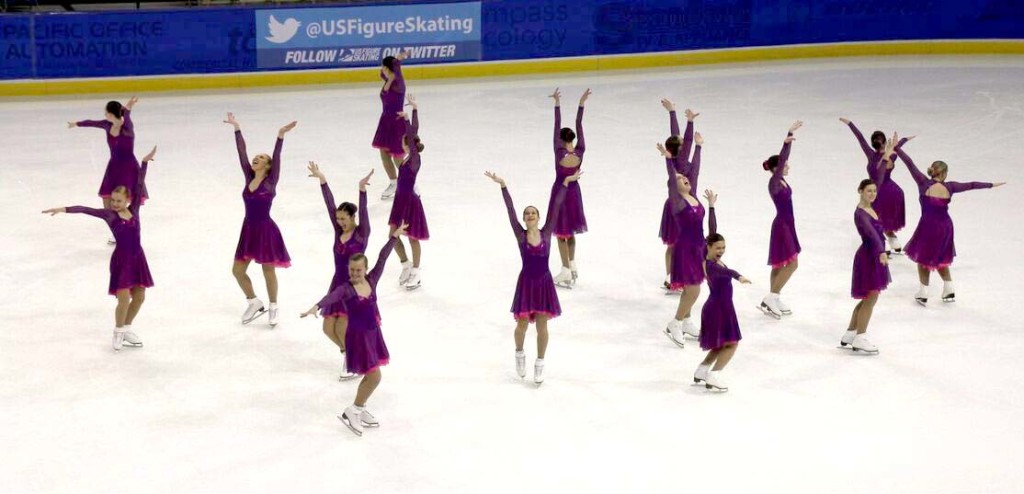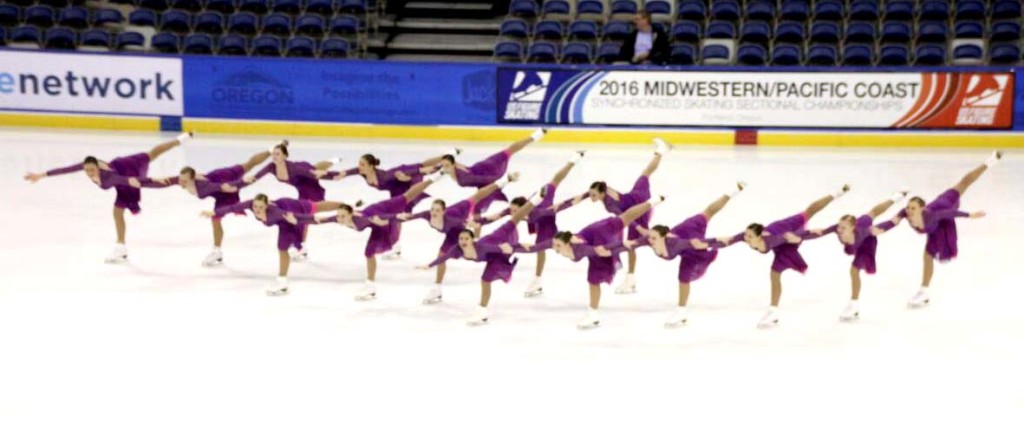 This year has been full of new and exciting challenges for the Wisconsin Edge Intermediate Synchronized Skating Team. They moved into the national-qualifying division, which meant they needed to take everything up a level, from the music to the dresses!
The Music
Coach Sally-Anne told us a little bit about how they choose their music: "We play a variety of songs with different tempos, speeds, etc. during our clinics, tryouts and first few practices, and more often than not, the skaters end up helping pick their theme based on their reaction to what we play!" This year, the winner was a Bruno Mars medley! Now that they had the music, it was time to think about choreography and dresses.
The Design
Coach Sally-Anne said, "We knew we wanted something sophisticated for our debut in a new division." She collaborated with Wisconsin Edge's "mastermind behind all of our apparel" (a.k.a. Co-Skating Director, Angie Johnstad). The coaches decided to use our Kemper Skate dress as a base and then had us send over some color options. The team reviewed the fabric swatches and fell in love with the plum/fuchsia combination that "the girls went crazy for," said Coach Sally-Anne.
The Search for Matching Coach Attire
With the team's new skating dresses complete, it was the coach's turn! However, trying to find an outfit in December that matched the plum/fuchsia dresses turned out to be a bit more difficult than Sally-Anne had planned. Luckily, after a few conversations with her sales rep Randi during our Black Friday Sale, she found a winner from our Lifestyle collection: the Metro dress in fuchsia.
Coach Sally-Anne wanted to surprise her girls with her new dress, so did the big reveal at the Midwestern Sectionals. It was a huge success:
"The girls went absolutely CRAZY for the dress and couldn't believe that I actually had one MADE to match them! I'd do it again in a heartbeat -- somehow I have a feeling this will become a yearly tradition now."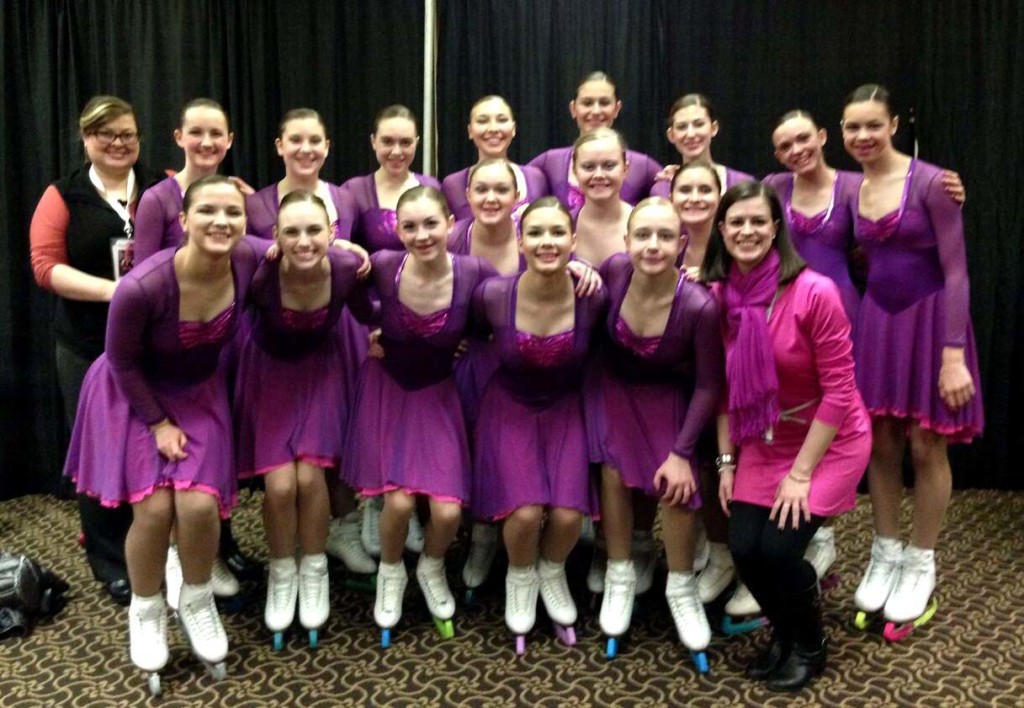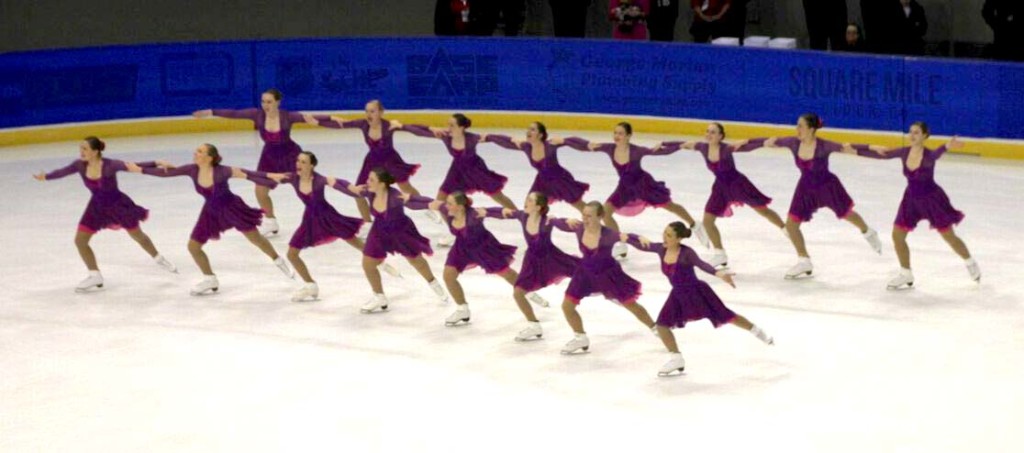 Photo by Midwest Synchro Photos - Nicole Czuhajewski
Photo by Midwest Synchro Photos - Nicole Czuhajewski

Photo by Midwest Synchro Photos - Nicole Czuhajewski
Q & A with Coach Sally-Anne:
Music: Bruno Mars medley: Just the Way You Are, Treasure, Locked Out of Heaven, Runaway Baby, Uptown Funk
Favorite memory from the season:
Our second competition of the season was right before the holidays, and the girls did a Secret Santa gift exchange while we were at the competition. What we didn't realize is that they flipped the script on the coaches and ended the exchange with their own gift to us. They started giggling, which made us a little skeptical! And top it off, a parent grabbed my iPhone and started taking pictures as we unwrapped our gift. As a team, the girls went to Build-a-Bear and using their own money, created our team mascot: Bearno Mars. (Get it? Bruno? Bear-no?) They were so proud of Bearno and it was so thoughtful of them to do this for us, with their own money to boot. A few Bearno Mars photos attached. Next year, we'll make sure he gets a Line Up-approved costume!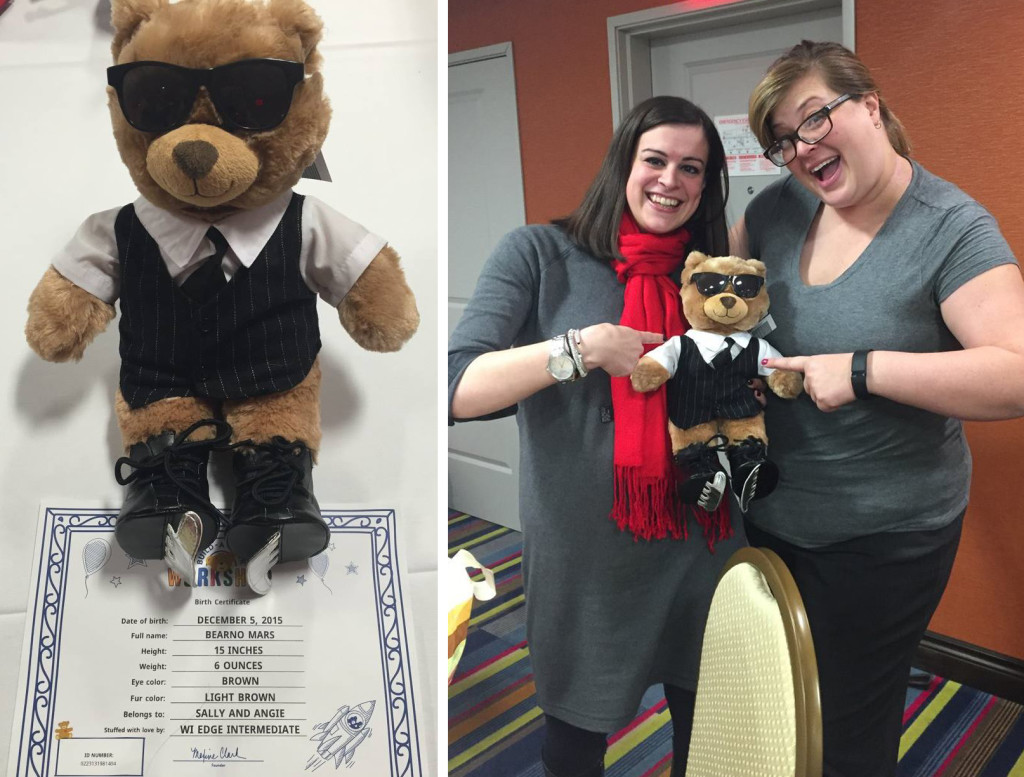 Biggest Challenge
When you compete in a division with 25 teams, it's tough to stand out! Especially when you skate towards the beginning of the division. Our division at Midwestern Sectionals lasted nearly 4 hours! Our fun music, the girls' energy, and of course, their awesome dresses certainly left a positive impression on the judges all season. We received many, many compliments on the music and dresses all season long.
What makes your team/group unique
These girls truly love each other like family. It was so much fun watching them grow and bond and enjoy spending time with each other. After their last skate at Midwesterns, everyone bawled their eyes out in the locker room, because they were all sad that our graduating seniors were leaving. I've been a part of teams that have cried over a poor skate, but this was the first time I had ever seen a team cry because they were sad for the seniors!
Congrats on your first season at a national level, Wisconsin Edge!
---