Miami University of Ohio's Synchronized Skating Team is an entity unlike any of it's fellow collegiate programs. This program is made up of three unique teams which cover all altitudes of skating abilities at post-secondary level: Junior, Collegiate, and Senior. The University is able to recruit skaters from across the country for it's many teams, creating a one-of-a-kind program for skating.
Head Coach Carla DeGirolamo talked to us about their top-leveled Senior Team who recently went to the 2016 ISU Worlds Figure Skating Championships for the second year in a row. Only two teams from the United States are able to go each year, proving this Miami University to be a power-house for our National Synchronized Skating programs! Coach Carla's biggest challenge? Getting this team ready for their competition season in a very short period of time. With this team being able to compete at the national and international level, it is clear that her and her athletes rose to the challenge and made their season a successful one!
Strength with Elegance
The Senior Short team chose a lively, yet dark theme for their routine this year, portraying the Evil Queen from "Snow White and the Huntsman". Their costume design nailed the theme with a dramatic choice of colors and layers. The team's use of black lace with rhinestones over a bold silver, sheer black sleeves, and a deep, nude cut down the front of the costume gave them the edgy "regal" look that they were going for. Coupled with their use of strong, sharp choreography with a lot of speed and attack, the team imbibes the idea of powerful femininity – a little opulent yet strong!

"Snow White and the Huntsman" Themed Costumes
All-Around Excellence
As a pioneer in the Synchronized Skating world, this program not only molds talented athletes, but encourages well-rounded individuals off of the skating rink. Every skater is not only a varsity athlete, but also a full-time student at Miami University, setting them apart from many other teams. When asked about the teams' highlights of the season, which included earning a silver metal at Nationals, Coach DeGirolamo commented,
"Oh, there are so many to choose from! Earning silver medals at two international events and skating our two best skates of the season at the World Championships are certainly highlights."
Balancing both education and top-notch athleticism truly lifts this team above others and makes it an icon for skaters across the country!
Take a Look at Miami University of Ohio's Other Skate Teams:
The Collegiate Team
The Collegiate Team skated to a USA themed medley for their free skate, and wore a classic red white, and blue to match. They took home their 12th consecutive national title and the 2016 Synchronized Skating Championships this year! This is the record for the most consecutive national championships!

Synchronized Skating Champions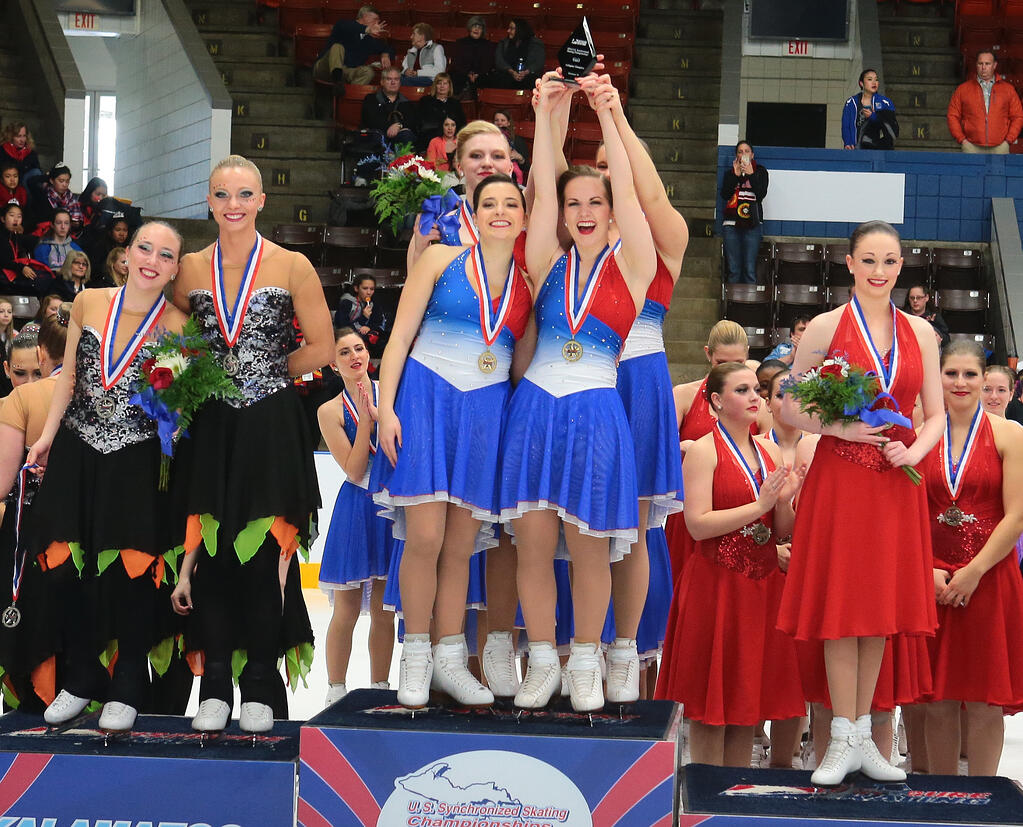 First Place at the U.S. Synchronized Skating Championship
The Junior Varsity Team
The Junior Varsity Team had a "Disney Villianess" theme for their free skate, complete with deep purple color and shimmering bodice!

Miami University of Ohio Custom Made Costumes

Miami University of Ohio Junior Varsity Skate Team
---
Are you looking for a new team look for the 2016-2017 season? It all starts with Team Apparel! Check out our new catalog for fresh warm-ups and practice apparel looks!