A New Team Emerges
Watching football is a treasured American pastime, and if your anything like us, a favorite part of the game is getting a glimpse of the cheerleaders on the sidelines! The Arena Football League (AFL) brings a fresh dynamic to the classic american tradition with a faster paced and higher scoring game. One of its teams, the newly branded Portland Steel, is supported by the vibrant Portland Steel Cheerleaders. This enthusiastic team truly represents what it is to be the ultimate fan entity for their AFL Team!
Currently in their debut season, the Portland Steel Cheerleaders pump up their crowds for the newly re-named Portland Steel Football Team! These girls love their football team and its fans and work hard to show their support. One of the favorite memories of the season so far? On opening night, the Portland Steel Cheerleaders rallied their fans behind the football players and made their inauguration to the League a memorable one!!! The fans love the girls' energy and amazing presence while they cheer on their long-awaited AFL Team!
"Our crowd has really rallied around the team and the dancers feed of the great energy," Rea, a member of the team, said. "Can't wait for our next home game!"

2016 NFL Pro-Bowl Cheerleaders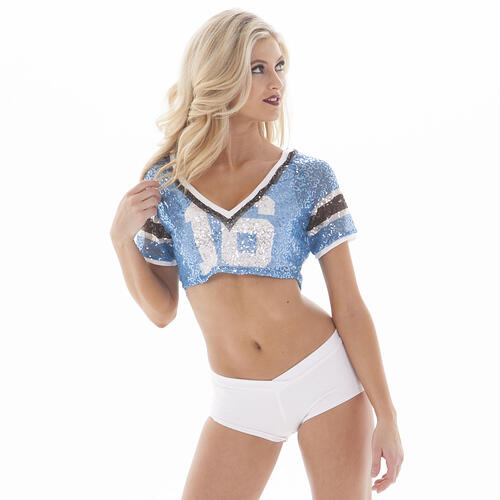 An All-time Favorite
With the creation of the newly branded football team, the Cheerleaders also needed a new look! The Portland Steel Cheerleaders created their own version of the ever-popular Sparkle Jersey. This uniform has made appearances with many other teams, including on the NFL Pro-Bowl Cheerleaders (shown above.) Rea said "We love the look of the new sparkle jersey and it is a perfect fit for our team. The sparkle is eye-catching and really pops on the field!" They can't go wrong with this favorite outfit and the dancers and fans love how it brings life and energy to the field and routines from the team!
Off to a Great Start
Moving forward in their starter season, the Portland Steel Cheerleaders are gearing up for the next home game. The dancers have one goal - to create a memorable and successful season as the first cheerleaders for the newly named organization. With their positive attitudes and passion for their team and its fans, there is really no stopping these girls from creating a top-notch team that will exist for years to come!
---
Want this popular look for your team? Shop the Sparkle Jersey now!