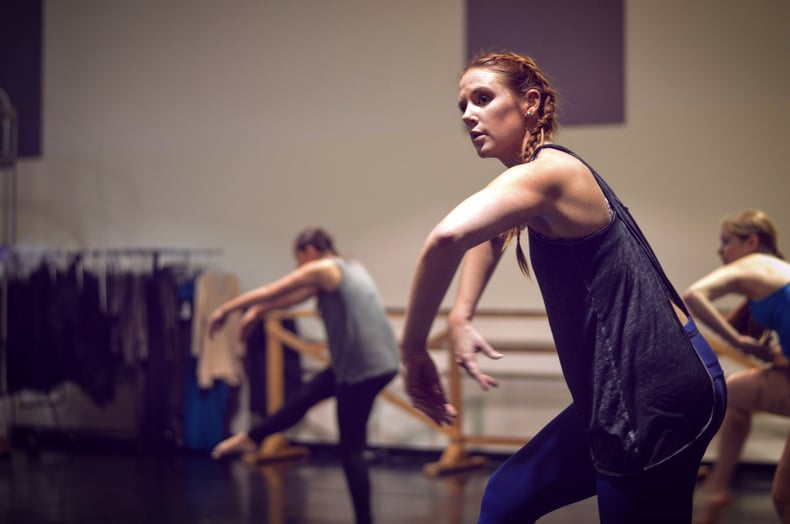 Mollie Sylvestre: Choreographer & Teacher at Dance Arts Centre and Co-Founder of Matrixx Pro
Wondering about dance careers after high school? The options abound, but for many the first things that come to mind include auditioning for a college dance team, majoring in dance in college, or making the bold move to become a professional dancer.
But there are other, sometimes less conventional, options as well! This week we're sharing stories from nine passionate dancers that found ways to keep dancing after high school. Check out their inspirational stories!


Fitness Instructor
Allison Kayati: Professional Dancer and Zumba & PureBarre Instructor
Dance has always been a big part of my life. All through high school I danced at various local studios, and seriously considered majoring in dance. I ended up choosing a different path and abandoning dance for about a year.. which was a terrible decision!
I got back into it by joining the dance team at the University of North Dakota, taking and teaching dance classes, and dancing as a company member in the North Dakota Ballet Company.
After college I found myself focusing on starting my career, and once again dance fell to the way-side.. I couldn't figure out why I felt lost and just not myself! I started taking classes again and decided to pursue a fitness route with it too. I became a certified Zumba Instructor 3 years ago and fell in love with being able to bring dance into the lives of a wider population. I also started teaching PureBarre (a ballet-inspired fitness format) which has seriously helped keep my body in dance shape.
I decided I still missed performing though, so I auditioned for a professional dance role with Mystic Lake Casino. It feels so good to be back on stage!
My advice is to have confidence in yourself – real, actual confidence. Dancing is an amazing way to develop this trait. Confidence will carry you through the auditions you make and do not make and you will be OK either way. And that goes beyond dance, into the rest of your life!
Dance Costume Rep
Katie Famakinwa: Director of Sales and Client Services at The Line Up and NDSU Dance Team Alumni
I loved dancing for my high school dance team. I still had so much passion when I graduated, I knew I couldn't give it up in college. So I auditioned and made my college dance team at North Dakota State University. I danced from my freshman year until my junior and made the difficult decision to give it up my senior year. Sometimes you have to be a grown-up and focus more on activities that support your degree. I still loved dancing and kept it a part of my life by getting an internship at Dance Spirit magazine my senior year.
After college my career path took me in various directions. I did several sales and customer service type jobs. Until the day I landed a job at The Line Up, everything came together! Now, as the Director of Client Services, being involved in the dance community is my job! I wake up every day and work in a field that allows me to connect with amazing teams and continue to share my passion for dance.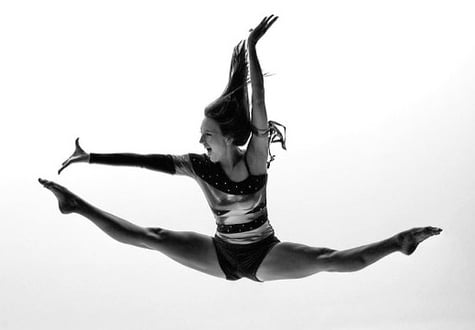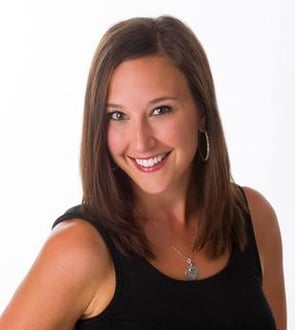 Studio Instructors & Choreographers
Lindsey Stone: University of MN Dance Team Alumni, Company Line Instructor & Choreographer at South Metro Dance Academy, and Sr. Account Manager at the Line Up
I graduated college in 2005 and, having danced my entire school career, I knew I still had to have dance in my life. I took up coaching a high school dance team and also involved myself in helping choreograph for a dance studio.
After 4 years I was done coaching I joined the dance studio as a full time teacher where I have been immersed with dance ever since. I also try and take adult dance classes when I can to keep my body moving.
Passing my knowledge of dance down to my students and then watching them grow as dancers, and express themselves through dance and movement is extremely fulfilling!
Mollie Sylvestre: Choreographer & Teacher at Dance Arts Centre, Minnesota Vikings
Cheerleader Alumni, and Co-Founder of Matrixx Pro

It's hard not to feel a little lost after high school as it relates to dancing. After not making the college dance team of my dreams, I was worried that I would never get to dance again and struggled with my next step. I was offered a teaching job at the studio I grew up at (Dance Arts Centre) and, at first, I was reluctant.
Eventually I accepted the position and it turned out to be the best decision I've ever made. Although teaching wasn't the same as dancing, I found that it really did help me stay in shape, and connected to the dance world.
It was connections that I had made through that position that guided me to try out for the Minnesota Vikings Cheerleaders, where I spent 5 seasons dancing on the sidelines and loving every minute.
Now, I am still a teacher and a choreographer at the studio I grew up at, and I can't imagine my life any other way. I've also been able to use the connections I made, and skills I learned on the Minnesota Vikings Cheerleaders to create a program called Matrixx Pro with my best friend and fellow Vikings Alumni, Pam Gleason. Through Matrixx we hold adult dance classes and are available for choreography for all different types of teams: Pro, High School, College, etc.
My advice? Have faith, stay strong, and never let anyone tell you that it's not realistic to keep dance in your life, even if it doesn't take the form you first imagined!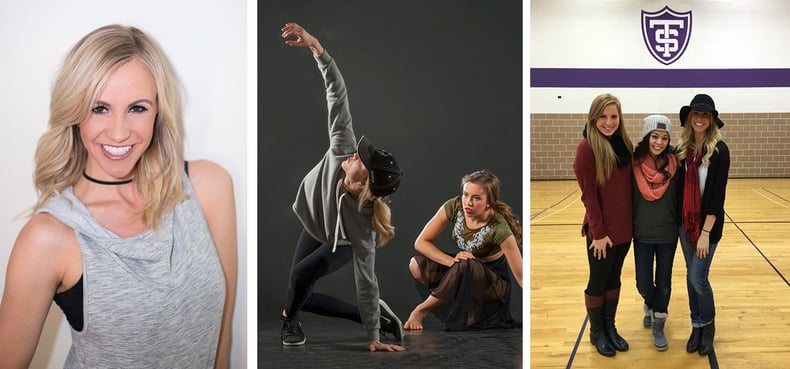 A Little Bit of Everything
Pam Gleason: Former Dancer and Coach for University of St. Thomas Dance Team, MN Vikings Cheerleader Alumni, Dance Instructor & Choreographer at Dance Arts Centre, Sales Rep for The Line Up, and Co-Founder of Matrixx Pro
After high school I knew I wanted to keep dance in my life but I was unsure of my exact plan. Each one of my dance experiences led me to where I am today!
Following my high school dance career, I auditioned and was a member of the University of St. Thomas dance team for my college career. College dance team was an amazing and unique experience- everyone comes from different backgrounds and comes together to form a team bonded by the same passion and goals.
Following dancing for St. Thomas, I knew I needed to keep dancing; I tried out for the Minnesota Vikings Cheerleaders and danced there for 5 seasons. Dancing professionally as a cheerleader/dancer was also an amazing and unique experience. What's great about it is that you are connected and bonded with all these inspiring, driven women (many of whom are my best friends to this day!). However, it is considered a JOB, which means (obviously) it must run very differently than a college dance team. Dancing professionally on a team was an amazingly rewarding experience, and a great way to keep dancing after high school (and college.)
In addition to cheering for the Vikings, I coached the University of St. Thomas dance team during that time. Coaching is another great way to keep dance in your life after high school, but it something that should not be taken lightly. Coaches must understand that it isn't just about loving dance and wanting to still be involved: it requires a passion for always wanting growth and development, and teaching not only dance technique but life skills. I absolutely loved coaching this team for 6 seasons- coaching/ teaching is something I love.
Following my coaching career at UST and my cheering career with the Vikings, I am now a teacher/choreographer at a local dance studio. I found there are many similarities to coaching, but many differences as well. I absolutely love growing and teaching at the studio. Obviously teaching a variety of ages and skill levels vs teaching young women is a major difference and requires a much different approach to communication and teaching. Being a teacher/choreographer is another great way to keep dance in your life following high school. I learn something new every day!
Another way to keep dance in your life is to be in the industry! Dance is not only my passion, it is also my "day-job"! I have been working for The Line Up (in many different roles) for almost 5 years, and am currently a Sales rep and choreograph the dance costume photoshoots. I love talking with coaches, teachers, and dancers helping them with their costume journey. I also love hearing about their teams and how their season is going. I've found that there are somethings in the dance world that dancers just "get" and so many dance and performance companies hire current and former dancers. Also, dancers have a passion for anything and everything dance so it's easy to be zealous about my day to day work.
And lastly, a new venture that I recently pursued with my best friend/coworker/sister-in-law was starting adult dance classes with pro style inspired choreography called Matrixx Pro. It is a weekly class that anyone over the age of 18 can attend. It is the culmination of everything that I have done after high school: dancing, teaching, coordinating/leading, and choreographing. We just wrapped up our first session and it was a greater success than we could have even imagined. Excited to see where Matrixx Pro leads us!
SO, as you can see, there are many different routes you can take after high school that will keep dance in your life. You just need to assess IN WHAT WAY: Dancing yourself? Leading? Choreographing? Coaching? For me, all of these amazing opportunities have led me to where I am today and I couldn't be happier. DANCE REALLY IS LIFE.
---
Looking for more inspiration? Check out more stories from a dance major, a professional cheerleader, and two choreographers!
In the meantime, check out the TRIBE99 Dance Combine - a unique opportunity for high school dancers to learn how to prepare for college auditions! For more information, download the information packet here or register via the link below!