It's that time of year - School is back in session, game days are starting to pick up again and all we can think about are this year's upcoming competition costumes! As we head into our busy season (a.k.a. your competition season!), we are overwhelmed with the amazing costume designs and inspiration that our creative customers and designers come up with! It truly is inspiring seeing all these beautiful costumes go out the door and onto the competition floor.

Check out what we've found are the Top 6 Jazz & Contemporary Dance Costume trends for 2018:
1. Mesh, Mesh, Mesh!
Mesh has some coverage, but the sheerness adds a little bit of texture to your dance costume! We are loving mesh overlays, fully sublimated mesh leos worn over your favorite top and brief, OR including some mesh insets to add some extra interest.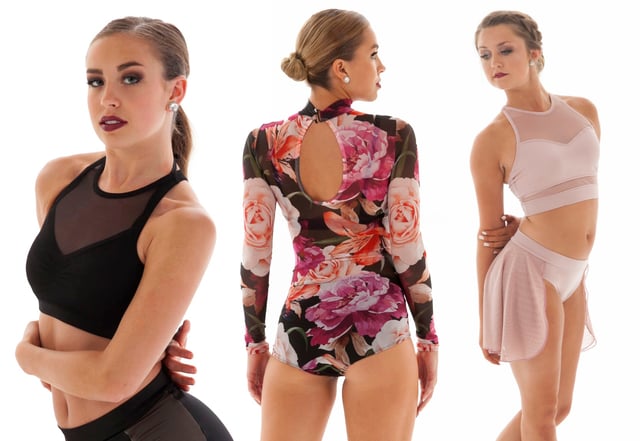 202-7 Mesh Overlay, Floral Mesh Leotard, 202-9 Long Line Crop, and Brookfield Short Skirt.
2. Cold Shoulder
You may have seen this trend in our Top 10 Cheer & Pom Uniform Trends for 2017-2018 list, but this look is no stranger to Jazz, Lyrical, & Contemporary costumes either! Dubbed one of springs "most pervasive trend," this is a look we know is probably sitting in your closet right now. The cold shoulder trend consists of exposed, cut out shoulders, and it's something that looks good on everyone!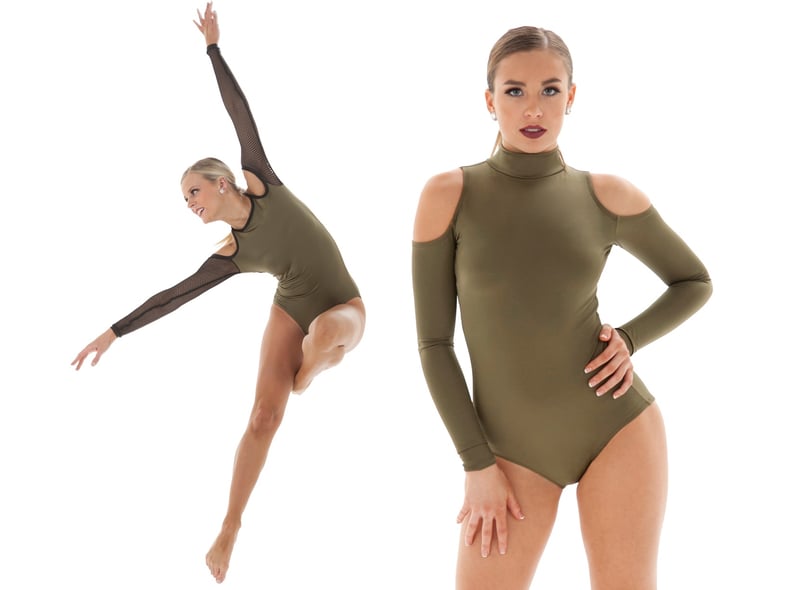 3. Modern & Minimal
The clean, simple, minimalist aesthetic is gaining popularity over the former trend of heavily rhinestoned and appliqued costumes. Simple fabrics, clean lines, and geometric shapes are essential to pulling off this trend!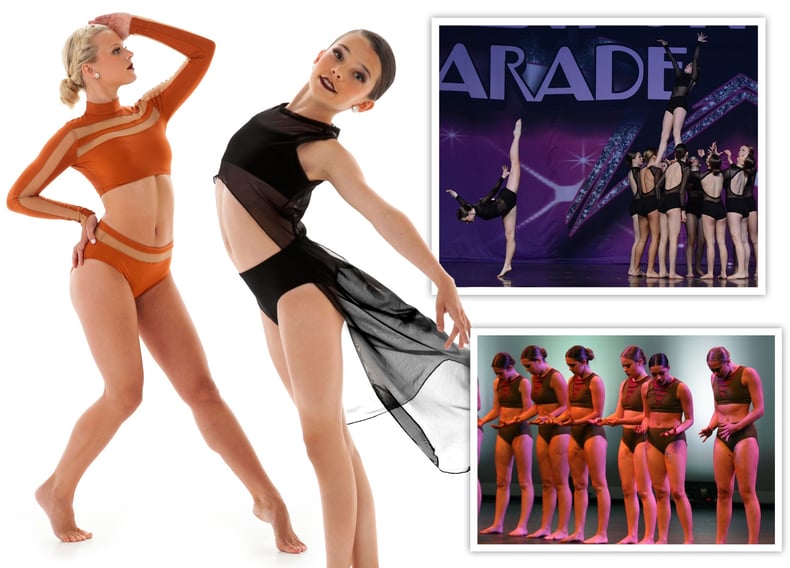 Tigra Top and Brief, Baylor Train, Attitude Bra, 504 Basic Brief, South Metro Dance Academy in the Jupela (top)
& Dance Arts Centre in a custom jazz costume (bottom).
4. Soft, Romantic Colors
We've seen the romantic look conveyed in deep, jewel tones before - which is always a classic look that will never go out of style! But this year, we are seeing a lot of soft, pastel and neutral colors such as dusty rose, orchid, ivory, and nude becoming very popular! Using lace and mesh fabrics in these colors really adds to that soft, romantic feel for your jazz, lyrical or contemporary routine.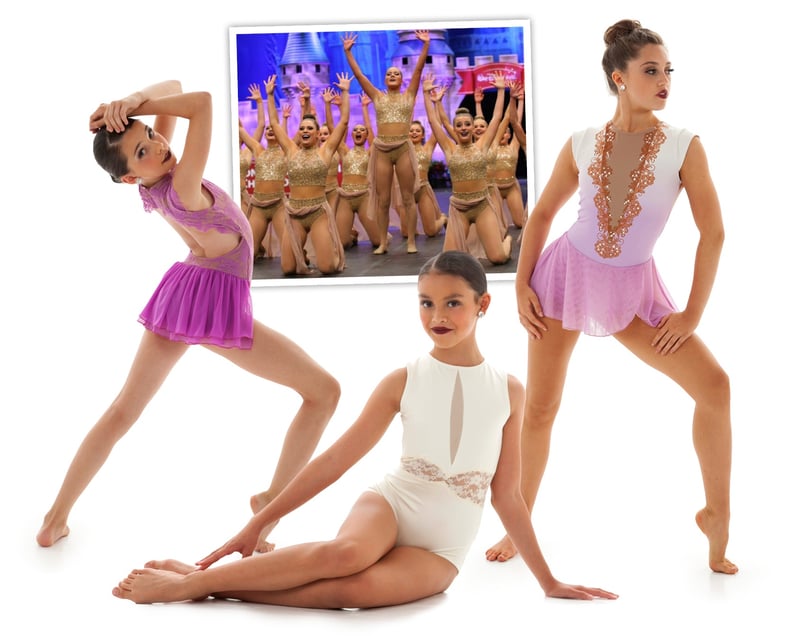 Clockwise: Imagine Dance Dress, Cherry Creek Poms in their custom dance costumes, Cora Dance Dress, and Kinsley Dance Leotard.
5. Textured Mesh
This look is PERFECT for that edgy jazz costume! Pop Mesh or Big Hole Mesh add great texture and the right amount of sass. Miami University Dance Team used Pop Mesh sleeves in their rocker themed dance costumes for NDA Nationals in 2017, see below!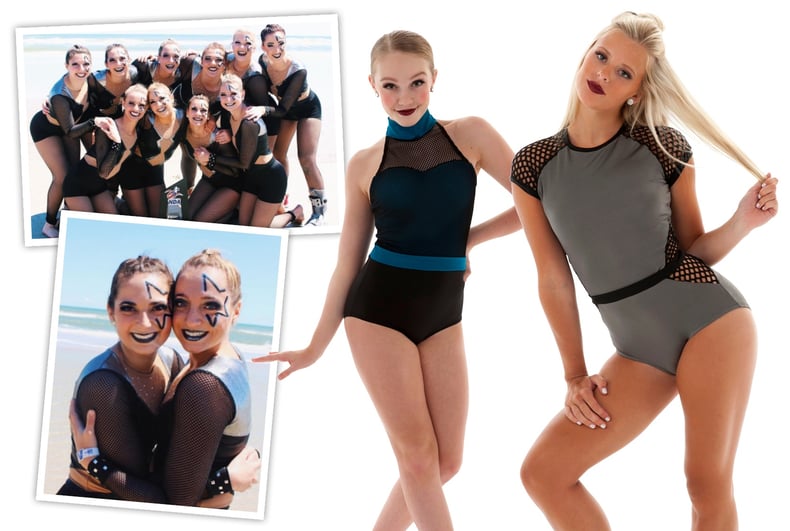 Miami University Dance Team's custom jazz costume, Shay Leotard with Pop Mesh, and Fierce Leotard with Big Hole Mesh.
6. Open Front Skirts
Open front skirts add a modern twist that maintains a little modesty without going "full-on leotard". These skirts are at their best in mesh - an optimal fabric for creating a trail of elegance as the skirt flows with your every movement.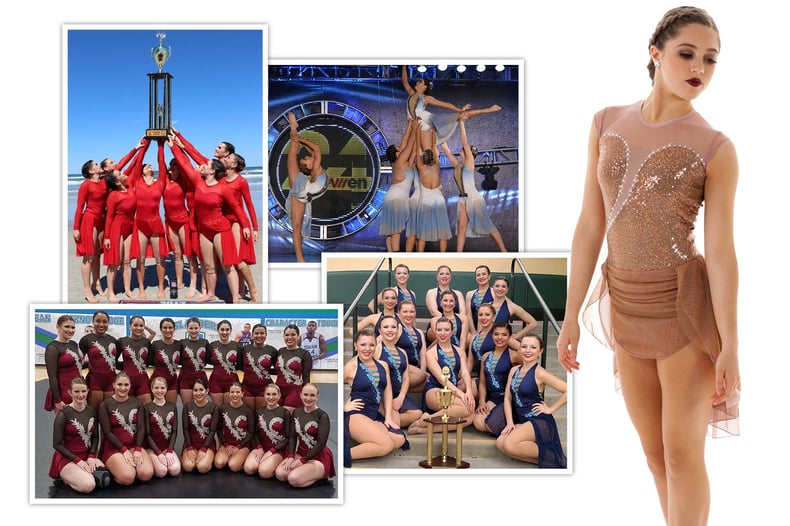 Clockwise on the Left: Texas Tech Pom Squad, My Girls Dance Center in the Raelyn Dance Dress, Bridgewater University Dance Team,
and Texas A&M Corpus Christi Dance Team. On the Right: Jolynn Dance Dress
What trend are YOU loving for Jazz, Lyrical and Contemporary costumes this year?! Comment below!
---