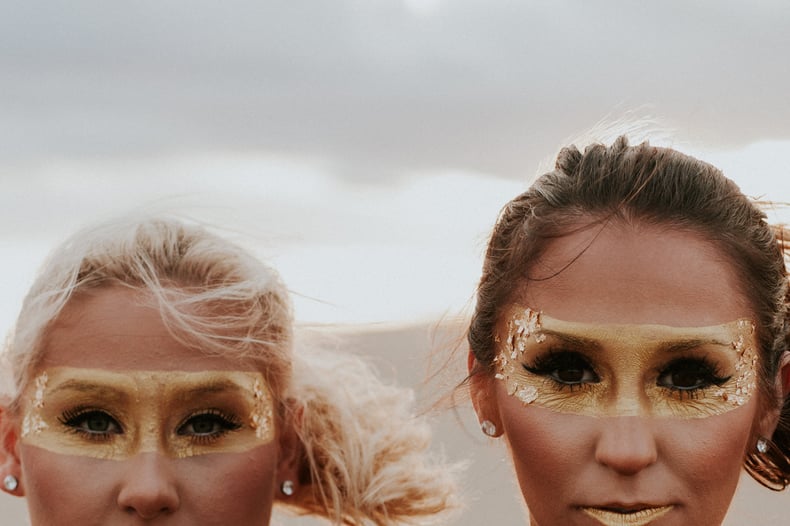 We're back again with Anna and Carsen of TRIBE 99, getting a feel for what it's like to have a career as a dance team choreographer! Earlier, they shared how TRIBE 99 got started and what makes their brand unique. Today, we're talking about what it's like to go to Nationals with a team, and their best advice for those competing! Take a peek:
What role do you play at nationals, or how do you work with your teams at nationals?
At this point of the season, our role turns from "choreographer" to "supporters and confidence builders" at Nationals. We attend studio practices, backstage practices, give pep talks, sit in the front row screaming while our teams are on and document the entire journey. Our role is to build confidence and be their number one fans. A favorite part about our job is watching TRIBE evolve throughout the season. Watching them peak at Nationals is such a rewarding moment for us.
What was your schedule like, or what was a typical day like at nationals?
Our schedule is CRAZY at nationals but we wouldn't have it any other way. High school nationals is busier than college nationals because there are more categories, therefore we have more teams at high school nationals. A typical nationals day runs 12-15 hours each day. The days can get long but we love being a HUGE part of our teams nationals experiences. Throughout the weekend you can find us switching shirts and running from venue to venue to catch all of our teams.
Nationals weekends for us go a little something like this:
Friday is STUDIO day. TRIBE tries to hit all teams studio practices for at least 45 minutes. During these practices we are just reviewing style points, giving small critiques, and boosting their confidence through pep talks! Friday is a 7am-10pm day non stop.
Saturday is semi-finals. TRIBE meets with the teams before their backstage reporting time. We go backstage with the teams and offer support to the coaches and cheer on the girls. We then walk out with the coaches to enjoy and cheer on their performances. Usually at the end of the day we recap with coaches on score sheets. Where and how can TRIBE improve to be better for finals day.
Sunday is a repeat of Saturday but emotion and pressure runs a bit higher with it being finals day.
What are your best tips for a team competing at Nationals?
Start early, and prepare in ALL AREAS to set yourself up for success. Get your skills mastered, build your mental toughness and confidence, and condition to be able to execute your routines. Dance is as much mental as it is physical. Teams need to focus on consistency to be able to execute their routines in any conditions. Performances are NEVER perfect, so dancers need to learn how to execute even when the going gets tough and tensions/pressure is high. Coaches can help their team by creating high pressure practice environments.
Another big tip is for coaches! Don't wait to costume and plan your "look". We see a lot of programs wait because let's face it, football season and basketball season come out of no where! But planning this aspect early will allow you to focus on the dancing portion instead of scrambling to get a costume and rhinestoning completed. ((Check out one of our many costume planning posts here!))
Once the team is at nationals, the biggest tip we have is to be confident. You have to trust in your training. Competing is the biggest emotional rush of your life, but when you adrenaline starts to kick in you have to remain calm, confident & consistent.
---
Check out TRIBE 99 in action, in this video tutorial series: