Line Up VIP Spotlight: Ali Ogle!
This fall we've started following a few emerging artists as they grow their exceptional talent and pursue their passion in dance. These Line Up VIP style ambassadors are where performance and fashion intersect. We're excited to share their successes and style with you throughout the season!
First up is Ali Ogle, who dances at Larkin Dance Studio in Maplewood, Minnesota. Ali is 10 years old, but it's hard to believe that she's only been dancing for 4 years! Her talent is clearly evident in her most recent performance, below, at the NUVO Dance Convention in Omaha, where she placed 2nd in the Mini Solo Category. This past summer she was named a Top 10 Mini Female Dancer at the Dance Awards in Las Vegas as well!
Get to know more about Ali below, and follow her on Instagram!
Ali performing her solo"Queen" at 2017 NUVO Dance Omaha
Meet #LineUpVIP Ali:
What's your dance story?
I have been dancing since I was 6 years old. I attend Larkin Dance Studio in Maplewood MN.
What's your favorite style of dance?
My favorite style of dance is contemporary.
Why do you love dance?
I love to dance for so many reasons. I love that I am able to show feelings through how I move. I love that it is never boring, there's so many styles & they keep growing so I'm always learning something new. I love the opportunities to learn from so many great choreographers who each have their own individual twist on a style!
What has been your favorite dancing moment so far?
My favorite moment so far has been being named a Top 10 Mini Female Dancer at the Dance Awards this past summer. It was a goal of mine all year & I achieved it. The talent there is incredible & it was an honor to be on that stage with all the other mini dancers.
Who is your favorite choreographer?
My favorite choreographer is Chelsea Jennings. She has been with me since the beginning of my dance journey. She has choreographed every one of my solos. I am so thankful for our relationship & her beautiful choreography. She brings out things in me that I didn't know I was capable of. Over the years she has become more than just a teacher. I consider her an older sister or a second mom. She is one of the most talented people I know.

Ali and

Chelsea Jennings, Ali's long time choreographer!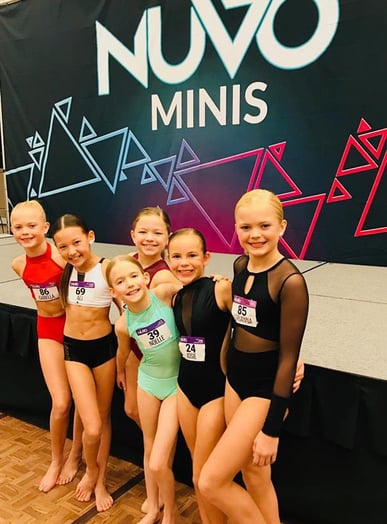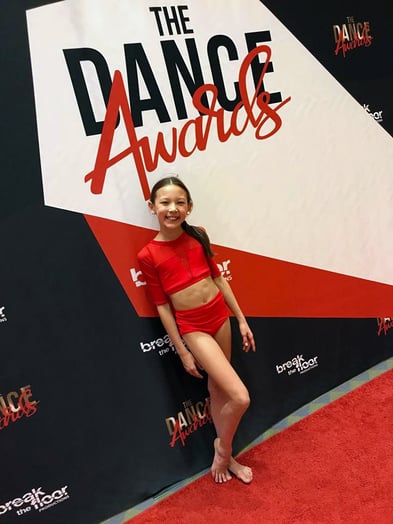 What's your favorite Line Up Look?
My favorite Line Up look currently is the Briar Top with brief. I love how it is so versatile. It is great as a set, or I can jazz it up with just the top and a pair of Line Up leggings to do hip hop.
What do you like to do when you're not dancing?
Not dancing? I'm always dancing! Ha. Even when I'm not at the studio! I like to improv every chance I get. But when I do take a break I love to be with my family. I like to hang out with my friends and have sleepovers. Shopping is a favorite of mine. I also love summer.
What grade are you in and what's your favorite subject in school?
I am in 5th grade & my favorite subject is art.
Who are your dance IDOLS?
My dance idols would be Stacey Tookey, Travis Wall & Mark Meismer. I have been lucky to take classes from them all. I love their choreography and their love for dance. They teach from the heart.
If you were an animal, what would you be?
I would be a goat!

Left- Ali and choreographer Travis Wall. Right- Ali with choreographer Stacey Tookey.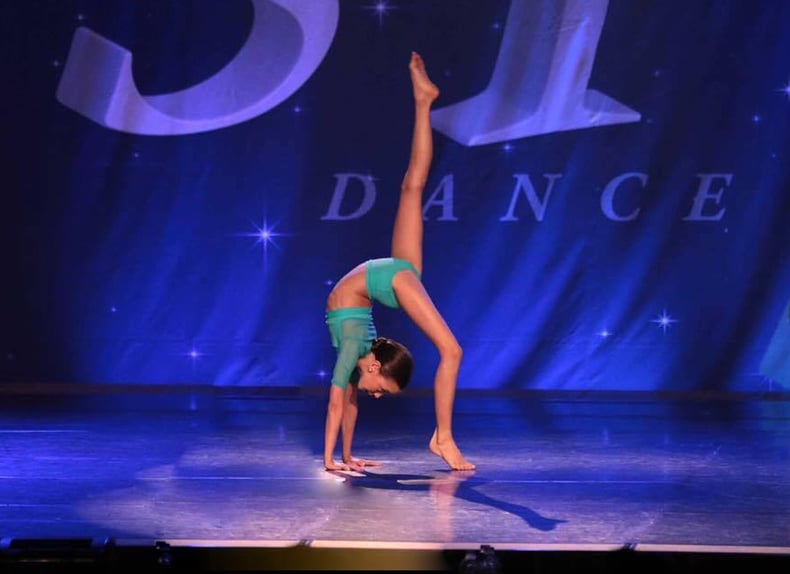 ---
Related Blogs: