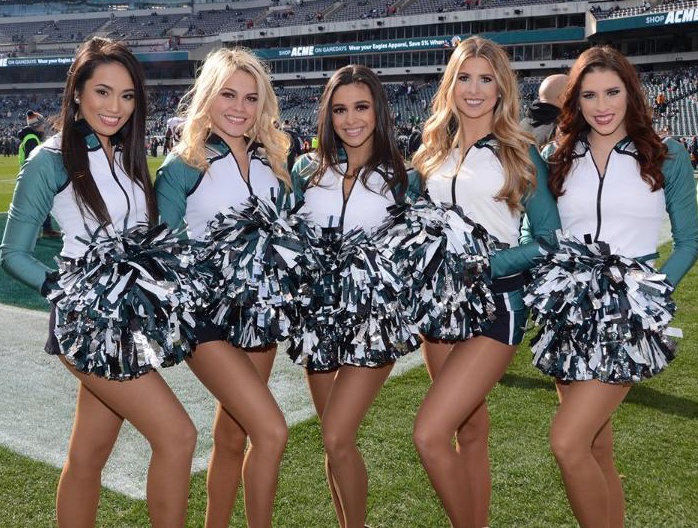 We are SO excited for the upcoming Super Bowl 52 - hosted at US Bank Stadium in our hometown, Minneapolis, MN! The whole city is bursting with energy, and we can't wait to welcome the Patriots and the Eagles to the wintery north!
We don't want to pick a favorite - but our longtime customer, the Philadelphia Eagles Cheerleaders have such a fun set of looks, we can't help but feature them before their Super Bowl 52 debut!

Each of The Eagles Cheerleaders Signature pieces as they were debuted in 2013, designed by Vera Wang!
A Partnership with Vera Wang for the Eagles Cheerleaders' Uniforms
The Line Up has a unique partnership with The Eagles Cheerleaders and fashion designer Vera Wang. The team's signature uniforms are designed by Vera Wang, and custom made at The Line Up's manufacturing facility in Minneapolis!
Vera Wang has been working with the cheerleading team since 2003, and their wardrobe was last updated by the famed designer in 2013. The team sports a distinct look - athletic with sleek style lines - that represents the Eagles brand and proudly displays their trademark signature green. Their modern aesthetic is very atypical of the glitz and glam of so many other NFL cheer uniforms!
Another unique aspect: their ensemble features a number of game day pieces, all of which are interchangeable with each other. Paired with custom designed sneakers, we love the way the team mixes and matches each piece of their uniform to create a variety of looks!
Check out some of their signature styles from the 2017-2018 season below. And good luck at the Super Bowl this year, Eagles!
Sporty Signature Uniform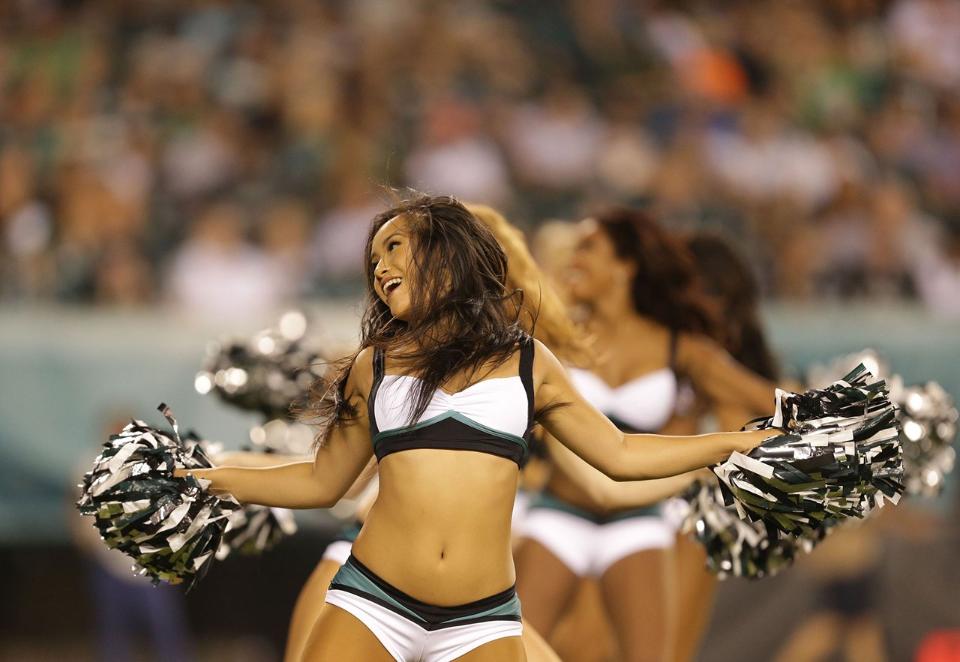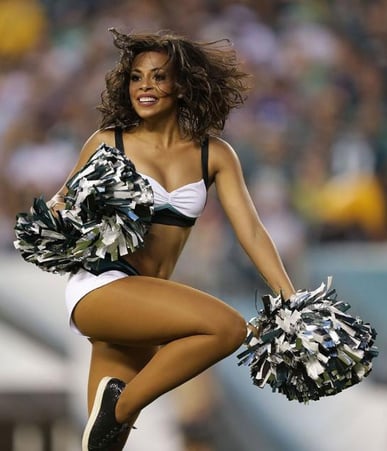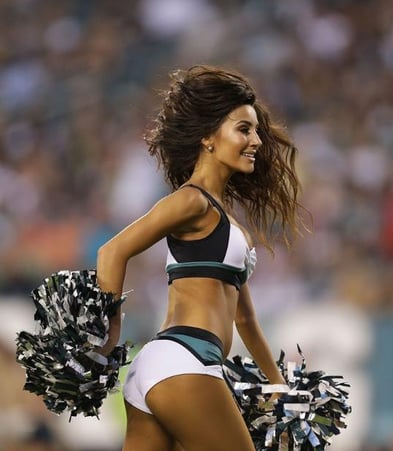 Cold Weather Shrug & Pants Pairing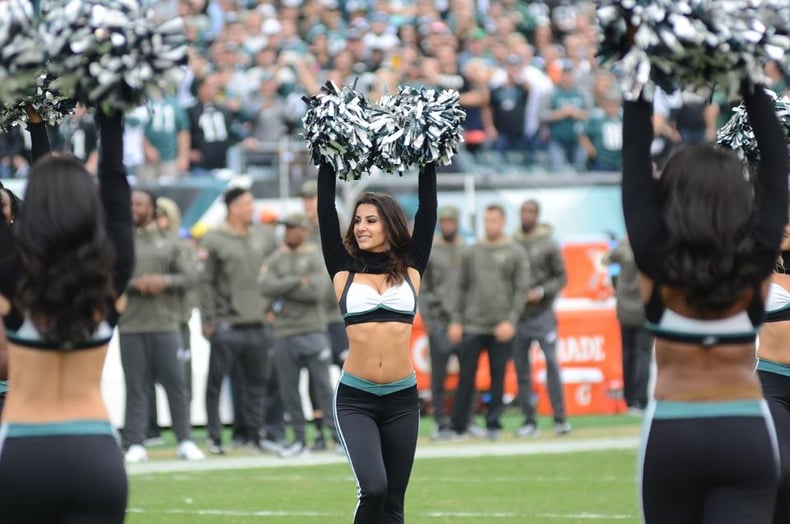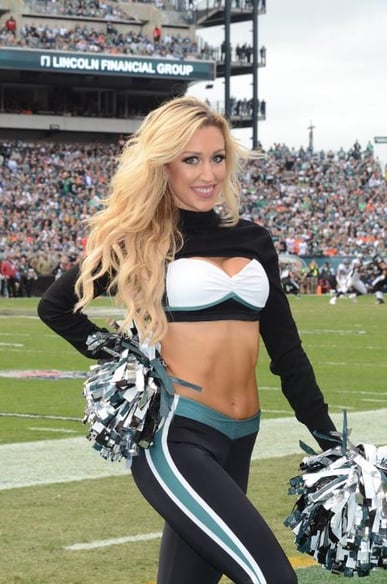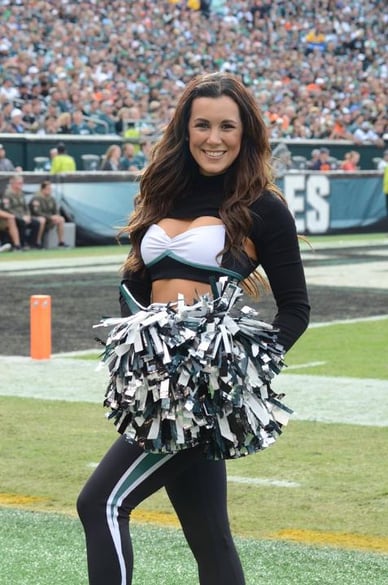 Classic Wings Jacket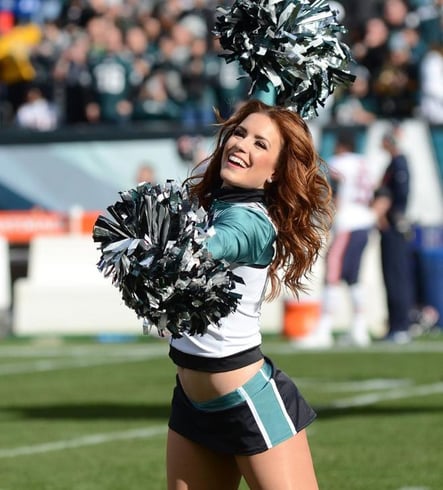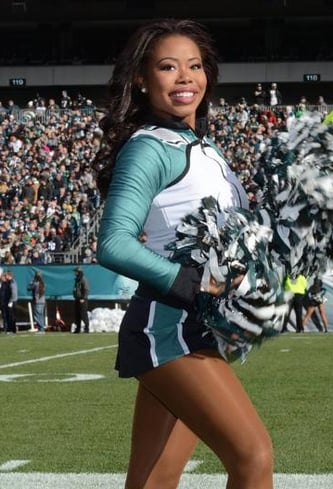 Breast Cancer Awareness "Wing" Jacket
The Eagles Cheerleaders added a pop of pink to their signature Wing Jackets for Breast Cancer Awareness! "The addition of pink to the wings jacket was a fun way for them to do Breast Cancer Awareness, and still keep their unique look," account manager, Megan, told us of the special occasion look.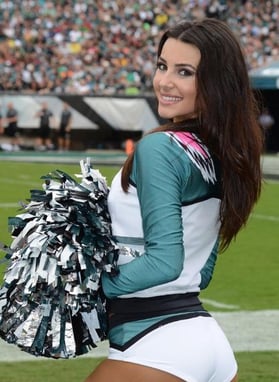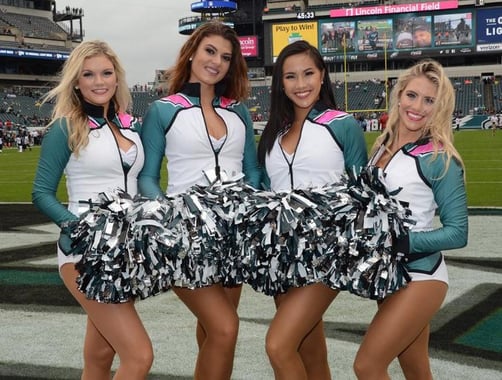 All photos via Philadelphia Eagles Cheerleaders.
---
Check out more cheer uniforms of the NFL:
---