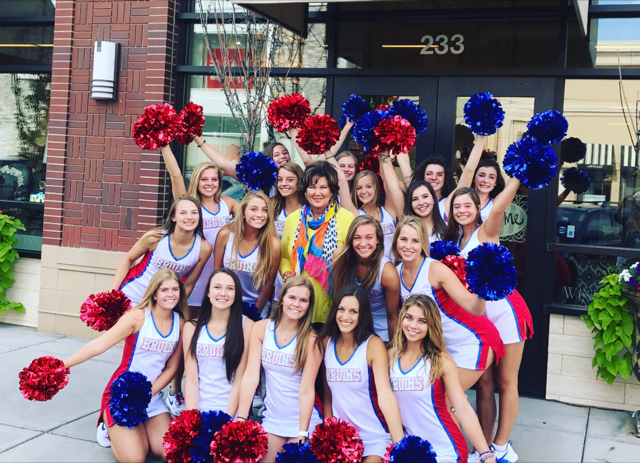 Team: Cherry Creek Poms
Director/Head Coach: Megan Bruhn
Location: Cherry Creek, Colorado
Style: High School Dance Team
Cherry Creek Pom's Fresh New Looks!
Cherry Creek Poms, a Colorado State Poms Champion, and a top 3 contender at UDA's National Dance Team Championship last year, got a fresh new game day look this season! "I wanted to do something completely different from what anyone else has. I love the traditional look/feel of our current uniforms, but I wanted to freshen things up for the upcoming season," coach Megan Bruhn explained.
"Based on various designs I have seen at both college and high school nationals, I tried to design a new uniform that gives the girls a more modern/mature look - unique to this team. The Line Up was more than accommodating in fulfilling this vision and I can't wait to debut their new uniforms!"
The team modified the online style Cooper, a sporty, cute tank dress for their game day look. They also loved the keyhole style open back of the Rachel, so they combined the two into their own unique look!
Cherry Creek is also set for nationals this year - with their Pom costume already in hand and fully rhinestoned! The girls put their own spin on the Oksana dress, in their school colors of course.
Check out more Q & A with coach Megan, and more photos of the Cherry Creek Poms, below!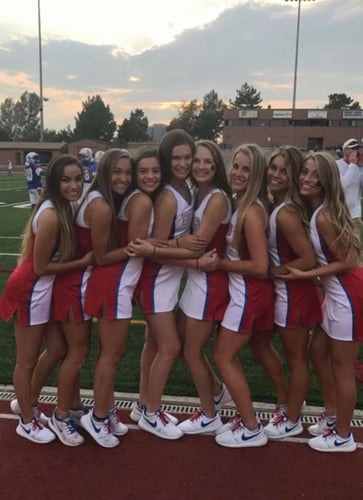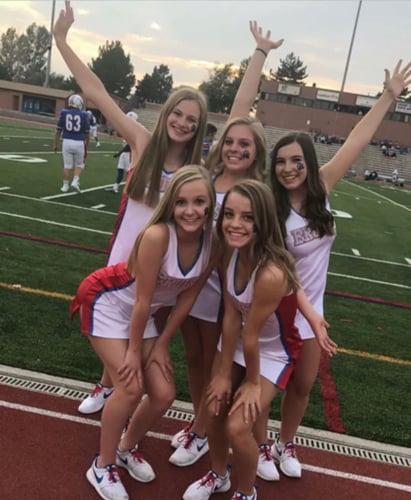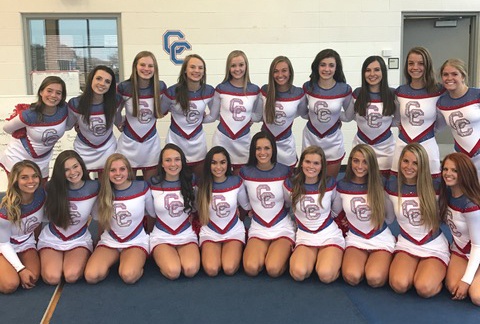 Cherry Creek's new Pom uniform, the Oksana
TLU Spotlight Q&A:
What is your competition music?
Our competition music hasn't been revealed yet, but what I can tell you is that it is created to fit this year's team specifically and is extremely strong and powerful! We are very fortunate to work with our amazing choreographers, Tribe99, who are completely invested in this team and have come up with unique ideas to make the team standout! We have big goals set for the year ahead of us, and thanks to The Line Up and Tribe99, we are one step closer to reaching them!
What makes your team/group unique?
This team not only shares a special bond but also a passion for their sport. Everyone is best friends. They are constantly striving to be better than they were the day before and push one another to the next level. The program has continued to grow and get stronger every year, and it is their mission to ensure that continues to happen!
What is your favorite memory, or what are you most excited for this season?
I am most excited to watch the girls work to accomplish their goals this season! They know it's a challenging road ahead - I am ready to lead them and help them achieve their goals the best I can!
What was your team's biggest challenge/opportunity this season?!
Our biggest challenge this season is going to be continuing the competitive success the team has showed they are capable of over the past two seasons. Every achievement takes 100% commitment and buy in to the process, and while I know they are capable, maintaining a certain level requires even more commitment and perseverance. Rather than approaching it as a challenge, I see it as an opportunity. We want to continue pushing the boundaries and exceed the expectations the program has set. Now that the opportunity is there, we are ready to go after it!
---
Check out more looks from Cherry Creek Poms: