---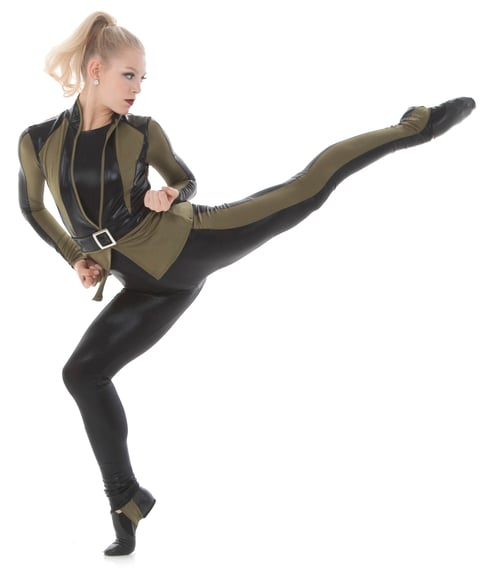 It's that exciting time of year - planning for the 2016-2017 dance season! It's a little crazy to see 2017 on the page, but the season is upon us! While you are busy finding your theme and concept this summer, we rounded up some the best high kick dance costume trends we've seen. Here's a peek at a few stunning ideas to spark your imagination as you design your next custom dance costume!
1. The Military Theme
Structure, strong formations, and crisp movements are essential to high kick dance routines, which makes a military themed costumes the perfect compliment! This classic look has been trending fiercely with updated details like peplums and Zsa Zsa sequin fabric.
Here are a few elements that help create a military reference:
Strong shoulders
Dark colors like black, navy, and olive
Metallic silver, gold, or bronze accents
Buckles, buttons, or zippers
Details sashes, patches, or shoulder pads
Check out more of our favorite patriotic theme costumes on our Memorial Day Round up!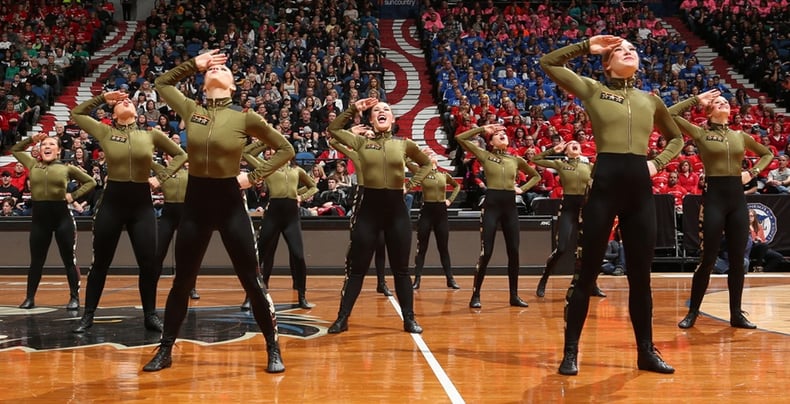 Maple Grove Dance Team, Minnesota, in a custom high kick dance costume
2. Thumbed Monkey
Remember the classic fingerloop, meant to keep those sleeves in place while dancing? Well, here's a fresh take on this stay-in-place style: a covered thumb. We first saw this look on West Fargo's custom high kick costume in 2014 (see below), and fell in love! It's a small detail that'll add a big edge - and functionality! We're dubbing it the "thumbed monkey" - it's a little extra thumb play on a monkey sleeve.
Not up for the completely covered thumb? Try a monkey sleeve - it's like a fingerless glove built into your sleeve . On your favorite hoodie it gives a little extra coziness and warmth, but when applied to your costume, its another way to make sure those sleeves stay in place, as well as elongate the line of the arm. A simple swap that'll add a little extra style!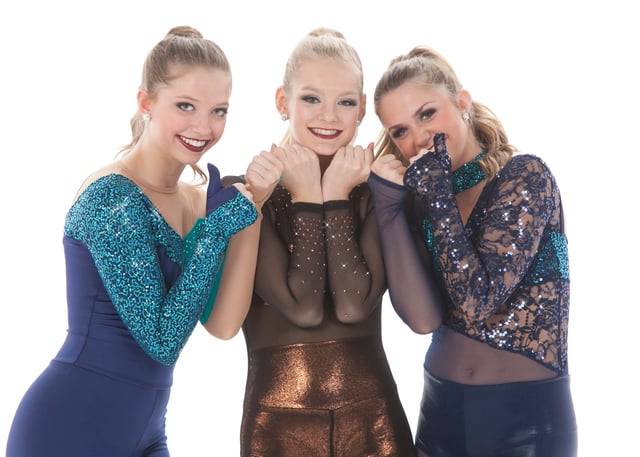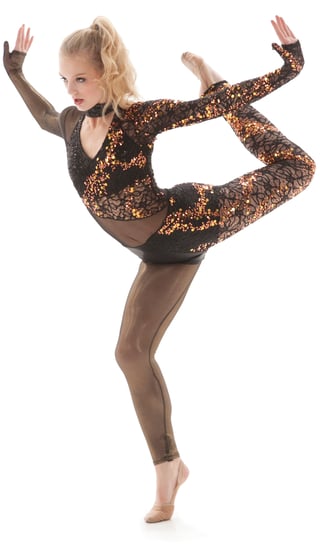 West Fargo Dance Team, North Dakota, in a custom high kick costume
3. A Fresh Take on Lace
Lace and appliques have been trending strong for quite some time, and while we still love this feminine classic, we were starting to feel that a unique twist is in order.
One of the coolest things we've seen in a while? Adding a "second skin" with lace printed on mesh, creating the appearance of a lace tattoo! So edgy, we love it!
We stumbled upon Beyonce and her dancers rocking a similar look on her Formation world tour - bringing that southern Gothic theme to life! Queen B pulled off this tattoo-like look with custom designed tights, but lace leggings are an other do-able alternative.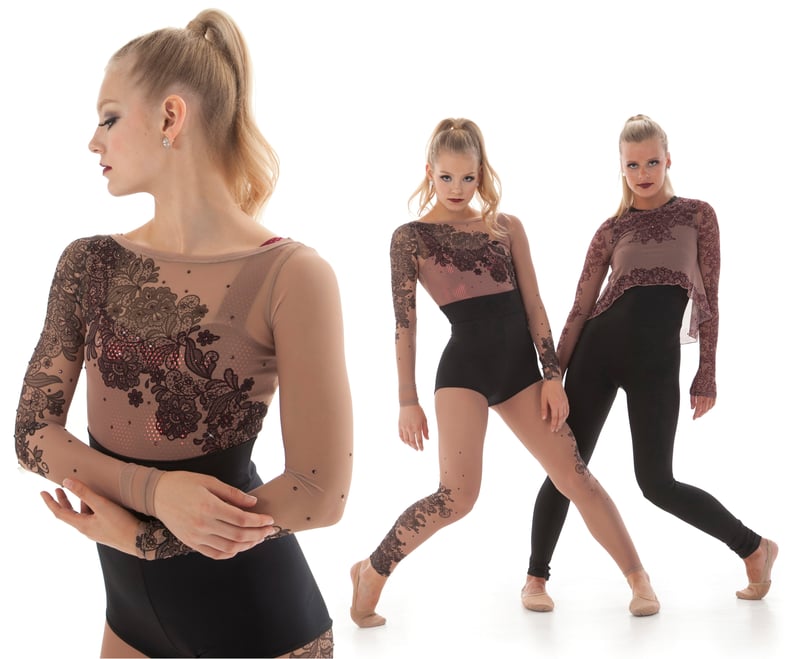 4. Graphic Glamour
If you are a dancer, you are very familiar with sparkle. It's true. And while sparkle is always an essential, a new approach is to go graphic! New technologies in sequin application allow you to create patterns and designs out of spangles - threadless sequins that are heat set to your garment. Added bonus: it's much cheaper than rhinestones, while still adding maximum shine at a distance! A few application ideas to kick start your imagination:
Flowers
Chains
A waterfall or burst
Repeating geometric or organic patterns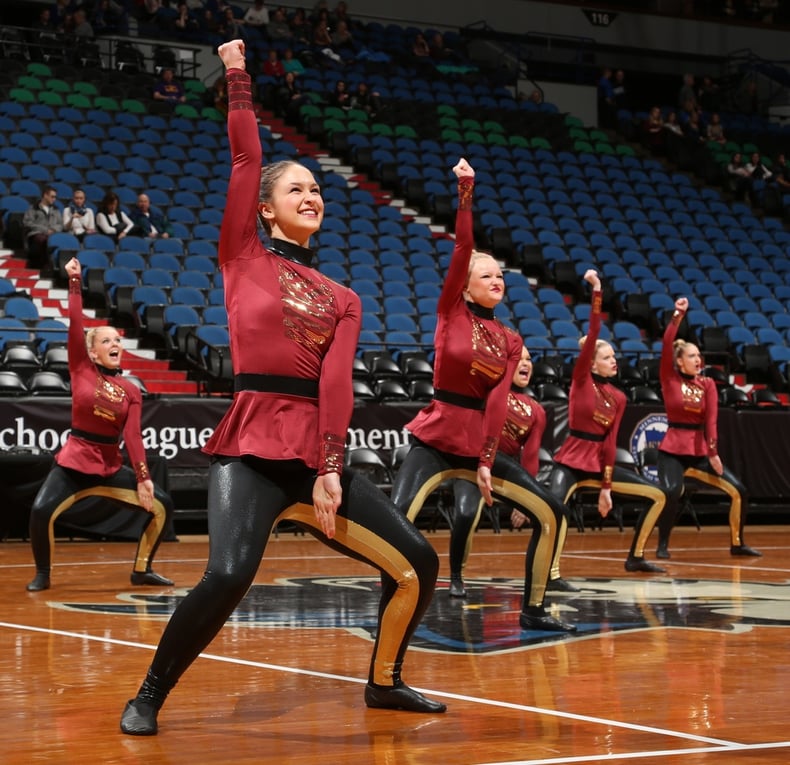 St. Charles Dance Team Minnesota - High Kick 2015-2016
5. Leggings with a Kick
Add blocking or color changes to your dance costume and you'll get a flash of color when you kick, transition, change formations or switch directions. Perfect for emphasizing your choreography and lines!
Changing the color of your costume from front to back is a classic way to do this, but are you looking for a fresh approach? Here's a few creative ideas we've seen trending:
Add an inside stripe. It'll create one strong, continuous line while kicking.
Make one leg a different color than the other - but just on the front.
Add sparkle with sequin encrusted fabric - the

extra sparkle

will attract the eye.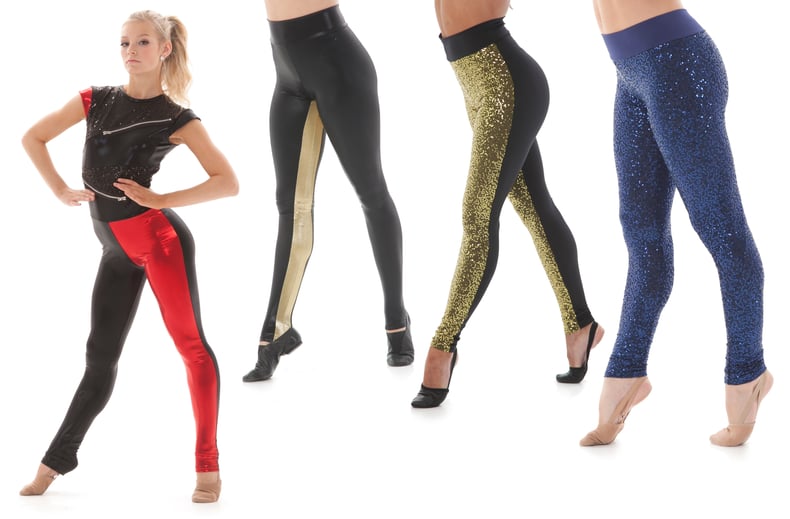 6. Mesh Leggings
Mesh leggings are that perfect combination of something lightweight and airy, yet still covered. University of St. Thomas Dance team rocked this look in their Rhonda Rousey inspired jazz costume this past 2015-2016 season, but we think this style is perfect for high kick as well!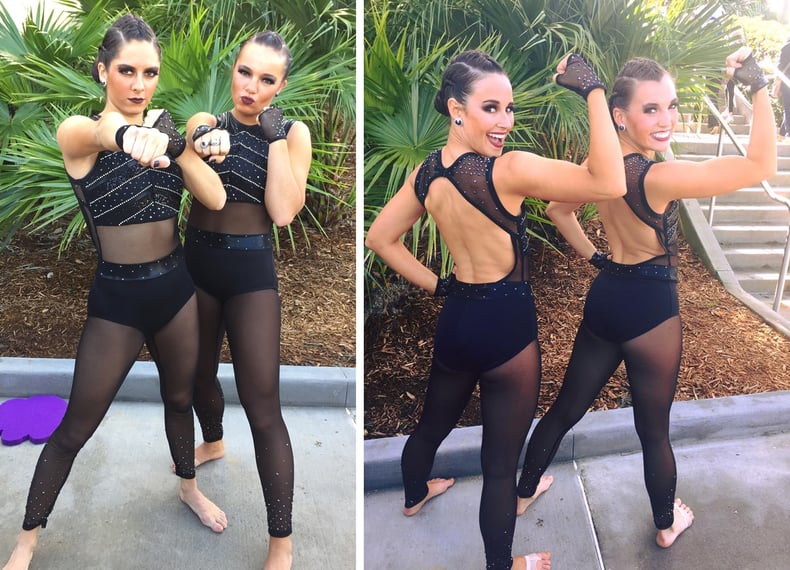 ---
So what do you think? Will you be rocking any of these styles at your next competition? Or have you seen some great trends of your own? Let us know!