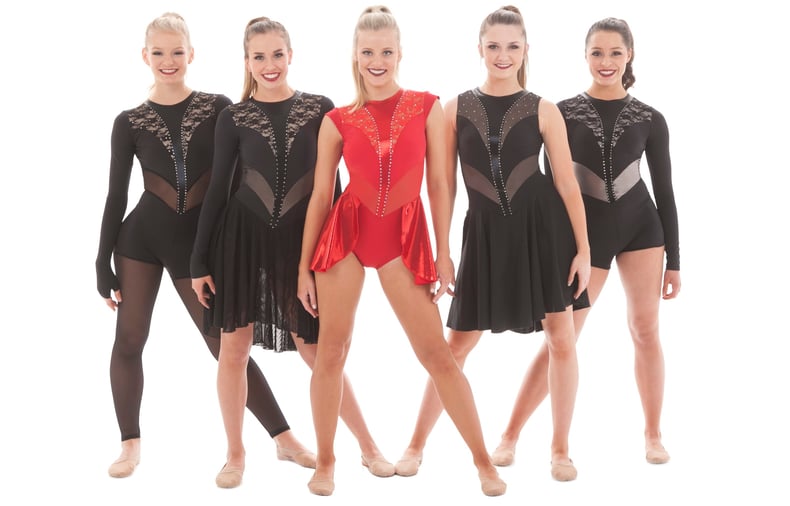 Whether you have a tight budget or are in a time crunch... planning for your team's dance costume isn't easy! To make the costume process a little easier and more cost effective, consider upcycling an old costume! One of the best ways to save money is to use something you already have.
Using last year's costume doesn't mean you have to sacrifice a fresh look either! There are easy ways you can make simple changes to your old costume to create a whole new look!
Many custom dance costume companies are willing to alter your old costumes for you, or you could DIY. All your old costume needs is a little TLC, time, and proper garment care and it'll be just like new!
Here are a few ideas on how you could upcycle your dance costume:
1. Change a Component
Slightly modify your existing garment by switching out, adding or removing a design component. Simply call your favorite dance costume company and ask if they'll be willing to modify your garment for you! Or, do simple alterations yourself if you feel comfortable! Some examples of component alternations include:
Change a pant to a short or skirt
Shorten a skirt, sleeve, or pant
Remove or add a sleeve
Adding a cuff, collar or trim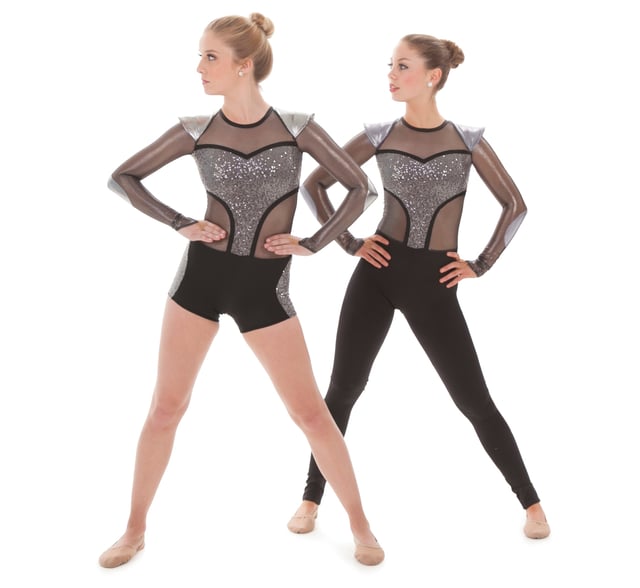 Transform your costume from a Jazz look to a High Kick look by adding a pant leg.
2. Add a Pop of Color
Color can transform any look! Consider ways you can incorporate another color into your used costume to give it a twist. For example, Little Chute High School Dance Team (below) repurposed their 2015 High Kick costume for the 2016 season by adding pops of pink color blocking and a new hair accessory.


New York Jets Flight Crew Cheerleaders added a pink belt and poms to their signature uniform for Breast Cancer Awareness Month!
3. Add Your Own Appliques and Rhinestones
Any basic costume or garment can be transformed into a true stunner by adding rhinestones or hand sewn appliques! These simple finishing touches can add a bit of elegance to any garment. Better yet, this is something you can easily do yourself. Turn it into a team bonding experience! Get your team together, make a night of it, and work on the costumes together - many hands make light work.

Appliques and rhinestones add the perfect finishing touch and can refresh any look!
4. Mix and Match Pieces
Restyling a few versatile pieces is the best way to save money! Instead of buying completely new outfits, mix and match pieces from other costumes. Reusing a few pieces will cut your costume budget in half! Even better, repurposing basics is a great way to add to your practice wardrobe.
For example, the Hip Hop look below (center) combined the top from a Jazz look (left), with the leggings from a Beetlejuice Character & Theme look (right). 3 completely different looks made from the same pieces!


5. Buy a Base Garment and Accessorize
Order a basic base garment - a unitard, biketard, dress, or leotard - and pair it with different pieces or accessories on top! You could reuse the same base garment from year to year, but purchase a new accessory or component to create a fresh look.
For example, Aitkin High School Dance Team (below) created two different looks by wearing a basic black unitard with a racer themed top one year and a Top Gun themed top another year!


This leotard can be worn as a stand alone Broadway look or paired with suspenders, pants, and a hat for a Newsies themed look!
6. Repurpose a Costume
Love your look from last year? Simply reorder the same design for your new members! Investing in a high quality garment could actually save you money in the long run, because you can reuse it for years to come. Western Michigan University refreshed their Game Day look (below) by reordering the same top and adding a new skirt!

Another great way to reuse a costume? Pair half of an old costume with half a new design. Mound Westonka did this for their 2015 High Kick routine by pairing repurposed Newsies costumes from 2014 with some new Mary Poppins costumes! Half the costumes, half the cost!

Now that your head is dancing with ideas, take some time to look through your costume closet! How will you upcycle your favorite dance costume?!
---
Looking for more tips on budgeting? Download our FREE Budget Tips Guide!