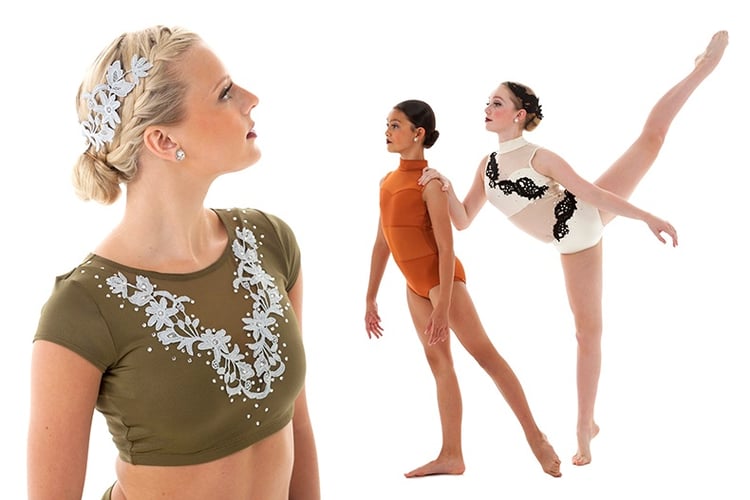 Two dance costumes with floral and lace appliques that can also be used as a hairpiece: Mika Top Applique (left) and Jupela Leo Applique (right).
If there's one dance costume trend that doesn't seem to be going anywhere soon it's appliques - and for good reason! Appliques are a popular choice because they add a layer of texture and depth to any costume, as well as a feminine touch.
If you are looking to use appliques on your next dance costume, there are a few technical things to consider though - like cost and their delicate nature. To help, we've created the definitive guide to using appliques for dance costumes!
Types of Appliques for Dance Costumes
There's a wide variety of appliques, from floral and feminine to embroidered and military. Here are the most common types of appliques available:
Fabric and Lace ($3-10): The softer, more flexible, and machine stitch ready qualities of these appliques make them a favorite with costume designers. This type of appliques can even be made by cutting up lace fabric yardage.
Sequin and Beaded ($6-20): These appliques feature sequins and beads stitched into floral and leaf designs, which add sparkle and texture. They are also the most delicate
Rhinestone ($25-45): The most dazzling type of applique - rhinestones are added to fabric or beaded appliques for extra sparkle. They are also the most expensive, especially when Swarovski stones are used!
Patches & Iron-On ($2-8): Typically embroidered, you'll recognize this type of applique as stars and stripes on uniforms, or as patches on a classic punk rock jacket.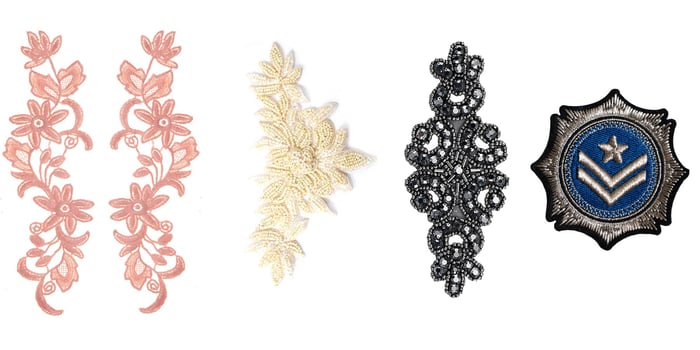 Cost of Appliques
There are two factors that affect cost: the material cost of the the applique itself, and the labor cost to apply the applique to your dance costume.
Material cost: The material cost of the applique itself can range depending on the type, as shown above, as well as the size. Patches and fabric appliques are generally the least expensive ($2-$10), and rhinestone applique are the most expensive ($25-$45) due to cost of the crystals. Small appliques (3-6" in size) will be much less expensive than large appliques (12-18" in size).
Labor cost: The labor cost to apply the applique to your costume is by far the greatest expense involved in this embellishment technique, and can range from $15-40 per applique depending on the size. This is because most appliques need to be hand sewn to your costumes, resulting in greater labor time and costs. Their delicate nature, textured material, and make it difficult to sew on a machine.
If you're looking to save money, consider applying the applique yourself, or use fabric appliques! Softer fabric and lace appliques often have the ability to pass through a sewing machine with ease, thus reducing labor costs for you and your costume company.
Where to Buy Appliques
If you do a quick google search, you'll find a wide variety of applique suppliers online. Here are a few reputable places to look:
Tips Before Purchasing Appliques:
Most costume companies will have access to a wide variety of appliques, but if you'd like to purchase themselves, here are a few things to consider:
Before you buy, talk to your designer or costume company to make sure the applique you selected is right for your costume! Size, placement, and how it's applied can affect your overall costume design and how it fits.
Look for appliques with sturdy backings - these will hold up much better and be less likely to fall apart!
Buy one and test it on a sample garment before purchasing enough for the whole group. You don't want to get stuck with a bunch of appliques you can't use ... but also know that:
Some suppliers don't guarantee stock for reordering, so do you research before purchasing, or consider purchasing extra in case they are needed later.
Sometimes appliques are sold in mirrored pairs, and sometimes they aren't. Keep this in mind with symmetrical designs, and be sure to order the correct side!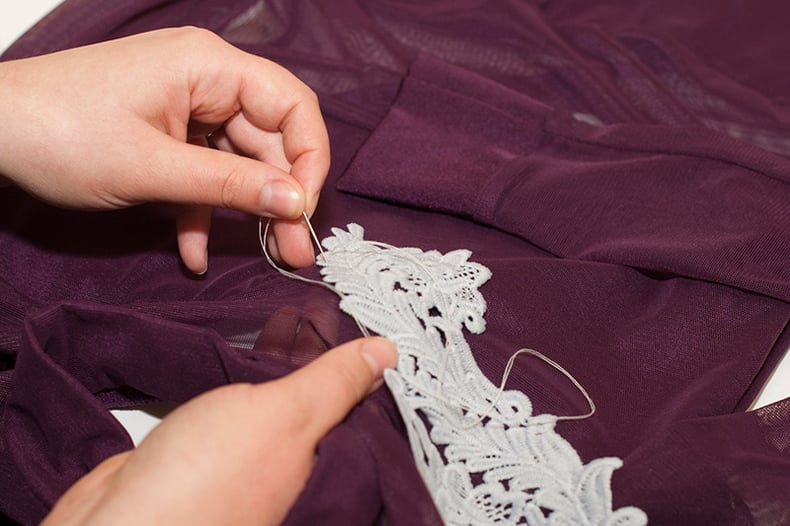 Most appliques must be hand stitched, which contributes to the cost of adding appliques to your dance costume.
How to Apply Appliques
If you're looking to do a little DIY and apply appliques yourself to save money, the best way to apply appliques is to hand sew them to your dance costume. We've heard too many horror stories of glued appliques falling off, so stitching is the best stay-in-place guarantee. Glue is a great secondary option for those edges that pop out, or a stray sequin or rhinestone that falls off.
Things to Consider When Using Appliques:
Now that you've been sold on the beauty and depth appliques add to costumes, here are a few things to consider before making your final decision:
Appliques don't stretch, which means the fit and give of your costume will be compromised. Certain placements aren't always possible. For example, we don't recommend placing them all the way around the waist, because your tight fitting costume won't be able to stretch around your hips when you put it on. Dance costume are tight fitting and meant to move and stretch with you as you dance, so keep this in mind with placement
Appliques don't grade in size - meaning they will be the same size on a 12 child and an XXL adult. So consider your team's size range! A range from XS to XL will probably look fine, but a greater range will require extra design coordination.
Appliques are delicate and will need repairs periodically throughout the season. This means they also aren't a good option for costumes that will be reused for many years to come.
---
Related Posts:
---